6 sierpnia 2022. Sto sześćdziesiąty czwarty dzień wojny Rosji z Ukrainą. Wczoraj w wieczornym przemówieniu prezydent Ukrainy poruszył dwie kluczowe kwestie trwającej wojny: bezpieczeństwo żywnościowe i energetyczne w kontekście najnowszych wydarzeń z kraju:
Trzy masowce z zbożem na eksport opuściły dziś nasze porty: z Odessę i Czarnomorsk. Na pokładzie znajduje się prawie 60 000 ton kukurydzy, czego oczekują konsumenci w Turcji, Wielkiej Brytanii i Irlandii. Pierwszy nowy statek handlowy od 24 lutego zmierza do portu w Czarnomorsku w celu załadunku.
Najważniejszy jest teraz stały wzrost eksportu. Interesuje się tym każdy kluczowy gracz na świecie. Im bardziej nasze zboże będzie obecne na rynku globalnym, tym mniejsze będą żniwa chaosu politycznego w krajach, przede wszystkim w Afryce i Azji, ale nie tylko. Musimy pamiętać, że w tym roku popyt na importowaną żywność w Europie jest znacznie wyższy, niż oczekiwano. Europejskie zbiory są mniejsze ze względu na suszę. Ale ukraińskie zbiory zbóż i nasion oleistych najprawdopodobniej spełnią prognozy – oczekuje się, że wyniosą ponad 65 milionów ton. Dlatego jeśli partnerzy wywiążą się ze swoich obowiązków wynikających z Inicjatywy Zbożowej, zapewnieniu bezpieczeństwa i nie pozwolą na nowe rosyjskie prowokacje w związku z naszym eksportem, wówczas kryzys żywnościowy, który był tak groźny dla świata, będzie można przezwyciężyć.
Ale sytuacja na rynku energii, a zwłaszcza dla europejskich konsumentów, jest nadal bardzo niebezpieczna z powodu cynicznego i dobrze wypracowanego szantażu gazowego w Rosji. Zamiast dostarczać gaz na terytorium Europy zgodnie z umowami, Rosja po prostu go spala – i dzieje się to od ponad tygodnia. Dlaczego to robi? Tak więc ceny w Europie rosną jeszcze bardziej, tak że zwykli Europejczycy cierpią jeszcze bardziej, a wszystkim na kontynencie jeszcze trudniej będzie przygotować się na zimę. Jest to przejaw celowej antyeuropejskiej polityki Rosji, polityki antyludzkiej i skutki starych błędów Europejczyków, którzy nie chcieli widzieć tego, że Gazprom i rosyjskie gazociągi omijające Ukrainę są dla Rosji tą samą bronią, co czołgi i artyleria, i każdy z nas, każdy w Europie, jest dla nich celem.
I wszyscy musimy się teraz bronić. Razem przygotujmy się na nowy sezon grzewczy. Razem, aby odpowiedzieć na wszelkie prowokacje Rosji w sektorze energetycznym. Razem opracujmy sankcje w odpowiedzi na rosyjski szantaż i terror.
Dziś okupanci stworzyli kolejną niezwykle ryzykowną sytuację dla wszystkich w Europie – strzelali do Zaporoskiej Elektrowni Jądrowej, dwa razy w ciągu jednego dnia. To największa elektrownia jądrowa na naszym kontynencie. A każdy ostrzał tego obiektu jest otwartą, bezczelną zbrodnią, aktem terroru. Rosja powinna ponieść odpowiedzialność za sam fakt stworzenia zagrożenia dla elektrowni jądrowej. I to nie tylko kolejny argument na rzecz uznania Rosji za państwowego sponsora terroryzmu. Jest to argument przemawiający za zastosowaniem surowych sankcji wobec całego rosyjskiego przemysłu nuklearnego – od Rosatomu po wszystkie powiązane spółki i osoby prywatne. Jest to wyłącznie kwestia bezpieczeństwa. Ten, kto stwarza zagrożenie nuklearne dla innych narodów, zdecydowanie nie jest w stanie bezpiecznie korzystać z technologii jądrowych 
Wczoraj ukraińska agencja energii atomowej Enerhoatom poinformowała o dwukrotnym ostrzale Zaporoskiej Elektrowni Jądrowej, bez ofiar śmiertelnych, ale uszkodzona została linia wysokiego napięcia 330 kV oraz stacja azotowo-tlenowa. Do pierwszego ostrzału doszło około 14.30 czasu lokalnego. Po zniszczeniu linii wysokiego napięcia jeden z reaktorów musiał przejść na awaryjne zasilanie generatorami wysokoprężnymi. Wieczorem miał miejsce drugi ostrzał w pobliżu jednego z bloków energetycznych. Poważnemu uszkodzeniu uległ zbiornik azotowo-tlenowy i pobliski budynek. Istnieje ryzyko wycieku wodoru i emisji substancji radioaktywnych, ale o godz. 21.00 nie odnotowano podwyższonego promieniowania. Na miejscu znaleźli się pracownicy elektrowni, aby opanować sytuację. Co ciekawe, przed ostrzałem, teren elektrowni opuścili przedstawiciele Rosatomu, którzy od początku okupacji Enerhodaru nadzorują pracę ukraińskiego personelu. Zdecydowano o wyłączeniu jednego z trzech pracujących bloków (z sześciu łącznie).
Przypomnijmy, że 4 marca podczas ataku sił rosyjskich na Enerhodar, na terenie Zaporoskiej Elektrowni Jądrowej wybuchł pożar w jej niejądrowej części, w wyniku rosyjskiego ostrzału. Enerhoatom wielokrotnie informowała w czasie trwania pełnoskalowej wojny, że rosyjskie pociski manewrujące przelatują nisko nad ukraińskimi elektrowniami jądrowymi, co stworzyłoby dla nich zagrożenie np. w wyniku awarii takiego pocisku (a awaryjność rosyjskich rakiet to fakt). Zaporoska Elektrownia Jądrowa to największy tego typu obiekt w Europie i szósty co do wielkości na świecie, pod względem maksymalnej mocy zainstalowanej (5700 MW) (Atak Rosji na Ukrainę [Dzień sto sześćdziesiąty trzeci]).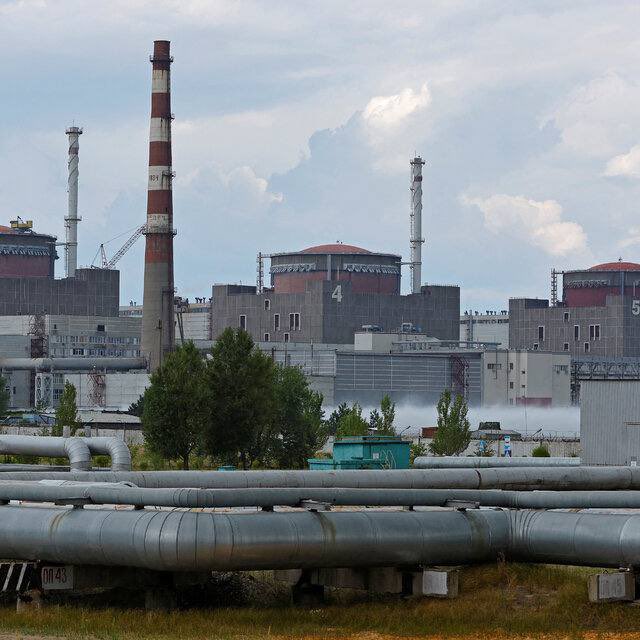 6 sierpnia 2022. Sto sześćdziesiąty czwarty dzień wojny Rosji z Ukrainą. Relacja na żywo na łamach Magazynu Militarnego MILMAG / Zdjęcie: Andrij Jermak via Twitter
godz. 22.34: agencja Enerhoatom zaapaelowała do MAEA i WANO (Światowe Stowarzyszenie Operatorów Nuklearnych) o podjęcie środków, w celu wycofania sił rosyjskich z Zaporoskiej EJ:
Energoatom appealed to the IAEA and WANO with a call to take all measures to withdraw the #Russian military from the station and #Energodar.

They claims that the occupiers are turning the NPP into a base for nuclear terrorists, placing military equipment and explosives there. pic.twitter.com/khdDjpceFW

— NEXTA (@nexta_tv) August 6, 2022
godz. 22.30: R. T. Erdogan uważa, że porozumienia zbożowe mogą doprowadzić do szerszych rozmów ukraińsko-rosyjskich:
🇹🇷Turkish President believes that agreement to unblock grain exports can lead to broader negotiations between Ukraine and Russia

"I reminded Putin once again that we can host his meeting with Zelensky," Erdogan said.https://t.co/pTCQkAeWy2
📷by EADaily pic.twitter.com/tmMkoBFJ1G

— Euromaidan Press (@EuromaidanPress) August 6, 2022
godz. 22.11: hakerzy włamali się do rosyjskiego serwisu Pager TV i rozpoczęli emisję prawdy nt. wojny:
Today cyber activists hacked the Russian service "Pager TV" for watching TV for Apple. As a result, tens of thousands of Russians in their apps, when choosing channels, saw not the usual propaganda, but videos about the war, which is very close to them. pic.twitter.com/Op6tPMD3Qr

— NEXTA (@nexta_tv) August 6, 2022
godz. 22.02: z obwodu donieckiego ewakuowano ponad 2000 cywilów w tydzień:
On July 30, Deputy Prime Minister Iryna Vereshchuk said that 200,000 civilians must be evacuated from Donetsk Oblast.

Mandatory evacuation from Donetsk Oblast began on Aug. 2.

— The Kyiv Independent (@KyivIndependent) August 6, 2022
godz. 21.56: MSZ Ukrainy unieważniło paszporty 225 deputowanych do Rady Najwyższej, bo nie zwrócili ich na czas:
🇺🇦MFA invalidated 225 MPs' diplomatic passports as they weren't returned on time, despite ministry's requests

After returning from a business trip, diplomatic passports must be returned to the MFA within 10 days and they can't be used for private trips.https://t.co/Z6KRqaJwBe

— Euromaidan Press (@EuromaidanPress) August 6, 2022
godz. 21.02: pierwszy statek handlowy dotarł do Czarnomorska:
According to Kubrakov, Ukraine is "doing everything possible" to ensure that its ports can accept "significantly more ships," and plans to be able to load at least 3-5 vessels per day in 2 weeks.

— The Kyiv Independent (@KyivIndependent) August 6, 2022
godz. 20.54: wg Enerhoatomu, Rosjanie ostrzeliwują Zaporoską EJ, by odłączyć ją od ukraińskiego systemu elektroenergetycznego:
"Hence, the shelling of the power plant is likely to continue," Energoatom said.

Earlier today, the company reported that there is "a serious risk" to the safe operation of the plant due to Russia's Aug. 5 shelling.

— The Kyiv Independent (@KyivIndependent) August 6, 2022
godz. 20.08: rosyjski oddział na polu minowym:
The occupiers in #Ukraine are in danger everywhere. pic.twitter.com/fk4idX37eX

— NEXTA (@nexta_tv) August 6, 2022
godz. 19.14: 5 tureckich banków zaadaptowało rosyjski system płatności:
According to Bloomberg, Erdogan said Turkish and Russian central bank governors also met during the visit and that payment in Russian rubles will be a "source of financial support for both Russia and Turkey."

— The Kyiv Independent (@KyivIndependent) August 6, 2022
godz. 19.14: Rafael Mariano Grossi, dyrektor generalny MAEA: ostrzał Zaporoskiej EJ podkreśla realne ryzyko katastrofy nuklearnej: 
The shelling of the Zaporozhye nuclear power plant highlights the real risk of a nuclear catastrophe – the head of the IAEA. pic.twitter.com/ZW0GPEAiJG

— NEXTA (@nexta_tv) August 6, 2022
godz. 19.12: kolaborant W. Sałdo prawdopodobnie otruty:
Top Russian collaborator of Kherson taken to Moscow in coma, poisoning suspected – media

Vladimir Saldo, quisling governor Kherson Obl, was reportedly flown to toxicological department of Moscow Sklifasovsky Institute in medical coma, Russian media report https://t.co/sPlYTixfQd pic.twitter.com/3KjAx5f8GV

— Euromaidan Press (@EuromaidanPress) August 6, 2022
godz. 18.05: pierwszy z konwoju trzech masowców z ukraińską kukurydzą dotarł do Stambułu:
The first of three ships with Ukrainian corn has arrived in #Istanbul

After inspection in #Turkey, the vessel will follow its designated route. pic.twitter.com/sTfCQ0j4Xh

— NEXTA (@nexta_tv) August 6, 2022
godz. 17.54: siły ukraińskie odparły rosyjskie ataki na Słowiańsk, Bachmut i Awdijewkę:
⚡️ General Staff: Russian offensive repelled in direction of Sloviansk, Bakhmut, Avdiivka.

Despite heavy artillery shelling, Russian troops didn't break through the Ukrainian defense line in the Donetsk Oblast, Ukraine's military reported.

— The Kyiv Independent (@KyivIndependent) August 6, 2022
godz. 17.39: siły ukraińskie nadal kontrolują wieś Piski:
⚡️Ukraine still controls Pisky in Donetsk Oblast despite Russian claims over settlement.

Donetsk Oblast Governor Pavlo Kyrylenko acknowledged the fierce fighting but said the Russian message was "fake."

— The Kyiv Independent (@KyivIndependent) August 6, 2022
godz. 17.22: 8-letni Serhij zebrał 64 tys. UAH dla SZ Ukrainy:
Eight-year-old boy Serhiy from #Chernihiv, who sang Ukrainian songs on the street, collected 64 thousand hryvnias ($1,740) for the #Ukrainian army and gave them to the Serhiy Pritula Foundation, according to the organization's page. pic.twitter.com/C7vyNS5OJe

— NEXTA (@nexta_tv) August 6, 2022
godz. 17.07: polski oddział Amnesty International potępił Rosję:
The comments come as a response to Amnesty International's report published on Aug. 4 accusing Ukraine's military of endangering civilians.

— The Kyiv Independent (@KyivIndependent) August 6, 2022
godz. 16.59: zniszczone rosyjskie pojazdy: MT-LB, Urał i inne:
#Ukraine: The Ukrainian 108th Territorial Defense Brigade destroyed an MT-LB, Ural truck, and possibly other vehicles in the South. pic.twitter.com/eHPyNuhOZX

— 🇺🇦 Ukraine Weapons Tracker (@UAWeapons) August 6, 2022
godz. 16.48: PILNE: M. Podoljak potwierdził przekazanie przez Macedonię Północną czołgów T-72 i samolotów szturmowych Su-25:
Adviser to the Presidential Office Mikhailo Podolyak has reported that North Macedonia has handed over aircraft and tanks to #Ukraine.

Earlier it was reported that North Macedonia would hand over four Su-24 attack aircraft. https://t.co/xJ0XVMV3i9

— NEXTA (@nexta_tv) August 6, 2022
⚡️North Macedonia sends 4 Su-25 aircraft to Ukraine.

Mykhailo Podolyak, adviser to the head of the President's Office, confirmed the country had sent the planes it received from Kyiv in 2001 back to Ukraine.

"Many nations today show more courage than half of the G20," he wrote.

— The Kyiv Independent (@KyivIndependent) August 6, 2022
godz. 16.41: Erdogan potwierdził propozycję ws. spotkania Putin-Zełenski:
⚡️ Erdogan: Turkey ready to host a potential Zelensky-Putin summit.

Turkish President Recep Tayyip Erdogan said on Aug. 6 that he offered Russian dictator Vladimir Putin to hold talks with Ukrainian President Volodymyr Zelensky in Turkey.

— The Kyiv Independent (@KyivIndependent) August 6, 2022
godz. 16.31: rosyjski ostrzał Mikołajowa; 1 osoba cywilna zginęła, 4 zostały ranne:
⚡️ Russian shelling kills 1, injures 5 in Mykolaiv Oblast.

A retiree was killed by Russian shelling on Aug. 6 in the village of Bereznehuvate, local authorities reported. Russia is shelling the entire front line between Mykolaiv and occupied Kherson, according to authorities.

— The Kyiv Independent (@KyivIndependent) August 6, 2022
godz. 16.12: uszkodzony rosyjski BMP-3:
#Ukraine: A drone of the 71st Jaeger Brigade dropping an improvised EFP munition on a Russian BMP-3 IFV.

The BMP-3 can be seen smoking, however most likely it didn't receive any serious damage since such strikes usually play a harrassment role unless critical parts are hit. pic.twitter.com/eKO8JAe3Hl

— 🇺🇦 Ukraine Weapons Tracker (@UAWeapons) August 6, 2022
godz. 14.54: ukraińscy partyzanci w obwodzie chersońskim postrzelili kolaboranta Witalija Guru:
Ukrainian partisans assassinated a collaborator in #Kherson region#Russian media reported that a collaborator, Vitaly Guru, was shot near his home. Currently, he is in serious condition in the hospital.

Guru start cooperating with occupation authorities since the war began. pic.twitter.com/1Nf6IHlPfb

— NEXTA (@nexta_tv) August 6, 2022
godz. 14.46: J. Borrell w imieniu UE potępił rosyjskie prowokacje wokół Zaporoskiej EJ:
Ukraine's state nuclear energy company Energoatom said that there is "a serious risk" to the plant after Russia used anti-aircraft missiles on-site, evoking fire hazards and safety violations.

— The Kyiv Independent (@KyivIndependent) August 6, 2022
The EU condemns Russia's military activities around #Zaporizhzhia nuclear power plant. This is a serious and irresponsible breach of nuclear safety rules and another example of Russia's disregard for international norms. @iaeaorg must gain access.

— Josep Borrell Fontelles (@JosepBorrellF) August 6, 2022
godz. 14.41: władze Ukrainy skonfiskowały już rosyjskie aktywa warte 28 mld UAH:
Ukraine has already confiscated 28 billion hryvnias worth of Russian assets

According to Volodymyr Zelenskyy, it is also proposed to confiscate more than 900 facilities belonging to Russia. All this will be used to compensate for the damage caused by Russia's war and terror. pic.twitter.com/34EBMQGSm6

— NEXTA (@nexta_tv) August 6, 2022
godz. 14.33: Rada Najwyższa zarejestrowała projekt uchwały ws. uznania przez Ukrainę niepodległości Kosowa przedłożony przez deputowanego Ołeksija Gonczarenkę:
The Verkhovna Rada has registered a draft resolution on the recognition of #Kosovo's independence.

It was initiated by MP Oleksiy Goncharenko. pic.twitter.com/85ZFM9ukgV

— NEXTA (@nexta_tv) August 6, 2022
godz. 14.31: w Mariupolu władze okupacyjne planują przeprowadzić pokazowe procesy obrońców miasta:
The occupation authorities in #Mariupol are planning to lynch Ukrainian defenders, the Mariupol City Council reports.

According to the #Ukrainian authorities, prison cells are now being assembled on the stage of the Mariupol Chamber Philharmonic. pic.twitter.com/aChR10GjBr

— NEXTA (@nexta_tv) August 6, 2022
Russia intends to hold a show trial of captive 🇺🇦soldiers in Mariupol

The so-called trial would be held in September. Today, cages from reinforcing bars for captives are being built at the philharmonic hall, advisor to mayor Petro Andriushchenko informed https://t.co/aCNV8sJHEV pic.twitter.com/90OaaRBQHE

— Euromaidan Press (@EuromaidanPress) August 6, 2022
godz. 14.03: SBU zatrzymała w obwodzie mikołajowskim dwóch podejrzanych o współpracę z okupantami; są podejrzani o wyciek informacji, który doprowadził do zniszczenia infrastruktury stoczniowej w Mikołajowie; grozi im do 12 lat więzienia:
⚡️ SBU detains 2 alleged collaborators in Mykolaiv Oblast.

Ukraine's Security Service suspects them of leaking information to Russian forces, leading to the destruction of shipbuilding infrastructures in Mykolaiv.

If found guilty, the two men face up to 12 years in prison.

— The Kyiv Independent (@KyivIndependent) August 6, 2022
Ukrainian SBU caught two pro-Russian agents who were helping Russian occupiers in Mykolaiv Oblast

They passed on information to Russia about important infrastructure facilities, fuel depots, and the location of the Ukrainian Armed Forces.https://t.co/IDjVnYGx7G
📷 SBU pic.twitter.com/4d6RKdH2wy

— Euromaidan Press (@EuromaidanPress) August 6, 2022
godz. 13.51: potężna detonacja amunicji w rosyjskim T-90:
#Ukraine: The catastrophic explosion of a Russian tank (reportedly a T-90) again due to internal ammo detonation. pic.twitter.com/OKUX2BHICd

— 🇺🇦 Ukraine Weapons Tracker (@UAWeapons) August 6, 2022
godz. 13.34: PILNE: wg dziennikarzy śledczych z The Insider, Rosjanie zaminowują teren wokół Zaporoskiej Elektrowni Jądrowej:
Russian troops are mining Zaporizhzhia NPP – The Insider

According to journalists, explosive cargo is placed near the power units and the engine room. The Russian military has already mined the area around the station https://t.co/umc8jKOSSo

— Euromaidan Press (@EuromaidanPress) August 6, 2022
godz. 12.54: SBU zatrzymała 8 kolaborantów w obwodzie donieckim; zatrzymani są podejrzani o ujawnienie rosyjskim siłom informacji na temat miejsca pobytu ukraińskich żołnierzy oraz przemieszczania się sprzętu i pojazdów wojskowych:
⚡️ Authorities detain 8 suspected collaborators in Donetsk Oblast.

According to the investigation, the detainees are suspected of leaking information to the invading Russian forces about the whereabouts of the Ukrainian soldiers and movements of military equipment and vehicles.

— The Kyiv Independent (@KyivIndependent) August 6, 2022
godz. 12.12: R. T. Erdogan w Soczi miał zaoferować W. Putinowi spotkanie w cztery oczy z W. Zełenskim w Turcji:
❗️Erdogan said he offered Putin to hold his meeting with Zelenskyy in #Turkey. pic.twitter.com/IdVXnTVLp5

— NEXTA (@nexta_tv) August 6, 2022
godz. 12.12: Enerhoatom: Zaporoska Elektrownia Jądrowa pracuje z ryzykiem naruszenia norm radiacyjnych i przeciwpożarowych; istnieje "poważne ryzyko" dla bezpiecznej eksploatacji elektrowni po rosyjskim ostrzale w pobliżu instalacji 5 sierpnia:
⚡️ Energoatom: Zaporizhzhia Nuclear Plant operates with risk of violating radiation and fire safety standards.

Ukraine's state nuclear energy company Energoatom said that there is "a serious risk" for the safe operation of the plant, following Russian shelling nearby on Aug. 5.

— The Kyiv Independent (@KyivIndependent) August 6, 2022
Russia's shelling had also severely damaged a nitrogen-oxygen unit and "the combined auxiliary building," leaving the risks of a hydrogen leakage and sputtering of radioactive substances, Energoatom said.

— The Kyiv Independent (@KyivIndependent) August 6, 2022
godz. 12.11: władze Rosji aresztowały Aleksandra Szipljuka, dyrektora Instytutu Mechaniki Teoretycznej i Stosowanej oddziału syberyjskiego Rosyjskiej Akademii Nauk za zdradę; aresztowany zajmował się pracami nad bronią hipersoniczną:
The leading Russian developer of hypersonic missiles, director of the Institute of Theoretical and Applied Mechanics of the Siberian Branch of the Russian Academy of Sciences, Alexander Shiplyuk, was arrested on charges of treason. pic.twitter.com/mdhsMJKOH0

— NEXTA (@nexta_tv) August 6, 2022
godz. 12.06: Enerhoatom wyłączyła jeden z trzech pracujących reaktorów (z sześciu łącznie) w Zaporoskiej Elektrowni Jądrowej:
Energoatom announced the shutdown of one of the three operating power units of the Zaporozhye NPP.

According to Energoatom, the "nitrogen-oxygen station and the joint auxiliary building" were also damaged. pic.twitter.com/WyMojqqgEo

— NEXTA (@nexta_tv) August 6, 2022
godz. 12.02: KE przygotowuje kolejny projekt pomocy finansowej Ukrainie w wysokości 8 mld EUR:
The European Commission has prepared a new €8 billion financial aid project for Ukraine, Politico and Reuters reported.

At the end of July, the EU approved assistance to Ukraine in the amount of €9 billion. However, so far the EC has been able to send a tranche of €1 billion. pic.twitter.com/n1BWYinvov

— NEXTA (@nexta_tv) August 6, 2022
godz. 11.44: A. Jermak: to, co dzieje się w Zaporoskiej Elektrowni Jądrowej, to kolejny akt terroru nuklearnego popełniony przez Rosję. Cały przemysł jądrowy Federacji Rosyjskiej powinien zostać objęty sankcjami, a sama Rosja powinna znaleźć się na liście państw sponsorujących terroryzm:
What is happening at the Zaporizhzhya NPP is another act of nuclear terror committed by Russia.

The entire nuclear industry of the Russian Federation should be under sanctions, and Russia itself should be on the list of states sponsoring terrorism. pic.twitter.com/5aqJrOUnch

— Andriy Yermak (@AndriyYermak) August 6, 2022
godz. 11.04: w obwodzie donieckim pozostaje nadal ok. 350 tys. z 1,7 mln mieszkańców:
⚡️ About 350,000 residents remain in Donetsk Oblast.

Donetsk Oblast Governor Pavlo Kyrylenko told Suspilne TV that while most of the 1.7 million people who lived in the region have relocated, some refuse to flee their homes despite the mandatory evacuation imposed in late July.

— The Kyiv Independent (@KyivIndependent) August 6, 2022
godz. 10.42: francusko-włoskie konsorcjum Thales Alenia Space zawiesiło współpracę kosmiczną z Rosją:
Franco-Italian company Thales Alenia Space, which develops satellite systems, has suspended its work on a project in #Russia. pic.twitter.com/PgaVYHCYep

— NEXTA (@nexta_tv) August 6, 2022
godz. 10.01: Rosjanie próbują podchodzić pod Bachmut, trwają ciężkie walki, a miasto jest ostrzeliwane:
Russian troops have fired from tanks, barrel and rocket artillery at nearby settlements while also continuing to heavily shell Bakhmut, Ukraine's military said.

— The Kyiv Independent (@KyivIndependent) August 6, 2022
godz. 9.42: męski klasztor Ławra Świętogórska i jej otoczenie:
This is what the #Sviatohirsk Cave Monastery in #Donetsk region looks like now. pic.twitter.com/6NjPL8IvOO

— NEXTA (@nexta_tv) August 6, 2022
godz. 9.27: M. Podoljak:

dzisiejszy poranek w Europie nastał tylko dlatego, że Zaporoska Elektrownia Jądrowa cudem wczoraj nie wybuchła. Rosja przejęła ją i przeprowadza tam niebezpieczne prowokacje. Międzynarodowa Agencja Energii Atomowej i ONZ muszą zażądać

wycofania się z elektrowni jądrowej i przekazania jej pod kontrolę specjalnej komisji:
This morning in Europe became possible just because the Zaporizhzhya NPP miraculously did not explode yesterday. RF has seized it and is staging dangerous provocations there. The IAEA/UN must demand 🇷🇺 withdraw from the NPP and hand it over to the control of a special commission.

— Михайло Подоляк (@Podolyak_M) August 6, 2022
godz. 9.26: dowód na to, że Rosjanie wykorzystują Zaporoską Elektrownię Jądrową do składowania amunicji:
российские военные используют #NuclearEnergy как базу для хранения боеприпасов! #Energodar #Zaporizhzhia @iaeaorg @BBCWorld @cnni #nuclearterorism #RussianUkrainianWar pic.twitter.com/lyDGaUfF40

— m2p studio (@m2p_studio) August 6, 2022
godz. 8.58: od 24 lutego zestrzeliliśmy 29 celów powietrznych, z czego 15 samolotów, 7 śmigłowców i 7 bezzałogowych statków powietrznych okupantów – powiedział zastępca dowódcy baterii obrony powietrznej 25. Samodzielnej Brygady Powietrznodesantowej:
"Нами збито 29 повітряних цілей, з них 15 літаків, 7 вертольотів та 7 БПЛА окупантів", – заступник командира підрозділу ППО 25 бригади ДШВhttps://t.co/mrECTfZbIW#stoprussia #ДШВ #ЗСУ

— Генеральний штаб ЗСУ (@GeneralStaffUA) August 6, 2022
godz. 8.37: Węgry i Polska są przeciwko planowi UE dotyczącemu redukcji zużycia gazu ziemnego w okresie zimowym; mimo wszystko plan zostanie wdrożony:
#Hungary and #Poland refused to support the #EU plan to reduce gas consumption by 15%, reports Reuters.

However, their disagreement did not affect the adoption of the plan. pic.twitter.com/9qffvryevC

— NEXTA (@nexta_tv) August 6, 2022
godz. 8.31: burmistrz Hiroszimy Kazumi Matsui w 77. rocznicę amerykańskiego ataku nuklearnego na Hiroszimę oskarżył W. Putina o zbrodnie na narodzie ukraińskim:
Hiroshima Mayor Kazumi Matsui, in his peace declaration, accused Putin of stealing lives of 🇺🇦civilians as city marked 77th anniversary of atomic bombing

Fears of a new arms race have grown amid Russia's threats of nuclear attack-AP https://t.co/cp0oMsN2QI
📷by Kyodo News/AP pic.twitter.com/rnZoRG2KQ1

— Euromaidan Press (@EuromaidanPress) August 6, 2022
godz. 8.04: nocny rosyjski ostrzał rejonów nikopolskiego i krzyworodzkiego w obwodzie dniepropietrowskim; 3 cywilów rannych:
During the night, #Russian occupiers shelled the #Nikopol and #Kryvorizky districts of #Dnipropetrovsk region, reports the head of the regional military administration Valentyn Reznichenko. Three civilians were injured. pic.twitter.com/WSWHsBScMV

— NEXTA (@nexta_tv) August 6, 2022
godz. 8.04: straty rosyjskie wg danych sztabu generalnego sił zbrojnych Ukrainy: około 41 900 żołnierzy, 1802 czołgi, 4051 bojowych wozów piechoty i transporterów opancerzonych, 955 zestawów artylerii lufowej, 260 zestawów artylerii rakietowej, 127 zestawów przeciwlotniczych, 223 samoloty, 191 śmigłowców, 744 bezzałogowce, 182 pociski manewrujące, 2970 ciężarówek i innych pojazdów nieopancerzonych, w tym cystern, 15 łodzi i okrętów oraz 85 sztuk sprzętu specjalnego: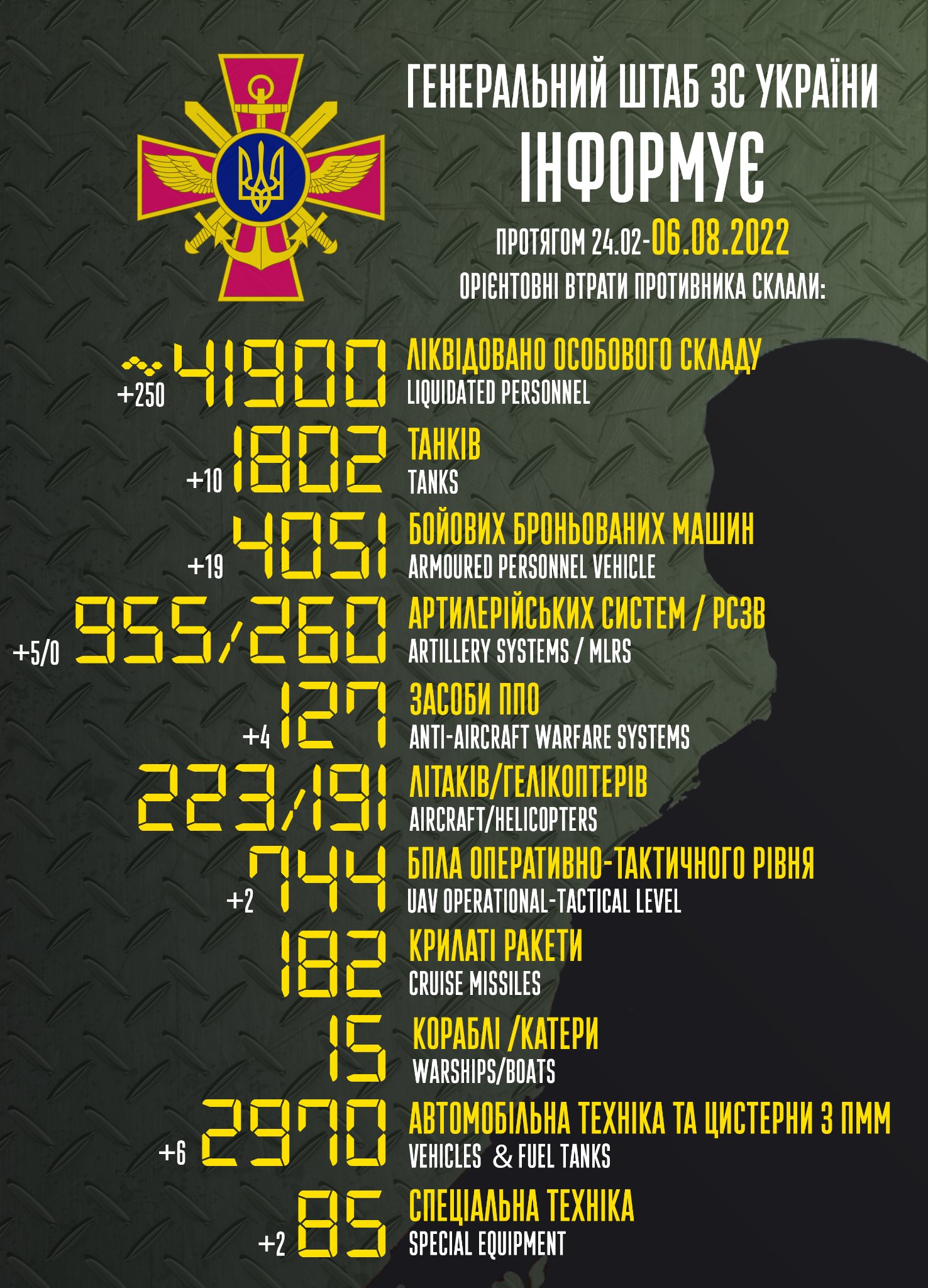 Grafika: sztab generalny sił zbrojnych Ukrainy
godz. 7.59: prokuratura generalna Ukrainy informuje, że siły rosyjskie dopuściły się dotąd 27 095 zbrodni wojennych, 12 688 przestępstw przeciwko bezpieczeństwu narodowemu, 624 przedstawicieli rosyjskiej władzy jest oskarżanych o odpowiedzialność za zbrodnie (ministrowie i ich zastępcy, dowódcy wojskowi, oficjele, szefowi agencji federalnych, podżegacze i propagandziści wojenni), natomiast w działaniach wojennych zginęło 361 dzieci, a 702 zostało rannych:
#RussianWarCrimes pic.twitter.com/MrSsF7AAET

— Офіс Генерального прокурора (@GP_Ukraine) August 6, 2022
godz. 7.58: informacja operacyjna brytyjskiego wywiadu o aktualnej sytuacji militarnej w Ukrainie:
Latest Defence Intelligence update on the situation in Ukraine – 6 August 2022

Find out more about the UK government's response: https://t.co/ipwkuIN1lV

🇺🇦 #StandWithUkraine 🇺🇦 pic.twitter.com/cyB1fVrATh

— Ministry of Defence 🇬🇧 (@DefenceHQ) August 6, 2022
(2/8) Long convoys of Russian military trucks, tanks, towed artillery, and other weapons continue to move away from Ukraine's Donbas region and are headed southwest.

— Ministry of Defence 🇬🇧 (@DefenceHQ) August 6, 2022
(4/8) Battalion tactical groups (BTG), which comprise between 800 and 1,000 troops, have been deployed to Crimea and would almost certainly be used to support Russian troops in the Kherson region.

— Ministry of Defence 🇬🇧 (@DefenceHQ) August 6, 2022
(6/8) Ukrainian forces are focusing their targeting on bridges, ammunition depots, and rail links with growing frequency in Ukraine's southern regions.

— Ministry of Defence 🇬🇧 (@DefenceHQ) August 6, 2022
(8/8) Russia's war on Ukraine is about to enter a new phase, with the heaviest fighting shifting to a roughly 350km front line stretching southwest from near Zaporizhzhya to Kherson, paralleling the Dnieper River.

— Ministry of Defence 🇬🇧 (@DefenceHQ) August 6, 2022
godz. 7.57: informacja Straży Granicznej o liczbie uchodźców wojennych z Ukrainy:
#Pomagamy🇺🇦
Od 24.02 #funkcjonariuszeSG odprawili w przejściach granicznych na kierunku z🇺🇦do🇵🇱 5,297 mln os.
Wczoraj tj.05.08➡️24,6 tys.
Dziś do godz. 07.00➡️6,3 tys.
W dn.05.08 z🇵🇱do🇺🇦odprawiono 25,4 tys. osób. Od 24.02- ponad 3,409 mln os. pic.twitter.com/PbrvqzDOec

— Straż Graniczna (@Straz_Graniczna) August 6, 2022
godz. 7.55: w nocy Rosjanie ostrzelali dom mieszkalny w Konstantynówce w obwodzie donieckim:
#Russian invaders struck a residential house in #Kostiantynivka, #Donetsk region, overnight. pic.twitter.com/f9lVhkY6ZI

— NEXTA (@nexta_tv) August 6, 2022
godz. 7.52: Meta (dawniej Facebook) usunęła ponad tysiąc fałszywych kont wspierających rosyjską wojnę: 45 na Facebooku i 1037 na Instagramie. Konta miały być powiązane z tzw. Fabryką Trolli z Ołgino. Podobno kilkaset osób zostało zatrudnionych i jest wynagradzanych w rublach za pisanie prorosyjskich komentarzy w celu sfabrykowania iluzji powszechnego poparcia dla wojny z Rosją:
Several hundred people were reportedly employed and compensated in rubles to leave pro-Russian comments in order to fabricate the illusion of widespread support for Russia's war.

— The Kyiv Independent (@KyivIndependent) August 6, 2022
godz. 7.41: KE: nie ma powodów aby nie zwrócić Rosji turbiny do gazociągu Nord Stream 1:
"There is nothing in the sanctions that prohibits the turbine," Mamer said on Aug. 5. On Aug. 3, Russian gas giant Gazprom refused to take back the turbine, claiming that the turbine's delivery would violate sanctions.

— The Kyiv Independent (@KyivIndependent) August 6, 2022
godz. 7.40: tymczasem w Rosji; Jekaterynburg:
Conceptual art in #Yekaterinburg, #Russia. pic.twitter.com/T1P4FBteLb

— NEXTA (@nexta_tv) August 6, 2022
godz. 7.33: 3 osoby cywilne ranne w rosyjskim ostrzale obwodu dniepropietrowskiego:
⚡️ Governor: Russian shelling injures 3 people in Dnipropetrovsk Oblast.

Dnipropetrovsk Oblast Governor Valentyn Reznichenko reported that Russian shelling on Aug. 6 destroyed residential buildings and a kindergarten, as well as cut off several thousand people from electricity.

— The Kyiv Independent (@KyivIndependent) August 6, 2022
3 injured in Russia's rocket attack on Dnipropetrovsk Oblast

11 residential buildings, 40 houses, & a kindergarten were damaged in Nikopol. The city is left without gas, water & electricity, Head of Reg Mil Adm Valentin Reznichenko informed https://t.co/uDwrackki9 pic.twitter.com/KT4S2r3z1y

— Euromaidan Press (@EuromaidanPress) August 6, 2022
godz. 7.31: ochotnicy z Międzynarodowego Legionu Obrony Terytorialnej Ukrainy:
Foreign legionnaires take time out for a special photoshoot
Meet the Tank Hunter Squad of the Special Tractor Forces of Ukraine.
Happy hunting, guys!

Photo: International Legion for the Defense of Ukraine (ILDU)

More here: https://t.co/ZbKip2LjYV pic.twitter.com/QNfijVtvke

— Euromaidan Press (@EuromaidanPress) August 6, 2022
godz. 7.27: 5 ofiar cywilnych rosyjskich ostrzałów w obwodzie donieckim:
⚡️ Governor: Russian forces kill 5 civilians in Donetsk Oblast on Aug. 5.

According to Donetsk Oblast Governor Pavlo Kyrylenko, Russian forces killed two people in Opytne, one in Avdiivka, one in Soledar, and one in Pervomaiske. Kyrylenko reported that 14 people were injured.

— The Kyiv Independent (@KyivIndependent) August 6, 2022
godz. 7.25: rosyjski koncert na zgliszczach Azowstalu, mieszkańcom zabroniono udziału w wydarzeniu:
#Russian occupiers staged a concert at the destroyed #Azovstal plant in #Mariupol. Local residents refused to go to the "celebration". pic.twitter.com/kF85NXCVuh

— NEXTA (@nexta_tv) August 6, 2022
godz. 7.18: ISW: siły rosyjskie mają już używać irańskich bezzałogowców w Ukrainie; Teheran miał dostarczyć 46 płatowców, choć nie podano jakiego typu i klasy wielkości/przeznaczenia:
The ISW also reported that Russia is continuing to prepare temporarily occupied regions of Ukraine for hoax referenda and annexation, fast-tracking passportization and the imposition of the ruble and replacing pro-Ukrainian officials with Russian officials.

— The Kyiv Independent (@KyivIndependent) August 6, 2022
Russia is forming a new battalion to fight in Ukraine – ISW

Armed Forces of Russia are recruiting men between the ages of 18 and 50 and without required prior military experience for the 'Samara' volunteer battalion to join the 3rd Army Corps https://t.co/0TbpDLciCa pic.twitter.com/ENVhSLAFtC

— Euromaidan Press (@EuromaidanPress) August 6, 2022
godz. 7.08: ukraińscy partyzanci wzywają rodaków w Henicześku w obwodzie charkowskim do nie brania udziału w rosyjskim pseudo referendum:
Partisans in #Henichesk, #Kherson region call on #Ukrainian citizens not to go to the criminal pseudo-referendum planned by #Russia. pic.twitter.com/LzwXrxxDhy

— NEXTA (@nexta_tv) August 6, 2022
godz. 6.51: informacja operacyjna sztabu generalnego sił zbrojnych Ukrainy na godz. 6.00:
Оперативна інформація станом 06.00 06.08.2022 щодо російського вторгнення
Докладніше https://t.co/j6cBcscfME
Read more https://t.co/DTe8xPg6Vp
Відео https://t.co/Yv6yWH3y14

— Генеральний штаб ЗСУ (@GeneralStaffUA) August 6, 2022
godz. 6.33: Rosjanie ostrzelali duże gospodarstwo rolne i zniszczyły silosy zbożowe mieszczące 3000 t zboża w rejonie nowomikołajowskim obwodu zaporoskiego; zniszczyli także magazyn z 365 t ziarna słonecznikowego:
Russian shelling also reportedly hit agricultural infrastructure, destroying a warehouse containing over 365 tons of sunflowers.

— The Kyiv Independent (@KyivIndependent) August 6, 2022
godz. 6.30: wg ambasador USA przy ONZ Lindy Thomas-Greenfield, Rosja nie zamierza zakończyć wojny w Ukrainie drogą negocjacji:
#Russia is not going to end the war in #Ukraine through negotiations, reports @USAmbUN, Linda Thomas-Greenfield. pic.twitter.com/0rp29P9mH8

— NEXTA (@nexta_tv) August 6, 2022
godz. 5.36: ukraiński żołnierz Serhij Kniaziew: rolnicy ze łzami w oczach, mówią: "dajcie nam szansę na zbiory, chłopaki, nie wycofujcie się, błagamy". To jest ludzka praca, pieniądze. Staramy się (pomóc). W przeciwieństwie do (Rosjan) rozumiemy, że ta (wojna) jest na naszej ziemi i nie powinniśmy wyrządzać niepotrzebnych szkód:
"Farmers cry w/ tears, they say,'give us chance to harvest, guys, don't back down, we beg u.' This is human work, money.We try,"UA soldier Serhiy Kniazev says

"Unlike [Russians],we understand this[war] is on our land&we shouldn't cause unnecessary damage" https://t.co/xq0e1HwNjt pic.twitter.com/71WRLK9zIC

— Euromaidan Press (@EuromaidanPress) August 6, 2022
godz. 5.25: ukraińskie Dowództwo Operacyjne Południe: zlikwidowano 79 rosyjskich żołnierzy, zniszczono 6 magazynów amunicji, 4 czołgi, 2 haubice, instalację artyleryjską, stację radarową oraz 22 pojazdy opancerzone i nieopancerzone:
Ukrainian forces also reportedly hit two Russian control points and one command post.

— The Kyiv Independent (@KyivIndependent) August 6, 2022
Ukrainian army in south regions hits 6 Russian ammunition depots

As of 6 August, Ukraine destroyed 4 T-72 tanks, 2 Msta-S howitzers, an artillery system, a radar station, a command vehicle, 10 armored vehicles and 11 other vehicles https://t.co/5LwK5lFlbF
📷by UkrInform pic.twitter.com/OZOgdjVNY6

— Euromaidan Press (@EuromaidanPress) August 6, 2022
godz. 5.18: Rosjanie mieli celowo ostrzelać magazyn w okupowanej Makijiwce w obwodzie donieckim:
5 Kanal reports that another warehouse of terrorists seems to be on fire in occupied #Makiivka near #Donetsk. pic.twitter.com/btR3LnpwQ1

— NEXTA (@nexta_tv) August 6, 2022
godz. 5.05: kobiety na rzecz SZ Ukrainy:
Тисячі жінок, які сьогодні служать і працюють у Збройних Силах України, роблять неоціненний внесок у захист нашої держави. Повага і вдячність кожній з них. https://t.co/xCidxRmc3t#Україна_тримається_на_наших_плечах

— Генеральний штаб ЗСУ (@GeneralStaffUA) August 6, 2022
godz. 4.06: rosyjski ostrzał Nikopolu:
https://twitter.com/KyivIndependent/status/1555736924240990208?s=20&t=7xvvi2q1fuM32z0gIH4AkQ
godz. 3.35: wczorajszy pogrzeb żołnierza w Kijowie:
Kyiv, 🇺🇦. Soldiers carry coffin w/dead soldier. Ppl kneeling came to say goodbye to another one but interrupted their gathering to honor him. Earlier last respects to businessman &wife [killed by 🇷🇺missile] in Volodymyr Cathedral

An ordinary day in an ordinary war
📷 O.Khomenko pic.twitter.com/pvO0eDE2as

— Euromaidan Press (@EuromaidanPress) August 6, 2022
godz. 1.58: Bułgaria i Łotwa wprowadziły zakaz wydawania wiz wjazdowych dla Rosjan:
Latvia's embassy in Russia has also stopped accepting visa applications from Russian citizens for an indefinite period, except for those attending the funeral of a close relative, according to Latvian news site Delfi.

— The Kyiv Independent (@KyivIndependent) August 5, 2022
godz. 0.42: Rosjanie ostrzelali 43 uczelnie wyższe, z których 5 zostało całkowicie zburzonych i nie nadaje się do odbudowy:
43 universities were damaged as result of Russian shelling. 5 of them completely destroyed and cannot be restored

Striking educational institutions that are not military targets is one of many Russian crimes
https://t.co/ou9QZFDNTP
📷Educational institutions in E of Ukraine pic.twitter.com/EYchcYdqgZ

— Euromaidan Press (@EuromaidanPress) August 5, 2022
godz. 0.36: eksplozje w Charkowie:
⚡️ Mayor: Explosions heard in Kharkiv.

Kharkiv Mayor Ihor Terekhov reported that explosions were heard in Kharkiv's Slobidskyi District at around 1:00 a.m. on Aug. 6. Rescuers are reportedly on the scene. There is currently no information on casualties.

— The Kyiv Independent (@KyivIndependent) August 5, 2022
godz. 0.21: rosyjski ostrzał obwodu sumskiego
Zhyvytsky reported that 71 households are without electricity due to shelling in the Shostkynskyi District.

— The Kyiv Independent (@KyivIndependent) August 5, 2022
godz. 0.00: Dania przekaże Ukrainie 35 koparek do wsparcia prac budowlanych przy odbudowie infrastruktury; pierwsze pojazdy są już w Polsce, skąd trafią do odbiorców w Ukrainie:
The European Commission said that the first vehicles have already arrived through Poland's EU hub.

— The Kyiv Independent (@KyivIndependent) August 5, 2022
godz. 0.00: co najmniej 2 ukraińskie pociski rakietowe poraziły most we wsi Darjiwka na rzece Inhulec w okupowanym obwodzie chersońskim; widać też pracę rosyjskiej obrony przeciwlotniczej:
Sources from occupied Kherson reported at least
2 Ukrainian missile strikes on the Dariivka bridge over the Inhulets or in its area at about 23:20

The video shows launches or the Russian s2a missiles around the time of the attack.
📹https://t.co/hKF8q8RmxU pic.twitter.com/3A8kUF6XE9

— Euromaidan Press (@EuromaidanPress) August 5, 2022