3 lipca 2022. Sto trzydziesty dzień wojny Rosji z Ukrainą. Wczoraj prezydent Białorusi Aleksander Łukaszenko podczas przemówienia z okazji Dnia Niepodległości oskarżył Ukrainę, że trzy dni wcześniej próbowała przeprowadzić atak rakietowy na obiekty wojskowe w Białorusi, ale wszystkie pociski miały zostać przechwycone i zniszczone. Nie przedstawił przy tym żadnych dowodów i zapewnił, że Mińsk nie dąży do konfrontacji z Kijowem, a ma być na odwrót – to Ukraina, wraz z Zachodem, mają prowokować do wojny.
Zostaliśmy sprowokowani. Muszę państwu powiedzieć: trzy dni temu, może trochę więcej, z terytorium Ukrainy podjęto próbę uderzenia w obiekty wojskowe na Białorusi. Ale dzięki Bogu, systemy przeciwlotnicze Pancyr zdołały przechwycić wszystkie rakiety wystrzelone przez ukraińską armię. Co to jest? Przysięgam: na terytorium Ukrainy nie walczy ani jeden białoruski żołnierz. Białoruś widzi i rozumie prowokacje Zachodu, ale im się nie poddaje. Zły pokój jest lepszy niż dobra wojna – powiedział białoruski dyktator.
Przygotowywałem się do tego od dłuższego czasu. Pamiętajcie, że mówiłem wam: Polonezy, produkcja rakiet i tak dalej. Będziecie zaatakowani tymi rakietami. I nie będę patrzeć na to, kto tam siedzi w tych urzędach czy pałacach. Odpowiemy twardo i zdecydowanie – ostrzegł Ukrainę.
Tymczasem, już przedłużane ćwiczenia wojskowe na terytorium Białorusi, które miał zakończyć się dziś, 3 lipca, zostały ponownie przedłużone – do 9 lipca. Doradca prezydenta Ukrainy Mychajło Podolak informował wczoraj, że: Dokładnie wiemy, co dzieje się na terytorium Białorusi i jesteśmy gotowi na wszelkie scenariusze. Siły białoruskie prowadzą ćwiczenia z tworzenia przepraw pontonowych; nie zaobserwowano oznak formowania sił ofensywnych przeciwnika. Według niego, to element wojny psychologicznej, która ma zwiększać strach wśród społeczeństwa ukraińskiego. Niemniej, 1 lipca Gwardia Narodowa Ukrainy rozpoczęła wzmacnianie punktów kontrolnych na rogatkach Kijowa. Przypomnijmy, że 26 czerwca (pierwszy raz od 28 kwietnia) Kijów stał się ofiarą rosyjskiego ataku rakietowego (Atak Rosji na Ukrainę [Dzień sto dwudziesty dziewiąty]).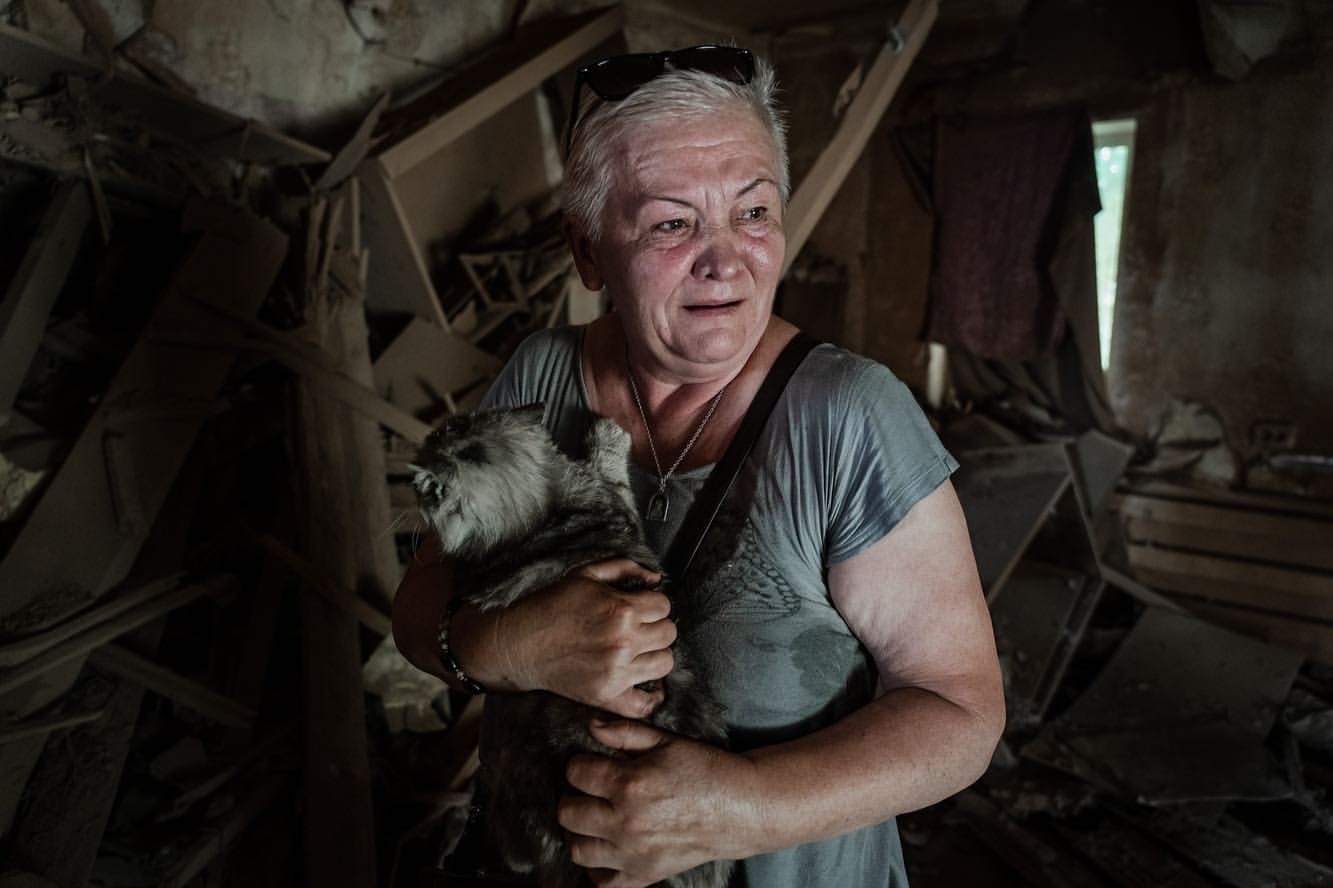 3 lipca 2022. Sto trzydziesty dzień wojny Rosji z Ukrainą. Relacja na żywo na łamach Magazynu Militarnego MILMAG / Zdjęcie: Prezydent Ukrainy
godz. 22.08: G7 rozważa redukcjęwartości rosyjskiej ropy o połowę:
The official added that the leaders plan to install a mechanism that will not allow Russia to sell it at a higher price than the limit set by G7.

— The Kyiv Independent (@KyivIndependent) July 3, 2022
godz. 22.05: siły ukraińskie zniszczyły most kolejowy pomiędzy Melitopolem a Tokmakiem:
Armed Forces of Ukraine destroyed another way of supplying weapons to Russian army

The AFU destroyed the railway bridge between Melitopol and Tokmak which occupiers used for ammunition and weapons supplies.

📰Center for Strategic Communications of the Armed Forces of #Ukraine pic.twitter.com/njKvtq1vMC

— NEXTA (@nexta_tv) July 3, 2022
godz. 21.04: Australia przekaże Ukrainie 100 mln USD pomocy wojskowej:
Albanese reiterated Australia's plan to give Ukraine 14 armored personnel carriers and 20 Bushmaster armored vehicles.

— The Kyiv Independent (@KyivIndependent) July 3, 2022
godz. 20.21: Rosjanie przekroczyli Doniec Siewierski i zdobywają kolejne miejscowości obwodu ługańskiego:
Ukraine's military also reported on July 3 that Russian forces have crossed the Siverskyi Donets River and are trying to seize a neighboring village of Bilohorivka, also in Luhansk Oblast.

— The Kyiv Independent (@KyivIndependent) July 3, 2022
godz. 20.10: partyzanci z Melitopola przypominają o karze za kolaborację z Rosjanami:
The partisans of #Melitopol send fiery greetings to the collaborators and remind them of the consequences of betrayal. pic.twitter.com/W379Lzil2R

— NEXTA (@nexta_tv) July 3, 2022
godz. 18.57: zniszczona ukraińska M777A2:
#Ukraine: A Ukrainian M777A2 155mm howitzer was destroyed by the Russian army in #Mykolaiv Oblast – as seen, the fire was corrected by a Russian Orlan-10 recon drone. pic.twitter.com/QB6HcOmO5h

— 🇺🇦 Ukraine Weapons Tracker (@UAWeapons) July 3, 2022
godz. 18.36: siły ukraińskie wycofały się z Lisiczańska:
❗️General Staff confirmed withdrawal of AFU from #Lysychansk

"In conditions of multiple superiority of Russian occupying troops in artillery,aviation and MLRS, continuation of city defense would lead to fatal consequences. To save lives of our defenders,it was decided to leave." pic.twitter.com/E320hRwF6h

— NEXTA (@nexta_tv) July 3, 2022
⚡️⚡️⚡️General Staff: Ukrainian troops forced to withdraw from Lysychansk.

Ukraine's military reported on July 3 that troops have retreated from the last major city under Ukrainian control in Luhansk Oblast.

— The Kyiv Independent (@KyivIndependent) July 3, 2022
⚡️Zelensky: Situation difficult in Lysychansk but city hasn't fallen.

President Volodymyr Zelensky said on July 3 that fighting is still taking place on the outskirts of Lysychansk, the last major city under Ukrainian control in Luhansk Oblast.

— The Kyiv Independent (@KyivIndependent) July 3, 2022
"There are risks that the entire Luhansk region will be occupied. But you must understand that the situation can change daily," he said.

Russian Defense Minister Sergei Shoigu claimed on July 3 that Russia had taken complete control of the city after weeks of heavy fighting.

— The Kyiv Independent (@KyivIndependent) July 3, 2022
godz. 18.35: kolejne sankcje Australii wobec Rosji:
#Australia will impose sanctions against 16 #Russian ministers and ban gold imports from the country – Prime Minister Anthony Albanese. pic.twitter.com/qHldulyNmE

— NEXTA (@nexta_tv) July 3, 2022
godz. 17.48: w okupowanej części obwodu chersońskiego niszczone są symbole państwowości ukraińskiej:
In the occupied part of the #Kharkiv region, #Ukrainian symbols continue to be destroyed

"We are not vandals, we will change them for our, Russian symbols," said the guy with Putin's swastika on his T-shirt. pic.twitter.com/IQatlRu5la

— NEXTA (@nexta_tv) July 3, 2022
godz. 17.30: O. Reznikow: USA przekażą Ukrainie trzy zestawy przeciwlotnicze NASAMS:
The United States will transfer three NASAMS missile systems to #Ukraine, Defense Minister Alexei Reznikov said. pic.twitter.com/yqM73zgOfq

— NEXTA (@nexta_tv) July 3, 2022
godz. 17.05: Turcja zatrzymała rosyjski statek z ukraińskim zbożem:
Ukraine earlier asked Turkey to detain the Zhibek Zholy cargo ship, Reuters reported.

"We have full cooperation," Bondar said, adding that Ukraine hopes for confiscation of the grain.

— The Kyiv Independent (@KyivIndependent) July 3, 2022
godz. 16.30: A. F. Rasmussen: największym zagrożeniem dla Ukrainy jest wydłużenie wojny: 
The biggest risk now is that conflict in Ukraine could become protracted – former head of NATO Anders Fogh Rasmussen

In Rasmussen's opinion, a protracted conflict serves Putin's goals because it will prevent Ukraine from making real progress towards EU, NATO, and in economy. pic.twitter.com/YDTiMHahmm

— NEXTA (@nexta_tv) July 3, 2022
godz. 16.26: E. Hegel: Słowacja moze dostarczyć Ukrainie samoloty MiG-9AS/UBS i czołgi T-72M1:
Slovakia can supply Ukraine with MiG-29 fighters and tanks at its disposal

This was stated by the Slovak Prime Minister Eduard Heger on air of the Czech TV.

"I don't want to talk about this in more detail, because Ukraine also asked us not to specify this technique," ​​he said. pic.twitter.com/L6wwWYGyZI

— NEXTA (@nexta_tv) July 3, 2022
⚡️ Slovakia to give MiG-29 fighter jets to Ukraine.

Slovak Prime Minister Eduard Heger also said in an interview with a Czech TV channel that there is a possibility that his country would also provide Ukraine with tanks, but he said Kyiv has asked not to reveal further details.

— The Kyiv Independent (@KyivIndependent) July 3, 2022
godz. 15.51: D. Pieskow: Ukraina będzie musiała zgodzić się na wszystkie warunki po wznowieniu negocjacji:
🤡Peskov said that #Kyiv will have to agree to all the conditions of #Russia when negotiations resume. pic.twitter.com/n8J6aPMAn9

— NEXTA (@nexta_tv) July 3, 2022
godz. 15.48: jedna osoba zginęła w ataku na Charków:
⚡️Police: 1 person killed in Russian attack on Kharkiv on July 3.

Serhii Bolvinov, head of investigative department of Kharkiv Oblast police, said one person was killed and at least four were injured in Russia's shelling. Several apartment buildings were also damaged.

— The Kyiv Independent (@KyivIndependent) July 3, 2022
godz. 15.35: zdobyczny rosyjski BMP-3:
#Ukraine: A Russian BMP-3 infantry fighting vehicle, captured in great condition recently in the East, is now used by the 128th Mountain Assault Brigade of the Ukrainian army. pic.twitter.com/8nG9kjPLKE

— 🇺🇦 Ukraine Weapons Tracker (@UAWeapons) July 3, 2022
godz. 14.47: A. Łukaszenko: Białoruś wspiera Rosję:
Belarus is not a direct participant in the full-scale war in Ukraine, but is providing logistical support to Russia's invasion. Belarus also allows Russia to use its territory to launch missiles at Ukraine.

— The Kyiv Independent (@KyivIndependent) July 3, 2022
godz. 14.06: pożar jednego ze sklepów w Słowiańsku, po rosyjskim ostrzale: 6 zabitych 15 rannych:
Ukrainian journalists publish video from Slovyansk

According to journalists, right now firefighters are working in one of the local markets, which caught fire as a result of shelling.

Earlier, local media reported about the heavy shelling of #Slovyansk. pic.twitter.com/yRKwPc4rKa

— NEXTA (@nexta_tv) July 3, 2022
According to Sloviansk Mayor Vadym Lyakh, 15 fires broke out in the city due to the mass shelling.

— The Kyiv Independent (@KyivIndependent) July 3, 2022
godz. 13.59: burmistrz fińskiej miejscowości Lappeenranta, leżącej niedaleko granicy z Rosją, nie będzie przeciwny utworzeniu natowskiej bazy wojskowej w okolicy:
The mayor of the #Finnish border city of #Lappeenranta said he would not be against the creation of a #NATO military base in the region.

Again, Putin did not allow NATO near the borders of #Russia… pic.twitter.com/d8YSFTSwUr

— NEXTA (@nexta_tv) July 3, 2022
godz. 13.29: Rosjanie chcą legitymizować okupację obwodu chersońskiego:
The U.K. Defense Ministry said on July 3 that finding a pseudo-constitutional solution for the occupation is a "priority policy objective" for the Kremlin. Russia will likely be prepared to rig the vote in order to show an acceptable result, the ministry said.

— The Kyiv Independent (@KyivIndependent) July 3, 2022
godz. 13.27: ok 800 tys. Ukraińców straciło dach nad głową; Rosjanie zniszczyli ponad 15 mln m kw infrastruktury mieszkalnej, a ok. 220 tys. osób już złożyło wnioski o rekompensaty:
About 220,000 Ukrainians have already submitted applications for compensation, according to Shulyak.

— The Kyiv Independent (@KyivIndependent) July 3, 2022
godz. 13.25: premier Australii Anthony Albaniz odwiedził Buczę, Hostomel i Irpień:
#Australian Prime Minister Anthony Albaniz arrived in #Ukraine

He visited Bucha, Gostomel and Irpen. pic.twitter.com/zGlSCj5m7p

— NEXTA (@nexta_tv) July 3, 2022
Hundreds of civilians were massacred by Russian troops in Bucha, Irpin, and Hostomel in February-March.

— The Kyiv Independent (@KyivIndependent) July 3, 2022
godz. 13.08: Kramatorsk ostrzelany z rosyjskich 300-mm wyrzutni artylerii rakietowej BM-30 Smiercz:
The occupants shelled #Kramatorsk with "Smerch" multiple rocket launchers

According to preliminary information, there were no casualties. pic.twitter.com/4z7Mt5MPqN

— NEXTA (@nexta_tv) July 3, 2022
⚡️Mayor: Russian forces attack Kramatorsk with Smerch MLRS.

Kramatorsk Mayor Oleksandr Honcharenko reported on July 3 that for two days in a row Russian troops have attacked the city with Smerch multiple launch rocket systems. No casualties have been reported yet.

— The Kyiv Independent (@KyivIndependent) July 3, 2022
godz. 12.54: ukraińskie straty sprzętowe w Siewierodoniecku (wątek będzie rozwijany na Twitterze):
#Ukraine: In this thread we will cover the losses of the Ukrainian army in Sievierodonetsk, #Luhansk Oblast: at least two US-supplied HMMWV M1115A1 armored IMVs were captured there by Russian forces, though one is seriously damaged and will be likely used for spare parts. pic.twitter.com/bANH5mZxa0

— 🇺🇦 Ukraine Weapons Tracker (@UAWeapons) July 3, 2022
godz. 12.52: zdjęcia z ewakuacji Rosjan z Wyspy Węży:
#Ukraine: Interesting images taken from Russian Helicopters during the hurried evacuation from the (in)famous Snake Island in the Black Sea on June 29th.

As can be seen, a Pantsir-S1 SAM system was abandoned; other equipment is also likely. pic.twitter.com/upA5C2gINW

— 🇺🇦 Ukraine Weapons Tracker (@UAWeapons) July 3, 2022
godz. 12.50: porażenie rosyjskiego czołgu z bsl:
https://twitter.com/UAWeapons/status/1543547733197332480?t=XF8HTkXJTHadqmSz3aMl6g&s=19
godz. 12.47: Javelin kontra BTR:
#Ukraine: Ukrainian troops using a US-supplied FGM-148 Javelin ATGM against a Russian armoured vehicle (Claimed to be a BTR APC) in the South. pic.twitter.com/rbqYxko8YD

— 🇺🇦 Ukraine Weapons Tracker (@UAWeapons) July 3, 2022
godz. 12.43: ambasada USA w Moskwie usunęła ze swojej strony adres placówki, po tym jak Rosjanie zmienili nazwę placu obok niej:
The U.S. Embassy in #Moscow removed the address from its website – earlier, the Russian authorities renamed the area near the diplomatic mission "DPR Square".

Instead of the address, the website now shows coordinates. pic.twitter.com/xy2fIH7gBj

— NEXTA (@nexta_tv) July 3, 2022
godz. 12.37: zniszczony rosyjski T-80BW:
#Ukraine: A Russian T-80BV was destroyed by the Ukrainian forces on the Eastern front. pic.twitter.com/iTApenYBE8

— 🇺🇦 Ukraine Weapons Tracker (@UAWeapons) July 3, 2022
godz. 12.35: Rosja twierdzi, że zajęła cały obwód ługański:
This appears to be an effort to avoid encirclement of Ukrainian troops. Ukraine has not yet confirmed the loss of Lysychansk but Luhansk Oblast Governor Serhiy Haidai said that Russian troops had gained a foothold in Lysychansk and destroyed the city's administrative buildings.

— The Kyiv Independent (@KyivIndependent) July 3, 2022
Shoigu reported to Putin about seizure of entire Luhansk region

According to Shoigu, Russian troops have captured Lysychansk and nearby settlements, largest of which are Belogorovka, Novodruzhesk, Maloryazantsevo, and Belaya Gora.

Kyiv has not yet commented on this information. pic.twitter.com/WpuuPc6kmU

— NEXTA (@nexta_tv) July 3, 2022
godz. 11.47: rosyjski atak rakietowy na Charków i okolice, 4 rannych:
⚡️Governor: Russian missiles hit Kharkiv.

No casualties were reported in Kharkiv but Russian attacks in other locations in Kharkiv Oblast wounded four people, Kharkiv Oblast Governor Oleh Syniehubov said on July 3.

— The Kyiv Independent (@KyivIndependent) July 3, 2022
godz. 11.18: ukraiński ostrzał moździerzowy wsi Tetkino w obwodzie kurskim, wiele budynków uszkodzonych, bez ofiar:
‼️Governor of #Russian #Kursk region Roman Starovoit reports on mortar shelling in the border village of Tetkino.

Several houses were damaged. There were no casualties. pic.twitter.com/x0klL87etf

— NEXTA (@nexta_tv) July 3, 2022
godz. 10.48: w ciągu 24 godzin Rosjanie przeprowadziły 24 ataki na 18 osiedli mieszkalnych w obwodzie donieckim:
Over the past 24 hours, #Russian occupiers have carried out 24 strikes in the #Donetsk region and shelled 18 settlements.

According to the National Police of #Ukraine, 31 civilian objects were destroyed. Civilians were killed and wounded. pic.twitter.com/XZ72hw1RrJ

— NEXTA (@nexta_tv) July 3, 2022
godz. 10.31: prokuratura generalna Ukrainy informuje, że siły rosyjskie dopuściły się dotąd 21 090 zbrodni wojennych, 10 437 przestępstw przeciwko bezpieczeństwu narodowemu, 623 przedstawicieli rosyjskiej władzy jest oskarżanych o odpowiedzialność za zbrodnie (ministrowie i ich zastępcy, dowódcy wojskowi, oficjele, szefowi agencji federalnych, podżegacze i propagandziści wojenni), natomiast w działaniach wojennych zginęło 344 dzieci, a 642 zostało rannych:
Since the beginning of #Russia's full-scale invasion of #Ukraine, 344 children have been killed and another 642 have been wounded. pic.twitter.com/X7C0EFc0UC

— NEXTA (@nexta_tv) July 3, 2022
godz. 10.04: A. Łukaszenko:

Jesteśmy jedynym krajem, który wspiera Rosjan

w tej walce. A ile krajów jest po drugiej stronie? Prawie pięćdziesiąt, które faktycznie są w stanie wojny z Rosją w Ukrainie

. Coś nie sumuje się do salda:
🤡#Lukashenko: "We are the only country that supports the #Russians in this fight. And how many countries are on the other side? Almost fifty that are actually at war against #Russia in #Ukraine. Something doesn't add up to a balance". pic.twitter.com/D7IrsO1t0f

— NEXTA (@nexta_tv) July 3, 2022
godz. 9.47: nocny atak rakietowy na Charków na obiekt infrastruktury krytycznej, podmuch wybił szyby w pobliskiej szkole:
‼️The head of the #Kharkiv regional administration, Oleg Sinegubov, reported that a missile strike was launched against the city at night.

The missile hit one of the critical infrastructure facilities. The explosion blew out windows in one of the city's schools.

— NEXTA (@nexta_tv) July 3, 2022
godz. 8.23: władze obwodu kurskiego poinformowały o zestrzeleniu dwóch ukraińskich odrzutowych bezzałogowców Tu-141 Striż:
Two #Ukrainian Strizh drones were shot down on the approach to #Kursk, #Russia, said Governor Roman Starovoit. pic.twitter.com/UBT4JRujR1

— NEXTA (@nexta_tv) July 3, 2022
⚡️Russian media: Explosions heard in Kursk.

Roman Starovoit, the governor of Russia's Kursk Oblast, claimed that Russia's air defense had shot down two Ukrainian Strizh drones near Kursk.

— The Kyiv Independent (@KyivIndependent) July 3, 2022
godz. 8.13: 30-lecie powstania marynarki wojennej Ukrainy:
Вітаємо ВМС ЗС України 30 річницею! pic.twitter.com/0xJ036Gij1

— Генеральний штаб ЗСУ (@GeneralStaffUA) July 3, 2022
godz. 8.07: informacja Straży Granicznej o liczbie uchodźców wojennych z Ukrainy:
#Pomagamy🇺🇦
Od 24.02 #funkcjonariuszeSG odprawili w przejściach granicznych na kierunku z🇺🇦do🇵🇱4,506 mln os.
Wczoraj tj.02.07➡️25,7 tys.
Dziś do godz.07.00➡️7,3 tys.
W dn.02.07 z🇵🇱do🇺🇦odprawiono 29,8 tys. osób. Od 24.02- 2,562 mln os. pic.twitter.com/FFwX1oKZyg

— Straż Graniczna (@Straz_Graniczna) July 3, 2022
godz. 7.59: ukraiński atak rakietowy na okupowany Melitopol; wśród celów cztery rosyjskie placówki wojskoww; użyto ponad 30 pocisków:
At night, the #Ukrainian Armed Forces attacked occupiers' positions in seized #Melitopol.

The mayor of Melitopol, Ivan Fedorov, confirmed the rocket attacks, adding that the target was one of the occupiers' military bases in the city. pic.twitter.com/D01eZkNXL1

— NEXTA (@nexta_tv) July 3, 2022
Explosions were previously heard near an airfield where Russian soldiers are based, according to locals.

— The Kyiv Independent (@KyivIndependent) July 3, 2022
godz. 7.55: straty rosyjskie wg danych sztabu generalnego sił zbrojnych Ukrainy: około 35 970 żołnierzy, 1584 czołgi, 3744 bojowe wozy piechoty i transportery opancerzone, 801 zestawów artylerii lufowej, 246 zestawów artylerii rakietowej, 105 zestawów przeciwlotniczych, 217 samolotów, 187 śmigłowców, 654 bezzałogowce, 144 pociski manewrujące, 2618 ciężarówek i innych pojazdów nieopancerzonych, w tym cystern, 14 łodzi i okrętów oraz 64 sztuki sprzętu specjalnego: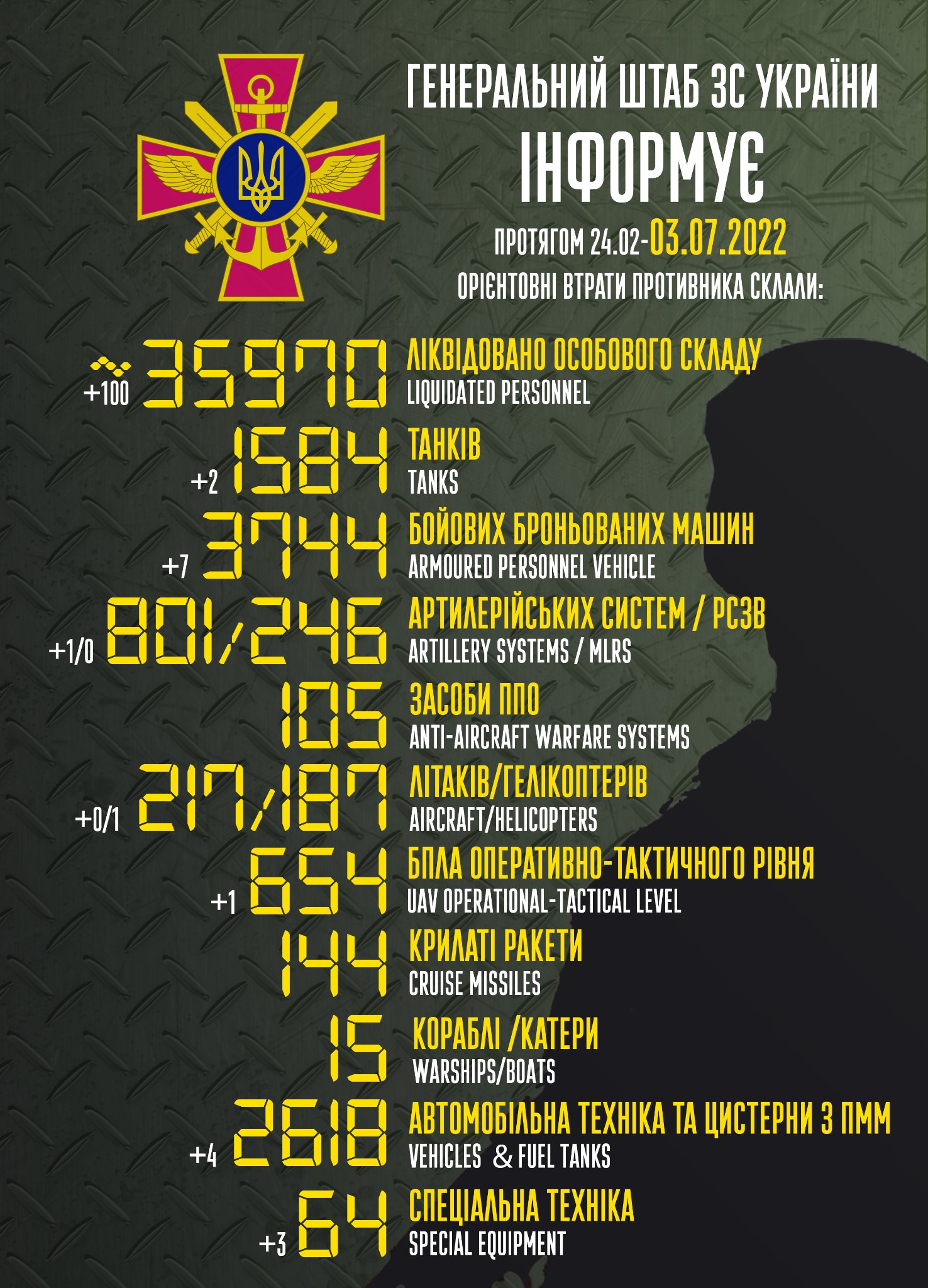 Grafika: sztab generalny sił zbrojnych Ukrainy
godz. 7.34: siły ukraińskie odpierają ofensywę rosyjską w pobliżu Charkowa i Słowiańska. Siły rosyjskie skupiają się na zabezpieczeniu pozycji w okolicach Lisiczańska i Wierchnokamianskiego. Przeprowadzili także naloty na Iwanówkę w obwodzie chersońskim oraz ataki rakietowe na obwód mikołajowski:
⚡️ General Staff: Ukrainian forces repel Russian offensives near Kharkiv, Sloviansk.

Russian forces are focused on securing positions near Lysychansk and Verkhnokamianske. They also conducted airstrikes on Ivanivka, Kherson Oblast, and missile strikes in Mykolaiv Oblast.

— The Kyiv Independent (@KyivIndependent) July 3, 2022
godz. 7.03: siły ukraińskie wyzwoliły już 1027 miast, osiedli typu miejskiego i wsi; podczas gdy 2610 pozostaje pod okupacją:
Since February 24, the Armed Forces of #Ukraine have liberated 1,027 cities and towns, while another 2,610 settlements remain under #Russian occupation, reports @ZelenskyyUa.

📰Deutsche Welle pic.twitter.com/OBDf0ATPwO

— NEXTA (@nexta_tv) July 3, 2022
godz. 7.02: informacja operacyjna sztabu generalnego sił zbrojnych Ukrainy na godz. 6.00:
Оперативна інформація станом на 06.00 03.07.2022 щодо російського вторгнення
Докладніше https://t.co/XgXwpgtbgY
Read more https://t.co/yp9Vukv1Rz
Video https://t.co/XL9GTaRyl6

— Генеральний штаб ЗСУ (@GeneralStaffUA) July 3, 2022
godz. 6.47: od 2014 na ponad 8000 rosyjskich stron internetowych pojawiła się bezprecedensowa ilość artykułów wiążących Ukrainę z nazizmem:
Russian disinformation falsely claiming that Ukraine is "overrun by far-right extremists" is reportedly intended to justify its war against Ukraine and garner domestic support.

— The Kyiv Independent (@KyivIndependent) July 3, 2022
godz. 6.17: w miejscowości Uchta w rosyjskiej Republice Komi uhonorowano separatystę i zbrodniarza wojennego Arsena Pawłowa ps. Motorola:
In #Ukhta, #Komi Republic, #Russia, a memorial plaque was opened in honor of famous war criminal Arsen Pavlov ("Motorola"). https://t.co/0m6qZVK5xP pic.twitter.com/11XWIJEqgh

— NEXTA (@nexta_tv) July 3, 2022
godz. 6.05: kadyrowcy twierdzą, że przejęli kontrolę na Lisiczańskiem – wg strony ukraińskiej to nieprawda:
#Kadyrovites claim to have taken over #Lysychansk, #Luhansk region and published a video showing #Chechen mercenaries standing in ruins.#Ukrainian authorities reported that #Russian troops were attacking in the direction of Lysychansk, but had no success and withdrew. pic.twitter.com/WKsJLXi6QU

— NEXTA (@nexta_tv) July 3, 2022
godz. 6.04: dekret prezydenta Ukrainy nr 462/2022 o przyznaniu odznaczeń państwowych:
УКАЗ ПРЕЗИДЕНТА УКРАЇНИ №462/2022
Про відзначення державними нагородами Україниhttps://t.co/cmnRD7qv0Z pic.twitter.com/uDqaH36uH6

— Генеральний штаб ЗСУ (@GeneralStaffUA) July 3, 2022
godz. 6.02: PzH 2000 w SZ Ukrainy:
На озброєнні ЗСУ є самохідні гармати-гаубиці "Panzerhaubitze2000". Їх обслуговують підготовлені українські екіпажі. Наші військові уже ефективно застосовують їх на полі бою.https://t.co/MBmE0JP4kb

— Генеральний штаб ЗСУ (@GeneralStaffUA) July 3, 2022
godz. 5.55: ISW: siły ukraińskie podobno wycofują się z Lisiczańska:
The ISW added that Russian forces will likely take complete control of Luhansk Oblast in coming days, afterwards prioritizing advances on Ukrainian positions in Siversk then in Sloviansk and Bakhmut.

— The Kyiv Independent (@KyivIndependent) July 3, 2022
godz. 5.38: eksplozja w rosyjskim Białogrodzie; wg Rosjan 3 osoby zginęły, 4 zostały ranne; 50 budynków uszkodzonych (11 domów i 39 mniejszych obiektów); Aktualizacja: wg doniesień siły ukraińskie wystrzeliły pocisk balistyczny Toczka-U:
Governor of #Russian #Belgorod region reported casualties and destruction, but did not elaborate on what happened. According to him, three people were killed and four more were injured.

📰BBC

— NEXTA (@nexta_tv) July 3, 2022
‼️The occupiers' Defense Ministry claims that the #Ukrainian Armed Forces struck #Belgorod with Tochka-U missiles.

It is noted that they were shot down, but the wreckage of one of the missiles fell on a residential building.

— NEXTA (@nexta_tv) July 3, 2022
Russia has accused Ukraine of attacking Belgorod, while the Ukrainian authorities have not commented on the issue.

— The Kyiv Independent (@KyivIndependent) July 3, 2022
godz. 5.23: rzeźnik Mariupola, rosyjski generał Michaił Mizincew twierdzi, że władze ukraińskie płaciły nieletnim za udawanie zabitych i rannych w eksplozjach:
#Russian colonel general Mikhail #Mizintsev claims that #Kyiv authorities paid minors to pretend to be killed and wounded by explosions. pic.twitter.com/gMk90sHP5i

— NEXTA (@nexta_tv) July 3, 2022
godz. 5.16: A. Łukaszenko twierdzi, że Europa hoduje potwora w Ukrainie, a państwa zachodnie otwarcie mówią o aneksji części Białorusi:
#Lukashenko declared that Europe is raising a monster in #Ukraine and claimed that Western states openly talk about an annexation of parts of #Belarus. pic.twitter.com/RhIFY5qrs1

— NEXTA (@nexta_tv) July 3, 2022
godz. 4.59: Dmitrij Sczkrebeż, ojciec zmarłego poborowego z krążownika RFS Moskwa

otrzymał odszkodowanie w wysokości 7 mln RUB (566 tys. zł). Ale jego żona zabrała pieniądze i zerwała z nim kontakt:
Dmitri Schkrebez, father of the dead conscript from the cruiser #Moskva got compensation in the amount of 7 million rubles. But his wife took the money and has broken off contact with him. pic.twitter.com/2WimOJHZEZ

— NEXTA (@nexta_tv) July 3, 2022
godz. 3.53: rosyjski pocisk rakietowy spadł na ośrodek wypoczynkowy w Odessie, bez ofiar:
⚡️ Ukraine's military: Russia fires missile at recreational center in Odesa, no casualties reported.

Ukraine's Operational Command "South" said it killed 29 Russian troops and destroyed a self-propelled howitzer, two self-propelled artillery systems, and six armored vehicles.

— The Kyiv Independent (@KyivIndependent) July 3, 2022
godz. 2.53: w rosyjskim ostrzale w obwodzie donieckim zginęło 2 cywilów a 3, w tym dzieci w wieku 4 i 7 lat, zostało rannych:
⚡️ Governor: Russian shelling kills 2, injures 3 civilians, including children, in Donetsk Oblast.

Donetsk Oblast Governor Pavlo Kyrylenko reported on July 3 that Russian forces attacked the community of Dobropillia. Among those injured are two children, aged four and seven.

— The Kyiv Independent (@KyivIndependent) July 3, 2022
godz. 1.49: wojska lotnicze Ukrainy zniszczyły dwa rosyjskie punkty kontrolne, dwa składy amunicji, do 20 opancerzonych wozów bojowych i 10 czołgów oraz samobieżne systemy artyleryjskie w Mikołajowie, Zaporożu, Charkowie, Doniecku i Ługańsku:
⚡️ Air Force destroys Russian equipment at frontlines.

Ukraine's Air Force destroyed two Russian control points, two ammunition depots, up to 20 armored combat vehicles and 10 tanks, and self-propelled artillery systems in Mykolaiv, Zaporizhzhia, Kharkiv, Donetsk, and Luhansk.

— The Kyiv Independent (@KyivIndependent) July 2, 2022
godz. 1.18: ok. 16 mln Ukraińców wymaga pomocy humanitarnej i ochrony z powodu wojny; miliony ludzi cierpi na dotkliwy brak schronienia, żywności i wody:
About 16 million Ukrainians need humanitarian assistance and protection due to #Russian invasion of #Ukraine

According to a number of humanitarian organizations, millions of Ukrainians suffer from an acute shortage of shelter, food and water.

📰UN pic.twitter.com/6MnqNn921M

— NEXTA (@nexta_tv) July 2, 2022
godz. 1.11: do 2 lipca na terytorium obwodu kijowskiego na powierzchni 17 739,81 ha rozbrojono prawie 48 tys. materiałów wybuchowych:
⚡️ Ukraine defuses nearly 48,000 explosives in Kyiv Oblast.

According to the Kyiv regional military administration on July 2, over 17,739.81 hectares of territory have been surveyed and cleared of explosives thus far.

— The Kyiv Independent (@KyivIndependent) July 2, 2022
godz. 0.52: od 24 lutego ukraińskie koleje państwowe Ukrzaliznycia ewakuowały z obwodu donieckiego ponad 300 tys. ludzi:
⚡️ Ukrzaliznytsia evacuates over 300,000 people from Donetsk Oblast since Feb. 24.

Donetsk Oblast Governor Pavlo Kyrylenko thanked Ukraine's railway operator, which he says has continued to save people and deliver humanitarian goods to Donetsk Oblast despite Russian aggression.

— The Kyiv Independent (@KyivIndependent) July 2, 2022
godz. 0.00: tylko 5% mieszkańców Mariupola ma dostęp do bieżącej wody; brak wody pitnej to problem nr 1 w okupowanym mieście:
⚡️ Official: Only 5% of Mariupol residents have access to water.

Petro Andriushchenko, the advisor to Mariupol's mayor, said that access to a water supply is currently the "number one problem" in the city.

— The Kyiv Independent (@KyivIndependent) July 2, 2022
godz. 0.00: trafiony rosyjski KamAZ z artyleryjskim zestawem przeciwlotniczym ZU-23-2:
#Ukraine: Drone footage from the Aerorozvidka "Carlson" unit showing accurate indirect fire from the 17th Tank Brigade hitting a Russian KAMAZ truck equipped with a ZU-23-2 23mm autocannon.

It is destroyed along with ammo. pic.twitter.com/MyCQ1EKRWF

— 🇺🇦 Ukraine Weapons Tracker (@UAWeapons) July 2, 2022
godz. 0.00: w rosyjskiej niewoli znajduje się 8 merów ukraińskich miast, w tym sześciu z obwodu chersońskiego:
⚡️Association of Ukrainian Cities: 8 Ukrainian mayors currently in Russian captivity.

According to the association, six of the officials captured by Russia are mayors of settlements in occupied Kherson Oblast, including Kherson Mayor Ihor Kolykhaiev.

— The Kyiv Independent (@KyivIndependent) July 2, 2022
godz. 0.00: Rosjanie kradną wodę z Dniepra, straty szacowana na 135 mln USD:
Every second, 50 cubic meters of water flow through the canal, which costs Ukraine around $1.1 million per day, BBC reported.

— The Kyiv Independent (@KyivIndependent) July 2, 2022