20 lipca 2022. Sto czterdziesty siódmy dzień wojny Rosji z Ukrainą. Wczoraj szef Sztabu Generalnego sił zbrojnych Wielkiej Brytanii, gen. Sir Patrick Sanders odwiedził pierwszą grupę rekrutów sił zbrojnych Ukrainy w ramach programu szkoleniowego realizowanego na Wyspach.
Gen. Sanders powiedział: Uderzyła mnie odwaga, morale i duch walki żołnierzy ukraińskich. Ogromne wrażenie robi również zaangażowanie i ciężka praca instruktorów oraz szybkość, z jaką zorganizowali szkolenie. Będziemy kontynuować nasze prace nad zwiększeniem ambicji i tempa szkoleń, aby zmaksymalizować wsparcie dla Ukrainy.
Generał Sanders obserwował szkolenie wojsk ukraińskich w zakresie walki miejskiej. Zaczerpnięte z podstawowego programu szkolenia British Army, inne umiejętności, których uczą się Ukraińcy, obejmują posługiwanie się bronią, pierwszą pomoc na polu bitwy, sztukę przetrwania, taktykę patrolową i prawo konfliktów zbrojnych.
W nadchodzących miesiącach siły zbrojne Wielkiej Brytanii przeszkolą nawet 10 000 Ukraińców. Program jest częścią trwałego zobowiązania Wielkiej Brytanii do wsparcia Ukrainy, które jak dotąd wynosi ponad 2,3 miliarda GBP pomocy wojskowej, w tym broni przeciwpancernej, pojazdów opancerzonych i artylerii rakietowej.
Szkolenie jest prowadzone w placówkach w całej Wielkiej Brytanii przez ponad 1000 żołnierzy z 11th Security Force Assistance Brigade, która specjalizuje się w prowadzeniu szkoleń mających na celu budowanie zdolności wojskowych przez sojuszników i partnerów. Dla ukraińskich żołnierzy zostały zakupione karabinki, hełmy, kamizelki kuloodporne, mundury i sprzęt polowy. Obecny program opiera się na historii wsparcia wojsk ukraińskich przez armię w ramach operacji Orbital, podczas której wojska brytyjskie na Ukrainie w latach 2015-2022 przeszkoliły ponad 22 000 Ukraińców.
Minister Obrony Ben Wallace, który odwiedził placówki szkoleniowe wcześniej, powiedział: Ten ambitny nowy program szkoleniowy jest kolejnym etapem wsparcia Wielkiej Brytanii dla Sił Zbrojnych Ukrainy w ich walce z rosyjską agresją. Pierwszorzędna wiedza British Army pomoże Ukrainie odbudować jej siły i wzmocnić jej opór, broniąc suwerenności swojego kraju i ich prawa do wyboru własnej przyszłości.
28 czerwca gen. Sir Patrick Sanders na konferencji RUSI (Royal United Services Institute for Defense and Security Studies Land Warfare), podkreślił: Skala wojny w Ukrainie jest bezprecedensowa. (…) Dla nas trzewna natura europejskiej wojny lądowej nie jest tylko jakimś przejawem odległych chmur burzowych na horyzoncie, widzimy to teraz. Znamy tak wyraźne zagrożenie dla zasad suwerenności i demokracji oraz wolności życia bez strachu przed przemocą, jak brutalna agresja prezydenta Putina i jego ekspansjonistyczne ambicje, że nasi przodkowie mierzyli się z tym ponad 80 lat temu. Teraz, tak jak wtedy, nasze decyzje będą miały nieproporcjonalny wpływ na naszą przyszłość (Atak Rosji na Ukrainę [Dzień sto czterdziesty szósty]).
20 lipca 2022. Sto czterdziesty siódmy dzień wojny Rosji z Ukrainą. Relacja na żywo na łamach Magazynu Militarnego MILMAG / Zdjęcie: sztab generalny sił zbrojnych Ukrainy
godz. 21.51: Ukraina zwróci się o restrukturyzację długu z odroczeniem spłaty o 2 lata:
⚡️ Ukraine to ask for debt restructuring, postponing repayment for 2 years.

The decision aims to save currency liquidity and reduce the $5 billion monthly budget deficit.

If the creditors do not agree, Ukraine will continue paying its debts according to the current agreements.

— The Kyiv Independent (@KyivIndependent) July 20, 2022
godz. 20.34: ustępujący premier W. Brytanii B. Johnson poradził swojemu następcy, aby trzymał się blisko Amerykanów. Stał za Ukraińcami. Stał za wolnością, wszędzie za demokracją. Powiedział to w swoim ostatnim wystąpieniu w parlamencie jako premier:
The outgoing UK Prime Minister Boris Johnson advised his successor to "stay close to the Americans. Stick up for the Ukrainians. Stick up for freedom, for democracy everywhere."

He said it in his final parliamentary appearance as prime minister. https://t.co/BBofEseJY0

— Euromaidan Press (@EuromaidanPress) July 20, 2022
godz. 20.34: Litwa wkrótce przekaże Ukrainie transportery opancerzone M113 i M577, jak i amunicję:
#Lithuania will soon provide Ukraine M113 and M577 armored personnel carriers, as well as ammunition

In addition, the Lithuanian Ministry of Defense offered to organize a "wide range of military training" for the National Guard of #Ukraine. https://t.co/hTWzbNOqpd

— NEXTA (@nexta_tv) July 20, 2022
godz. 20.14: USA i ich sojusznicy obiecali dostarczyć Ukrainie ponad 20 wieloprowadnicowych wyrzutni rakietowych:
US & allies promised to provide "more than 20" HIMARS to Ukraine, Joint Chiefs of Staff Gen. Mark Milley said.

He also said that 200 Ukrainian soldiers were already trained to use HIMARS and training continues. https://t.co/c1Yp3Fa4Vt

— Euromaidan Press (@EuromaidanPress) July 20, 2022
godz. 20.02: cyberatak na Ukrainie:
⚡️Ukrainians face cyberattack.

In Ukraine, hackers began to distribute a file containing a thumbnail image mentioning the Southern Operational Command, which then leads to information being stolen when opened, according to the State Special Communications Service.

— The Kyiv Independent (@KyivIndependent) July 20, 2022
godz. 19.57: ukraiński ppk FGM-148 Javelin kontra rosyjski czołg:
#Ukraine: A clear example of the aftermath of the FGM-148 Javelin top-attack mode from the 92nd Mechanized Brigade of Ukraine – an accurate hit on a Russian tank leading to an instant ammo cook off. pic.twitter.com/fsBqfaJL3v

— 🇺🇦 Ukraine Weapons Tracker (@UAWeapons) July 20, 2022
godz. 19.55: uszkodzony, zdobyczny rosyjski T-80BWM:
#Ukraine: Ukrainian troops damaged and captured another Russian T-80BVM tank in the East. pic.twitter.com/SCccjCn6Nu

— 🇺🇦 Ukraine Weapons Tracker (@UAWeapons) July 20, 2022
godz. 19.36: Rosja kontynuuje ofensywę w obwodzie donieckim:
⚡️ General Staff: Russia continues offensive in Donetsk Oblast.

Russia is on the offense near Berestove village, around 30 kilometers northwest of Bakhmut.

The Russian army also conducts an offensive near the Vuhlehirska power plant some 27 kilometers southwest of Bakhmut.

— The Kyiv Independent (@KyivIndependent) July 20, 2022
godz. 19.28: D. Kułeba wzywa do zaostrzenia sankcji wobec Rosji:
⚡️Kuleba urges more sanctions against Russia as it 'rejects diplomacy and focuses on war and terror.'

Foreign Minister Dmytro Kuleba reacted to a statement made by Russian Foreign Minister Sergei Lavrov regarding Russia's new "geographic tasks" to seize more Ukrainian land.

— The Kyiv Independent (@KyivIndependent) July 20, 2022
godz. 18.40: O. Zełenska przemawiała w Kongresie USA; podczas wydarzenia pokazano film z 4-letnią Lizą, która zginęła w rosyjskim ataku rakietowym na Winnicę; zaapelowała o więcej broni dla Ukrainy:
#Ukraine's First Lady Olena Zelenska spoke at the #US Congress

During her speech, Zelenska showed a video of four-year-old Liza, who died because of the missile strike on #Vinnytsia, as well as a photo and video of those killed in the strike on #Kremenchuk. pic.twitter.com/WwlIrLxSZ3

— NEXTA (@nexta_tv) July 20, 2022
Ukrainian first lady Olena Zelenska appealed for more weapons against Russia's terror, speaking at US Congress.

"Weapons that would not be used to wage war on somebody else's land but to protect one's home&the right to wake up alive in that home" she saidhttps://t.co/rN8yFyANMZ pic.twitter.com/FAJZvoWmRx

— Euromaidan Press (@EuromaidanPress) July 20, 2022
godz. 18.24: 5100 dzieci ukraińskich deportowano do Rosji:
As of July 20, it is officially confirmed that 5,100 children have been deported to #Russia.

Since the beginning of the war, #Ukraine has managed to return a total of 46 children who were forcibly removed by the occupiers. pic.twitter.com/sTEwjGIavO

— NEXTA (@nexta_tv) July 20, 2022
godz. 18.00 (Niepotwierdzone) detonacji pocisku systemu M142 HIMARS w rosyjskim składzie amunicji:
Screens of HIMARS MLRS attacks on Russian ammunition depots through the eyes of the Russian military!#UkraineRussiaWar#Ukraine️ .. pic.twitter.com/yhmR2F6FBj

— محب الأمطار (@0AfLcgZf7N6BrQj) July 20, 2022
godz. 17.59: Międzynarodowy Trybunał Karny w Hadze przygotowuje się do postawienia w stan oskarżenia Rosji tej zimy:
The International Criminal Court is preparing to indict #Russia on its crimes in #Ukraine as early as this winter, @business reports. pic.twitter.com/rsCkLBApMx

— NEXTA (@nexta_tv) July 20, 2022
godz. 17.50: aktywa Sbierbanku zamrożone w UE:
Assets of Russia's largest bank to be frozen in EU

A new package of #EU sanctions against #Russia provides for new export control measures, including the freezing of assets of Sberbank – #Lithuanian ambassador to the EU. pic.twitter.com/7uv7Guaqc7

— NEXTA (@nexta_tv) July 20, 2022
godz. 17.47: UE zatwierdziła 7. pakiet sankcji wobec Rosji:
The #EU approved the 7th package of sanctions, which includes a ban on gold from #Russia

New export control measures and the freezing of Sberbank's assets are also included. In addition, the restrictions affected more than 50 individuals and legal entities. pic.twitter.com/AZhZ2DwXFQ

— NEXTA (@nexta_tv) July 20, 2022
godz. 17.19: port w Bejrucie odmawia przyjęcia statków ze skradzionych ukraińskim zbożem:
When the Lebanese authorities prohibited the ships from unloading there, they were redirected to the ports of Latakia and Tartus in Syria.

From there, Ukrainian grain will be delivered to Middle East and North Africa, according to the intelligence.

— The Kyiv Independent (@KyivIndependent) July 20, 2022
godz. 16.37: L. Austin:

działania wojenne w Ukrainie

 są w decydującej fazie, a Zachód będzie nadal szukał sposobów na zapewnienie długoterminowej pomocy wojskowej

dla Kijowa:
The military actions in #Ukraine is at a decisive stage, and the West will continue to look for ways to provide long-term military assistance to #Kyiv – US Secretary of Defense Lloyd Austin. pic.twitter.com/T8WDeulF7l

— NEXTA (@nexta_tv) July 20, 2022
The minister said that the U.S. will provide all assistance "so that Ukraine has the technology, ammunition and the sheer firepower to defend itself."

— The Kyiv Independent (@KyivIndependent) July 20, 2022
godz. 16.25: Rosjanie zdobyli ukraiński T-72M1 (eks-polski lub eks-czeski):
#Ukraine: A Ukrainian T-72M1 tank was captured by the Russian forces in #Donetsk Oblast. This tank came to Ukraine as part of the supply of equipment from Czechia/Poland. pic.twitter.com/hoch2KlLTZ

— 🇺🇦 Ukraine Weapons Tracker (@UAWeapons) July 20, 2022
godz. 16.13:

w ciągu ostatniego dnia w Ukrainie

spalono ponad 200 hektarów upraw. Okupanci nadal celowo niszczą uprawy i nie pozwalają strażakom i okolicznym mieszkańcom gasić pożarów:
Over the past day, more than 200 hectares of crops have been burned in #Ukraine, the Ministry of Internal Affairs reported.

The occupiers continue to purposefully destroy crops and do not allow rescuers and local residents to extinguish fires. pic.twitter.com/c1VQRPRLeW

— NEXTA (@nexta_tv) July 20, 2022
godz. 16.12: dwa egzemplarze polskiej produkcji amunicji krążącej Warmate siły ukraińskie użyły w ataku na siły rosyjskie w Enerhodarze; wygląda na to, że głowice prawidłowo zdetonowały:
#Ukraine: At least two Ukrainian Polish-made WARMATE loitering munitions were used against Russian forces in Enerhodar, #Zaporizhzhia Oblast today. Both appeared to detonate properly, but the target is currently unknown. pic.twitter.com/CbcvAOWNdR

— 🇺🇦 Ukraine Weapons Tracker (@UAWeapons) July 20, 2022
godz. 16.11: zgodnie z nowym prawem w Ukrainie, 86 osób podlega kryterium bycia oligarchą:
According to Oleksiy Danilov, secretary of the National Security and Defense Council, 86 people fall under the criteria in Ukraine. He didn't reveal their names.

The law came into effect on May 7.

— The Kyiv Independent (@KyivIndependent) July 20, 2022
godz. 15.35:

Unia Europejska postanowiła przygotować się na pierwszą zimę bez rosyjskiego

gazu – powiedział unijny komisarz ds. rynku wewnętrznego Thierry Breton. W tym celu członkowie UE mogą przedłużyć warunki pracy swoich elektrowni jądrowych i węglowych:
The European Union has decided to prepare for the first winter without #Russian gas, said European Commissioner for the Internal Market @ThierryBreton.

To this end, EU members can extend the terms of operation of their nuclear and coal-fired power plants. pic.twitter.com/7ThItRA2V6

— NEXTA (@nexta_tv) July 20, 2022
godz. 14.50: U. von der Layen: gazociąg Nord Stream 2 nie jest certyfikowany iw żadnych okolicznościach nie może być eksploatowany:
The Nord Stream 2 gas pipeline is not certified and cannot be operated under any circumstances, said the head of the European Commission, Ursula von der Leyen. pic.twitter.com/cWN3VsGGeX

— NEXTA (@nexta_tv) July 20, 2022
godz. 14.05:

ojciec zmarłego w strzelaninie w Charkowie nastolatka

modlił się nad ciałem przez ponad 2 godziny, trzymając go za rękę:
The father of the deceased teenager in #Kharkiv prayed over the body of the deceased son for more than 2 hours, holding his hand.

Photo: Vyacheslav Mavrichev/ Suspilne pic.twitter.com/ZgiaiQz8oB

— NEXTA (@nexta_tv) July 20, 2022
godz. 14.02: W. Putin powiedział w Teheranie, że eksport ukraińskiego zboża zostanie odblokowany, jeśli zostaną zdjęte sankcje Zachodu na rosyjskie zboże:
The countries that imposed sanctions against Russia due to the invasion of Ukraine have repeatedly emphasized that sanctions don't apply to food supplies from Russia.

The Kremlin claims that the sanctions affect shipping insurance, payments, and access to European ports.

— The Kyiv Independent (@KyivIndependent) July 20, 2022
godz. 13.50: S. Ławrow: zmieniły się cele geograficzne "operacji specjalnej", teraz jest to nie tylko DRL i ŁRL, ale także szereg innych terytoriów:
"The geographical objectives of the "special operation" have changed, now it is not only the "DPR" and "LPR", but also a number of other territories" – Lavrov pic.twitter.com/M7LD5DY5cc

— NEXTA (@nexta_tv) July 20, 2022
godz. 12.48: W. Putin powiedział, że Rosja wypełni obowiązek dostaw gazu poprzez Nord Stream 1, ale grozi dalszymi cięciami dostaw. Dodał, że jeśli turbina nie wróci szybko, przepływ gazu przez Nord Stream 1 może spaść do 20% mocy (obecnie wynosi tylko 40%):
Kremlin-controlled energy giant Gazprom cut pipeline deliveries to 40% of its capacity last month, blaming Canadian sanctions.

Canada approved the return of the turbine, despite opposition from Ukraine, which said supply cuts were Kremlin blackmail meant to weaken sanctions.

— The Kyiv Independent (@KyivIndependent) July 20, 2022
godz. 12.46: słynny pies Patron skończył 3 lata:
Patron the dog has a birthday today!

The post on his Instagram page:"I am three years old.And I'm the happiest dog in the universe.I have a loving family, I have a lot of toys, I help to save lives and I have something to eat every day."

Let's wish Patron a good day together ❤️ pic.twitter.com/5NZDiSABKV

— NEXTA (@nexta_tv) July 20, 2022
godz. 12.35: skutki ukraińskich ataków na Most Anotnowski w obwodzie chersońskim:
Russian "RIA Novosti" wrote that Ukraine's Armed Forces struck Antonivskyy Bridge in Kherson for second time in 2 days

Collaborator Kyryl Stremeusov said 12 missiles from HIMARS were fired. Now Russians say bridge will be closed, pontoon bridges built https://t.co/ZpzOUKC5S1 pic.twitter.com/iGj3sYhO0O

— Euromaidan Press (@EuromaidanPress) July 20, 2022
This is what the Antonovsky Bridge in #Kherson looks like now. pic.twitter.com/TiNQk3bRhX

— NEXTA (@nexta_tv) July 20, 2022
godz. 11.49: do Kijowa przybyli szefowie MSZ Czech i Austrii, Jan Lipavsky i Alexander Schallenberg:
The Minister of Foreign Affairs of 🇨🇿the Czech Republic, Jan Lipavsky, and the Head of the Foreign Ministry of 🇦🇹Austria, Alexander Schallenberg, arrived in Kyiv, Lipavsky tweeted video from Kyiv train station pic.twitter.com/sSIwxjLDwZ

— Euromaidan Press (@EuromaidanPress) July 20, 2022
godz. 11.40: Roskomnadzor grozi zablokowaniem Wikipedii:
The Wikimedia Foundation, Wikipedia's parent company, is fighting a Russian court decision demanding it remove information about its full-scale invasion of Ukraine.

— The Kyiv Independent (@KyivIndependent) July 20, 2022
godz. 10.53: niespójność informacyjna agencji TASS:
Russian state-owned news agency TASS: "The #Russian air defense system intercepted 10 missiles fired by the AFU at #Kherson"

Two hours later:

"#Ukraine has shelled the bridge across the Dnipro River in the Kherson region (…). 12 rockets were fired, 11 of them hit the bridge". pic.twitter.com/1AT9ANBj9h

— NEXTA (@nexta_tv) July 20, 2022
godz. 10.48: Niemcy oferują wysłanie 20 czołgów Leopard 2 do Ukrainy w kwietniu 2023:
Germany has been regularly criticized for slowing down or blocking heavy weapons' delivery to Ukraine.

— The Kyiv Independent (@KyivIndependent) July 20, 2022
godz. 10.47: przeszukiwania mieszkań członków rosyjskiego klubu motocyklowego Nocne Wilki, którzy mogą zostać umieszczeni na liście nowych sankcji personalnych UE:
Searches are being conducted in the homes of members of the #NightWolves motorcycle club in Europe.

Earlier, media reported that members of the club would be included in the #EU sanctions list. pic.twitter.com/NYSoXz9qzb

— NEXTA (@nexta_tv) July 20, 2022
godz. 10.36: rosyjski ostrzał Charkowa, 3 zabitych, 1 osoba ranna:
⚡️Russian shelling kills 3, wounds 1 in Kharkiv.

Russian occupying forces hit a bus station in Saltivka, a northern district of the city, killing a man, a woman, and a 13-year-old, according to Kharkiv Oblast Governor Oleh Syniehubov.

The rescue operation is underway.

— The Kyiv Independent (@KyivIndependent) July 20, 2022
godz. 10.30: prokuratura generalna Ukrainy informuje, że siły rosyjskie dopuściły się dotąd 24 208 zbrodni wojennych, 11 620 przestępstw przeciwko bezpieczeństwu narodowemu, 624 przedstawicieli rosyjskiej władzy jest oskarżanych o odpowiedzialność za zbrodnie (ministrowie i ich zastępcy, dowódcy wojskowi, oficjele, szefowi agencji federalnych, podżegacze i propagandziści wojenni), natomiast w działaniach wojennych zginęło 353 dzieci, a 679 zostało rannych:
As of June 20, Russia committed 24,208 crimes of aggression and war crimes, and 11,620 crimes against Ukraine's national security

624 representatives of military and political leadership of Russia are suspected, Ukraine's Prosecutor General @verkhovna_rada pic.twitter.com/R4yila1kAY

— Euromaidan Press (@EuromaidanPress) July 20, 2022
godz. 10.14: strzelanina w Charkowie, nie żyją 3 osoby, w tym 13-latek:
In #Kharkiv, three people, including a 13-year-old teenager, were killed by gunfire in the Saltovsky district. Another woman was injured. pic.twitter.com/iOEyUf40ZY

— NEXTA (@nexta_tv) July 20, 2022
godz. 9.23: rosyjski bsl Orłan-10 rozbił się w Krzywym Rogu wczoraj:
#Ukraine: A Russian Orlan-10 UAV fell to the ground in the vicinity of Kryvyi Rih yesterday. pic.twitter.com/4NCAgBFssx

— 🇺🇦 Ukraine Weapons Tracker (@UAWeapons) July 20, 2022
godz. 9.13: informacja operacyjna brytyjskiego wywiadu o aktualnej sytuacji militarnej w Ukrainie:
The bridge is one of the two roads crossing the Dnipro River Russia can use to supply or withdraw its troops.

The report also states that Ukrainian forces are holding the line in Donbas, while Russia continues to make minimal gains.

— The Kyiv Independent (@KyivIndependent) July 20, 2022
godz. 8.39: wg strony rosyjskiej, siły ukraińskie mają ostrzeliwać obszary przygraniczne obwodu kurskiego:
‼️The border areas of #Kursk region are being shelled right now, reports Governor Roman Staravoyt.

According to him the shelling is coming from #Ukraine and the Krupets border crossing point is under fire.

— NEXTA (@nexta_tv) July 20, 2022
godz. 8.27: wg kremlowskiego propagandzisty W. Sołowjowa, wojna w Ukrainie to oczyszczanie:
Vladimir Solovyov, one of #Russia's main propagandists and and anchor of a television show on Russian state TV openly calls the invasion of #Ukraine a "cleansing". https://t.co/stHnhHxyEi

— NEXTA (@nexta_tv) July 20, 2022
godz. 8.02: Syria zerwała stosunki dyplomatyczne z Ukrainą (faktycznie wcześniej zrobiła to strona ukraińska):
#Syria breaks off its diplomatic relations with #Ukraine. pic.twitter.com/p7TuvSTCKg

— NEXTA (@nexta_tv) July 20, 2022
⚡️ Syria breaks diplomatic ties with Ukraine.

Syria, Russia's close ally, has announced on July 20 it is formally breaking ties with Ukraine.

Ukraine cut ties with Syria on June 30 after it said it recognized the Russian-occupied Ukrainian territories as "indepedendent states."

— The Kyiv Independent (@KyivIndependent) July 20, 2022
godz. 7.55: informacja Straży Granicznej o liczbie uchodźców wojennych z Ukrainy:
#Pomagamy🇺🇦
Od 24.02 #funkcjonariuszeSG odprawili w przejściach granicznych na kierunku z🇺🇦do🇵🇱4,897 mln os.
Wczoraj tj.19.07➡️21,7 tys.
Dziś do godz.07.00➡️7,1 tys.
W dn.19.07 z🇵🇱do🇺🇦odprawiono 22,1 tys. osób. Od 24.02- 2,979 mln os. pic.twitter.com/XlurmQenEQ

— Straż Graniczna (@Straz_Graniczna) July 20, 2022
godz. 7.47: straty rosyjskie wg danych sztabu generalnego sił zbrojnych Ukrainy: około 38 750 żołnierzy, 1700 czołgów, 3905 bojowych wozów piechoty i transporterów opancerzonych, 856 zestawów artylerii lufowej, 250 zestawów artylerii rakietowej, 113 zestawów przeciwlotniczych, 221 samolotów, 188 śmigłowców, 703 bezzałogowce, 167 pocisków manewrujących, 2775 ciężarówek i innych pojazdów nieopancerzonych, w tym cystern, 15 łodzi i okrętów oraz 70 sztuk sprzętu specjalnego: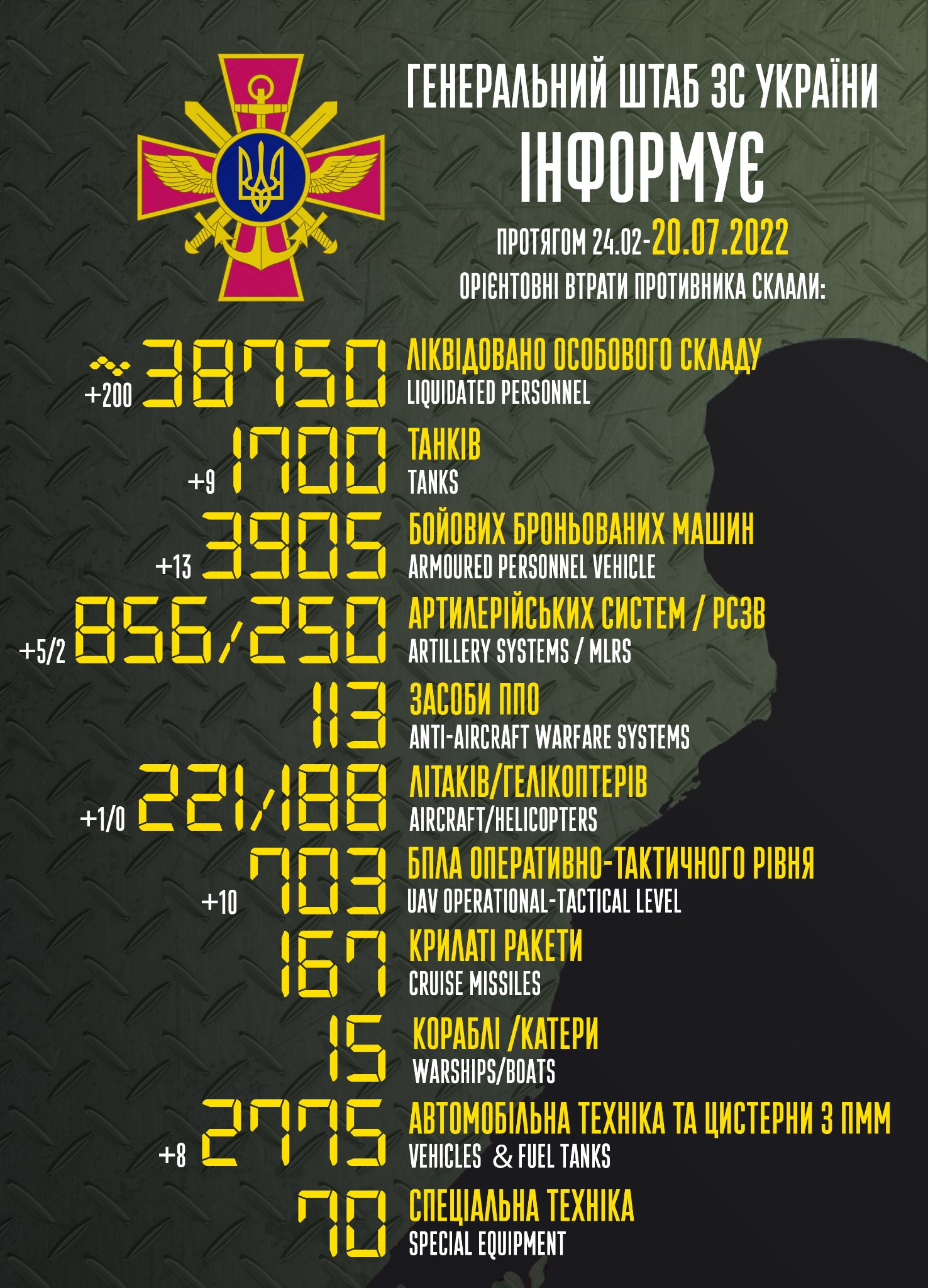 Grafika: sztab generalny sił zbrojnych Ukrainy
godz. 7.39: O. Reznikow: w atakach na Siewierodonieck i Lisiczańsk, Rosja straciła ok. 11 tys. żołnierzy:
During the storming of #Sieverodonetsk and #Lysychansk, #Russian occupiers lost about 11,000 soldiers, reports #Ukrainian Defense Minister Oleksiy #Reznikov. pic.twitter.com/53eaR1ZUWT

— NEXTA (@nexta_tv) July 20, 2022
godz. 7.04: UE proponuje redukcję zużycia gazu o 15%:
The plan will also reportedly include a "mandatory trigger" should conditions decline and voluntary cuts be deemed ineffective.

— The Kyiv Independent (@KyivIndependent) July 20, 2022
Ursula von der Leyen, President of the European Commission, said that currently the implementation of the recommendation will be voluntary, but in case of emergency it will become mandatory.

— The Kyiv Independent (@KyivIndependent) July 20, 2022
godz. 6.59: ISW: Kreml może wykorzystać groźby nuklearne do odstraszenia kontrofensywy:
The ISW also reported that the Kremlin is receiving increasing pressure from Russian war hawks to define Russia's actions as a war, undergo general mobilization, and expand territorial goals.

— The Kyiv Independent (@KyivIndependent) July 20, 2022
godz. 6.46: kolejny ostrzał Nikopola, 2 zabitych:
Four children are among those injured, the youngest of which was only three years old. The attack also destroyed three homes and damaged around 10.

— The Kyiv Independent (@KyivIndependent) July 20, 2022
#Russian occupiers shelled #Nikopol during the night. About 30 rockets hit the private sector.

Two people were killed and nine were wounded, among them four children. "The youngest wounded is only three years old," said #Dnipropetrovsk region governor Valentin Reznichenko. pic.twitter.com/Uqj4Agj1ux

— NEXTA (@nexta_tv) July 20, 2022
godz. 6.45: W Mariupolu Ukraińcy którzy nie przeszli rejestracji w nowych instytucjach administracyjnych są automatycznie pozbawiani własności prywatnej i nieruchomości:
Occupiers issued a ruling to deprive #Ukrainians of their property in #Mariupol, reports the adviser to the mayor of Mariupol Petro Andriushchenko.

If people have not passed registration in the occupation institutions, their property will automatically be "nationalized". pic.twitter.com/heeI9kajW7

— NEXTA (@nexta_tv) July 20, 2022
godz. 6.42: informacja operacyjna sztabu generalnego sił zbrojnych Ukrainy na godz. 6.00:
Оперативна інформація станом на 06.00 20.07.2022 щодо російського вторгнення
Докладніше: https://t.co/GFsJ6RkOys
Read more: https://t.co/KVyQaHaFTLhttps://t.co/T6MiraRk1Q

— Генеральний штаб ЗСУ (@GeneralStaffUA) July 20, 2022
godz. 6.40: tymczasem w Rosji: w miejscowości Bałaszycha w obwodzie moskiewskim MSW nakazało zdemontowanie dachu domu prywatnego z blachy w kolorze żółto-niebieskim:
#Russian Interior Ministry officials brought in a team of installers to dismantle the yellow and blue roof of a house in #Balashikha,#Moscow region.

📰Baza pic.twitter.com/HesqTZi5UP

— NEXTA (@nexta_tv) July 20, 2022
godz. 6.28: Rosjanie porwali ok. 400 Ukraińców z obwodu zaporoskiego, pracowników Zaporoskiej Elektrowni Jądrowej i lokalnej administracji:
⚡️ Governor: Russian forces kidnap around 400 people in Zaporizhzhia Oblast.

Zaporizhzhia Oblast Governor Oleksandr Starukh said around 400 civilians, Zaporizhzhia Nuclear Power Plant employees, and local administration officials are currently held hostage by Russian forces.

— The Kyiv Independent (@KyivIndependent) July 20, 2022
godz. 6.20: ukraińskie Dowództwo Operacyjne Południe: zlikwidowano 41 rosyjskich żołnierzy, zestrzelono samolot Su-35S, bezzałogowiec, zniszczono skład amunicji, 3 wieloprowadnicowe wyrzutnie rakietowe, 4 armatohaubice i 3 pojazdy nieopancerzone:
⚡️ Ukraine's military: Russian forces sustain losses in southern Ukraine.

Operational Command "South" said Ukrainian forces killed 41 Russian troops and destroyed an Su-35 aircraft, a UAV, an ammunition depot, three MLRS, four howitzers, and three vehicles.

— The Kyiv Independent (@KyivIndependent) July 20, 2022
godz. 5.56: wczoraj Państwowa Służba Ukrainy ds. Sytuacji Nadzwyczajnych zneutralizowała 713 ładunków wybuchowych na 440 hektarach:
⚡️ State Emergency Service defuses 713 explosives on July 19.

The State Emergency Service reported that it neutralized explosives across 440 hectares.

— The Kyiv Independent (@KyivIndependent) July 20, 2022
godz. 5.51: podsumowanie 146. dnia wojny:
Коротко. Війна. День 146. Відеодайджест
Briefly. War. Day 146. Video digesthttps://t.co/j59rCEIjB6

— Генеральний штаб ЗСУ (@GeneralStaffUA) July 20, 2022
godz. 5.45: 100 mln USD z USAID w ramach inicjatywy na rzecz odporności rolnictwa w Ukrainie:
The fund will support Ukrainian farmers through increased access to critical agricultural inputs and strengthen infrastructure to export, store, and process agricultural goods. USAID intends to raise an additional $150 million for the initiative.

— The Kyiv Independent (@KyivIndependent) July 20, 2022
godz. 5.25: Toszkówka w obwodzie ługańskim:
What remains of #Toshkivka, #Luhansk region after #Russia's invasion. pic.twitter.com/CuDnTdnwyA

— NEXTA (@nexta_tv) July 20, 2022
godz. 5.08: dwa pociski rakietowe nad obwodem odeskim; jeden poraził magazyn, drugi został zestrzelony, bez ofiar:
⚡️ Russian forces launch missile strikes on Odesa Oblast.

Serhii Bratchuk, a spokesman for Odesa Oblast's military administration, said there were no casualties. A warehouse caught fire but it has since been extinguished. Another missile was intercepted by Ukraine's air defense.

— The Kyiv Independent (@KyivIndependent) July 20, 2022
godz. 5.01: ukraiński ogień kontrbateryjny:
Ukrainian counter-battery fire

The artillery of the 🇺🇦92nd Brigade and other units attacking the Russian artillery positions.https://t.co/d5cp04iwXm pic.twitter.com/lMiqzQLgmd

— Euromaidan Press (@EuromaidanPress) July 20, 2022
godz. 5.01: cmentarz w okupowanej miejscowości Śnieżne w obwodzie donieckim z nieopisanymi grobami obrońców Donbasu:
A cemetery in occupied #Snizhne, #Donetsk region with a number of nameless graves of local "defenders of #Donbas" who have already been "helped" by #Russia. pic.twitter.com/uhoH5UQ04z

— NEXTA (@nexta_tv) July 20, 2022
godz. 4.49: Rosjanie przymusowo deportowali 108 ukraińskich sierot z obwodu donieckiego:
The children have reportedly been fast-tracked Russian citizenship to speed up the process, says Lubinets.

— The Kyiv Independent (@KyivIndependent) July 20, 2022
godz. 3.30: dwa zniszczone rosyjskie czołgi:
Lviv paratroopers of the 80th Brigade destroyed two enemy tanks in the east of Ukraine

📹https://t.co/fw3BumoXGN pic.twitter.com/3pgRCVE7yf

— Euromaidan Press (@EuromaidanPress) July 20, 2022
godz. 3.27: Ukraina ma trudności we wdrażaniu zachodniego uzbrojenia:
The provision of different weapons has reportedly turned into a "logistical nightmare," as ammunition, training, maintenance, and logistics differ across weapon type.

— The Kyiv Independent (@KyivIndependent) July 20, 2022
godz. 2.55: Rosjanie ostrzelali wczoraj obwód sumski 78 razy, ranne 2 osoby:
⚡️ Governor: Russian forces strike Sumy Oblast 78 times on July 19, injuring 2.

Sumy Oblast Governor Dmytro Zhyvytsky reported that Russian forces shelled the villages of Bilopillia, Novoslobidske, Khotin, and Esman. Two people were reportedly injured and one home was damaged.

— The Kyiv Independent (@KyivIndependent) July 20, 2022
godz. 2.30: ukraińskie trofea:
Trophies of the 🇺🇦128th Separate Mountain Assault Brigade from the recent battles: Russian grenade launchers, firearms, ammunition, first aid kits, dry rations, documents, uniforms.

📷https://t.co/PqBsxKYZy7 pic.twitter.com/EEx7Ga0MWs

— Euromaidan Press (@EuromaidanPress) July 20, 2022
godz. 2.24: Rosja przygotowuje się do aneksji ukraińskich terytoriów:
Kirby said Russia has started to appoint illegitimate proxies and plans to hold "sham referenda," transition the currency to the ruble, and force residents to apply for Russian citizenship. Russia is "dusting off the playbook from 2014," Kirby said.

— The Kyiv Independent (@KyivIndependent) July 20, 2022
godz. 1.50: zniszczona rosyjska artyleria:
Ukrainian artillery destroys Russian military equipment

Soldiers of the 🇺🇦93rd Motorized Brigade destroying the Russian equipment with 155-mm artillery. https://t.co/IGIIau5UbP pic.twitter.com/C2BKv65Pvg

— Euromaidan Press (@EuromaidanPress) July 19, 2022
godz. 1.27: USA dodały Rosję na listę państw zamieszonych w handel ludźmi i zmuszanie dzieci do służby wojskowej:
"Millions of Ukrainians have had to flee their homes," said U.S. Secretary of State Antony Blinken. "That makes them highly vulnerable to exploitation."

— The Kyiv Independent (@KyivIndependent) July 19, 2022
godz. 1.27: wojska ukraińskie zadają znaczne straty Rosjanom w obwodzie donieckim:
⚡️General Staff: Ukrainian troops inflict significant losses on Russians in Donetsk Oblast.

The Ukrainian military inflicted significant losses on Russian troops when they tried to advance towards the villages of Hryhorivka, Spirne, and Ivano-Daryivka on July 19.

— The Kyiv Independent (@KyivIndependent) July 19, 2022
godz. 1.25: Ukraina może zablokować nielegalny eksport zboża do Syrii:
According to official estimates, Russia has stolen 500,000 tons of grain from Ukraine.

— The Kyiv Independent (@KyivIndependent) July 19, 2022
godz. 1.24: rząd niemiecki zredukował pomoc wojskową Ukrainie:
⚡️Die Welt: German government reduces military support for Ukraine.

Die Welt reported that a list of weapons delivered to Ukraine by Germany shows a reduction in supplies. German Chancellor Olaf Scholz has been repeatedly criticized for blocking arms deliveries to Ukraine.

— The Kyiv Independent (@KyivIndependent) July 19, 2022
godz. 1.22: Rosja będzie miała ostrzejsze żądania, jeśli negocjacje z Kijowem zostaną wznowione:
Demilitarization and de-Nazification are propaganda terms that Russia has used to refer to stripping Ukraine of its sovereignty.

— The Kyiv Independent (@KyivIndependent) July 19, 2022
godz. 0.58: D. Kułeba: negocjacje ws. korytarzy zbożowych są "zaawansowane", ale kruche:
Earlier on July 19, Russian dictator Vladimir Putin met with Turkish President Recep Tayyip Erdogan in Tehran. Putin reportedly said Russia will aid in the export of Ukrainian grain should restrictions on the supply of Russian grain be removed.

— The Kyiv Independent (@KyivIndependent) July 19, 2022
#Ukrainian Foreign Minister @DmytroKuleba said that #Russia and #Ukraine, with the help of international mediators, have almost reached an agreement to unblock Ukrainian ports for grain exports. pic.twitter.com/SxULs0mvGo

— NEXTA (@nexta_tv) July 20, 2022
godz. 0.37: UE zezwoli na eksport żywności i nawozów:
Affected banks include VTB Bank, Sovcombank, Novikombank, Otkritie FC Bank, VEB, Promsvyazbank, and Bank Rossiya. New, separate sanctions to be announced on July 20 will freeze the assets of Sberbank, except for its resources required for food trade, an EU official told Reuters.

— The Kyiv Independent (@KyivIndependent) July 19, 2022
godz. 0.09: I. Wenediktowa twierdzi, że w biurze prokuratora generalnego nie było kolaborantów:
Venediktova was fired on July 19. President Volodymyr Zelensky attributed the dismissal to her failure to crack down on law enforcement officials who collaborate with Russia.

— The Kyiv Independent (@KyivIndependent) July 19, 2022
godz. 0.00: R. Kadyrow wzywa do… zdobycia Kijowa i pokonania Polski:
🤡Don-don Kadyrov decided to capture Kyiv and conquer Poland again

"We are developing a plan for demilitarization of NATO countries and the first in line after capture of Kyiv is Poland," he said

Apparently he will need a new camera and a bag of batteries for new TikTok videos. pic.twitter.com/OC7Cdv6LYR

— NEXTA (@nexta_tv) July 19, 2022
godz. 0.00: rzadki okaz w SZ Ukrainy: przedprodukcyjny egzemplarz pojazdu Warta:
#Ukraine: A fairly rare armored vehicle is currently being used by Ukrainian troops at the front – a pre-production version of the well-known domestically manufactured Varta IMV.

A total of only 10 such vehicles were handed over to the KORD police special forces unit in 2016. pic.twitter.com/ZQ5REeM2vG

— 🇺🇦 Ukraine Weapons Tracker (@UAWeapons) July 19, 2022
godz. 0.00: pierwsza rosyjska strata nowego bezzałogowca Łastoczka-M:
#Ukraine: The first loss of a new Russian Lastochka-M unmanned aerial vehicle, which was documented by @conflictarm.
Based on the scarce information about it, this is a light strike UAV with a payload consisting of various air-delivered munitions including HE-FRAG and HEAT. pic.twitter.com/Pty5LYF6wr

— 🇺🇦 Ukraine Weapons Tracker (@UAWeapons) July 19, 2022
godz. 0.00: J. Biden spotkał się z pierwszą damą Ukrainy O. Zełenską:
⚡️Biden meets Ukraine's First Lady Zelenska.

U.S. President Joe Biden and First Lady Jill Biden met Olena Zelenska in the White House. Zelenska will address the U.S. Congress on July 20.

Photo: Olena Zelenska's Facebook page. pic.twitter.com/4VhFchJFTi

— The Kyiv Independent (@KyivIndependent) July 19, 2022
godz. 0.00: francuskie 155-mm aha CAESAR w drodze do Ukrainy:
⚡️Minister: 6 French Caesar howitzers on their way to Ukraine.

The statement was made by French Foreign Minister Catherine Colonna, as cited by French publication 20 Minutes. France has previously supplied 12 Caesar howitzers to Ukraine.

— The Kyiv Independent (@KyivIndependent) July 19, 2022
godz. 0.00: USA przekażą Ukrainie kolejne zestawy M142 HIMARS:
Kirby clarified that the new aid package will include additional HIMARS multiple rocket launchers, as well as additional ammunition for rocket launchers and artillery.

— The Kyiv Independent (@KyivIndependent) July 19, 2022
⚡️⚡️ US to send 4 more HIMARS to Ukraine.

US Defense Secretary Lloyd Austin said that the next package of military aid to Ukraine will include four more HIMARS artillery rocket systems, Reuters reported.

— The Kyiv Independent (@KyivIndependent) July 20, 2022
godz. 11.03: ukraiński FGM-138 Javelin kontra rosyjski T-80BW:
#Ukraine: A Russian T-80BV tank was destroyed by the 93rd Mechanized Brigade of Ukraine using a US-supplied FGM-148 Javelin. pic.twitter.com/sOUT93iLu8

— 🇺🇦 Ukraine Weapons Tracker (@UAWeapons) July 19, 2022
godz. 0.00: Rosja ma wznowić przesyłanie gazu za pomocą Nord Stream 1 w czwartek, 21 lipca:
The pipeline, which accounts for more than a third of Russian natural gas exports to the European Union, was shut down for ten days on July 11 for repairs. The move was interpreted by critics as part of Russia's efforts to blackmail and intimidate the EU.

— The Kyiv Independent (@KyivIndependent) July 19, 2022
godz. 0.00: ostrzał Słowiańska, 2 ofiary cywilne:
⚡️Russian shelling kills 2 people in Sloviansk.

Russian shelling partially destroyed a residential building in Sloviansk, Donetsk Oblast, on July 19, the State Emergency Service said.

— The Kyiv Independent (@KyivIndependent) July 19, 2022
godz. 0.00: premier Ukrainy poinstruował rząd, aby ten wskazał szefa instytucji antykorupcyjnej:
The appointment of an independent NABU chief has been one of the key requirements of Ukraine's Western partners. However, President Volodymyr Zelensky's administration has been accused of blocking the process to prevent the NABU from being independent.

— The Kyiv Independent (@KyivIndependent) July 19, 2022