11 września 2022. Dwusetny dzień wojny Rosji z Ukrainą. W wieczornym przemówieniu do narodu, prezydent Ukrainy Wołodymyr Zełenski m.in. pogratulował żołnierzom, którzy wyzwalają kolejne miejscowości obwodu charkowskiego:
Drodzy Ukraińcy!
Przede wszystkim dzisiaj chcę pogratulować dwóm naszym miastom, pięknym, silnym miastom, z okazji ich świąt – Łymaniowi i Dnieprze. Łymań w obwodzie donieckim wciąż czeka na naszą flagę, a to nieuniknione – Ukraina zawsze wraca. Dobrze to demonstrujemy. Cały obwód zostanie wyzwolony, znów będzie bezpieczny i szczęśliwy, tak jak powinien być na Ukrainie, tak jak powinno być wszędzie na naszej ziemi.
Siły Zbrojne Ukrainy i wszyscy, którzy bronią naszego państwa, Siły Operacji Specjalnych, nasz wywiad, służby specjalne, Gwardia Narodowa, policja przywrócą pokój w każdym zakątku naszego państwa, w którym Rosja przyniosła tylko smutek i cierpienie. Nastąpi pokój. Pokój idzie w parze z flagą Ukrainy wraz z naszymi obrońcami.
Drodzy mieszkańcy Dniepra! Wasze miasto zrobiło tyle dla obrony Ukrainy zarówno od 2014 r., jak i od 24 lutego, że historia naszego zwycięstwa jest także historią Dniepra, jest niewątpliwie zasłużone. Zdrowie i życie tysięcy ukraińskich żołnierzy uratowano w Dnieprze. Setki tysięcy Ukraińców otrzymało schronienie i pomoc w Dnieprze w czasach wojny. Front zawsze odczuwał i nadal odczuwa poparcie mieszkańców Dniepra. Dziękuję wam wszystkim za to! I życzę wam wszystkim, jak również wszystkim Ukraińcom, jednej rzeczy – najszybszego możliwego zwycięstwa.
Odbyłem dziś spotkanie z szefem sztabu generalnego. Przedstawił mi raporty o sytuacji na linii frontu od dowódców rejonów operacyjnych. Podjąłem niezbędne decyzje. Rozmawialiśmy o wsparciu naszego wojska. Wysłuchaliśmy raportu ministra obrony Reznikowa na temat wyników spotkania w bazie lotniczej Ramstein. Dziękujemy naszym partnerom za wsparcie! Ruchy naszych wojsk w różnych kierunkach frontu trwa. Na razie, w ramach aktywnych działań od początku września, około 2000 kilometrów kwadratowych naszego terytorium zostało już wyzwolonych. Obecnie armia rosyjska pokazuje, co w jej mocy – pokazując swoje plecy. I w końcu jest to dobry wybór, aby uciec. Na Ukrainie nie ma i nie będzie miejsca dla okupantów. Podkreślam jednak raz jeszcze: jeśli którykolwiek z żołnierzy rosyjskich lub sił bezpieczeństwa boi się teraz wrócić do Rosji, gwarantujemy, że wszyscy zatrzymani przez naszych żołnierzy będą traktowani zgodnie z konwencjami genewskimi.
Rozmawiałem dziś z prezydentem Francji Macronem. Poinformowałem go o naszej działaniach na froncie, o dalszych perspektywach. Dyskutowaliśmy o rosyjskich prowokacjach w Zaporoskiej Elektrowni Jądrowej oraz o potrzebie natychmiastowej demilitaryzacji zakładu i natychmiastowego wycofania wojsk rosyjskich. Rozmawiałem również z panem prezydentem o zwiększeniu wsparcia wojskowego dla naszego kraju, o rosnącej presji na Rosję, w szczególności na presję sankcji, o ograniczenia wizowe dla obywateli Federacji Rosyjskiej.
Uzgodnienia osiągnięte podczas wczorajszych porozumień z szefem polskiego rządu Morawieckim zostały dopracowane na spotkaniu poświęconym kwestiom wsparcia dla naszych polskich braci jesienią i zimą, naszej współpracy energetycznej z Polską, jak mu obiecałem. Poinstruowałem, aby przyspieszyć przebudowę linii przesyłowej energii z Chmielnickiej Elektrowni Jądrowej do polskiego miasta Rzeszów – pierwszego Miasta-Ratownika. Dziękuję Rzeszowie. Przypomnę, że ten specjalny tytuł został przyznany Rzeszowowi wiosną za niezwykle ważną pomoc dla Ukrainy. Musimy zakończyć tę przebudowę do 8 grudnia i zapewnić Polsce niezbędną ilość energii elektrycznej. Oczywiście wszystko to jest możliwe tylko wtedy, gdy Ukraina zachowa normalną kontrolę nad Zaporoską Elektrownią Jądrową. Pracujemy nad niezbędnymi międzynarodowymi rozwiązaniami. Poinstruowałem także Gabinet Ministrów, aby opracował możliwość pilnej dostawy 100 000 ton węgla energetycznego do Polski w tej chwili. Obecnie mamy dla siebie wystarczającą ilość i możemy pomóc naszym braciom przygotować się na tę zimę.
Dziś z zadowoleniem przyjąłem delegację brytyjskich parlamentarzystów, którzy przybyli do Kijowa. Odbyły się negocjacje z szefem biura Andrijem Jermakiem – były one bardzo merytoryczne. Do najważniejszych rzeczy należą gwarancje bezpieczeństwa dla Ukrainy, nasza współpraca z Wielką Brytanią, a także możliwości naszej koordynacji w takich regionach, jak na przykład Ameryka Łacińska. Musimy kontynuować rozszerzanie naszej antywojennej koalicji.
Dzisiaj odbyłem bardzo interesujące i przydatne spotkanie z Timothym Snyderem, znanym historykiem, profesorem Uniwersytetu Yale i wielkim przyjacielem Ukrainy. Pan Snyder zrobił wiele, aby nasz kraj, nasz lud i nasza historia były znane i rozumiane na świecie. Jego książki są dobrze znane ukraińskim i międzynarodowym czytelnikom. I wkrótce będzie kolejna książka, on ją teraz przygotowuje. Z przyjemnością podzieliłem się wspomnieniami z 24 lutego i wydarzeń z poprzedniego czasu. Dyskutowaliśmy o naturze rosyjskiej agresji, propagandy i zła, jakie wyrządzają okupanci. Z pewnością będą odpowiedzialni za wszystko, co zrobili na ziemi ukraińskiej.
Dziś jestem wdzięczny żołnierzom 15. Słowiańskiego Pułku Gwardii Narodowej Ukrainy, którzy wyróżnili się w kierunku charkowskim. Dobra robota! Jestem wdzięczny żołnierzom 214. Samodzielnego Batalionu Strzelców za zabezpieczenie sytuacji w Bałakliji, który wraz z jednostkami Głównej Dyrekcji Wywiadu, Sił Operacji Specjalnych, siłami specjalnymi Gwardii Narodowej i policji, uzyskali pełną kontrolę nad miastem. Jestem wdzięczny wszystkim naszym obrońcom, którzy w tych tygodniach sprawili, że podejście do głównej celu, którego potrzebujemy – naszego zwycięstwa – stało się jeszcze bardziej namacalne!
Chwała Ukrainie! (Atak Rosji na Ukrainę [Dzień sto dziewięćdziesiąty dziewiąty]).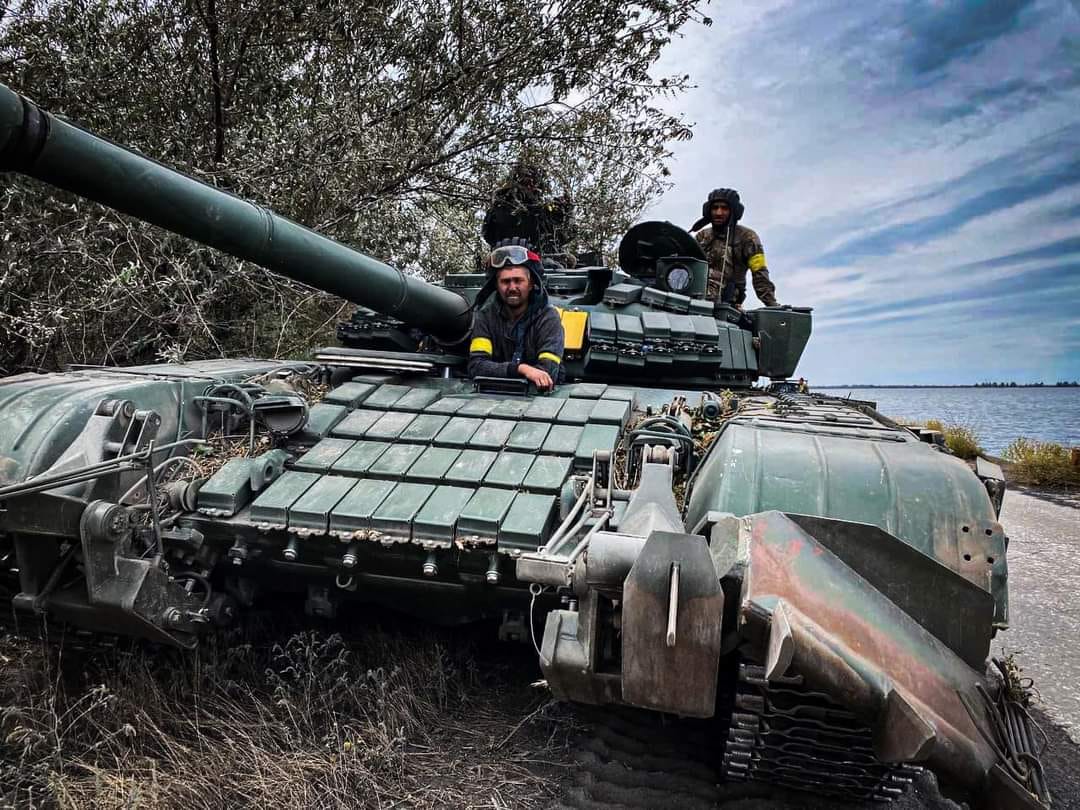 11 września 2022. Dwusetny dzień wojny Rosji z Ukrainą. Relacja na żywo na łamach Magazynu Militarnego MILMAG / Zdjęcie: sztab generalny sił zbrojnych Ukrainy
godz. 23.02: zdobyczny rosyjski MT-LB:
#Ukraine: A dug-in MT-LB armoured vehicle of the Russian Army was captured in #Kherson Oblast recently. pic.twitter.com/PQRcfK6srX

— 🇺🇦 Ukraine Weapons Tracker (@UAWeapons) September 11, 2022
godz. 22.51: zdobyczne rosyjskie BMP-2 i BRM-1K:
#Ukraine: Two more vehicles in #Kharkiv Oblast that were "procured" from the Russian Army by Ukrainian forces- a BMP-2 IFV and a BRM-1K reconnaissance vehicle. pic.twitter.com/1qCVFW4nHP

— 🇺🇦 Ukraine Weapons Tracker (@UAWeapons) September 11, 2022
godz. 22.37: zniszczony rosyjski BTR-82A:
#Ukraine: A Russian BTR-82A APC was destroyed in #Kharkiv Oblast during recent fighting. pic.twitter.com/rTq1jLH42K

— 🇺🇦 Ukraine Weapons Tracker (@UAWeapons) September 11, 2022
godz. 22.32: przywrócono dostawy prądu w obwodzie sumskim:
⚡️Governor: Electricity supply fully restored in Sumy Oblast.

Governor Dmytro Zhyvytsky reported that power outages caused by Russian attacks on Ukrainian infrastructure had been fixed, but "interruptions in voltage stability could still occur."

— The Kyiv Independent (@KyivIndependent) September 11, 2022
godz. 22.32: zniszczony ukraiński YPR-765:
#Ukraine: A Ukrainian YPR-765 armored personnel carrier and BMP-1 IFV were destroyed in #Kherson Oblast during the ongoing offensive. pic.twitter.com/gFyYPSgTXC

— 🇺🇦 Ukraine Weapons Tracker (@UAWeapons) September 11, 2022
godz. 22.24: odzyskany ukraiński AT-105 Saxon:
#Ukraine: You thought that the captures from Izium were over? Incorrect.

An AT-105 Saxon armoured personnel carrier, which was captured by Russian forces earlier in the year was recaptured by the Ukrainian Army; along with two more transport trucks. pic.twitter.com/nZEjdFnVo2

— 🇺🇦 Ukraine Weapons Tracker (@UAWeapons) September 11, 2022
godz. 22.21: zdobyczne rosyjskie pojazdy: 3 BMP-2, 1 BMP-1 i 1 MT-LB:
#Ukraine: Just a little more Russian hardware left behind in Izium, #Kharkiv Oblast; three more BMP-2 IFV, another BMP-1 IFV, and an MT-LB armoured vehicle. pic.twitter.com/m3AbTnJ9jM

— 🇺🇦 Ukraine Weapons Tracker (@UAWeapons) September 11, 2022
godz. 22.19: zniszczony rosyjski KamAZ:
#Ukraine: A Russian KAMAZ cargo truck lost its fight with a Ukrainian pond in #Kharkiv Oblast and was captured by the Ukrainian army. pic.twitter.com/HSgswu1xZ0

— 🇺🇦 Ukraine Weapons Tracker (@UAWeapons) September 11, 2022
godz. 22.18: zniszczone rosyjskie RChM-6, BRM-1K i BMP-2:
#Ukraine: More Russian hardware left behind in #Kharkiv Oblast; a rather rare destroyed RKhM-6 CBRN reconnaissance vehicle, a BRM-1K reconnaissance vehicle, and a BMP-2 IFV. pic.twitter.com/6rQGYdAzSu

— 🇺🇦 Ukraine Weapons Tracker (@UAWeapons) September 11, 2022
godz. 22.06: 9 z 11 rosyjskich pocisków zestrzelonych:
⚡️Ukrainian military says it downed 9 out of 11 Russian missiles launched on Sept. 11.

Ukraine's Southern Operational Command reported that seven missiles were downed in Dnipropetrovsk Oblast, and two more in Poltava Oblast.

— The Kyiv Independent (@KyivIndependent) September 11, 2022
godz. 21.59: T-72B3 holuje drugi czołg:
The trophy T-72B3 tank pulls another trophy T-72B3 tank. pic.twitter.com/SaGXx9vrIR

— NEXTA (@nexta_tv) September 11, 2022
godz. 21.46: zdobyczny rosyjski Iveco LMV Ryś:
#Ukraine: A Russian Iveco LMV Rys infantry mobility vehicle, possibly undergoing repair, was abandoned by Russian forces in #Kharkiv Oblast and fell into the hands of the Ukrainian army. pic.twitter.com/Q8Otb2PJGD

— 🇺🇦 Ukraine Weapons Tracker (@UAWeapons) September 11, 2022
godz. 21.32: zniszczony rosyjski T-72B3:
#Ukraine: A Russian T-72B3 tank was destroyed by Ukrainian forces in the South; said to be Ternovi Pody, #Mykolaiv Oblast. pic.twitter.com/XmH9dRBS3T

— 🇺🇦 Ukraine Weapons Tracker (@UAWeapons) September 11, 2022
godz. 21.23: zdobyczne rosyjskie R-149MA1 i 3 ciężarówki/cysterny:
#Ukraine: A Russian R-149MA1 command and staff vehicle along with three more transport/fuel trucks was abandoned in #Kharkiv Oblast during the ongoing Ukrainian offensive. pic.twitter.com/qS1JL20UNO

— 🇺🇦 Ukraine Weapons Tracker (@UAWeapons) September 11, 2022
godz. 21.17: z powodu braku prądu pociągi są opóźnione:
The blackouts were caused by a Russian attack on a power plant in Kharkiv Oblast. Kharkiv Mayor Ihor Terekhov said the attack was Russia's "cynical revenge" for the successes of the Ukrainian army on the front.

— The Kyiv Independent (@KyivIndependent) September 11, 2022
godz. 21.15: dwa zniszczone rosyjskie BMP-2:
#Ukraine: Footage from the end of August in Donetsk Oblast showing two BMP-2 IFV of the Russian forces destroyed at close range by Ukrainian troops- one was taken out earlier than the other. pic.twitter.com/ScwhZW1fpL

— 🇺🇦 Ukraine Weapons Tracker (@UAWeapons) September 11, 2022
godz. 21.01: zdobyczne rosyjskie T-80BWM i T-72B3:
#Ukraine: The Ukrainian forces captured T-80BVM and T-72B3 tanks, which were abandoned by the Russian army in Izium, #Kharkiv Oblast.
Only two days ago a photo of this T-80BVM was shared by the Russian media but for some reason the tank didn't move in an inch. pic.twitter.com/ID7TaUyIJT

— 🇺🇦 Ukraine Weapons Tracker (@UAWeapons) September 11, 2022
godz. 20.52: braki prądu po rosyjskich atakach:
A total blackout in the Kharkiv & Donetsk regions, a partial one in the Zaporizhzhia, Dnipropetrovsk & Sumy regions. RF terrorists remain terrorists & attack critical infrastructure. No military facilities, the goal is to deprive people of light & heat. #RussiaIsATerroristState

— Володимир Зеленський (@ZelenskyyUa) September 11, 2022
godz. 20.50: porzucone rosyjskie ciężarówki:
#Ukraine: Four more transport, fuel, and logistics trucks of the Russian Army were abandoned in #Kharkiv Oblast. pic.twitter.com/QZ8zHGETIG

— 🇺🇦 Ukraine Weapons Tracker (@UAWeapons) September 11, 2022
godz. 20.44: Rosjanie zaatakowali największą elektrociepłownię w Charkowie:
Deliberate strikes on critical civilian infrastructure (in particular, on the largest Kharkiv CHPP-5) — a manifestation of RF's terrorism and desire to massively leave civilians without electricity and heat. A coward "response" for the escape of its own army from the battlefield.

— Михайло Подоляк (@Podolyak_M) September 11, 2022
godz. 20.30: Hoptówka wyzwolona:
🇺🇦130th Territorial Defense Battalion liberated Hoptivka in Kharkiv Oblasthttps://t.co/gNW8UfrdCU pic.twitter.com/OKUTdvyoAB

— Euromaidan Press (@EuromaidanPress) September 11, 2022
godz. 20.28: przerwy w dostawach prądu po rosyjskich atakach:
Problems with electricity were also reported in Sumy, Poltava, and Dnipropetrovsk oblasts.

— The Kyiv Independent (@KyivIndependent) September 11, 2022
godz. 20.11: wyzwolone Izium:
Liberated #Izyum 🇺🇦 pic.twitter.com/4aWsChEA44

— NEXTA (@nexta_tv) September 11, 2022
godz. 20.05: Grecja nie dostarczy Ukrainie posiadanych zestawów S-300PMU1 z powodu słabości swojej obrony powietrznej:
⚡️PM: Greece won't provide Ukraine with S-300 surface-to-air missiles.

Greek Prime Minister Kyriakos Mitsotakis said that such support for the war-torn country "should not come at the expense of weakening Greece's defense system."

— The Kyiv Independent (@KyivIndependent) September 11, 2022
godz. 19.26: zniszczony ukraiński T-72B i uszkodzony T-72AMT:
#Ukraine: A Ukrainian T-72B tank was destroyed during the Ukrainian counter-attack on Pisky, #Donetsk Oblast. A rare Ukrainian T-72AMT was also damaged and abandoned there. pic.twitter.com/DqbftPjD3K

— 🇺🇦 Ukraine Weapons Tracker (@UAWeapons) September 11, 2022
godz. 19.21: alarmy przeciwlotnicze w całej Ukrainie:
Air raid on the entire territory of #Ukraine, except #Crimea. pic.twitter.com/RVZVyXMWAE

— NEXTA (@nexta_tv) September 11, 2022
godz. 19.21: dwa zdobyczne rosyjskie: T-72B3 model 2016 i T-72B:
#Ukraine: Two more tanks captured by Ukrainian forces in #Kharkiv Oblast; a T-72B3 Obr. 2016 and T-72B. pic.twitter.com/xJhVkosFSw

— 🇺🇦 Ukraine Weapons Tracker (@UAWeapons) September 11, 2022
godz. 19.21: centrum Izium:
The central square of liberated #Izyum. pic.twitter.com/KoGkI5zcPL

— NEXTA (@nexta_tv) September 11, 2022
godz. 18.55: siły ukraińskie dotarły w obwodzie charkowskim do granicy rosyjskiej:
📽️🇺🇦 Ukrainian troops reached the border with Russian in #Kharkiv Oblast. #UkraineRussiaWar pic.twitter.com/yB41MkQzLH

— MilitaryLand.net (@Militarylandnet) September 11, 2022
godz. 18.48: lotnisko we Lwowie będzie pierwszym, które wznowi pracę, jeśli będzie bezpiecznie:
But this will be possible only if the safety of their work is guaranteed by international partners and the UN, Kubrakov said. Ukrainian airports stopped operating after Russia launched its full-scale invasion on Feb. 24.

— The Kyiv Independent (@KyivIndependent) September 11, 2022
godz. 18.41: start rosyjskich pocisków manewrujących Kalibr z rejonu M. Czarnego:
The occupiers launched missiles from the Black Sea. pic.twitter.com/gpGwjo76Fi

— NEXTA (@nexta_tv) September 11, 2022
godz. 18.26: mieszkańcy wyzwolonej Kozaczej Łopani witają ukraińskich żołnierzy:
Residents of liberated Kozacha Lopan greet Ukrainian soldiers with tears of happinesshttps://t.co/IefGMqjuWt pic.twitter.com/9dp4p0PIGU

— Euromaidan Press (@EuromaidanPress) September 11, 2022
godz. 18.18: Rosja przesunęła organizację pseudo referendów:
⚡️Meduza: Russia postpones plans to stage 'referendums' in occupied territories amid Ukraine's counteroffensive.

The Kremlin abandoned plans to conduct staged "referendums" in Kharkiv and Zaporizhzhia oblasts.

Russia still plans to hold the so-called "referendum" is Kherson.

— The Kyiv Independent (@KyivIndependent) September 11, 2022
godz. 18.06: Rosjanie wycofali się e Swatowe:
⚡️ General Staff: Russian troops retreat from Svatove, Luhansk Oblast.

According to the General Staff, four Russian Kamaz trucks and 20 Tigr infantry mobility vehicles left the settlement in the direction of Russian-occupied Luhansk.

— The Kyiv Independent (@KyivIndependent) September 11, 2022
godz. 18.00: zniszczony ukraiński BTR-4E Bucephalus:
#Ukraine: A Ukrainian BTR-4E armored personnel carrier was destroyed by the Russian army in the vicinity of Izium, #Kharkiv Oblast. pic.twitter.com/zxdeJ9vU5k

— 🇺🇦 Ukraine Weapons Tracker (@UAWeapons) September 11, 2022
godz. 17.58: zdobyczne rosyjskie T-72B3 i BREM-1:
#Ukraine: A damaged Russian T-72B3 tank and BREM-1 recovery vehicle were captured by the Ukrainian army in the vicinity of Izium, #Kharkiv Oblast. A destroyed Russian BMP-1 IFV can be seen nearby. pic.twitter.com/gKzokcCLrk

— 🇺🇦 Ukraine Weapons Tracker (@UAWeapons) September 11, 2022
godz. 19.56: wyzwolono Tokarówkę i Kozaczą Łopań:
Ukrainian forces liberated Tokarivka, Kozacha Lopan in Kharkiv Oblast located near the Russian border

Kozacha Lopan belongs to Derhachi Urban Hromada (territorial community). On 11 September, the Ukrainian flag was raised next to Derhachi City Councilhttps://t.co/2JxHWyA7No pic.twitter.com/zJ9nw2tojC

— Euromaidan Press (@EuromaidanPress) September 11, 2022
godz. 17.44: zdobyczne rosyjskie pojazdy: 2 BM-21 Grad i Urał:
#Ukraine: Another two BM-21 Grad MRL of the Russian Army (and a Ural truck) were captured in #Kharkiv Oblast in recent days. pic.twitter.com/OUv75Mpv9H

— 🇺🇦 Ukraine Weapons Tracker (@UAWeapons) September 11, 2022
godz. 17.44: zniszczony rosyjski BTR-82A:
#Ukraine: A Russian BTR-82A armored personnel carrier was destroyed by the Ukrainian army in the vicinity of Izium, #Kharkiv Oblast. pic.twitter.com/3n7pYqwZ1w

— 🇺🇦 Ukraine Weapons Tracker (@UAWeapons) September 11, 2022
godz. 17.37: 3 zniszczone rosyjskie BMP-2 i ZiŁ-131:
#Ukraine: More hardware captured/destroyed by the Ukrainian Army; another three BMP-2 IFV and a ZIL-131 fuel truck. pic.twitter.com/901B8uH4Kw

— 🇺🇦 Ukraine Weapons Tracker (@UAWeapons) September 11, 2022
godz. 17.35: ukraińscy rolnicy holują porzucony rosyjski T-80:
Already a familiar situation for #Ukraine

With the occupants fleeing in panic and leaving many trophies for the AFU, the help of "Ukrainian tractor troops" has become very much in demand. pic.twitter.com/aX1Jx8lxhX

— NEXTA (@nexta_tv) September 11, 2022
godz. 17.34: siły ukraińskie wyzwoliły Hoptówkę i Jaremówkę:
The AFU liberated Hoptivka and Yaremivka in the #Kharkiv region. pic.twitter.com/dqnAzB4sh5

— NEXTA (@nexta_tv) September 11, 2022
godz. 17.30: wizualizacja zakładów Baykar Makina w Ukrainie:
The project of Baykar's factory in #Ukraine, where the legendary #Bayraktars will be produced. pic.twitter.com/s44njdzC7D

— NEXTA (@nexta_tv) September 11, 2022
godz. 17.22: zdobyczny rosyjski sprzęt: MT-LB, cysterna Urał, MT-12 Rapira, PTS-3:
https://twitter.com/UAWeapons/status/1568983425377357827?t=7YBWTcWpojO24eQMDDsZ4g&s=19
godz. 17.21: siły ukraińskie wyzwoliły Dwurecznoje:
Ukrainian military in the settlement of Dvurechnoe, #Kharkiv region. pic.twitter.com/r7qRjBxl9W

— NEXTA (@nexta_tv) September 11, 2022
godz. 17.19: wrak rosyjskiego Su-25SM:
#Ukraine: The wreckage of a Russian Su-25SM air support jet (RF-95134, 04 White) was found in #Kharkiv Oblast.
Apparently, this is the jet which was shot down by a Ukrainian MANPADS 4 days ago, but it still requires additional confirmation.https://t.co/3V0ris1DYA pic.twitter.com/TPv6RwLELu

— 🇺🇦 Ukraine Weapons Tracker (@UAWeapons) September 11, 2022
godz. 17.05: siły ukraińskie w Wełykim Burłuku:
#Kharkiv region, Velykyi Burluk – 10 km to the border with #Russia. Soldiers of the 92nd Brigade tear down a Russian rag that the occupiers forgot to take with them when they "tactically retreated in a panic". pic.twitter.com/pZgbRgYe4A

— NEXTA (@nexta_tv) September 11, 2022
godz. 16.47: Czarnogóra wprowadzi wizy dla Rosjan:
Another victory of "Lavrov diplomacy"

Foreign Minister of #Montenegro Ranko Krivokapic called for the abolition of visa-free entry for Russians.

Montenegrin Foreign Minister made this proposal after the #EU Council suspended the simplified visa regulations with #Russia. pic.twitter.com/Z9CczOdFkT

— NEXTA (@nexta_tv) September 11, 2022
godz. 16.25: zdobyczny rosyjski 9T217 systemu 9K33 Osa z 17 pociskami 9M33M3:
#Ukraine: A Russian 9T217 transloader for the 9K33 Osa SAM system along with 17 9M33M3 surface-to-air missiles were captured by the Ukrainian army in #Kharkiv Oblast. pic.twitter.com/JU10uuaJfm

— 🇺🇦 Ukraine Weapons Tracker (@UAWeapons) September 11, 2022
godz. 16.25: siły ukraińskie wyzwoliły ponad 40 miejscowości obwodu charkowskiego:
⚡️ Governor: Armed Forces liberate over 40 settlements in Kharkiv Oblast.

Kharkiv Oblast Governor Oleh Syniehubov told a local media outlet that the actual number of recaptured settlements is higher, but "we cannot announce this number."

— The Kyiv Independent (@KyivIndependent) September 11, 2022
godz. 16.18: porzucony rosyjski T-72B3 model 2016, który wjechał na minę:
#Ukraine: A Russian T-72B3 Obr. 2016 tank ran into an apparent land mine in the vicinity of Izium, #Kharkiv Oblast, and was abandoned. pic.twitter.com/llZFYGBkBv

— 🇺🇦 Ukraine Weapons Tracker (@UAWeapons) September 11, 2022
godz. 16.18: 200 dni rosyjskiej inwazji pełnoskalowej:
Exactly 200 days ago, on Feb. 24, Russia launched a full-scale invasion of Ukraine.

Here's what it has cost Ukraine so far. pic.twitter.com/ZBdAdxFsqo

— The Kyiv Independent (@KyivIndependent) September 11, 2022
godz. 16.14: ukraińska M777 kontra rosyjski BMP-2:
#Ukraine: In Arkhanhelske, #Kherson Oblast, drone-corrected 155mm artillery fire from an M777 Howitzer was used by the Ukrainian 406th Artillery brigade to destroy a Russian BMP-2 IFV, at least one transport truck, and ammunition. pic.twitter.com/bHB0XsE7lL

— 🇺🇦 Ukraine Weapons Tracker (@UAWeapons) September 11, 2022
godz. 16.00: liczba ukraińskich uchodźców wojenntch przekroczyła 12,3 mln:
#UN: the number of refugees from #Ukraine after the start of the war exceeded 12.3 million people, and entered the country – almost 5.6 million.

Most of the refugees went to #Poland, and already from this country some of them left for other countries.

🔗 https://t.co/FlCdmq4DHV pic.twitter.com/z5xmfwu9A6

— NEXTA (@nexta_tv) September 11, 2022
godz. 15.54: Ukraina odbuduje Bałakliję po wojnie:
Ukraine to rebuild Balakliya after Russian occupation – Mayor Oksana Bondar

Now residents of Balakliya are left without electricity, water, and gas, she said. Infrastructure was damaged in the Russian attacks
📷by TBhttps://t.co/lzU9djPfCh pic.twitter.com/Rq7CjSMQ36

— Euromaidan Press (@EuromaidanPress) September 11, 2022
godz. 15.39: Słowiańsk i Ugłedar:
Residential buildings in #Slovyansk and #Ugledar, #Donetsk region. pic.twitter.com/BAKUgVTQJI

— NEXTA (@nexta_tv) September 11, 2022
godz. 15.27: zdobyczne rosyjskie 2S18 Msta-S i 2S33 Msta-SM2:
#Ukraine: A Russian 2S19 Msta-S and more advanced 2S19M2 Msta-SM2 152mm self-propelled howitzers were captured by the Ukrainian army in Izium, #Kharkiv Oblast. pic.twitter.com/BgbAxWVZkg

— 🇺🇦 Ukraine Weapons Tracker (@UAWeapons) September 11, 2022
godz. 15.22: Rosja przyznała, że jej wojska wyparto z większości obwodu charkowskiego:
The Institute for the Study of War earlier said that Ukrainian forces have "penetrated Russian lines to a depth of up to 70 kilometers" and taken over 3,000 square kilometers since Sept. 6, liberating more territory than Russia captured since April.

— The Kyiv Independent (@KyivIndependent) September 11, 2022
godz. 15.22: Francja podpisze umowę z Rumunią o zwiększeniu eksportu zboża z Ukrainy:
⚡️ Transport Minister: France to sign deal with Romania to increase grain export from Ukraine.

French Transport Minister Clement Beaune told LCI television channel the agreement is aimed to increase Ukrainian grain exports to developing countries, including to the Mediterranean.

— The Kyiv Independent (@KyivIndependent) September 11, 2022
godz. 14.55: eks-australijski Bushmaster PMV w SZ Ukrainy:
#Ukraine: An Australian 🇦🇺 Bushmaster Protected Mobility Vehicle with an American Mk. 19 Mod 3 automatic grenade launcher currently deployed by the Ukrainian army in the vicinity of Izium, #Kharkiv Oblast. pic.twitter.com/pdLFqlXC1R

— 🇺🇦 Ukraine Weapons Tracker (@UAWeapons) September 11, 2022
🇦🇺🤝🇺🇦Australian "Bushmaster" Protected Mobility Vehicle take part in battles in the #Kharkiv direction

The Ukrainian Armed Forces were very pleased with the use of this vehicle and thanked #Australia. pic.twitter.com/p86SNkCXo9

— NEXTA (@nexta_tv) September 11, 2022
godz. 14.52: od 24 lutego Portugalia nie zaakceptowała ani jednego rosyjskiego wniosku o złotą wizę, czyli prawa pobytu w zamian za inwestycje:
Since the beginning of the war, #Portugal has not approved a single request from #Russian citizens to obtain a "golden visa" — a residence permit in exchange for investments. pic.twitter.com/87u5KLCuMc

— NEXTA (@nexta_tv) September 11, 2022
godz. 14.51: siły ukraińskie wyzwoliły Łypci i Warwarówkę (3,5 km od granicy z Rosją):
Lyptsi and Varvarivka, two more settlements to the north of Kharkiv, have also been reportedly liberated, judging by photos and footage https://t.co/UmdIG8q1xk pic.twitter.com/mAoINrXzz2

— Euromaidan Press (@EuromaidanPress) September 11, 2022
godz. 14.45: S. Ławrow: Rosja nie odmawia negocjacji z Ukrainą, ale im ten proces będzie dłużej odkładany, tym trudniej będzie o pokój. Wcześniej D. Pieskow stwierdził, że negocjacje mogą rozpocząć się, tylko wtedy gdy Rosja osiągnie cele operacji:
🤡 Lavrov: "#Russia does not refuse negotiations with #Ukraine, but the longer the process is postponed, the more difficult it will be to agree on peace."

Earlier, Peskov said that negotiations would only take place if the #Kremlin's conditions were met. pic.twitter.com/vbuUbnqgsL

— NEXTA (@nexta_tv) September 11, 2022
godz. 14.41: przywrócono telefonię komórkową w Bałakliji:
Kyivstar informs that mobile communications have been restored in the liberated #Balakliia. https://t.co/FfOADPzIz3

— NEXTA (@nexta_tv) September 11, 2022
godz. 14.18: Ukraina chce stać się czlonkiem UE w ciągu 2 lat (wcześniej mówiono o perspektywie 7 lat):
⚡️ Shmyhal: Ukraine plans to become full-fledged part of EU in two years.

Prime Minister Denys Shmyhal said that Ukraine has the ambition to fulfill all seven European Commission conditions, and then proceed with the negotiation process regarding EU membership.

— The Kyiv Independent (@KyivIndependent) September 11, 2022
Ukraine plans to become 🇪🇺member in 2 years – PM Shmyhal

During Yalta European Strategy Annual Meeting held in Kyiv on 9-10 Sept, he said that Ukraine will fulfill all 7 conditions set forth by the EU for granting a candidate status by the end of 2022 https://t.co/zzN5MQIpf4 pic.twitter.com/0kpNlmktlp

— Euromaidan Press (@EuromaidanPress) September 11, 2022
godz. 14.13: zdobyczny kompletny zestaw z rosyjskim bsl Orłan-10:
#Ukraine: A Russian Orlan-10 reconnaissance UAV was captured by the Ukrainian forces in #Kharkiv Oblast – complete and in its transport container, along with the technical documentation. pic.twitter.com/SltWegoNcL

— 🇺🇦 Ukraine Weapons Tracker (@UAWeapons) September 11, 2022
godz. 14.01: siły ukraińskie wyzwoliły Kozaczą Łopań:
Kozacha Lopan village has been liberated, accorsing to the Derhachi city councilhttps://t.co/LtHs3UmdyH pic.twitter.com/B9YOTbHCrw

— Euromaidan Press (@EuromaidanPress) September 11, 2022
godz. 13.50: powitanie ukraińskich żołnierzy we wsi Hnyłycja Persza:
The village of Gnylytsya Persha, #Kharkiv region. Local residents meet Ukrainian soldiers. pic.twitter.com/X8cVxVBKry

— NEXTA (@nexta_tv) September 11, 2022
Unconfirmed reports of Hnylytsia Persha village being liberated by the Ukrainian Army in Kharkiv Oblast
📽️https://t.co/ZH2oK1Gaui pic.twitter.com/M5Rj5WR6ei

— Euromaidan Press (@EuromaidanPress) September 11, 2022
godz. 13.23: wieś Wielka Chutor wyzwolona:
The Armed Forces of #Ukraine liberated the village of Velikie Khutor in the Shevchenkivskyi district. pic.twitter.com/TpRlbcwCOu

— NEXTA (@nexta_tv) September 11, 2022
godz. 13.11: wg ukraińskiego wywiadu, Rosjanie znów planują ostrzał Zaporoskiej EJ:
⚡️ Intelligence: Russia plans to again shell Zaporizhzhia nuclear plant.

Russian forces are allegedly planning another attack on the Zaporizhzhia Nuclear Power Plant and the neighboring city of Enerhodar, says Ukraine's Defense Ministry's Intelligence Directorate.

— The Kyiv Independent (@KyivIndependent) September 11, 2022
godz. 13.07: duża kolumna rosyjskich sił cofa się przez rzekę Oskół:
A large #Russian column is retreating across the Oskol River. pic.twitter.com/cxZ2o4ewNa

— NEXTA (@nexta_tv) September 11, 2022
godz. 13.06: gen. W. Załużny: na kierunku charkowskim, posuwamy się nie tylko na południe i wschód, ale także na północ. Jesteśmy o 50 km od granicy państwowej:
Commander-in-Chief of the AFU Zaluzhny: "In the #Kharkiv direction, we began to advance not only to the south and east, but also to the north. We are 50 kilometers away from reaching the state border." pic.twitter.com/8zy70uJTBM

— NEXTA (@nexta_tv) September 11, 2022
⚡️ Zaluzhnyi: Armed Forces are within 50 kilometers of Russian border as Ukraine makes further gains in Kharkiv Oblast.

"Since the beginning of September, over 3,000 square kilometers are returned under Ukrainian control," said Ukraine's Commander-in-Chief Valery Zaluzhnyi.

— The Kyiv Independent (@KyivIndependent) September 11, 2022
godz. 12.29: rosyjski atak na Woznieseńsk:
⚡️ Official: Russian attack on Voznesensk, Mykolaiv Oblast, injures 2 people.

Mykolaiv Oblast Council head Hanna Zamazieieva said the Russian attack targeted civilian infrastructure. No further information was provided.

— The Kyiv Independent (@KyivIndependent) September 11, 2022
godz. 12.27: Kondraszówka k. Kupiańska wyzwolona:
The village of #Kondrashovka near #Kupiansk was liberated. pic.twitter.com/VemccpP2VS

— NEXTA (@nexta_tv) September 11, 2022
godz. 12.02: The New York Times: odbicie Izium może być punktem zwrotnym w Donbasie:
Ukrainian forces now have more territory from which to conduct further offensives and it may offer some relief to cities such as Kramatorsk and Sloviansk that have been shelled relentlessly by Russian troops.

— The Kyiv Independent (@KyivIndependent) September 11, 2022
godz. 11.56: zdobyczne rosyjskie 2S19 Msta-S i 2S3 Akacja:
#Ukraine: More indirect fire assets of the Russian army captured in #Kharkiv Oblast by the advancing Ukrainian forces; 2S19 Msta-S and 2S3 Akatsiya 152mm SPG. pic.twitter.com/LMaQt3Rpub

— 🇺🇦 Ukraine Weapons Tracker (@UAWeapons) September 11, 2022
godz. 11.48: zdobyczne rosyjskie pojazdy: MT-LB, MT-LBWM, BMP-2, wyrzutnia 2S6M/M1 systemu 2K22M/M1 Tunguska:
Next: Two MT-LB, a BMP-2, and a 2S6M/M1 combat vehicle from the 2K22M/M1 Tunguska anti-aircraft system that was destroyed earlier. pic.twitter.com/gcftDFpX70

— 🇺🇦 Ukraine Weapons Tracker (@UAWeapons) September 11, 2022
godz. 11.40: ukraińscy partyzanci wznieśli flagę Ukrainy w Kreminnej:
⚡️ Governor: Ukrainian partisans raise flag over Kreminna, Luhansk Oblast.

Luhansk Oblast Governor Serhiy Haidai said there are also reports that Russian proxies in communities of Luhansk Oblast occupied in 2014 are fleeing.

— The Kyiv Independent (@KyivIndependent) September 11, 2022
godz. 11.13: D. Kułeba: Partnerzy, którzy odpowiadają na apele o dostawy broni, mają swój udział w sukcesach Ukrainy na polu walki:
⚡️ Kuleba: Partners who answer calls for weapons share in Ukraine's successes on the battlefield.

Foreign Minister Dmytro Kuleba said, "prompt supplies bring victory and peace closer."

— The Kyiv Independent (@KyivIndependent) September 11, 2022
godz. 10.59: zdobyczne rosyjskie pojazdy: co najmniej 9 T-80U/BW, 8 innych pojazdów: BTR-82A, BMP-2, UR-77, wóz dowodzenia na podwoziu BTR:
#Ukraine: Russian forces left massive quantities of armour around #Izium; in one single location we counted no less than nine T-80U and T-80BV tanks, as well as other hardware (Eight seen in these images). They appear to be in a variety of conditions. pic.twitter.com/SQTJMRVywU

— 🇺🇦 Ukraine Weapons Tracker (@UAWeapons) September 11, 2022
To finish off- a BMP-2 IFV also left behind nearby. We hear that there is more to come from #Kharkiv. pic.twitter.com/gZ5kwxiaKU

— 🇺🇦 Ukraine Weapons Tracker (@UAWeapons) September 11, 2022
The #Ukrainian Armed Forces were surprised at how many trophies they received from the #Russian "lend-lease" during the counterattack in the #Kharkiv region. pic.twitter.com/N3fHTwy7h9

— NEXTA (@nexta_tv) September 11, 2022
godz. 10.58: w 5 dni Ukraina odbiła tereny okupowane przez Rosję od kwietnia:
In five days, Ukraine retook more territory than Russia occupied since April – ISW

Ukrainian forces have penetrated Russian lines to a depth of up to 70 km and recaptured >3000 km2 of land. Ukraine will likely fully take Izium in next 24hhttps://t.co/GbPRZmid6t

— Euromaidan Press (@EuromaidanPress) September 11, 2022
godz. 10.49: O. Daniłow: interesy sił zbrojnych Ukrainy skończą się tam, gdzie zaczyna się rosyjskie paraimperium:
"The interests of the Armed Forces of #Ukraine will stop where our interests end", said Secretary of the National Security and Defense Council of Ukraine @OleksiyDanilov to @VOANews: "The interests of the AFU will end where the end of the #Russian sub-empire begins". pic.twitter.com/fdx4KLoHan

— NEXTA (@nexta_tv) September 11, 2022
godz. 10.38: wczoraj wojska lotnicze Ukrainy zestrzeliły 3 rosyjskie bsl i pocisk rakietowy CH-59 Owod:
⚡️ Ukraine's Air Force destroys 3 Russian drones, cruise missile on Sept. 10.

Ukraine's Air Force reported destroying a Kh-59 Ovod TV-guided cruise missile and three unmanned aerial vehicles.

— The Kyiv Independent (@KyivIndependent) September 11, 2022
godz. 10.22: ukraińska flaga w Czkałowskim:
Fighters of the 14th Separate Mechanized Brigade raised the flag of #Ukraine in #Chkalovske, #Kharkiv region. pic.twitter.com/VzUwLv7RRE

— NEXTA (@nexta_tv) September 11, 2022
godz. 10.08: W. Brytania: Putin kłamie na temat ukraińskiego eksportu zboża:
UN figures indicate that around 30% of exports have been supplied to low- and middle-income countries in Africa, the Middle East, and Asia.

Ukrainian forces are also continuing to make "significant gains" in Kharkiv Oblast, although fighting is ongoing near Kupiansk and Izium.

— The Kyiv Independent (@KyivIndependent) September 11, 2022
godz. 10.03: Niemcy obiecały pomoc w rozminowywaniu Ukrainy:
#Germany pledges support in demining #Ukrainian territory. https://t.co/Z2hqqV38qX

— NEXTA (@nexta_tv) September 11, 2022
godz. 9.54: Rosja planuje zwiększyć przymusowy pobór na terenach okupowanych:
Russia plans to increase mobilization on occupied territories to offset losses – General Staff

Male residents of occup Kherson &Kharkiv obls are banned from leaving. As well, 🇷🇺s threaten to shoot locals approaching bridges that Ukraine repeatedly shellshttps://t.co/ul926vqADj

— Euromaidan Press (@EuromaidanPress) September 11, 2022
godz. 9.52: dziś w rosyjskich ostrzałach w obwodzie charkowskim zginął 1 cywil, a 9 zostało rannych:
⚡️ Governor: Russian attacks kill 1 person, injure 9 in Kharkiv Oblast on Sept. 11.

Oleh Syniehubov said Russian shelling killed a man and injured four civilians in Kharkiv. Russian attacks also injured people in the region's Chuhuivskyi, Iziumskyi, and Kupianskyi districts.

— The Kyiv Independent (@KyivIndependent) September 11, 2022
godz. 9.32: ukraińska flaga w Wełykiej Komyszuwace:
In the village of Velyka Komyshuvakha, #Kharkiv region, the #Ukrainian flag was raised. pic.twitter.com/7WvVW4nbdv

— NEXTA (@nexta_tv) September 11, 2022
godz. 9.31: rosyjski ostrzał Dniepra i Nikopola:
Massive ruination as Russia shells Dnipro and Nikopol

4 are wounded after Russia's missile & artillery strikes. Residential buildings, warehouses, a market, schools, cars, medical facilities, gas pipes, power lines & other infrastructure damaged https://t.co/UpaEkC6o4C pic.twitter.com/I7kDUtlbpV

— Euromaidan Press (@EuromaidanPress) September 11, 2022
godz. 9.28: M. Podoljak: 200 dni bohaterstwa Ukrainy… Rosja próbowała zniszczyć Ukrainę, upokorzyć jej wolność i rzucić Europę na kolana. Ale dziś już wiadomo, że Rosja zapłaci za wszystkie swoje długi za zniszczenia, morderstwa, przemoc, grabieże. Prawnie i fizycznie…
200 days of heroism of Ukraine…
Russia tried to destroy Ukraine, humiliate its freedom and to bring Europe to its knees. But today it is already understood that Russia will pay all its debts for destruction, murders, violence, looting. Legally and physically…

— Михайло Подоляк (@Podolyak_M) September 11, 2022
godz. 9.24: prokuratura generalna Ukrainy informuje, że siły rosyjskie dopuściły się dotąd 33 049 zbrodni wojennych, 15 362 przestępstw przeciwko bezpieczeństwu narodowemu, 624 przedstawicieli rosyjskiej władzy jest oskarżanych o odpowiedzialność za zbrodnie (ministrowie i ich zastępcy, dowódcy wojskowi, oficjele, szefowi agencji federalnych, podżegacze i propagandziści wojenni), natomiast w działaniach wojennych zginęło 383 dzieci, a 747 zostało rannych:
#RussianWarCrimes pic.twitter.com/wLnC3Dy9QU

— Офіс Генерального прокурора (@GP_Ukraine) September 11, 2022
godz. 9.15: S. Hajdaj: Rosjanie zaczęli wycofywać się z miejscowości obwodu ługańskiego okupowanych od 2014:
#Russian invaders have started leaving cities of #Luhansk region which they had occupied since 2014, reports head of the military regional administration Serhiy Haidai.

The invaders reportedly started to flee from occupied Luhansk and #Alchevsk en masse. pic.twitter.com/P0dq7SpyOZ

— NEXTA (@nexta_tv) September 11, 2022
godz. 8.56: R. Kadyrow: Izium, Kupiańsk i Bałaklija zostaną ponownie wyzwolone:
🤡 Ramzan #Kadyrov: "#Izium, #Kupiansk and #Balakliia will be liberated again".

Remember how the #Chechen dictator promises to capture #Kyiv since the start of the full-scale invasion? pic.twitter.com/uxnI96APSD

— NEXTA (@nexta_tv) September 11, 2022
godz. 8.52: w rosyjskim atakach w obwodzie donieckim zginęło 10 cywilów, a 19 zostało rannych:
⚡️ Governor: Russian forces kill 10 civilians, injure 19 in Donetsk Oblast on Sept. 10.

Donetsk Oblast Governor Pavlo Kyrylenko reported that Russian forces killed four people in Pokrovsk, three in Krasnohorivka, two in Bakhmut, and one in Raihorodok in the past 24 hours.

— The Kyiv Independent (@KyivIndependent) September 11, 2022
godz. 8.45: siły ukraińskie zestrzeliły rosyjski bombowiec frontowy Su-34:
⚡️ Air Force: Ukrainian forces down Russian bomber.

Ukraine's Air Force shot down a Sukhoi Su-34 bomber on Sept. 11. No further information was provided.

— The Kyiv Independent (@KyivIndependent) September 11, 2022
godz. 8.39: 4 cywilów rannych w ostrzale Dniepra:
⚡️ Governor: Russian shelling injures 4 people in Dnipro.

Dnipropetrovsk Oblast Governor Valentyn Reznichenko said Russian shelling overnight of Dnipro also damaged administrative buildings, commercial infrastructure, and residential areas.

— The Kyiv Independent (@KyivIndependent) September 11, 2022
godz. 8.20: skutki ostrzału Dniepra:
#Russian invaders shelled the city center of #Dnipro and destroyed historic buildings. pic.twitter.com/r36idqA8uM

— NEXTA (@nexta_tv) September 11, 2022
godz. 8.14: informacja Straży Granicznej o liczbie uchodźców wojennych z Ukrainy:
#Pomagamy🇺🇦
Od 24.02 #funkcjonariuszeSG odprawili w przejściach granicznych na kierunku z🇺🇦do🇵🇱 6,192 mln os.
Wczoraj tj.10.09➡️ 27 tys.
Dziś do godz. 07.00➡️ 7,8 tys.
W dn.10.09 z🇵🇱do🇺🇦odprawiono 28,1 tys. osób. Od 24.02- ponad 4,411 mln os. pic.twitter.com/wGdy4AT8BL

— Straż Graniczna (@Straz_Graniczna) September 11, 2022
godz. 8.08: straty rosyjskie wg danych sztabu generalnego sił zbrojnych Ukrainy: około 52 650 żołnierzy, 2154 czołgi, 4617 bojowych wozów piechoty i transporterów opancerzonych, 1263 zestawy artylerii lufowej, 311 zestawów artylerii rakietowej, 162 zestawy przeciwlotnicze, 242 samoloty, 213 śmigłowców, 902 bezzałogowce, 216 pocisków manewrujących, 3445 ciężarówek i innych pojazdów nieopancerzonych, w tym cystern, 15 łodzi i okrętów oraz 117 sztuk sprzętu specjalnego: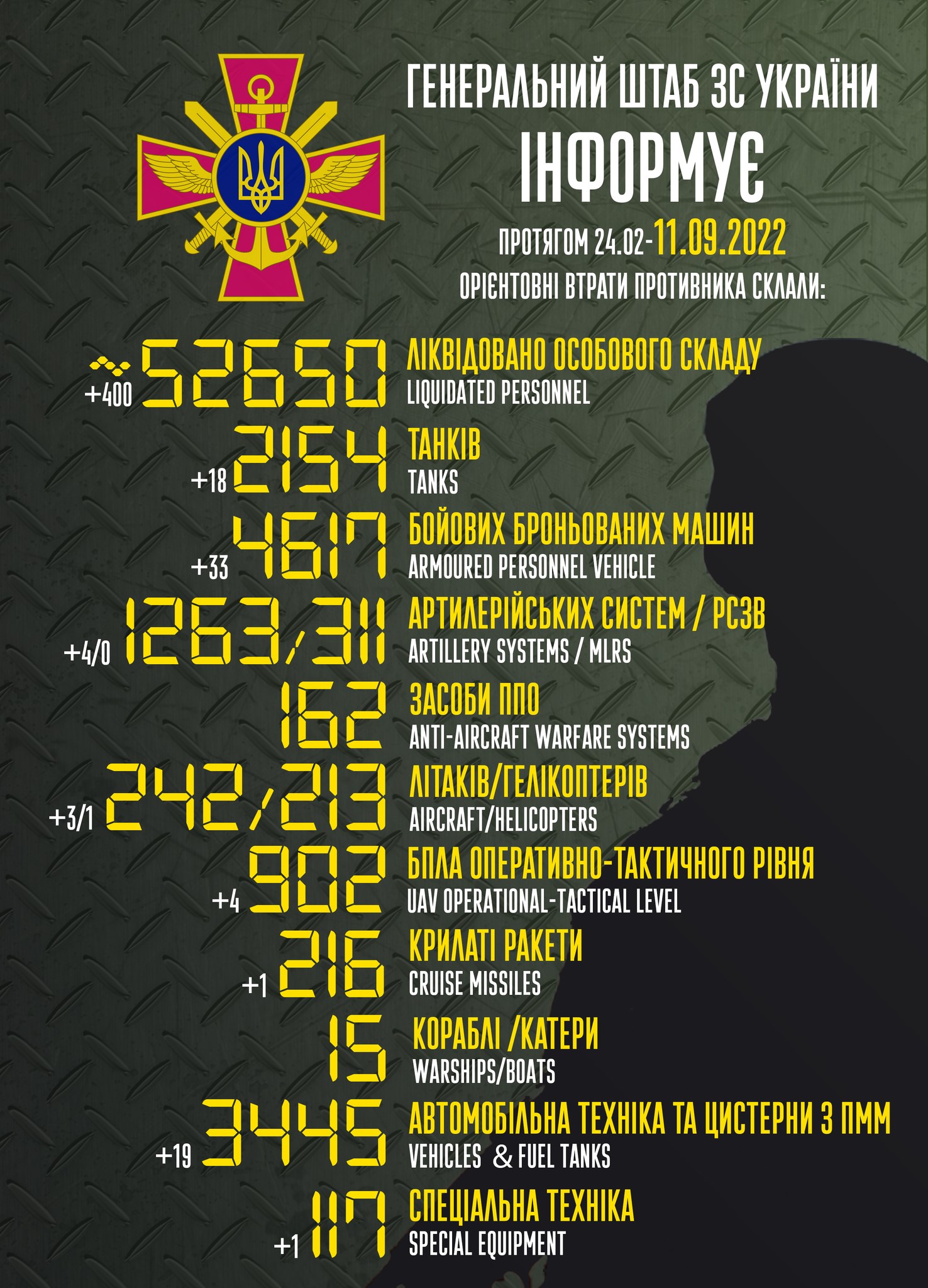 Grafika: sztab generalny sił zbrojnych Ukrainy
godz. 8.02: dziś jest święto ukraińskich wojsk pancernych:
Вітаємо сталеву кавалерію!#ВІРЮвЗСУ pic.twitter.com/CLGOEPqQ8l

— Генеральний штаб ЗСУ (@GeneralStaffUA) September 11, 2022
Воїни-танкісти, вітаю із професійним святом!

Ви виконуєте важку роботу, яку небезпідставно називають і впишуть в історію як героїзм.
Дякую за службу!
Разом до Перемоги! pic.twitter.com/RhfZLTbRQ5

— Генеральний штаб ЗСУ (@GeneralStaffUA) September 11, 2022
— Генеральний штаб ЗСУ (@GeneralStaffUA) September 11, 2022
Today is the day of the tank forces in Ukraine! Take a look at a report by @Hromadske from a heroic Ukrainian brigade of 6 tanks that took on 20 Russian ones and won (EN subs) https://t.co/MJ5Khpp0gN

— Euromaidan Press (@EuromaidanPress) September 11, 2022
godz. 8.00: Enerhoatom: w nocy nad ranem Zaporoska EJ przestała pracować; wyłączono ostatni, szósty blok energetyczny który przez 3 dni pracował w trybie wyspowym, czyli zapewniając zasilanie tylko do własnego chłodzenia, po tym jak Rosjanie zniszczyli ostatnie linie przesyłowe do ukraińskiego systemu elektroenergetycznego. Teraz trwają przygotowania do spowolnienia reakcji jądrowej i przejścia w stan hibernacji:
Tonight, the work of the #Zaporizhzhia NPP was completely stopped, reports Energoatom. pic.twitter.com/YcXJRNcmO2

— NEXTA (@nexta_tv) September 11, 2022
The sixth reactor was operating on "island mode" for the past three days, maintaining only its own needs, after Russian shelling damaged power lines. Now, "preparations are underway for its cooling and transfer to a cold state," reportedly the "safest state."

— The Kyiv Independent (@KyivIndependent) September 11, 2022
Ukraine fully shuts down the Zaporizhzhia NPP. Power needed to cool the still-hot reactors will be supplied through a line to the Ukrainian grid repaired after Russian shellinghttps://t.co/BCYrAhXShf

— Euromaidan Press (@EuromaidanPress) September 11, 2022
godz. 7.58: informacja operacyjna sztabu generalnego sił zbrojnych Ukrainy na godz. 6.00:
🇬🇧 АНГЛІЙСЬКА ВЕРСІЯ
The operational update regarding the #russian_invasion on 06.00, on September 11, 2022
Glory to Ukraine! The two hundred (200) day of the heroic resistance of the Ukrainian people to a russian military invasion continues.https://t.co/cj47BuriZU pic.twitter.com/1aDC5Adklm

— Генеральний штаб ЗСУ (@GeneralStaffUA) September 11, 2022
godz. 7.50: w nocy nad Sewastopolem pracowała rosyjska obrona przeciwlotnicza:
Anti-aircraft warfare could be heard this night in occupied #Sevastopol, #Crimea. pic.twitter.com/0sz32qIyBL

— NEXTA (@nexta_tv) September 11, 2022
godz. 7.48: w rosyjskim ostrzale Mikołajowa rannych zostało 9 cywilów:
⚡️Russian forces shell Mykolaiv, injuring 9.

Mykolaiv Mayor Oleksandr Sienkevych said Russian forces struck the city on Sept. 11, leaving nine residents wounded, with four still receiving treatment at a local hospital.

— The Kyiv Independent (@KyivIndependent) September 11, 2022
Nine wounded after Russian missile strike on Mykolaiv

It hit a courtyard of residential five-story apartment building, causing massive destructionhttps://t.co/TMpmizeJ1G
📷 Arkadiy Dabagian pic.twitter.com/j3jhkN4k4v

— Euromaidan Press (@EuromaidanPress) September 11, 2022
godz. 7.35: informacja operacyjna brytyjskiego wywiadu wojskowego o aktualnej sytuacji militarnej w Ukrainie:
Latest Defence Intelligence update on the situation in Ukraine – 11 September 2022

Find out more about the UK government's response: https://t.co/XE7QGQnZeh

🇺🇦 #StandWithUkraine 🇺🇦 pic.twitter.com/88KnwEqDNj

— Ministry of Defence 🇬🇧 (@DefenceHQ) September 11, 2022
(2/4) On 07 September 2022, President Putin said that only 60,000 tonnes of the grain exported from Ukraine since August had been sent to developing countries, and that the majority had been delivered to EU states.

— Ministry of Defence 🇬🇧 (@DefenceHQ) September 11, 2022
(4/4) Russia is pursuing a deliberate misinformation strategy as it seeks to deflect blame for food insecurity issues, discredit Ukraine and minimise opposition to its invasion.

— Ministry of Defence 🇬🇧 (@DefenceHQ) September 11, 2022
godz. 7.28: siły ukraińskie zniszczyły rosyjski skład amunicji w Nowej Kachowce:
A detonating #Russian ammunition depot in occupied #NovaKakhovka, #Kherson region. pic.twitter.com/Nry2Wbf2C7

— NEXTA (@nexta_tv) September 11, 2022
Another Russian ammo depot destroyed in occupied Kakhovka, Kherson Oblast

Local sources reported that at about 5 a.m., an ammunition depot was hit in the city's industrial area, as of 5:30 detonations were still ongoing. https://t.co/9QiLu6Ej1r
📹https://t.co/57ldKGbskg pic.twitter.com/XdXPcjor6I

— Euromaidan Press (@EuromaidanPress) September 11, 2022
godz. 7.19: przy tlącym się wraku rosyjskiego BTR-80/82A można ugotować posiłek:
#Ukrainian soldiers use #Russian military equipment not only for military tasks. pic.twitter.com/XEdQhNYSMO

— NEXTA (@nexta_tv) September 11, 2022
godz. 7.02: ukraińskie postępy w obwodzie charkowskim w 4 dni (z tym że bez uwzględnienia zdobycia Izium – przyp. red.):
The progress of the Armed Forces of #Ukraine in 4 days in two pictures.

📰5 Kanal pic.twitter.com/Hph63X7nLN

— NEXTA (@nexta_tv) September 11, 2022
godz. 6.57: ukraiński artysta Denys Ciperko, który tworzył m.in. dla Marvela, wykonał sugestywną ilustrację obrońców Azowstalu:
Ukrainian concept artist Denys Tsiperko, who creates characters for Marvel, has posted illustrations of Azovstal heroes defending Mariupol steel plant from the Russian invaders.

Reminder – Azovstal warriors are still held captive by Russia.

📷Denys Tsiperko#StandWithUkraine pic.twitter.com/ISOT5B760m

— Euromaidan Press (@EuromaidanPress) September 11, 2022
godz. 6.40: A. Baerbock w Kijowie: Niemcy dostarczą Ukrainie kolejnych 10 artyleryjskich zestawów przeciwlotniczych Flakpanzer Gepard tak szybko jak to będzie możliwe:
#Germany will supply #Ukraine with 10 more Gepard anti-tank guards as soon as possible, German Foreign Minister @ABaerbock said in #Kyiv.

📰Deutsche Welle pic.twitter.com/CiXfdKemFS

— NEXTA (@nexta_tv) September 11, 2022
godz. 6.30: rosyjski ostrzał Dniepra:
⚡️Update: Russian strike on Dnipro leaves multiple wounded.

Mayor of Dnipro Boris Filatov said several residents were injured after Russian forces struck the center of the city overnight on Sept. 11. Further details about the attack are being investigated.

— The Kyiv Independent (@KyivIndependent) September 11, 2022
godz. 6.26: Sewastopol i Mińsk podpisały porozumienie o wzajemnej współpracy w sferze gospodarczej i humanitarnej:
🤡 #Sevastopol, #Crimea and #Minsk concluded an agreement on mutual cooperation in economic and humanitarian spheres. pic.twitter.com/gYYXadbAmt

— NEXTA (@nexta_tv) September 11, 2022
godz. 6.10: ciekawe odkrycie na zdobytych rosyjskich pozycjach: trumny używane jako osłona:
#Russian occupiers strengthen their positions with coffins. pic.twitter.com/n3BGnZM7lC

— NEXTA (@nexta_tv) September 11, 2022
godz. 5.22: porzucony rosyjski skład amunicji w Izium:
#Izium, #Kharkiv region. #Russian occupiers have left a lot of ammunition that will now serve #Ukraine well. pic.twitter.com/kE3T7U85rF

— NEXTA (@nexta_tv) September 11, 2022
godz. 4.36: rosyjskie dobowe straty na froncie południowym:
As a result of the Ukrainian ongoing counteroffensive, the destruction of eight Russian tanks, 17 armored vehicles, one Msta-B howitzer, one Orlan-10 UAV, and the deaths of 80 Russian troops have been confirmed.

— The Kyiv Independent (@KyivIndependent) September 11, 2022
godz. 4.31: USA uważają, że Ukraina powinna zdecydować jak ma wyzwolić terytoria okupowane, zarówno Donbas, jak i Krym:
Addressing other nations at the Yalta European Strategy (YES) conference, Sullivan said it is the goal of the U.S. and its allies to help Ukraine achieve these goals, either through negotiations or on the battlefield.

— The Kyiv Independent (@KyivIndependent) September 11, 2022
godz. 3.03: O. Zełenska: Przesiedlone dzieci ukraińskie powinny studiować ukraińską historię, literaturę i język:
"Children mainly go to local schools, where they learn local languages, but we don't want them to abandon the study of the Ukrainian language, literature, and history," said Olena Zelenska.

— The Kyiv Independent (@KyivIndependent) September 11, 2022
godz. 2.03: eksplozje w Dnieprze:
⚡️Media: Explosions reported in Dnipro, Dnipropetrovsk Oblast.

Local media reported on Sept. 11 explosions followed by air raid sirens throughout the city of Dnipro. No casualties or damage have been reported.

— The Kyiv Independent (@KyivIndependent) September 11, 2022
godz. 1.58: zastępca sekretarza stanu USA V. Nuland powiedziała, że J. Biden nie ma interesu spotykać się w cztery oczy z W. Putinem podczas szczytu Grupy G20 w Indonezji:
⚡️Nuland says 'no interest' in U.S. President Biden meeting Putin at G20 summit.

U.S. Deputy Secretary of State Victoria Nuland said she does not "see any interest in Putin from our president," regarding talks between Biden and Putin during the upcoming G20 summit.

— The Kyiv Independent (@KyivIndependent) September 10, 2022
godz. 1.50: w Enerhodarze przywrócono wodę i elektryczność:
⚡️Water and electricity were restored to Enerhodar, Zaporizhzhia Oblast.

Dmytro Orlov, mayor of Enerhodar, where the Russian-occupied Zaporizhzhia nuclear plant is located, said workers restored power for citizens after it was disconnected due to Russian shelling.

— The Kyiv Independent (@KyivIndependent) September 10, 2022
godz. 1.50: D. Kułeba: charkowska kontrofensywa pokazuje, że Ukraina może pokonać Rosję, ale potrzeba więcej broni:
"And so I reiterate: the more weapons we receive, the faster we will win, and the faster this war will end," Kuleba said.

— The Kyiv Independent (@KyivIndependent) September 10, 2022
godz. 1.01: ukraińska ofensywa w obwodzie charkowskim:
Map of the Ukrainian offensive in the #Kharkiv region

The American Institute for the Study of War (@TheStudyofWar), based on reports from various sources about the situation in the Kharkiv region, where Ukrainian units are developing an offensive, has updated its front map. pic.twitter.com/4nqlq6X8hR

— NEXTA (@nexta_tv) September 10, 2022
godz. 0.46: Rosjanie ostrzelali pięć miejscowości w obwodzie sumskim:
⚡️Russian forces shell 5 settlements in Sumy Oblast.

Sumy Oblast Governor Dmytro Zhyvytsky said Russian artillery and mortar fire on Sept. 10 left multiple buildings heavily damaged. No civilian casualties have been reported.

— The Kyiv Independent (@KyivIndependent) September 10, 2022
godz. 0.40: O. Scholz: Niemcy gotowe na zimę bez rosyjskiego gazu:
Scholz said terminals have been prepared in northern Germany to import liquid gas, coal-powered plants are operating, and nuclear power plants in the south will be ready by early 2023, if necessary.

— The Kyiv Independent (@KyivIndependent) September 10, 2022
godz. 0.17: USA będą kontynuować wysiłki w celu ograniczenia rosyjskich prób obejścia sankcji:
Nuland added that the already imposed sanctions are already beginning to take effect on the Russian economy which is struggling to sustain its weapons production.

— The Kyiv Independent (@KyivIndependent) September 10, 2022
godz. 0.09: ukraińskie flagi we wsiach Wasilenkowo i Artemówka w obwodzie charkowskim:
Soldiers of the 113th Terodefense Brigade of the Armed Forces of #Ukraine returned the settlements of Vasilenkovo ​​and Artemivka, #Kharkiv region, under the control of Ukraine

President Volodymyr Zelenskyy announced this on his Telegram channel, with the publication of a photo. pic.twitter.com/MM7Uinv4Q2

— NEXTA (@nexta_tv) September 10, 2022
⚡️Ukrainian forces liberate Vasylenkov and Artemivka in Kharkiv Oblast.

President Volodymyr Zelensky announced on Sept. 10 that the servicemen of the 113th Separate Territorial Defense Brigade liberated the two settlements in Kharkiv Oblast.

— The Kyiv Independent (@KyivIndependent) September 10, 2022
godz. 0.07: A. Baerbock w Kijowie wezwała Rosję do przywrócenia ukraińskiej kontroli nad Zaporoską EJ:
Baerbock also called to return the plant to Ukrainian control, and for Russia to demilitarize the surrounding area to avoid a nuclear catastrophe.

— The Kyiv Independent (@KyivIndependent) September 10, 2022
godz. 0.00: ukraiński żołnierz… oddał mocz na rosyjski T-80BW:
Somewhere near #Izyum, the Armed Forces of #Ukraine received a new trophy. pic.twitter.com/2mN3wDQfGI

— NEXTA (@nexta_tv) September 10, 2022
godz. 0.00: porzucone rosyjskie 2S19 Msta-S, 2S33 Msta-SM2 i 2S3 Akacja:
#Ukraine: Finally, footage from with the city of Izium is emerging- here we see Russian 2S19 Msta-S, 2S19M2 Msta-SM2, and 2S3 Akatsiya 152mm self-propelled howitzers abandoned in the streets. pic.twitter.com/5cs25LIJOw

— 🇺🇦 Ukraine Weapons Tracker (@UAWeapons) September 10, 2022
godz. 0.00: znaleziono wrak rosyjskiego Su-34:
#Ukraine: A Su-34 fighter-bomber (20 "Red"/RF-95004), presumably of the 47th Bomber Aviation Regiment, was shot down by Ukrainian forces near Izium, #Kharkiv Oblast- date unknown.

The wreckage can be identified by markings and the two large landing wheels unique to this type. pic.twitter.com/cj34CSStJx

— 🇺🇦 Ukraine Weapons Tracker (@UAWeapons) September 10, 2022