First announced in late 2019 by the Sabatti S.p.A. company of Italy as a modernization of their previous "Rover Tactical Syn" model, and officially introduced at the 2020 edition of SHOT Show, the Tactical EVO bolt-action rifle remains to this day a mainstay of Sabatti's line of precision long-range firearms for sport shooting and tactical applications.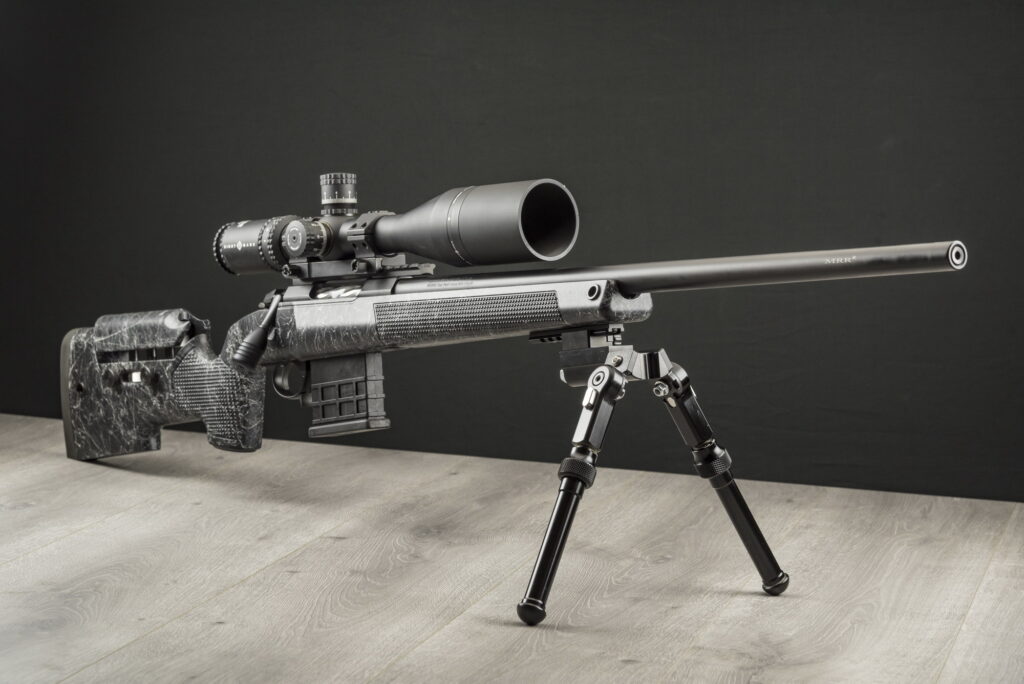 On February 2023, at the EOS expo in Verona (northern Italy), the Sabatti Tactical EVO rifle was awarded as the "Best long-range rifle of the year" by the Italian firearm retailers' association (ASSOARMIERI). What makes it so popular?
Very similar to the Tactical EVO, the EVO US variant – introduced alongside the baseline model, initially available only in the United States and now distributed internationally – features a few changes that make it more portable, serving a plethora of conventional and special tasks ranging from long-range shooting training to PRS competitions, down to patrol rifle service, urban sniping and countersniping, and overwatch applications.
In 2023, Sabatti announced a refreshing of the design, which three years after its official launch continues to be a top seller – so much so that ASSOARMIERI, the Italian firearms retailers association, named it as the top selling long-range rifle of the year at the EOS 2023 expo that took place in mid-February in Verona (northern Italy).
But what, exactly, made the Sabatti Tactical EVO so popular?
One rifle, two versions
The Sabatti Tactical EVO and Tactical EVO US are essentially the same rifle, the latter departing slightly from the baseline design via some modifications originally meant to meet the specific needs of civilian shooters and law enforcement operators in the US, who generally favor lighter weight and superior mobility. This means, of course that the EVO and EVO US have a lot in common, including numerous technical features that they share with other rifles from current Sabatti production.

Sabatti Tactical EVO US rifle, right side

Sabatti Tactical EVO US rifle, left side
Both the Tactical EVO and Tactical EVO US rifles are based on the "Blizzard" action – Sabatti's current flagship action design, the same featured on a vast majority hunting, sport shooting and tactical long-range rifles manufactured at present by the company.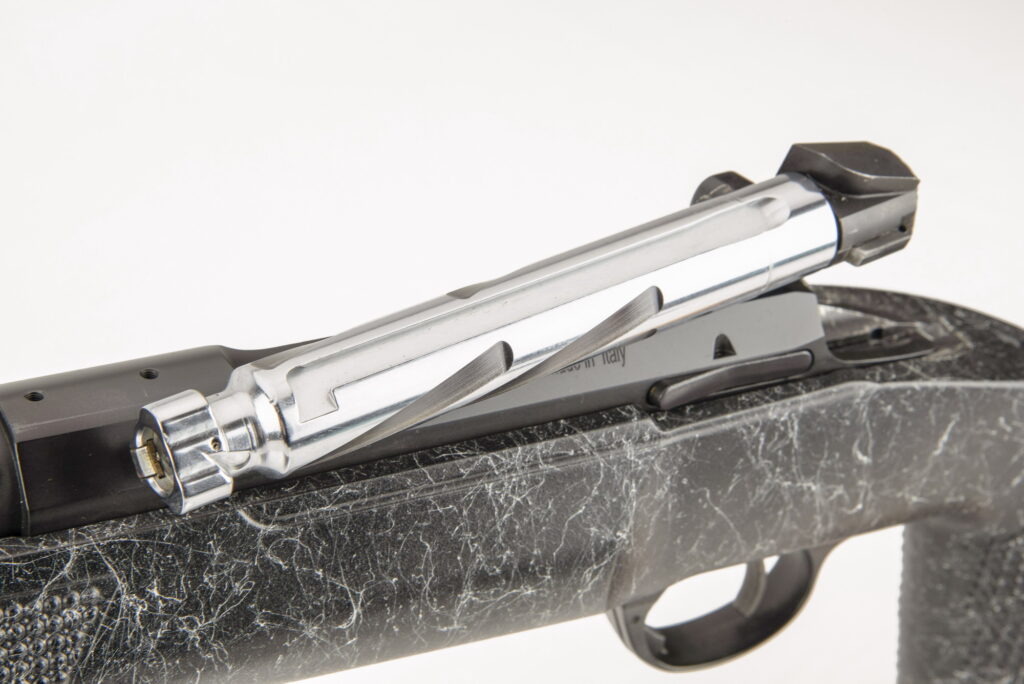 The Tactical EVO and Tactical EVO US rifles are based on Sabatti's own, patented Blizzard action with a three-locking lug bolt
Basically, the Blizzard action consists in a CNC-machined, special steel alloy bolt with three locking lugs, whose bolt is heat-treated and chrome-lined to meet a set of very specific thickness specs that match a mirror set of specifications of the receiver, to achieve a fast, smooth, and extremely silent operation – a must for tactical applications – with extremely tight tolerances.

The bolts of the Sabatti Tactical EVO and Tactical EVO US rifles are machined out of steel, heat-treated and chrome-lined to the desired level of thickness
Sabatti takes particular pride in this specific feature: the Blizzard action is as quiet to operate as one would expect from a custom-built rifle. The typical Blizzard action offers one of the highest levels of machining precision found on a series-produced long-range rifle, globally.
Like other Sabatti long-range rifles, the Tactical EVO and Tactical EVO US feature a 5/16" thread at the extremity of the charging handle, allowing shooters to replace the factory knob with any aftermarket alternative. Another feature of the Tactical EVO and EVO US already seen on other Sabatti rifles is the 60-degrees bolt throw, tighter than most competition; it makes cycling marginally faster, but is extremely effective in keeping the shooter's hand away from the eyepiece of any scope.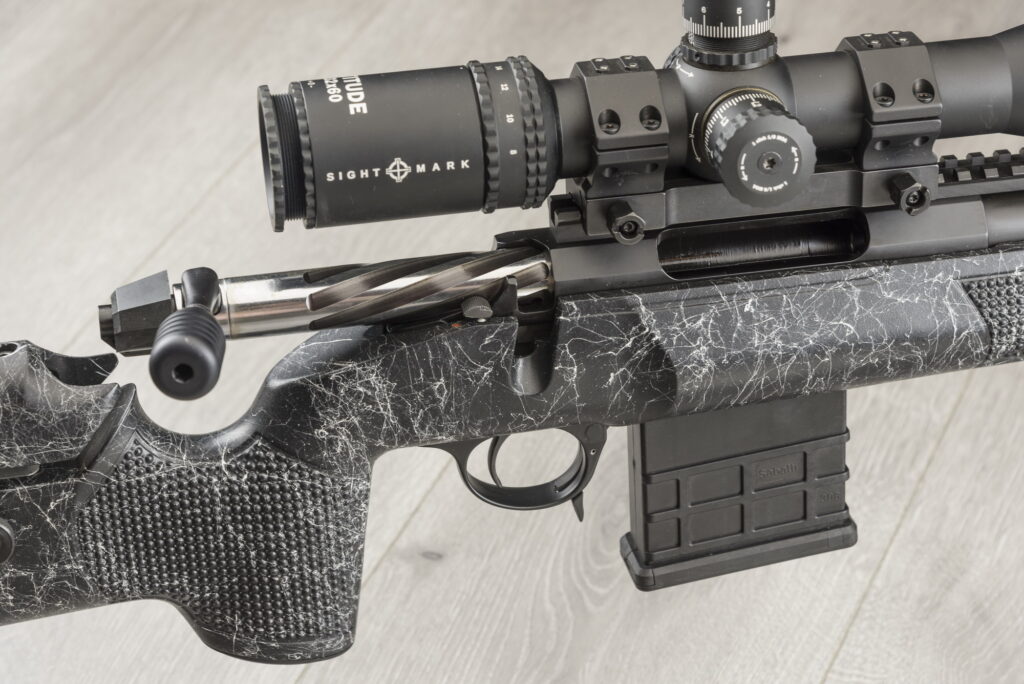 Very few details distinguish the baseline Tactical EVO from the EVO US rifle – more specifically, a slightly shorter barrel and a set of QD sling swivel cups on the stock, but the rest remains the same
What really sets these two rifles apart is the deep spiral fluting on the bolt body. Sabatti's bolts in general are marketed as offering high levels of resistance against wear and corrosion, and the fluting further reinforces the concept by lightening the bolt body without weakening it, while keeping out of the way any dirt or gunk that may interfere with the normal operation of an action built on such tight tolerances.
Also standard with the Tactical EVO and EVO US rifles is a Sabatti exclusive 17-4PH stainless steel extractor, fondly dubbed the "Guillotine extractor" due to its form and function. Designed following feedback from long-range shooters in Europe and north America, who requested for a solution to prevent any potential case rupturing (a rare occurrence when using factory loads, much more likely to happen when using surplus ammunition, high-pressure loads, or handloads prepared with reused and thus potentially weakened brass).
The design and specs of the new Sabatti extractor allow it to fully support the case at the rim, with enough strength to prevent rupturing even in the event of massive pressure spikes, ensuring safe operation and reliable cycling in most conditions.
The Blizzard action of the Sabatti Tactical EVO and EVO US rifles also features a two-position manual safety on the right side, just behind the charging handle, and a bolt removal button on the left side of the receiver – a standard configuration for modern bolt-action rifles. When the rifle is cocked, a notch protrudes slightly from its rear to dub as a visual and tactile status indicator.
The receiver built by Sabatti for the Tactical EVO and EVO US rifles is manufactured out of high-strength, heat-treated steel, machined from solid billet to rigid specs that are an exact match to those of the bolt, and available in the shooter's choice of matte black or matte chrome finish. The rifle comes from factory with a machined alloy 17-slot Picatinny rail for optics, but the receiver is drilled and tapped so that the user may remove it and replace it with other options if so inclined: Sabatti offers several, including 10 MOA and 20 MOA inclined base rails for extended capabilities – sold separately of course.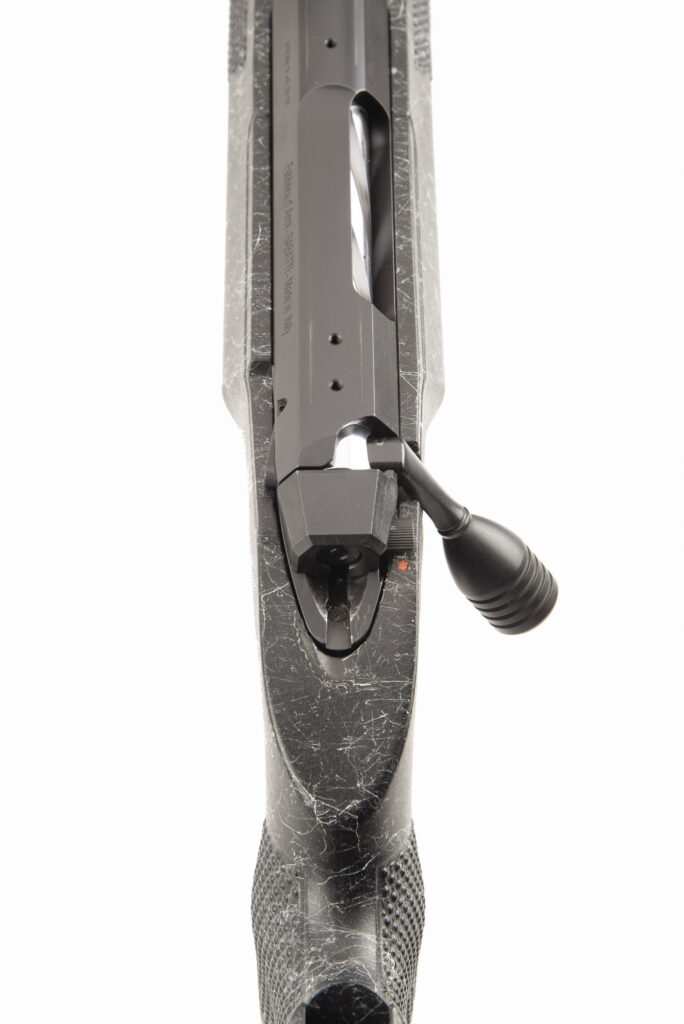 A top view of the Sabatti Tactical EVO rifle: the receiver is drilled and tapped for scope mounts or rails
A solid foundation
The stock is among the features that distinguish the baseline Tactical EVO rifle from the EVO US: a dedicated stock design, entirely manufactured in Italy, available in desert tan or a captivating black finish with white veins that irradiates pure black granite reminiscences – because a true Italian product should never lack a touch of high aesthetics – with checkered gripping surfaces, an adjustable cheekpiece, and rubberized spacers to achieve both felt recoil reduction and a precise LOP adjustment.
Neither of the two rifles feature a standard bedding, Sabatti opting instead for their own, patented "Suspended action" (Azione sospesa, in Italian) – a proprietary system that has the receiver coupled to the stock only via two screws and staying essentially suspended over the stock as if on a cradle.
With no direct contact between the stock and the action outside of those two direct engagement points, both the action and the barrel are free to float within the stock; coupling tensions are thus eliminated, benefiting accuracy overall. And as long as the two screws are kept at the right level of torque (6 N·m for the rear screw and 7 N·m for the front screw on the Tactical EVO; 8 N·m for the rear screw and 9 N·m for the front screw on the EVO US), the barreled action will hold zero even if removed from the stock and subsequently reinstalled, or attached to a different stock.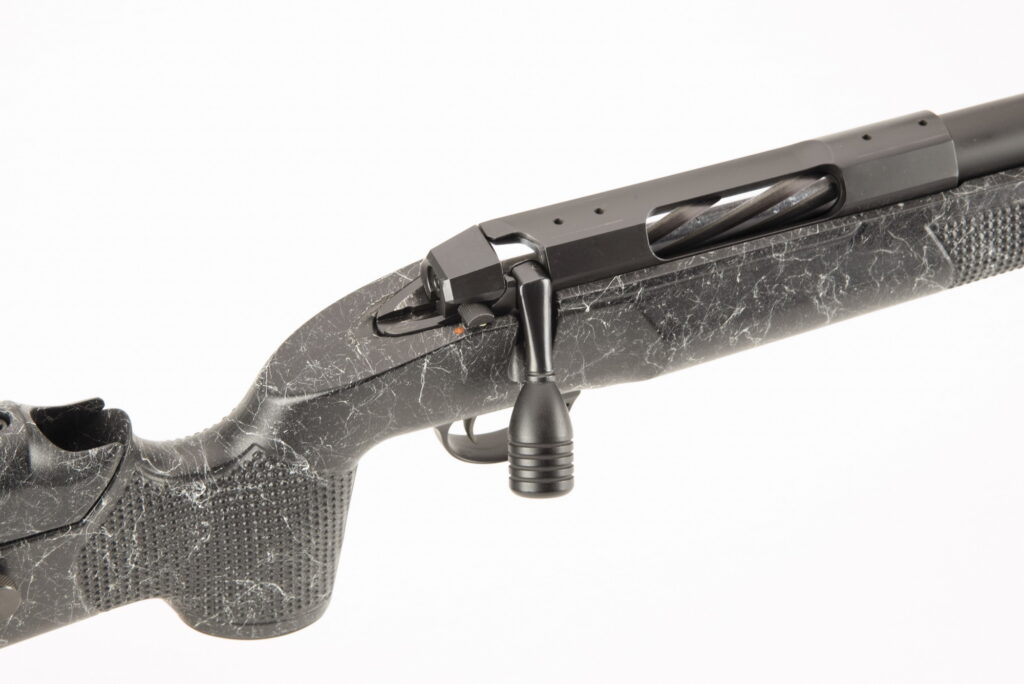 The 60-degrees bolt throw of the Sabatti Tactical EVO and EVO US rifles allows quick cycling for faster follow-up shots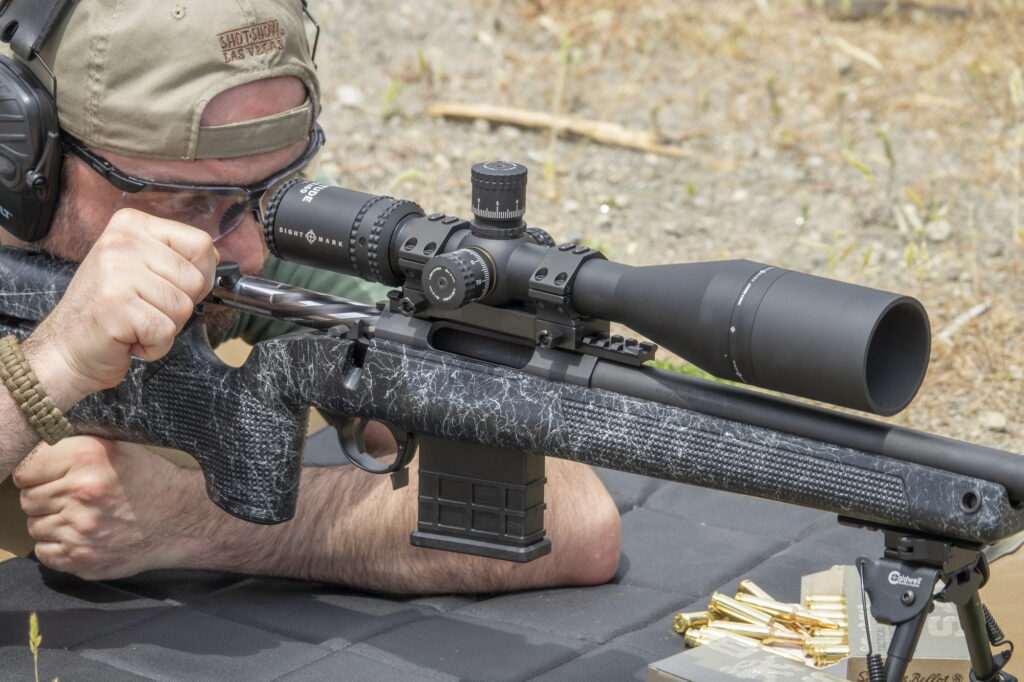 The Sabatti Tactical EVO rifle at the range; notice how the 60-degrees bolt throw keeps the shooter's hand well away from the eyepiece
The difference is in the manufacturing and a couple features. While the baseline Tactical EVO stock is manufactured out a very rigid and stable Nylon/Fiberglass, the Tactical EVO US rifle stock is made using a lighter polymer mix that makes the overall package from 400 grams (approx. 14 oz) to about one kilogram (2.2 lbs) lighter than the baseline model.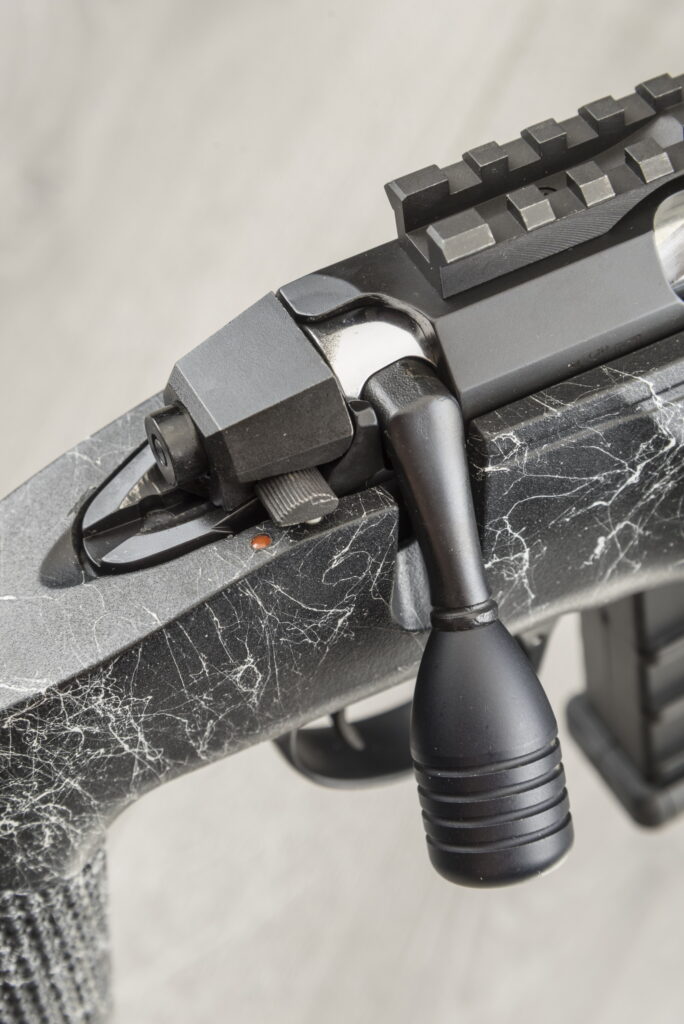 The safety switch on the Sabatti Tactical EVO and EVO US rifles is located just behind the charging handle, at quick and easy thumb reach
The Tactical EVO US stock also features QD sling swivel cups on both sides of the handguard and stock, and a bottom Picatinny rail portion for bipods – a feature which the Tactical EVO model is set up for, but left to the end user to install.
These small but significant differences were studied to increase mobility in the face of both professional and sporting applications, such as PRS (Precision Rifle Shooting) competitions, which have relatively recently started to enjoy in Europe the same level of popularity they already enjoy in the United States.
Different lengths, same core
A feature shared by both the Tactical EVO and EVO US rifles is Sabatti's signature MRR (Multi-Radial Rifling) pattern of barrels: cold hammer forged, conic profile barrels with a matte black or chrome finish matching that of the receiver, based on a patented Company technology first launched in 2011.
MRR barrels feature a modified forcing cone geometry, providing a better bullet-to-bore alignment, and a peculiar rifling pitch, softer than both conventional and polygon rifling, which engages the bullet in a much tighter fit than other rifling patterns, deforming it without cutting the jacket and reducing friction levels.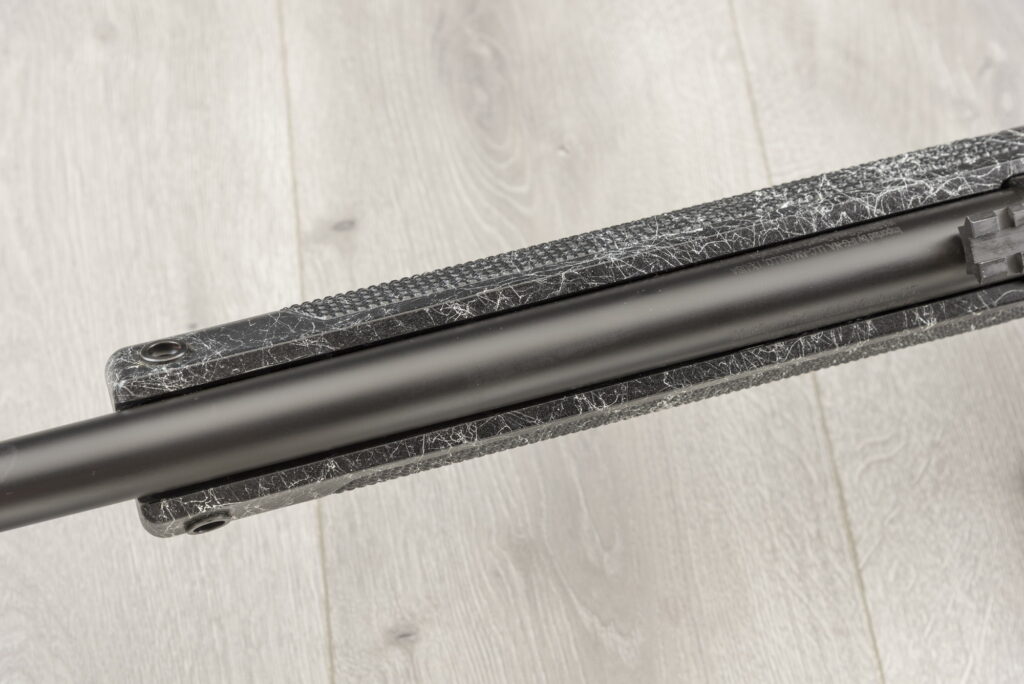 All barrels on the Sabatti Tactical EVO and EVO US rifles are cold-hammer forged and feature the Company's own MRR multi-radial rifling pattern
On the industrial point of view and in terms of service life, the MRR rifling pattern allows for easy manufacturing of barrels through cold hammer forging, a technology that Sabatti has been using for decades. Reduced rifling wear caused by attrition minimizes the need for cleaning – although your usual, accurate level of cleaning is still necessary during the barrel break-in period, which by the way is noticeably reduced if compared to standard rifled barrels (200 rounds approximately) – and the tighter fit turns the bullet essentially into a "gas seal" as it travels through the barrel.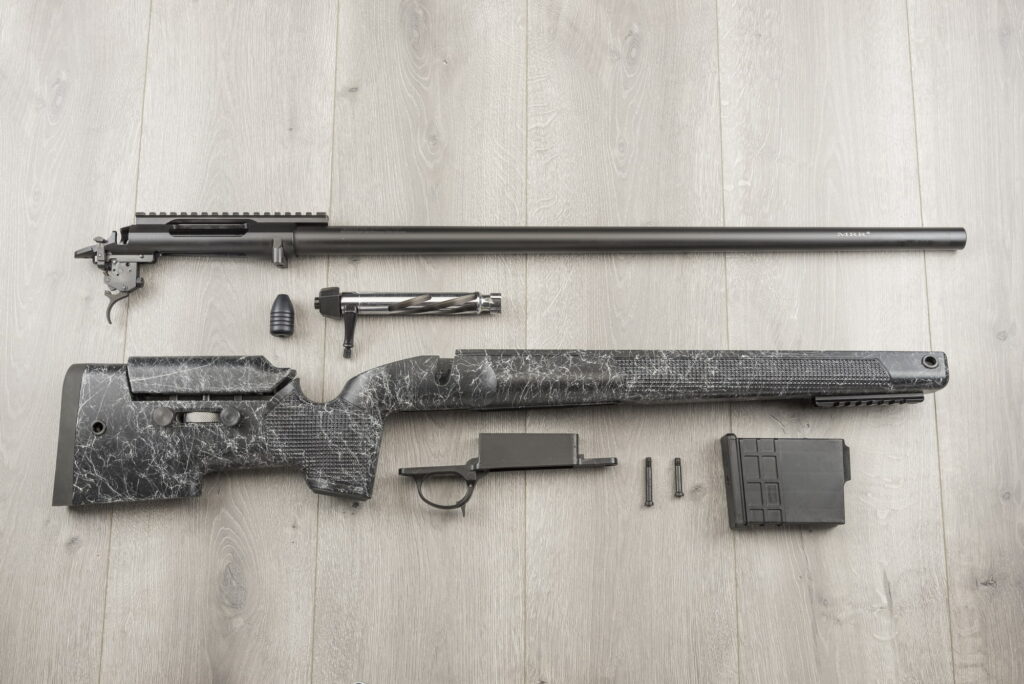 Sabatti Tactical EVO US bolt-action rifle, fully disassembled
As the portion of gas that bleeds through the rifling ahead of the bullet is reduced, its propelling force is increased. Rifles with MRR barrels will provide up to 12% more muzzle velocity compared to similar models with a standard barrel. MRR barrels are also guaranteed from factory to provide sub-MOA performance on target at 100 meters right out of the box.
The Sabatti Tactical EVO and EVO US are available in different barrel lengths: 66 or 71 cm for the EVO, 56 or 66 for the EVO US specifically. The Tactical EVO US also features a 22 mm diameter, 5/8-24 threaded muzzle for muzzle brakes, flash hiders, or sound suppressors.
For all uses
The Sabatti Tactical EVO and EVO US rifles are available in eight calibers as we write: .308 Winchester/7.62×51mm; 6mm Creedmoor; 6.5 Creedmoor; 6.5 PRC; .300 Winchester Magnum; 6.5×47 Lapua; 6.5×55 SE; and .284 Shehane. Additionally .223 Remington/5.56×45mm caliber variants are currently slated to be launched by June 2023. That's enough to get all your bases covered in terms of tactical applications and long-range shooting – including top-level competition – and for hunting.
The Tactical EVO and EVO US rifles differ in terms of feeding systems: the Tactical EVO US uses detachable, Accuracy International Chassis System (AICS) compatible magazines, offering a maximum capacity of seven rounds depending on the caliber; the baseline Tactical EVO, in its refreshed for 2023 iteration, feeds through a proprietary single-stack polymer detachable magazine – ranging between three to six rounds in overall capacity, depending on the caliber – that should offer more reliability compared to the metal magazines used by the previous versions.

Sabatti offers multiple choices of MIL-STD 1913 Picatinny rails for the installation of optics, including inclined rails for easier holdover at extreme long range
Both the Tactical EVO and EVO US rifles feature a magazine release lever located in a convenient position within the trigger guard, in a lower frontal position, allowing shooters to swap mags and reload easily without losing eyes on target.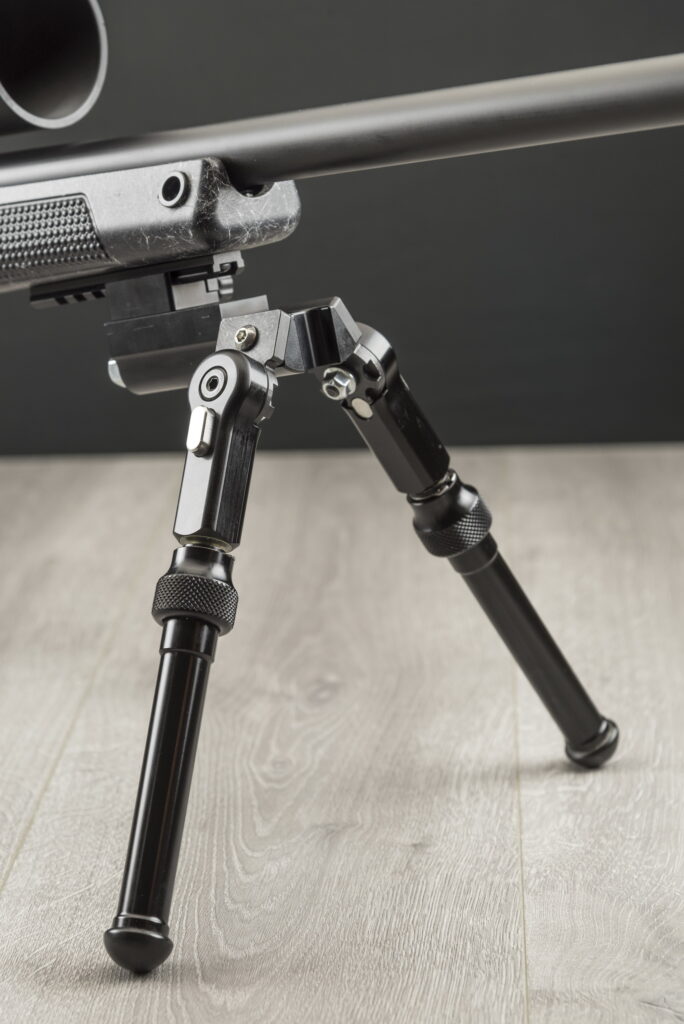 The Sabatti Tactical EVO and EVO US rifles feature bipod attachment points; the EVO US has a front Picatinny rail segment for that role
Unfortunately the 2023 version of the Tactical EVO isn't retro-compatible with the older generations' metal magazines. One may certainly argue why Sabatti didn't go for STANAG 4179 (AR-15 type) magazines in the .223 Remington/5.56×45mm variants and for AR-10/SR25 magazines in the .308/7.62×51mm variants; while the use of more widely available magazines could have been a better selling point, one must take into account the fact that those double-stack, double-feed magazines require specifically-designed actions to operate reliably on bolt-action rifles, while Sabatti wanted to retain its three-locking lug Blizzard action for all variants, regardless of the caliber, owing to the already mentioned advantages of such action over others.

The feeding system is the main technical difference between the Sabatti Tactical EVO and EVO US rifles: the Tactical EVO feeds through a proprietary polymer magazine, the Tactical EVO US employs AICS magazines
Both rifles come with Sabatti's own, Match-grade three-lever trigger that breaks at an average weight of 600 grams (1.3 lbs) and can be adjusted further upon separation of the action from the stock – even by the user, if need be, although assistance from a qualified gunsmith is strongly recommended by the company.
That's a feature that the Sabatti company takes pride in: a factory trigger that offers the same performance levels as those boasted by major aftermarket trigger suppliers. As of today no aftermarket triggers compatible with Sabatti rifles are available from any maker, but if our experience means anything, you will not want or need an aftermarket trigger on your Sabatti Tactical EVO US – ever.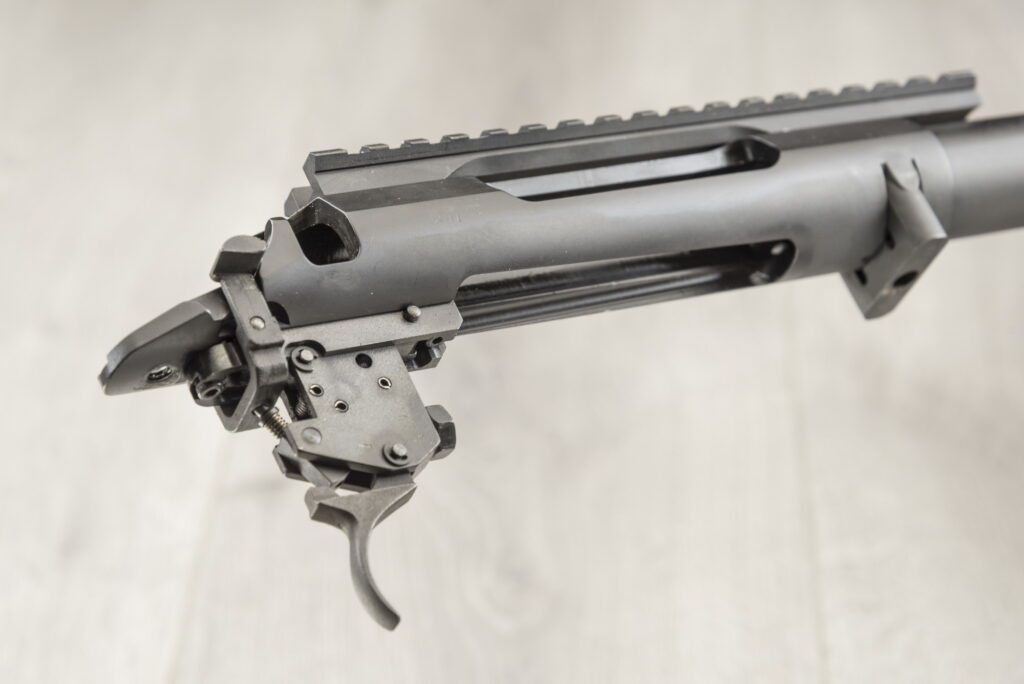 Sabatti's rifles are not compatible with aftermarket triggers; the Sabatti Match-grade two-stage trigger is just as good as the best aftermarket triggers out there, and can be slightly adjusted upon stripping the rifle
A global success
If a downside in the Sabatti Tactical EVO and EVO US rifle design has to be found is that, due to their peculiar "Suspended Action" bedding system, no aftermarket supplier makes stocks available for this or other Sabatti rifles that could replace the factory stock. Which, after all, is not a big deal: the Sabatti Tactical EVO and Tactical EVO US rifles were engineered to be user-friendly to a maximum level and ready for competition or tactical applications right out of the box, with minimal break-in, and their stocks have been designed and are manufactured by some of the best specialized workers that the Italian gun industry can number.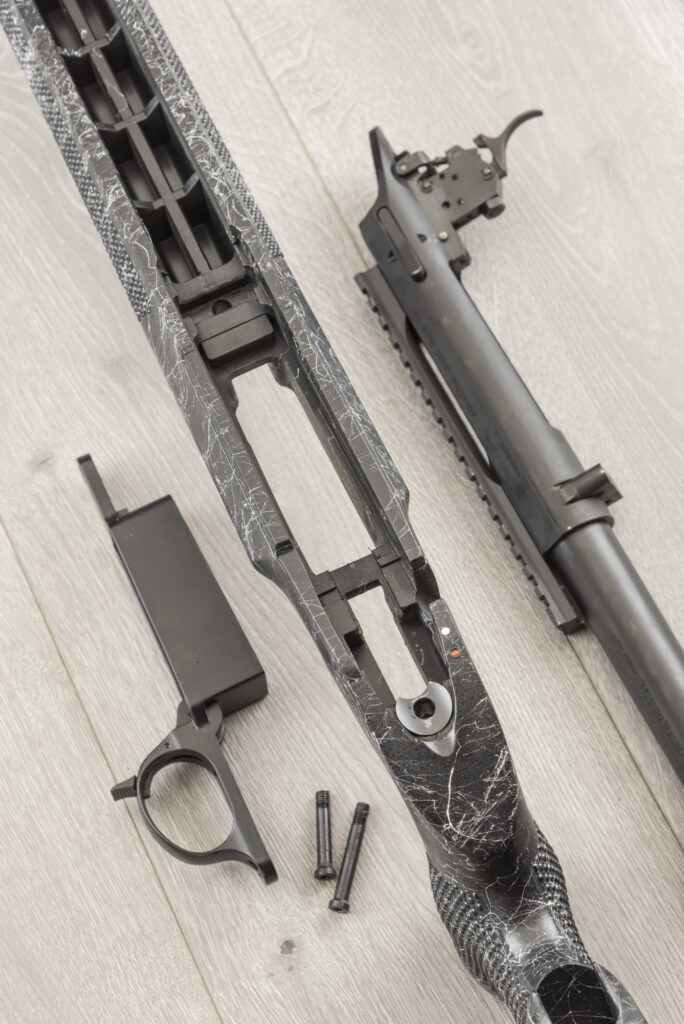 A detail on Sabatti's "Azione sospesa": the barreled action is secured to the stock by two screws, and is easily removed and just as easily reassembled. As long as the proper level of torque is respected, the action will hold zero
Sabatti, however, operates a Custom Shop that allows shooters to arrange certain custom modifications to their rifle with the company. While it does sound a bit redundant – a company offers custom modifications to a rifle line that is advertised as offering Custom-grade features and performance from factory – that's testament to Sabatti's dedication to customers and their needs, worldwide. It's not unheard of, at Sabatti's, to have the most requested custom modifications for this or that model turned into standard factory features for the next generation of rifles.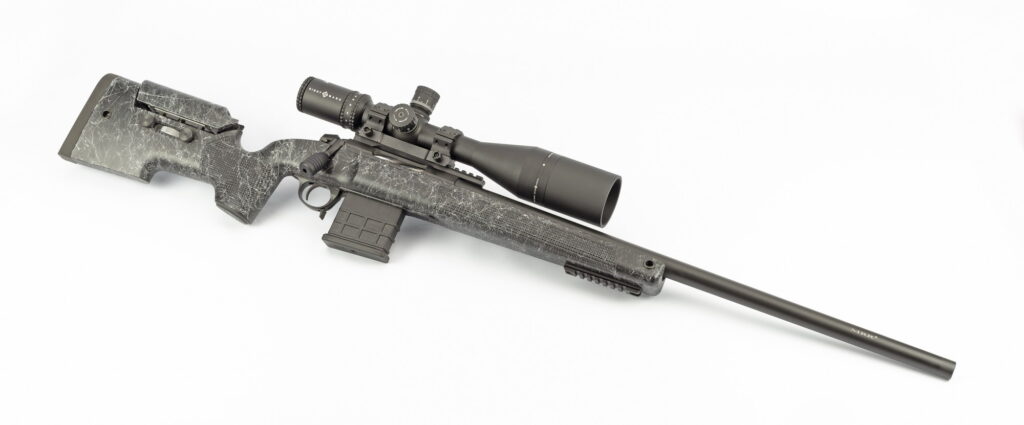 The Sabatti Tactical EVO US bolt-action rifle, ready for the range: a highly mobile platform, perfect for sport shooting, hunting, or tactical applications
After an initial phase of exclusive availability on the US market, the Sabatti Tactical EVO US has been made available internationally to commercial and professional customers alongside the baseline Tactical EVO. What was meant to be a strictly American import has turned into a mainstay of Sabatti's product line in a handful of months after its launch, enjoying a substantial market success on the European and other global markets even in the difficult circumstances of a global pandemic – just going to show that maybe, just maybe, shooters worldwide have a lot in common in terms of tastes and needs, regardless of where they live and practice.

Sabatti's MRR barrels are factory-guaranteed for out-of-the-box sub-MOA accuracy at 100 yards

Excellent creations of Italian engineering and manufacturing, the Sabatti Tactical EVO and EVO US rifles offer peak level performance, rivaling those of better-known foreign makers, at a fraction of the cost
The Sabatti Tactical EVO is available in Poland at a price of 7.500 zł for the basic model, 7.800 zł for the chromed barrel model and 8.000 zł for the desert tan model. The price for the Sabatti Tactical EVO US is set at 8.900 zł.
TECHNICAL SPECIFICATIONS
TECHNICAL SPECIFICATIONS
Manufacturer
Sabatti S.p.A.
Distributor
Malik & Malik
Brzegowa 41A, Strzelin 57-100
https://malik-malik.pl
Model
Tactical EVO – Tactical EVO US
Type
Bolt-action rifle
Calibers and rifling twists
·         .308 Winchester / 7.62x51mm (1:11")

·         6,5×47 Lapua (1:8")

·         6mm Creedmoor (1.8")

·         6.5 Creedmoor (1.8")

·         6.5 PRC (1.8")

·         6.5×55 SE (1.8")

·         .300 Winchester Magnum (1:11")

·         .284 Shehane (1:8.¼")

.223 Remington / 5.56x45mm available from June 2023

Action
Blizzard action – three front-locking lugs with 60° opening angle
Trigger system
Match-grade, three-lever
Safety
Manual safety
Capacity
·         3 to 5 rounds in proprietary single-stack detachable polymer magazine (Tactical EVO)

·         Up to 7 rounds in AICS compatible magazines (Tactical EVO US)

Sight systems
MIL-STD 1913 Picatinny rail for optics available in different configurations
Barrel
·         66-71 cm, cold hammer forged, conic profile, 22-28 mm muzzle diameter, MRR Multi-Radial Rifling pattern (Tactical EVO)

·         56-66 cm, cold hammer forged, conic profile, 22 mm diameter, MRR Multi-Radial Rifling pattern (Tactical EVO US)

Total length
·         114-122 cm (Tactical EVO)

·         104-114 cm (Tactical EVO US)

Weight (empty)
·         6,4 kg max. (Tactical EVO)

·         5,5 kg max. (Tactical EVO US)

Materials
Steel barrel, receiver, and action; reinforced polymer stock
Finishes
Matte black or chrome finish available on steel surfaces; stock available in black with white veneer, or in desert tan
Price
·         7.500 zł (Sabatti Tactical EVO, black model)

·         7.800 zł (Sabatti Tactical EVO, chromed model)

·         8.000 zł (Sabatti Tactical EVO, desert tan model)

·         8.900 zł (Sabatti Tactical EVO US)