From the middle of the 2000s, Land Forces were seeking an individual weapon, capable of providing intensive fire-support with high-explosive ammunition and compatible with other types of projectiles including smoke and illumination among other. This weapon was supposed to have an effective range similar to a service rifle and, at a later time, to the marksman rifle. Another premise was the lowest possible mass and size, so it could be easily transported and used by a single soldier while carrying extra ammunition.
Pallad S and Pallad M
Previously in 1980s Warsaw-based Institute of Precision Mechanics (IMP, Instytut Mechaniki Precyzyjnej) developed the semi-automatic Hel (Pallad S) grenade launcher. The weapon massed 4,4 kg and were using low-velocity ammunition fed by a tubular over-the-top magazine. At the same time, the GA-1000 (Pallad M) automatic grenade launcher was also developed. The GA-1000 was fed from a box magazine and chambered in 40x47SR mm medium-velocity rounds, capable of a range of 1000 m. The weight was 8,7 kg. Neither of the weapons attracted any interest from the Army.
History
Only 30 years and Afghanistan and Iraq deployment showed, that there is a serious need for a small, yet powerful support weapon, capable of providing short-time fire support comparable with vehicle or tripod-mounted machine grenade launchers.
Contract with Mechanical Equipment Research and Development Centre Tarnów (OBRSM, Osrodek Badawczo-Rozwojowy Sprzetu Mechanicznego) for the development of the grenade launcher was signed on the 9 March 2007. The process was conducted in cooperation with Warsaw-based Military University of Technology (WAT, Wojskowa Akademia Techniczna).
Analysis of existing weapon systems helped with finalizing the looks of Polish grenade launcher. Revolver type was chosen, with a six rounds capacity. The drum was to be actuated by a winding spring and Its movement was to controlled by a lever tied into the trigger.
The analysis resulted in planned specifications, construction, and additional documentation. Test station was also created and allowed for project examination at various stages: a model, a prototype, and initial trial series.
Model
In 2008 a functional model of the grenade launcher was created. It was based on the previously-mentioned documentation and received a 0863H OBRSM Tarnow manufacturer code.
Further development required testing of the mechanical devices and construction`s durability. Durability was tested using overpowered ammunition. Each drum chamber was subjected to two shots. Further trials involved reliability checks, ergonomics, and accuracy. Grouping was assessed at the 50 and 100 m range.
Firing mechanism was also tested. One of the parts of this was the measurement of combustion gas pressures (this examination was not initially planned in the development). The results were later used to create the semi-automatic action for the grenade launcher. This significantly improved weapon`s functionality.
Lead designer Zbigniew Wójcik with a camouflaged model of a RGP-40 grenade launcher. The weapon was showcased at the MSPO 2009 for the first time
Prototype
Technical documentation for RGP-40 was created, based on previous trials. The documentation included modifications such as semi-automatic action and additional firing pin safety. Additionally, overall mass was reduced. Steel elements were replaced with aluminum alloys and their shape was changed.
The M4 type, adjustable stock was installed. This allows the shooter to change its settings depending on elevation. Eight sling attachment points were also mounted. Additional slat protects the bottom of the drum and stiffens up the front and back covers. Barrel guard was reduced in size and adapted to additional mounting rails. Bottom accessory rail was shortened as well. Designers decided that only front grip or small bipod will be mounted there. Transport case and carrying case were also produced.
At this stage, OBRSM chose Meprolight MEPRO GLS-203 reflex sight for further trials of the prototype. It`s equipped with orange, tritium-backlit aiming point. This cancels the need for any power source. The sight was set up to 50-400 m range. Targeting is very comfortable, despite the aiming line going through the front of the weapon. The shooter uses both eyes simultaneously, with one tracking the target and the other sighting through the optics. Biology makes sure, that those two images are overlaid, and the operator`s impression is an aiming point projected right on the target.
Despite the initial assumptions, RGP-40 was at this stage a semi-automatic weapon. Part of the combustion gases is redirected to the gas chamber where it releases the drum-holding lever. This makes the drum rotate by 60 degrees. The magazine can also be manually released by an additional lever. It`s located on the left side of the barrel.
Two prototypes, including spare parts and accessories, were manufactured in September 2009. There was another series of examinations, which included mechanical systems such as safety, stock adjustment, and bipod deployment. The bipod itself can be unfolded with just one hand. Endurance firing tests were also carried out at this time.
The first model of RGP-40 from 2008. It still has repeating action and fixed stock. There is no marking for the drum chambers. CAA PPGrip dual-purpose grip/bipod was introduced
Model of repeating RGP-40 launcher was heavy, clunky and not very pretty. Luckily, prototyping made sure that it evolved significantly
RGP-40 from 2009 prototype batch. A lot of changes were introduced. Most importantly – change to semi-automatic action which improved the safety
Examinations
RGP-40 prototypes examinations were carried out next. Safety was the first thing tested. External safety switch was scrutinized by attempts to release the firing pin when in safe position. Internal safety was tested by misaligning the drum chambers in relation to the barrel. No issues were uncovered and everything worked as it should.
Next stage was to test the accuracy of the weapon. Grenades both ballistic and high-explosive (HE) were fired at the 100 and 325-350 m range. HE rounds were hitting the target and the shrapnel dispersion did not exceed 2.5-3.5 m. Exit velocity was also measured and the reading was taken 5 m from the barrel opening. This examination was carried out at the beginning of the testing and at 500 and 1,000 shots fired. Maximum velocity reduction was 2.2%, with 5% being the theoretical limit. Weapon durability was also examined. This involved in-depth analysis of the of springs utilized in the weapon and was conducted at the start and at the 500 and 1000 shots mark. RGP-40 tactical usability was also judged.
Environmental testing was another important stage. The weapon was examined at a very wide range of temperatures. Storage trials were conducted at -50 to +70 Celsius and function trials at -30 to +55 Celsius. There were almost no problems. No instance of autoignition occurred and the grenade launcher worked well. The only problem was with the drum rotation and was corrected in the due course.
Weather resistance was also put on trials. RGP-40 was subjected to frost, dew, 2 hours of rain, 2 hours water immersion, increased humidity, dustiness and sand at +55 Celsius. Mechanical tests components were also out with multiple strokes. The weapon was also placed on a vibration bed and examined at 1-80 Hz in multiple positions.
Tests results were positive and the weapon fulfilled the requirements of the durability testing. There was one jam in the course of 800 shots. This was caused by a hammer pin and was redesigned. Drum chambers` wear was within limits, despite the first chamber receiving the most of the stress (350 shots, compared to the 125-135 from the other chambers).
Trials were conducted at the OBRSM Tarnow facility and Nowa Deba training grounds. Grenade launcher fired 1,000 of a ballistic NGB-N rounds and 100 of an NGO-N1 HE rounds. To further reduce the weight, one of the prototypes underwent material removal from the rear body and the ammunition drum. Verified technical documentation suggested that read body and barrel support should be manufactured from the titanium alloy (Ti6Al4V, also known as Titanium Grade 5).
The first round shot from the described grenade launcher is being kept as a keepsake in Wojskowa Akademia Techniczna
Test batch
The test batch of weapons and accessories was manufactured in June 2010, according to the revised documentation. Next, documentation for mass production was devised. There is little difference between the mass-produced and prototype RGP-40. Barrel cover was shortened, barrel support was reshaped and rounded over. Sling attachment points were made smaller, stock holding nut was redesigned, so was the drum release hand lever.
Initial requirements limited the weapon`s mass to 6.5 kg (unloaded, no optical sights) and length to 850 mm (with barrel being no more than 250 mm and round chamber 140 mm). The model did not fulfill those requirements – it was over 1.5 kg heavier. First RGP-40 prototype weighed in at 6.72 kg and the second one (after the mentioned material removal), massed at 6.49 kg. As this was borderline, titanium rear body and barrel support were introduced. This resulted in one of the batches weight at 6.1 kg. Lenght of the prototypes was 760/840 mm, depending on the stock`s position.
The RGP-40 underwent all durability and environmental testing and was judged well for its design, ergonomics, functionality and tactical capabilities. After the testing was done, test batch of two grenade launchers was made and mass production documentation was prepared. In the end, due to cost, titanium alloy was replaced with aluminum alloy. Thanks to well-designed cut-outs and material removal, weight was kept at a reasonable 6.3 kg.
First models and prototyped utilized Israeli made Meprolight GLS-203 reflex sight with an orange dot
RGP-40, loaded with HE NGO-N1 rounds has a mass of 7.96 kg. It`s significantly lighter than Polish armed forces UKM 2000P machine gun also manufactured by ZMT
RGP-40 from the test batch. One of these had titanium alloy elements. The other had it's mass reduced by cut-outs and material removal
Comparison of the model (foreground) with a prototype (in the middle) and a weapon from the test batch
Implementation run
The Poland's mlitary quality and acceptance facility received the implementation run of 5 weapons in July 2013 and confirmed their compliance with technical and tactical requirements. Despite OBRSM incorporation into ZMT Tarnow is 2012, RGP-40 still carried their 0863H marks. Then it was replace by 0233H – a Zaklady Mechaniczne Tarnow military code.
This batch of weapon was equipped with cheaper, Romanian IOR Valdada OS-40GL sights with a 4 MOA aiming point. This sight became standard for RGP-40.
The Military Institute of Armament Technology (WITU, Wojskowy Instytut Techniczny Uzbrojenia) finished their examination in 2014. The life span of at least 5,000 shots was confirmed. Recoil energy was also measured. The maximum value was set for 30 Joules. For 40 mm low-velocity (LV) ammunition the result was 7 J, while the higher pressure 40 mm medium-velocity (MV) test rounds generated 17 J of recoil.
RGP-40 with titanium elements and without the sights and front grip/bipod assembly massed at 6.098 kg. This increases to 6.361 kg with the grip/bipod mounted
Dust and sand tests at +55 Celsius
Transport case fits the grenade launcher, optoelectronic sights, cleaning/maintenance kit and hearing protection
Technical Dialogue and Tender
Technical Dialogue concerning procurement of 200 revolver grenade launchers for 40×46 mm ammunition was announced in November 2013. 5 companies took interest in the dialogue. These were: Arminex Trading (with a Rippel Effect grenade launcher from SAR), Aycomm (Turkish MKEK T-40, licensed copy Milkor Mk 1 MGL), Monrex, Unitronex (with original Milkor from SAR) and Zakłady Mechaniczne Tarnów (with their fully developed RGP-40).
More than one year later, in May 2015, formal tender for 200 weapons, 6 cross-cuts, training munitions and other elements was announced. The tender was carried out in a special mode which stipulated that the weapon was to be manufactured in Poland.
It also transpired, that at some the Armament Inspectorate changed their requirements. The weapon system was to not only use 40×46 mm low velocity ammunition (350-400 m range) but also – surprisingly – 40×51 mm medium velocity rounds good for 700-800 m range. This resulted in majority of the interested parties deciding to leave the tender as they could not supply the weapons that would be manufactured domesticaly and shot the required types of ammunition.
The revised requirements stipulated, that the barrel should not exceed 310 mm and the full length should be no more than 950 mm. Mass limit stayed at 6.5 kg (without the ammunition and the optics). The grenade launcher was to be equipped with a 6-round drum, capable of holding ammunition exceeding 135 mm in length. This translated to special munitions capability (smoke, illumination, observation rounds). Practical rate of fire was to be 12 shots per minute with the aimed fire reaching up to 800 m.
Weapon's endurance was set at 2,000 shots without any deterioration in parameters. Army also requested, besides the standard opto-electronic sight, that mechanical sights should be fitted to one of the side rails.
Finally, only three companies entered the tender. Arminex Trading offered the South African XRGL 40 for 40×51 mm ERLP ammunition, Works 11 presented the American AAM-W AV-140 and ZMT Tarnow offered their RGP-40. It's worth to mention, that the Polish weapon was designed to shot stronger ammunition despite the initial requirements for only 40×46 mm ammo compatibility. The winner – ZMT Tarnow – was announced in the February of 2016.
In 2014, at MSPO, a special version for the Police was presented. It had simplified, polymer barrel cover with just one rail. This was done to reduce the overall weight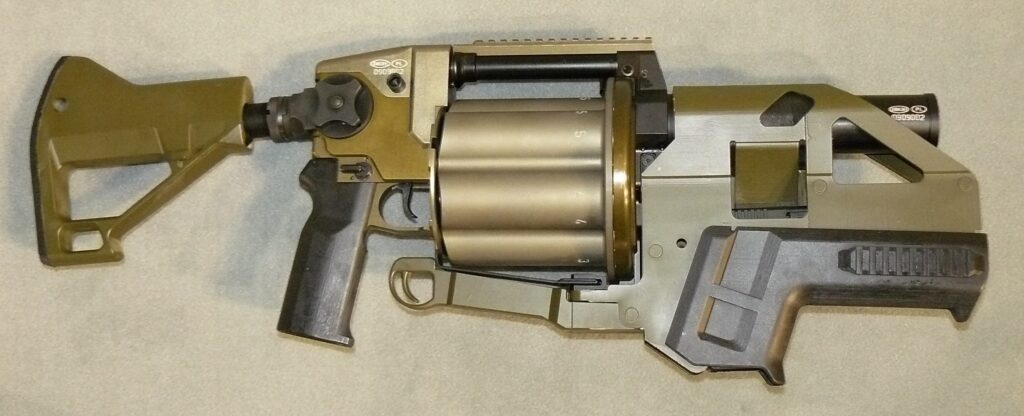 MSPO 2012 witnessed presentation of RGP-40 with an attachment for underslung Glock 17 pistol. It`s quite an unusual solution to the problem of operator's self-defense
Characteristics
RGP-40 revolver grenade launcher is a personal firearm with a weight of 6.5 kg and a 250 mm barrel. It's transported and served by a single soldier. The drum magazine has a capacity of 6 rounds and the chambers are 140 mm in length. Practical rate of fire is 12 shots per minute and it has a lifespan of 5,000 shots.
Thanks for chambers' length, RGP-40 can use a full variety of rounds, from multi-purpose (armour piercing high explosive, AP-HE) to special – smoke, illumination or nonlethal – options. When using 40×46 mm rounds, the range is 350-400 m. 40×51 mm ammunition increases this to 700-800 m.
The grenade launcher is equipped with an assortment of mounting rails located on the barrel cover and above the drum. It also has a front grip with integrated bipod and an adjustable stock. Romanian IOR Valdada OS-40GL is the standard optical sight. To match the Army requirements, weapon will be procured with additional iron sights located on a side rail.
RGP-40 is a semi-automatic weapon. The combustion gases are used here as an additional safety. If the round will get stuck in the barrel not enough of gases will reach the gas tube and the drum will not rotate, hence preventing the following shot. Most of the revolver grenade launchers work on the same principle. Normally, before operation, the weapon's drum spring has to be wound-up. This spring rotates the drum when the trigger releases the holding lever.
When compared to single shot grenade launchers, RGP-40 as a lot more firepower. It only takes 3-4 seconds to empty the 6 round drum. After another 2-4 seconds, the last grenade reaches the designated target at the range of 300-350 m. In theory, the 5-meter blast radius of the rounds and the drum capacity allow for shrapnel saturation of almost 1000 square meters! This is way beyond capabilities of any other individual weapon system.
RGP-40 grenade launchers during the final assembly
The final version of RGP-40 revolver grenade launcher. Besides the optoelectronic sight, weapon has backup iron sights
Mechanical sights were designed and developed in ZMT Tarnow. It has dual scales, for low- and medium-velocity ammunition. This solution is unique, first one in the world
RGP-40 is equipped with a Romanian-made IOR Valdada OS-40L sight. However the swiveling base with Picatinny rail accepts also different red-dot sights
The grenade launcher is to be carried in a backpack style carrying case. Exterior has webbing designed to carry 6-round speed loaders
Three RGP-40s for the Police
Surprisingly, the first official user of the weapons from Tarnow isn't the Poland's Land Forces but the Police. At least, in theory. Police have the weapons but are currently in the process of ordering the special ammunition for the RGP-40.
On the 17 November 2016, the Police Headquarters in Warsaw announced the proceeding for procurement of three revolver grenade launchers compatible with conventional and special (including nonlethal) 40×46 mm and 40×51 mm ammunition. The proceedings were finalized and ZMT was chosen as the winner. Delivery took place on the 19 December 2016
RGP-40 revolver grenade launchers were delivered to and tested in Szczytno Police Academy. During this time, trials were conducted to evaluate usability and to establish procedures. RGP-40 will also be tested with various special types of grenades, including non-lethal, foreign and domestic produced ammunition. The RPG-40 is to replace 26.5-mm (4ga) RGA-86 semi-automatic revolver shotguns.
Polish Army ordered two hundred RGP-40 grenade launchers in 2016. In the meantime, Police purchased and acquired three weapons
RGP-40 the Polish Army
According to announcements from 2016, first RGP-40 grenade launchers were to be delivered to the 12 and 17 motorized brigades, equipped with Rosomak wheeled infantry fighting vehicles. Currently, it seems that the first grenade launchers will be provided to newly created Territorial Defence Forces (WOT, Wojska Obrony Terytorialniej). The new branch of Armed Forces is interested in purchase of 550 of RGP-40s. Each WOT squad is supposed to have one.
In the case of Land Forces, it is yet unknown how many RGP-40 grenade launchers will be used in the platoon and if the weapons will be utilised by combat or support teams. The initial assumption was to have one weapon per squad or having 1-2 launchers per support squad. The first plan makes a bit more sense as the RGP-40 will supplement the underslung grenade launchers.
If the planned deliveries will be finalized, Polish Army will be the first to Europe to utilize revolver grenade launchers at the squad level. Until now, such weapons were used by special forces.
Besides the Land Forces, also Territorial Defence Forces are interested in purchase of over 500 RGP-40 grenade launchers
There is one more open-ended question. What about the additional weapons for the RGP-40 operator? Should he have a service rifle or a carabine? Until now, an RPG-7 operator in Poland's armed forces was equipped with a 9 mm submachine gun. American doctrine shows, that the grenadier only has a semi-automatic handgun, but Americans are developing a grenade launcher-fired grapeshot type ammunition for combating close distance targets.
As a direct result of use of a different ammunition, revolver grenade launcher has a shorter range than machine grenade launchers. Low velocity 40×46 mm rounds have a maximum effective range of 350-400 m. 40×51 mm medium velocity grenades can engage targets up to 800 m, hence the push to use those with RGP-40. Ammunition used in automatic weapons 40×53 mm high velocity (HV) reach up to 2,200 m. However, the payload is exactly the same, so is the blast radius.
Moreover, revolver launcher can be carried and served by a single soldier. This gives tremendous capabilities on the modern battlefield, especially in urban environments. It would very hard, sometimes even impossible, for a crew-served automatic grenade launcher to be effectively carried and set-up in a building. Light and compact, RPG-40 will reach designated positions without so much effort.
This article was originally published on MILMAG 01/2018