22 sierpnia 2022. Sto osiemdziesiąty dzień wojny Rosji z Ukrainą. We wczorajszym wieczornym przemówieniu do narodu, prezydent Ukrainy Wołodymy Zełenski podniósł kwestię planowanego na 24 sierpnia, w Dzień Niepodległości Ukrainy, pokazowego procesu ukraińskich jeńców wojennych, obrońców Azowstalu, w filharmonii w Mariupolu, który jest organizowany przez nieuznawane władze Donieckiej Republiki Ludowej:
(…) w mediach jest wystarczająco dużo doniesień, że w Mariupolu jest przygotowywana sceneria na absolutnie obrzydliwy i absurdalny proces pokazowy ukraińskich obrońców, naszych wojowników, którzy są jeńcami okupantów.
Bez względu na to, co myślą okupanci, bez względu na to, co planują, reakcja naszego państwa będzie absolutnie jasna. Jeśli ten nikczemny proces pokazowy będzie mieć miejsce, jeśli nasi ludzie zostaną wprowadzeni do tej pokazówki z naruszeniem wszystkich umów, wszystkich zasad międzynarodowych, jeśli dojdzie do nadużycia… Będzie to czerwona linia, za którą wszelkie negocjacje są niemożliwe. Rosja odetnie się od negocjacji. Nie będzie już rozmów. Nasze państwo powiedziało wszystko.
Wszyscy partnerzy Ukrainy zostali poinformowani o tym, co państwo terrorystyczne może przygotować na ten tydzień.
Dzisiaj rozmawiałem z prezydentem Macronem o wszystkich zagrożeniach. Prezydent Turcji Erdoğan jest również informowany o tym wszystkim. Jestem pewien, że sekretarz generalny ONZ również zareaguje. Oni i inni światowi przywódcy otrzymali od nas odpowiednie sygnały. Wszyscy rozumieją wszystko. Rozumieją, co robią okupanci i co im grozi. I rozumieją, że Ukraina tego nie toleruje. Nie będzie tolerować nękania ludzi, o których można powiedzieć tylko jedno: są bohaterami swojej Ojczyzny, bronili wolności swego ludu przed najeźdźcami na swojej ziemi.
Nawet w czasach wojny muszą istnieć zasady. Siła świata jest zdecydowanie wystarczająca, aby objąć każde państwo, każdego terrorystę mocą tych zasad.
Przewodniczący Prezydium Rady Najwyższej Donieckiej Republiki Ludowej Dienis Puszylin, w odpowiedzi na deklarację prezydenta Ukrainy stwierdził, że nie wpłynie to na plany zorganizowania procesów w Mariupolu.
Pierwsze informacje o przygotowywaniu fikcyjnych procesów pojawiły się 6 sierpnia, zaledwie osiem dni po zbrodni wojennej w Ołeniwce, gdy 29 lipca Rosjanie celowo ostrzelali własny obóz jeniecki, w wyniku czego zginęło co najmniej 53 ukraińskich jeńców, a ponad 75 zostało rannych. W sieci pojawiły się nagrania wideo z charakterystycznymi dla rosyjskiego wymiaru sprawiedliwości klatkami dla oskarżonych, budowanymi na scenie w sali głównej Filharmonii w Mariupolu. Nie ma wątpliwości, że Rosjanie planują mordy sądowe w celach propagandowych (Atak Rosji na Ukrainę [Dzień sto siedemdziesiąty dziewiąty]).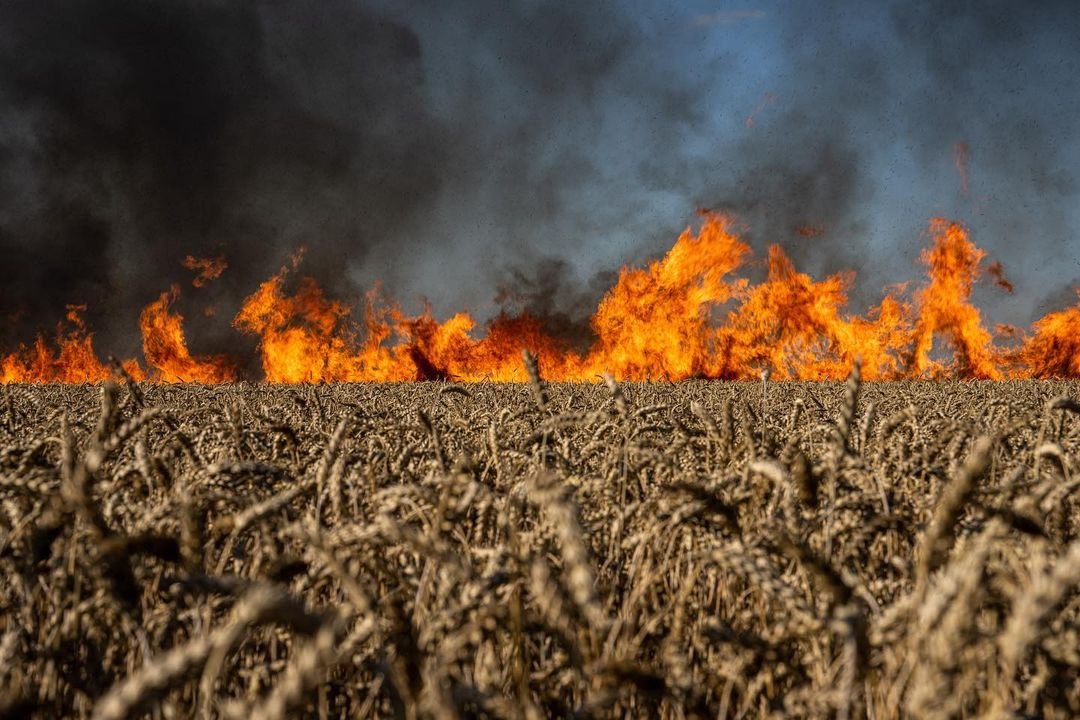 22 sierpnia 2022. Sto osiemdziesiąty dzień wojny Rosji z Ukrainą. Relacja na żywo na łamach Magazynu Militarnego MILMAG / Zdjęcie: Prezydent Ukrainy
godz. 22.56: wywiad ukraiński ostrzega obywateli przed potencjalnymi rosyjskimi atakami w Święto Niepodległości, 24 sierpnia:
⚡️ Intelligence warns Ukrainians about potential Russian attacks on Independence Day.

Andriy Yusov, representative of Defense Ministry's Intelligence Directorate, said that there is a threat of an increased number of Russian missile attacks on Ukraine's Independence Day.

— The Kyiv Independent (@KyivIndependent) August 22, 2022
godz. 22.36: WSJ: USA wzmocnią sankcje przeciw Rosji:
Among the possible measures, the Wall Street Journal lists sanctions against banks through which Russia gets access to international currencies, confiscation of blacklisted oligarchs' assets, and punishment of companies that continue to export prohibited goods to Russia.

— The Kyiv Independent (@KyivIndependent) August 22, 2022
godz. 22.24: Niderlandy będą stymulować inwestycje w Ukrainie, nie czekając na zakończenie wojny, ale na obszarach poza walkami i stosunkowo bezpiecznych:
The Netherlands will stimulate investments in Ukraine without waiting for the end of the war

🇳🇱Minister of Foreign Trade and Development said in Kyiv today emphasizing the investments will be in areas that are relatively safe and free from fighting https://t.co/jaYuTEP4od pic.twitter.com/cIv015CpsC

— Euromaidan Press (@EuromaidanPress) August 22, 2022
godz. 21.50: Bułgaria: negocjacje ws. wznowienia dostaw rosyjskiego gazu nieuniknione: 
⚡️ Bulgaria says negotiations to resume Russian gas supplies 'inevitable.'

Rossen Hristov, Bulgaria's interim energy minister, did not specify when negotiations with Russia's Gazprom would begin but said they are needed to secure cheaper gas for Bulgaria.

— The Kyiv Independent (@KyivIndependent) August 22, 2022
godz. 21.41: Ukraina ma 8-10 tygodni do zorganizowania wielkoskalowej kontrofensywy: 
🇺🇦has 8 to 10 weeks left to organize large-scale counterattack, Estonian Major General says

Acc to him,it can't be said🇷🇺forces were decisively stopped anywhere,they continue to advance,and with autumn approaching, it'll be difficult to organize offensive https://t.co/fy6EknZ0I9 pic.twitter.com/TqvUREnfIv

— Euromaidan Press (@EuromaidanPress) August 22, 2022
godz. 21.41: CNN: USA przeciwne całkowitemu zakazowi wydawania wiz turystycznych Rosjanom:
⚡️ CNN: US opposes blanket visa ban for Russians.

CNN quoted a State Department spokesperson, writing that "the U.S. wouldn't want to close off pathways to refuge and safety for Russia's dissidents or others, who are vulnerable to human rights abuses."

— The Kyiv Independent (@KyivIndependent) August 22, 2022
godz. 21.17: wizyta minister obrony Niderlandów Kajsy Ollongren w Ukrainie:
I'm glad to welcome @KajsaOllongren and 🇳🇱 delegation in Kyiv. Our friends saw with their own eyes the russian scrap metal on Khreschatyk.
I offered the guests to exhibit the 🇷🇺 trophy Buk missile system in The Hague. Everyone should remember those responsible for the MH17! pic.twitter.com/ChG0PeFZBF

— Oleksii Reznikov (@oleksiireznikov) August 22, 2022
godz. 20.16: Deutsche Welle: rząd niemiecki blokuje dalsze dostawy uzbrojenia dla Ukrainy:
Germany rejected a proposal of Bundestag members to supply Ukraine with more weapons

It is 'because of the threat emanating from modern Russia," DW writes citing an official rep of German military department https://t.co/vhzoVGapMH

— Euromaidan Press (@EuromaidanPress) August 22, 2022
godz. 19.50: A. Jermak: do końca lata pojawi się dokument o gwarancjach bezpieczeństwa dla Ukrainy:
President Volodymyr Zelensky stated in April that Ukraine seeks to develop a document on security guarantees that will "provide real protection for the country."

Back then, the initiative fell through.

— The Kyiv Independent (@KyivIndependent) August 22, 2022
godz. 19.25: Rosja utrzymuje obecność wojskową w obwodach kurskim i briańskim, by wiązać siły ukraińskie na północy:
⚡️ General Staff: Russia mounts military presence on Ukraine's northern borders.

According to the General Staff, Russia continues to maintain forces in its border regions of Bryansk and Kursk to force Kyiv to maintain a military presence far from Ukraine's east and south.

— The Kyiv Independent (@KyivIndependent) August 22, 2022
godz. 19.23: amerykańskie zestawy do obezwładniania bsl DroneDefender w SZ Ukrainy:
It is worth mentioning that it was previously reported that the company is cooperating with the Ukrainian army and their different product- DedronePortable counter-UAV system was also purchased by Ukraine.
This means anti-drone guns could be also bought directly from the company. pic.twitter.com/fwC2V4NnUu

— 🇺🇦 Ukraine Weapons Tracker (@UAWeapons) August 22, 2022
godz. 19.05: zniszczona rosyjska mobilna stacja łączności satelitarnej Auriga-1.2V
#Ukraine: A valuable Russian Auriga-1.2V portable satellite communications station was destroyed by an improvised munition dropped from a Ukrainian COTS UAV.
It is used to organize two high-speed satellite channels for secure communication between army command & frontline units. pic.twitter.com/xw9fiZ7WNY

— 🇺🇦 Ukraine Weapons Tracker (@UAWeapons) August 22, 2022
godz. 18.37: eksplozje w Sewastopolu i Chersoniu:
Sevastopol and Kherson residents report sounds of explosions

Acc to Meduza, currently no official comments in Sevastopol. In last few days,explosions periodically reported from there but so-called "governor" only reported air defense was operating in city https://t.co/BSMf0yVHrg

— Euromaidan Press (@EuromaidanPress) August 22, 2022
godz. 17.45: rosyjski czołg wjechał na minę przeciwpancerną:
#Ukraine: Footage from the Ukrainian 36th Separate Marine Brigade of a Russian tank seemingly running into an AT mine- although the total extent of damage is unclear. Another armoured vehicle is seen to be destroyed, although the type and original operator is unclear. pic.twitter.com/HnoSUKI41g

— 🇺🇦 Ukraine Weapons Tracker (@UAWeapons) August 22, 2022
godz. 17.33: Ukraina zwróciła się do ONZ i MCK, by nie dopuściły do bezprawnych procesów w Mariupolu:
Mariupol Mayor Vadym Boychenko said on Aug. 11 that Russians plan to hold a sham "trial" of Ukrainian prisoners of war at a local philharmonic in Russian-occupied Mariupol on Aug. 24, Ukraine's Independence Day.

— The Kyiv Independent (@KyivIndependent) August 22, 2022
Ukraine's Defense Ministry's Intelligence Directorate said that Russia could conduct a missile strike on the site during the sham trial and try to shift the blame to Ukraine.

— The Kyiv Independent (@KyivIndependent) August 22, 2022
Ukraine calls on UN and Int'l Red Cross to watch Russia-planned demonstration "trial" in Mariupol against Azovstal defenders, if occupiers decide on this,🇺🇦HR Commissioner said on UA TV

Acc to UA intel, Russia plans it on Independence Day, August 24 https://t.co/GqOA6cqGdo

— Euromaidan Press (@EuromaidanPress) August 22, 2022
godz. 17.16: ukraińskie pociski 5W27(D) systemu S-125M i R-73:
#Ukraine: Footage from the Ukrainian Air Force showing the the maintainance and preparation of 5V27[D] missiles for the S-125M SAM system, as well as a R-73 AAM as used on Ukrainian fighter aircraft.

Would be quite interesting if any of the former were actively used at all. pic.twitter.com/jH1Sp6yfpi

— 🇺🇦 Ukraine Weapons Tracker (@UAWeapons) August 22, 2022
godz. 17.07: Turcja zwiększyła dwukrotnie w tym roku import rosyjskiej ropy:
Turkey doubled its imports of Russian oil this year, Refinitiv Eikon data showed

Trade between Turkey and Russia, especially in energy, has been booming since spring as Turkish companies not banned from dealing with Russian counterparts https://t.co/tEtOhklBQE

— Euromaidan Press (@EuromaidanPress) August 22, 2022
godz. 16.57: eks-rosyjski T-80BW w SZ Ukrainy:
#Ukraine: The Ukrainian 30th Mechanized Brigade captured a Russian T-80BV tank in operational condition in the East: they state that it will be reused against the Russian Army. pic.twitter.com/c6f90tY7re

— 🇺🇦 Ukraine Weapons Tracker (@UAWeapons) August 22, 2022
godz. 16.55: zniszczony rosyjski ZSU-23-4 Szyłka:
#Ukraine: A ZSU-23-4 "Shilka" SPAAG of the Russian Army was destroyed with artillery fire in #Kharkiv Oblast after being spotted by a UAV operated by the Ukrainian National Guard. pic.twitter.com/YOEQXM2gi2

— 🇺🇦 Ukraine Weapons Tracker (@UAWeapons) August 22, 2022
godz. 16.48: J. Borrell: UE planuje utworzyć misję szkoleniową dla ukraińskich żołnierzy:
#EU plans to create a mission to train Ukrainian soldiers

This was announced by the head of the #European Union's foreign policy department, Josep Borrell. Within the framework of the initiative, the #Ukrainian military will receive the necessary skills in neighboring countries. pic.twitter.com/IaEGIaVLzK

— NEXTA (@nexta_tv) August 22, 2022
"It seems reasonable that a war that is lasting and looks set to last requires an effort not only in terms of supplies of material," he said.

— The Kyiv Independent (@KyivIndependent) August 22, 2022
godz. 17.09: ambasada Irlandii w Kijowie ponownie otwarta:
⚡️Irish embassy reopens in Kyiv.

Ireland's Foreign Affairs Minister Simon Coveney announced on Aug. 22 that the country's embassy would reopen with limited capacity after closing at the start of Russia's full-scale invasion on Feb. 24.

— The Kyiv Independent (@KyivIndependent) August 22, 2022
godz. 17.04: fińskie konsorcjum Fennovoima chce 2 mld odszkodowania od Rosatomu za anulowaną elektrownię jądrową:
⚡️Finnish nuclear consortium Fennovoima asks Rosatom for 2 billion euros over scrapped nuclear plant.

The sum includes 800 million euros advanced by Fennevoima on the project.

— The Kyiv Independent (@KyivIndependent) August 22, 2022
Rosatom, which has a third of the shares of Fennevoima, said the decision was taken "without any detailed consultation" with the project's shareholders and plans to pursue international arbitration.

— The Kyiv Independent (@KyivIndependent) August 22, 2022
godz. 16.33: władze w Nikopolu ostrzegają mieszkańców przed rosyjską "prowokacją" pod Enerhodarem; zalecono opuszczenie ulic i unikanie masowych zgromadzeń
Ukraine's state nuclear company Energoatom earlier said that Russia planned a major false flag operation at the Zaporizhzhia plant.

On Aug. 21, Russian troops instructed the plant's staff to take time off without specifying the return date, according to Ukrainian intelligence.

— The Kyiv Independent (@KyivIndependent) August 22, 2022
godz. 15.48: trafiony rosyjski BMD-2:
#Ukraine: A Russian BMD-2 was hit by Ukrainian fire somewhere in the East- and apparently became rocket powered. pic.twitter.com/6du88U0niO

— 🇺🇦 Ukraine Weapons Tracker (@UAWeapons) August 22, 2022
godz. 15.39: gen. W. Załużny: w pełnoskalowej wojnie zginęło prawie 9000 żołnierzy:
9,000 Ukrainian soldiers died in full-scale war with Russia,🇺🇦Com-in-Chief said

"Not only military participate in this war–also our kids, not guilty of anything.Their fathers may be among almost 9,000 heroes who died,"Zaluzhnyi on Defenders.RollCall forum https://t.co/pVUPTceViV pic.twitter.com/LHAWt1ZDGt

— Euromaidan Press (@EuromaidanPress) August 22, 2022
Despite Zaluzhnyi's statement, the Ukrainian government has not disclosed the official number of Ukrainian losses since the start of Russia's full-scale invasion on Feb. 24.

— The Kyiv Independent (@KyivIndependent) August 22, 2022
godz. 15.27: w Sewastopolu pilna kontrola schronów przeciwlotniczych:
An urgent check of bomb shelters began in #Sevastopol

The occupation-appointed governor of Sevastopol, Mikhail Razvozzhayev, said this.

After a series of explosions in #Crimea, Razvozzhayev decided to check the condition of bomb shelters in the city. pic.twitter.com/qp2ZWDDiR5

— NEXTA (@nexta_tv) August 22, 2022
godz. 15.26: M. Podoljak: propaganda rosyjska żyje w fikcyjnym świecie: ukraińskiej kobiecie i jej 12-letniemu dziecku "przydzielono" odpowiedzialność za wysadzenie samochodu propagandystki Duginy. Co zaskakujące, na miejscu nie znaleźli "wizy estońskiej". Żmije w rosyjskich służbach specjalnych rozpoczęły walkę wewnątrzgatunkową:
Ru-propaganda lives in a fictional world: 🇺🇦 woman and her 12-year-old child were "assigned" responsible for blowing up the car of propagandist Dugina. Surprisingly, they did not find the "Estonian visa" on the spot. Vipers in 🇷🇺 special services started an intraspecies fight.

— Михайло Подоляк (@Podolyak_M) August 22, 2022
godz. 15.24: rosyjski senator Władimir Dżubarow wezwał Estonię do ekstradycji domniemanego wykonawcy zabójstwa D. Duginy, grożąc konsekwencjami w przypadku odmowy:
❗️If #Estonia does not extradite #Russia the "executor" of the murder of Dugina, there are grounds for tough actions against #Tallinn, harboring a terrorist, – Russian Senator Dzhabarov. pic.twitter.com/PXunJsswpy

— NEXTA (@nexta_tv) August 22, 2022
godz. 14.52: Rosjanie ostrzelali sześć osiedli w obwodzie zaporoskim:
⚡️Russian troops shell six settlements in Zaporizhzhia Oblast at once.

Shelling damaged civilian infrastructure in Hulyaipole, Orihiv, Preobrazhenka, Mala Tokmachka, Omelnyk, and Tavriyske in Zaporizhzhia Oblast, the National Police said.

Casualties are yet to be determined.

— The Kyiv Independent (@KyivIndependent) August 22, 2022
godz. 14.40: ukraiński bsl Bayraktar Mini zestrzelony przez Rosjan; Ukraina otrzymała 24 bsl tego typu na początku wojny:
#Ukraine: A Ukrainian Bayraktar Mini reconnaissance UAV was shot down by the Russian army.
24 of these drones were given to the Ukrainian forces for free in the early stages of the invasion – and this is the first documented loss. pic.twitter.com/02PMKJaLiC

— 🇺🇦 Ukraine Weapons Tracker (@UAWeapons) August 22, 2022
godz. 14.27: siły ukraińskie zaatakowały Most Antonowski na Dnieprze; co najmniej 15 osób zostało rannych:
The Armed Forces of #Ukraine attacked the Antonovsky bridge in the occupied #Kherson region.

Gauleiters report that at least 15 people were injured. pic.twitter.com/F1P9a9Ljhs

— NEXTA (@nexta_tv) August 22, 2022
godz. 14.17: pierwsze wideo z użycia sfinansowanego przez Litwę bsl Bayraktar TB2 o nazwie własnej Vanagas:
#Ukraine: The first video of a Bayraktar TB-2 "Vanagas" UCAV fundraised by Lithuanians in action – here targeting the personnel of a Russian artillery battery.

Contrary to some claims, TB-2 appear to still be operating in an offensive role, not just long range reconnaissance. pic.twitter.com/mzzS6powKu

— 🇺🇦 Ukraine Weapons Tracker (@UAWeapons) August 22, 2022
godz. 13.57: z okazji Dnia Flagi Rosji, okupanci przemalowali napis wjazdowy do okupowanego Chersonia:
Meanwhile, in the occupied #Ukrainian territories, the Russians organized a celebration of "Russian National Flag Day" today.

Fortunately, they were only smart enough to repaint the stele at the entrance to #Kherson. pic.twitter.com/HcYFAeX2C0

— NEXTA (@nexta_tv) August 22, 2022
godz. 13.54: minister cyfryzacji M. Fiodorow poinformował o otrzymaniu z Polski zestawów do odbioru transmisji satelitarnej z systemu Starlink: Nasi polscy przyjaciele przekazali Ukrainie 5000 Starlinków. Dzięki temu Ukraińcy będą zawsze w kontakcie, a obiekty infrastruktury krytycznej będą pracować w najtrudniejszych warunkach. Jestem bardzo wdzięczny sekretarzowi stanu ds. cyfryzacji Polski Januszowi Cieszyńskiemu za tak ważny krok:
New batch of Starlinks has arrived. 5K Starlinks to support Ukrainian critical infrastructure, emergency services, local authorities. Dziękuję, Poland! @jciesz @CyfryzacjaKPRM pic.twitter.com/yQxBzbLetx

— Mykhailo Fedorov (@FedorovMykhailo) August 22, 2022
godz. 13.19: A. Melnyk opuści stanowisko ambasadora Ukrainy w Niemczech 14 października. Został odwołany 9 lipca. Stało się to tydzień po tym, jak udzielił wywiadu, w którym bronił nacjonalistycznego przywódcy Stepana Bandery, który kolaborował z nazistowskimi Niemcami i w różnych okresach z nimi walczył:
This happened a week after he gave an interview in which he defended nationalist leader Stepan Bandera, who collaborated with Nazi Germany and fell out with the Nazis in different periods. The diplomat has been vocal in his appeals for more military aid from Germany.

— The Kyiv Independent (@KyivIndependent) August 22, 2022
godz. 13.15: rosyjskie media: bomba w samochodzie z D. Duginą została zdetonowana zdalnie. Sprawcy z anonimowymi numerami telefonów śledzili samochód Duginy. Śledczy rozważają wersję, w której ładunek wybuchł po rozmowie z jednego z tych numerów:
Russian Telegram channel Mash reported, citing sources in the police, that people with anonymous phone numbers had been following Dugina's car. The investigators are considering the version that the explosive went off after a call from one of these phones.

— The Kyiv Independent (@KyivIndependent) August 22, 2022
godz. 13.05: Estonia opowiada się za całkowitym embargiem na rosyjską energię w 8. pakiecie sankcji UE:
#Estonia favors full energy embargo in 8th sanctions package against #Russia

"We must raise the price of aggression high before winter arrives. Seven packages were not enough to put pressure on #Putin to end the war against #Ukraine," Foreign Minister Urmas Reinsalu said. pic.twitter.com/Uet5g4NMXK

— NEXTA (@nexta_tv) August 22, 2022
⚡️Estonia pushes full embargo on Russian energy in EU sanctions package.

"We must seriously raise the price of the war for the aggressor before winter. The seven previous packages proved insufficient to push Putin to end the war," Estonian Foreign Minister Urmas Reinsalu said.

— The Kyiv Independent (@KyivIndependent) August 22, 2022
godz. 13.03: w moskiewskim metrze osoby o poglądach antywojennych są zatrzymywane za pomocą kamer z funkcją rozpoznawania twarzy. Co najmniej 4 osoby zostały już zatrzymane, 2 z nich uczestniczyły wcześniej w pikietach przeciwko wojnie w Ukrainie:
In the Moscow metro, people with anti-war attitudes are detained with the help of facial recognition cameras

At least 4 people have already been detained, 2 of them had previously participated in pickets against the war in Ukraine, according to the OVD-Info human rights project. pic.twitter.com/57TadeFatx

— NEXTA (@nexta_tv) August 22, 2022
godz. 12.53: J. Borrell nie popiera całkowitego zakazu wydawania wiz turystycznych Rosjanom:
⚡️Head of EU diplomacy Josep Borrel stated that he does not support the idea of a total ban on visas for Russians. pic.twitter.com/5z5Ko7kv5Q

— NEXTA (@nexta_tv) August 22, 2022
Borrell said that while the EU shouldn't open its doors to oligarchs, "there are many Russians that want to flee the country because they don't want to live in this situation."

"To forbid entrance to all Russians is not a good idea," he said.

— The Kyiv Independent (@KyivIndependent) August 22, 2022
godz. 12.46: rosyjski pocisk wystrzelony z samolotu Su-35S uderzył w obwodzie odeskim; bez ofiar:
⚡️Russia hits infrastructure facility in Odesa Oblast.

According to the Odesa City Council, Russia fired a missile from a Su-35 aircraft on Aug. 22. No casualties were reported.

— The Kyiv Independent (@KyivIndependent) August 22, 2022
godz. 12.45: eks-rosyjski T-80 w SZ Ukrainy:
Парк трофеїв українських воїнів поповнився ще одним майже неушкодженим російським Т-80. #stoprussia #stopwar #ОК_Північ pic.twitter.com/UNYU4bK1ns

— Генеральний штаб ЗСУ (@GeneralStaffUA) August 22, 2022
godz. 12.44: częściowe sukcesy Rosjan w Błahodatnym:
⚡️General Staff: Russian forces have partial success in Blahodatne between Kherson and Mykolaiv.

Ukraine's General Staff also reported on Aug. 22 that Ukraine had repelled Russian offensives in Zaporizhzhia and Donetsk oblasts.

— The Kyiv Independent (@KyivIndependent) August 22, 2022
godz. 12.12: dwie protestujące kobiety z nagimi piersiami przerwały przemówienie Scholza, domagając się embarga na rosyjski gaz:
Germany, which is heavily dependent on Russian natural gas, has opposed a gas embargo against Russia.

— The Kyiv Independent (@KyivIndependent) August 22, 2022
Action against Russian gas in Berlin

At the Open Day of the federal government, two activists approached German Chancellor Olaf Scholz – ostensibly to take a picture, and then suddenly took off their outerwear. One of them had the slogan "Gas embargo – now" written on her chest. pic.twitter.com/rr9rHgabok

— NEXTA (@nexta_tv) August 22, 2022
godz. 11.06: 4 cywilów rannych w rosyjskim ostrzale Nikopola:
⚡️Governor: 4 people injured in Russian attack on Nikopol.

According to Dnipropetrovsk Oblast Governor Valentyn Reznichenko, Russian forces shelled the city with Grad multiple rocket launchers and artillery pieces overnight on Aug. 22.

— The Kyiv Independent (@KyivIndependent) August 22, 2022
godz. 10.57: SBU zatrzymała w Donbasie dwóch mężczyzn, którzy przekazywali okupantom informacje o stanowiskach wyrzutni M142 HIMARS:
The Security Service of #Ukraine reports the detention of two people in #Donbas who had been passing information on #HIMARS positions to the occupiers. pic.twitter.com/pZ8ypew6lo

— NEXTA (@nexta_tv) August 22, 2022
godz. 10.50: D. Puszylin stwierdził, że deklaracja W. Zełenskiego nie wpłynie na planowany proces sądowy obrońców Azowstalu:
Head of the self-proclaimed "#Donetsk People's Republic" Denis #Pushilin stated that #Zelenskyy's demands would not affect plans to hold a tribunal for #Ukrainian prisoners of war in #Mariupol. pic.twitter.com/OcXnan4kZf

— NEXTA (@nexta_tv) August 22, 2022
godz. 10.25: prokuratura generalna Ukrainy informuje, że siły rosyjskie dopuściły się dotąd 29 538 zbrodni wojennych, 13 836 przestępstw przeciwko bezpieczeństwu narodowemu, 624 przedstawicieli rosyjskiej władzy jest oskarżanych o odpowiedzialność za zbrodnie (ministrowie i ich zastępcy, dowódcy wojskowi, oficjele, szefowi agencji federalnych, podżegacze i propagandziści wojenni), natomiast w działaniach wojennych zginęło 373 dzieci, a 723 zostało rannych:
#RussianWarCrimes pic.twitter.com/y4N6EeFSqR

— Офіс Генерального прокурора (@GP_Ukraine) August 22, 2022
godz. 10.15: ochotniczy białoruski Pułk im. Kastusia Kalinowskiego ogłosił formowanie nowego batalionu, nazwanego na cześć Litwina, jednego z poległych żołnierzy formacji:
The #Belarusian Kastus Kalinouski Regiment (@belwarriors) announced the formation of a new battalion, named after Litvin (the nom de guerre of a fallen #Belarusian volunteer).

It is reported that the battalion fighters will soon perform combat tasks at the front. pic.twitter.com/tB15q0Bdke

— NEXTA (@nexta_tv) August 22, 2022
godz. 10.01: w nocy Rosjanie ostrzelali Mikołajów; pożar kafejki i lokalnego przedsiębiorstwa; bez ofiar:
⚡️Governor: Russian forces shell Mykolaiv overnight.

According to Mykolaiv Oblast Governor Vitaliy Kim, a fire broke out in a cafe, and an enterprise was hit. No casualties were reported.

— The Kyiv Independent (@KyivIndependent) August 22, 2022
godz. 9.57: w Pradze ruszyła Krucjata przeciwko światowym markom wciąż płacącym podatki do rosyjskiego budżetu; protestujący przeszli przez Most Karola z niebiesko-żółtymi krzyżami i tabliczkami z nazwami oskarżanych marek:
A "Crusade" against sponsors of Russian terrorism went in Prague

Protesters came to the Charles Bridge with bloody plates with world brands that still pay taxes to the Russian budget. They chose brands from the list: https://t.co/yQjjqeZDgM pic.twitter.com/cPreARcH0K

— Euromaidan Press (@EuromaidanPress) August 22, 2022
godz. 9.33: rosyjska Federalna Agencja Transportu Lotniczego (Rosawiacja) po raz kolejny ogłosiła zakaz lotów z i na lotniska w południowej Rosji; zakaz trwa od 24 lutego:
#Rosaviatsiya has once again extended the ban on flights to airports in central and southern #Russia.

They have not been operating since February 24. pic.twitter.com/rREgjfeMcz

— NEXTA (@nexta_tv) August 22, 2022
godz. 9.23: Rosjanie zniszczyli szkołę w Konstantynówce w obwodzie donieckim:
The #Russian army destroyed a school in #Kostiantynivka, #Donetsk region, reports the head of the regional military administration Serhiy Kirilenko. pic.twitter.com/1OrUtWRqo8

— NEXTA (@nexta_tv) August 22, 2022
godz. 9.04: informacja Straży Granicznej o liczbie uchodźców wojennych z Ukrainy:
#Pomagamy🇺🇦
Od 24.02 #funkcjonariuszeSG odprawili w przejściach granicznych na kierunku z🇺🇦do🇵🇱 5,702os.
Wczoraj tj.21.08➡28,1 tys.
Dziś do godz. 07.00➡️7,9 tys.
W dn.21.08 z🇵🇱do🇺🇦odprawiono 31,2 tys. osób. Od 24.02- ponad 3,860mln os. pic.twitter.com/eds4ErMmlw

— Straż Graniczna (@Straz_Graniczna) August 22, 2022
godz. 9.03: wczoraj w rosyjskich ostrzałach obwodu donieckiego zginęło 2 cywilów:
⚡️Governor: Russian shelling killed 2 civilians in Donetsk Oblast on Aug. 21.

Donetsk Oblast Governor Pavlo Kyrylenko said they had been killed in the settlements of Heorhiivka and Kostyantynivka.

— The Kyiv Independent (@KyivIndependent) August 22, 2022
godz. 8.53: Die Welt: O. Scholz powiedział, że przed wybuchem wojny w Ukrainie obiecał W. Putinowi, że Ukraina nie zostanie członkiem NATO w nadchodzących dziesięcioleciach:
German @Bundeskanzler Olaf Scholz said that before the war in #Ukraine began, he had promised #Putin that Ukraine would not become a #NATO member in the coming decades, Die Welt reports. pic.twitter.com/MbnS5t2DgU

— NEXTA (@nexta_tv) August 22, 2022
godz. 8.13: ogromne płótno z napisem Mariupol znalazło się na opuszczonym budynku szpitala w Jekaterynburgu:
A canvas with the inscription "#Mariupol" appeared on the building of an abandoned hospital in #Yekaterinburg. pic.twitter.com/TQUaPpFAMh

— NEXTA (@nexta_tv) August 22, 2022
godz. 8.12: systemy bezzałogowe zapewniają SZ Ukrainy zdolności rozpoznawcze:
Наші очі, вони всюди! І вдень, і вночі вони слідкують за діями ворога та не дають реалізувати його підступні плани на нашій землі.
І ми його дістаємо і нищимо!#зсу #війна #бпла #war #warinukraine #stoprussia pic.twitter.com/OHiMGmrbd5

— Генеральний штаб ЗСУ (@GeneralStaffUA) August 22, 2022
godz. 7.57: informacja operacyjna brytyjskiego wywiadu wojskowego o aktualnej sytuacji militarnej w Ukrainie:
Latest Defence Intelligence update on the situation in Ukraine – 22 August 2022

Find out more about the UK government's response: https://t.co/yI2OUa5eEe

🇺🇦 #StandWithUkraine 🇺🇦 pic.twitter.com/gckTwVSILW

— Ministry of Defence 🇬🇧 (@DefenceHQ) August 22, 2022
(2/4) in Donetsk Oblast. The fighters claimed they had fulfilled their duty in securing the LPR's control over all of Luhansk Oblast, which was secured in July 2022, and were unwilling to fight in Donetsk Oblast despite threats and intimidation by senior commanders.

— Ministry of Defence 🇬🇧 (@DefenceHQ) August 22, 2022
(4/4) A consistent contributing factor to these problems is Russia's classification of the war as a 'special military operation' which limits the state's powers of legal coercion.

— Ministry of Defence 🇬🇧 (@DefenceHQ) August 22, 2022
godz. 7.49: M. Podoljak: Wiem, że halucynogeny prowadzą do utraty rzeczywistości. Ale przedstawiciele Rosji powinni zrozumieć: świat widzi na żywo wojnę, a także jej zbrodnie. Tak więc próby obwiniania Ukrainy za zamachy terrorystyczne w Zaporoskiej EJ, w Ołeniwce czy za wybuch samochodu na przedmieściach Moskwy są bezużyteczne…:
I know that hallucinogens lead to a loss with reality. But representatives of 🇷🇺 should understand: the world sees war live, as well as their crimes. So, an attempts to blame 🇺🇦 for terrorist attacks at ZNPP, in Olenivka or for car explosion in the Moscow suburbs are useless…

— Михайло Подоляк (@Podolyak_M) August 22, 2022
godz. 7.44: Bloomberg: pierwszy zatrzymany w ramach sankcji jacht rosyjskiego oligarchy sprzedany na aukcji: chodzi o 72-metrowy pięciopokładowy jacht Axioma, wcześniej należący do Dmitrija Pumpjańskiego; jacht wystawiono na aukcji prawie miesiąc temu; jacht był warto co najmniej 74,5 mln USD i został przejęty w Gibraltarze w marcu. Oligarcha podobno nie spłacił pożyczki w amerykańskim banku JPMorgan Chase:
The 72-meter vessel boasting luxurious furnishings and five decks is worth at least $74.5 million. It was seized in Gibraltar in March.

— The Kyiv Independent (@KyivIndependent) August 22, 2022
godz. 7.43: logistyka SZ Ukrainy:
Обличчя логістики ЗСУ pic.twitter.com/dvBvQz6TNt

— Генеральний штаб ЗСУ (@GeneralStaffUA) August 22, 2022
godz. 7.39: informacja operacyjna sztabu generalnego sił zbrojnych Ukrainy na godz. 6.00:
Оперативна інформація станом 06.00 22.08.2022 щодо російського вторгнення
Докладніше https://t.co/O46ksCbUhx
Read more https://t.co/Xsgk6GT7oj
Відео https://t.co/0EvOrrHive

— Генеральний штаб ЗСУ (@GeneralStaffUA) August 22, 2022
godz. 7.37: Deutsche Welle: szefowa MSZ Niemiec A. Baerbock opowiada się za dalszymi dostawami broni dla Ukrainy. Według niej W. Putin odmawia negocjacji nawet w kwestiach międzynarodowego prawa humanitarnego:
#German Foreign Minister @ABaerbock spoke in favor of continuing to supply arms to #Ukraine. According to her, #Putin refuses to negotiate even on issues of international humanitarian law, reports Deutsche Welle. pic.twitter.com/A2GqF8iGWU

— NEXTA (@nexta_tv) August 22, 2022
The German government had been previously accused of delaying and blocking arms supplies to Ukraine.

— The Kyiv Independent (@KyivIndependent) August 21, 2022
godz. 7.35: straty rosyjskie wg danych sztabu generalnego sił zbrojnych Ukrainy: około 45 400 żołnierzy, 1919 czołgów, 4230 bojowych wozów piechoty i transporterów opancerzonych, 1032 zestawy artylerii lufowej, 266 zestawów artylerii rakietowej, 145 zestawów przeciwlotniczych, 234 samoloty, 198 śmigłowców, 815 bezzałogowców, 194 pociski manewrujące, 3149 ciężarówek i innych pojazdów nieopancerzonych, w tym cysterny, 15 łodzi i okrętów oraz 99 sztuk sprzętu specjalnego: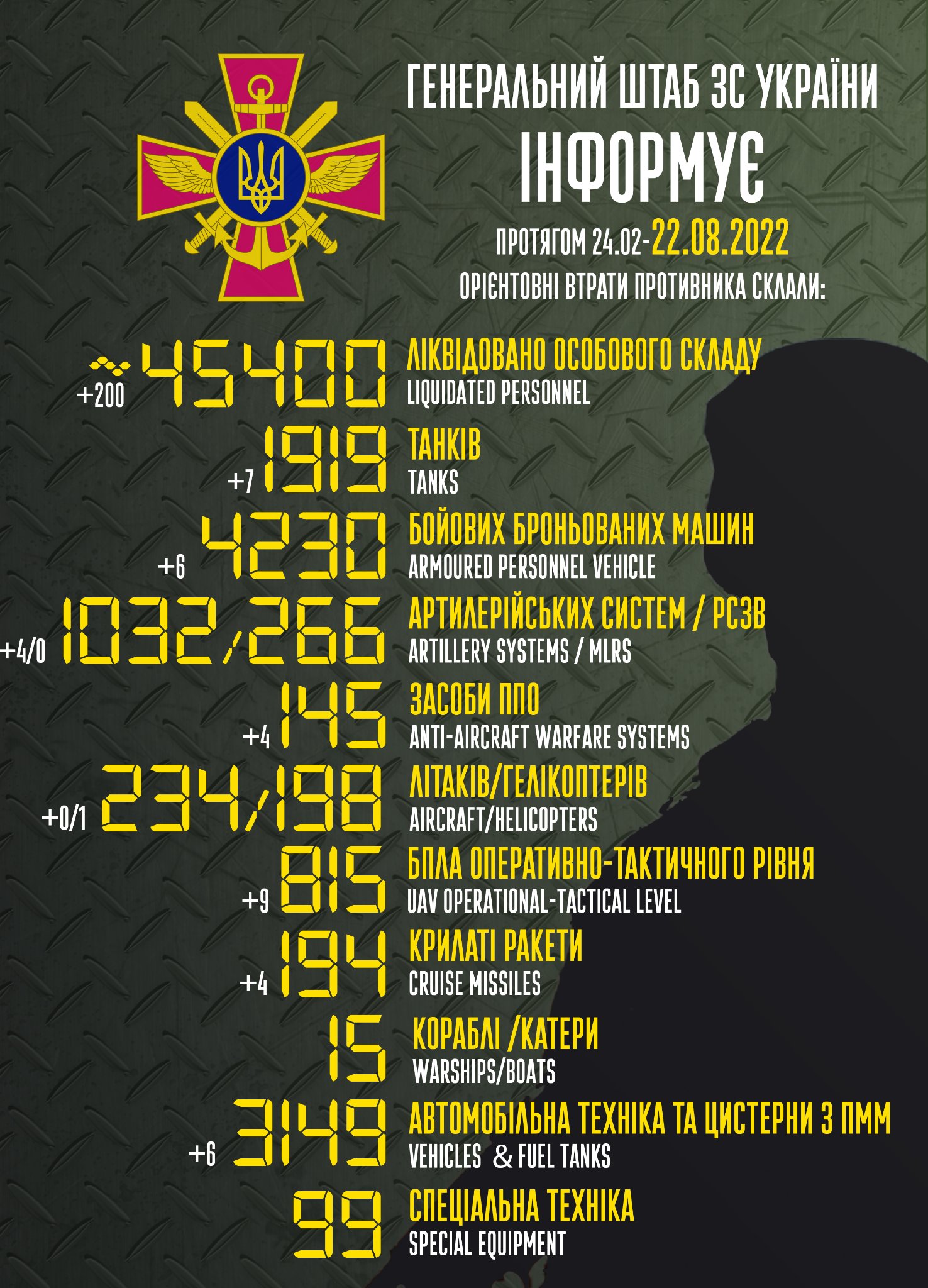 Grafika: sztab generalny sił zbrojnych Ukrainy
godz. 6.36: W. Zełenski zadeklarował, że planowany "proces" jeńców ukraińskim w Mariupolu uniemożliwi jakiekolwiek negocjacje:
President @ZelenskyyUa declared that the planned "trial" of #Ukrainian POWs in #Mariupol will make any negotiations impossible. pic.twitter.com/gfP8aMSTcz

— NEXTA (@nexta_tv) August 22, 2022
"Russia will shut itself out of the negotiations table. There will be no talks. Our country said everything it wanted," Zelensky said.

— The Kyiv Independent (@KyivIndependent) August 22, 2022
godz. 6.28: rosyjski ostrzał Charkowa:
⚡️Mayor: Russian rockets hit Kharkiv on Aug. 21.

Kharkiv Mayor Ihor Terekhov reported that a rocket hit the city's Kyivsky district, targeting an infrastructure object. The two-story building was destroyed. No casualties have been reported.

— The Kyiv Independent (@KyivIndependent) August 22, 2022
godz. 6.20: kolejni mieszkańcy Krymu pomagają zlokalizować rosyjskie zestawy przeciwlotnicze, publikując ich zdjęcia w Internecie. Ten zestaw S-400 Triumf był rozmieszczony w pobliżu wsi Mołoczne k. Eupatorii:
An inhabitant of #Crimea helped to publicize the position of a #Russian air defense complex simply by sharing a photo of it on social media.

The complex in this photo is located near the village of Molochne near #Yevpatoria. pic.twitter.com/5ZXsatlyOj

— NEXTA (@nexta_tv) August 22, 2022
godz. 6.05: eksplozja i pożar magazynu rosyjskiej amunicji w okupowanym Doniecku:
A #Russian ammunition depot in occupied #Donetsk is on fire. pic.twitter.com/keQCKKzSMh

— NEXTA (@nexta_tv) August 22, 2022
A Russian ammunition depot in occupied Donetsk exploded near Auchan this night, according to the videos by locals shared on Telegram.

Source: https://t.co/wFF7DpllQHpic.twitter.com/s8nGB7io7l

— Euromaidan Press (@EuromaidanPress) August 22, 2022
⚡️Explosion reported at ammunition depot in Russian-occupied Donetsk.

Russian state news agency Ria Novosti claimed that Ukrainian troops had hit warehouses near the Auchan hypermarket in Donetsk. Social media users posted videos of the explosion.

— The Kyiv Independent (@KyivIndependent) August 22, 2022
godz. 5.50: demonstracja poparcia dla Ukrainy w stolicy Peru, Limie:
A demonstration in support of #Ukraine in #Lima, #Peru.

📰 5 Kanal pic.twitter.com/CZOycvpqMb

— NEXTA (@nexta_tv) August 22, 2022
godz. 5.31: w okupowanym Melitopolu ukraińscy partyzanci poderżnęli gardło rosyjskiemu żołnierzowi, który nękał i molestował na ulicy nieletnią Ukrainkę:
The mayor of occupied #Melitopol Ivan Fedorov reports that #Ukrainian partisans cut the throat of a #Russian soldier who molested an underage girl right on the street of one of the city's neighborhoods. The incident happened on the Heroes of #Ukraine Street.

📰UNIAN pic.twitter.com/PuMuAe6mkE

— NEXTA (@nexta_tv) August 22, 2022
⚡️Mayor: Ukrainian partisans slit throat of Russian soldier who harassed underage girl.

Ivan Fedorov, mayor of Russian-occupied Melitopol in Zaporizhzhia Oblast, also said that explosions had been heard in the city on the evening of Aug. 21.

— The Kyiv Independent (@KyivIndependent) August 21, 2022
godz. 5.24: ukraińskie Dowództwo Operacyjne Południe: zlikwidowano 20 rosyjskich żołnierzy, zniszczono punkt dowodzenia, haubicę samobieżną Msta-S, dwa pojazdy zestawu S-300, haubicę Hiacynt-S, system radarowy Niebo-M:
A Russian missile in Mykolaiv Oblast's Bashtanka destroyed a residential building and injured a child, while Zelenodolsk was targeted using Uragan multiple rocket launcher. The attack destroyed multiple residential buildings, killing one civilian and injuring six more.

— The Kyiv Independent (@KyivIndependent) August 22, 2022
godz. 4.46: liczba ofiar rosyjskiego ataku na akademik w Charkowie 17-18 sierpnia wzrosła do 24:
Death toll after missile attacks on Kharkiv on Aug 17-18 grows to 24 people

On August 20, in the Saltivsky district of Kharkiv, under the rubble of a dormitory destroyed by Russian missile, the bodies of 3 more people were found, the City Council reportedhttps://t.co/S60cNFDRZp

— Euromaidan Press (@EuromaidanPress) August 22, 2022
godz. 4.38: wg niezależnego rosyjskiego Centrum Lewady, odsetek Rosjan, którzy uważają, że kraj jest na dobrej drodze, wzrósł od początku wojny z 50 do 68%, podczas gdy odsetek myślących inaczej spadł z 39 do 22%:
According to a new Levada Center survey, the percentage of Russians who think the country is on the right track has risen since the start of Russia's aggressive war in Ukraine from 50 to 68%, while the share who think otherwise has fallen from 39 to 22%.https://t.co/n88bD0Rsfm

— Euromaidan Press (@EuromaidanPress) August 22, 2022
godz. 3.42: ARD: federalny minister finansów Niemiec Ch. Linder odwiedzi Ukrainę jesienią:
🇩🇪Minister of Finance to visit Ukraine in summer or autumn – ARD

Christian Lindner will visit Ukraine after 🇩🇪Minister of Foreign Affairs Annalena Baerbock & Chancellor of Germany Olaf Scholz, in summer of autumn 2022 https://t.co/ZXlyURKGnK

— Euromaidan Press (@EuromaidanPress) August 22, 2022
godz. 1.35: Reuters: przywódcy W. Brytanii, Niemiec, USA i Francji poparli wizytę misji MAEA w Zaporoskiej EJ. Podczas wspólnej rozmowy telefonicznej omówiono sytuację z bezpieczeństwem jądrowym w Ukrainie na tle ostrzału terenu EJ przez armię rosyjską:
The leaders of #Britain, #Germany, the #USA and #France supported the visit of the @iaeaorg mission to the Zaporozhye NPP

During joint phone call they discussed the situation with nuclear safety in #Ukraine against the background of the shelling of the NPP area by Russian army. pic.twitter.com/Yrc5NGdxct

— NEXTA (@nexta_tv) August 21, 2022
UK, US, France, and Germany leaders stress the importance of nuclear safety in Ukraine

They also welcomed recent discussions on enabling an IAEA mission to the Zaporizhzhia Nuclear Power Plant, a Downing Street spokesperson said-Reuters https://t.co/c1225ArsW8

— Euromaidan Press (@EuromaidanPress) August 21, 2022
godz. 1.10: skutki wczorajszego rosyjskiego ostrzału cmentarza w Margańcu:
Russian troops fight with "enemies" in Ukraine by striking a cemetery in Dnipropetrovsk Oblast.

The cemetery is located in the city of Marhanets. Russian army targeted it with cannon artillery, Nikopol Reg Mil Adm Head Yevhen Yevtushenko reported https://t.co/5IGx5D2xcr pic.twitter.com/OAJ9NAUycT

— Euromaidan Press (@EuromaidanPress) August 21, 2022
godz. 0.00: Rosjanie potwierdzili eksplozje w Sewastopolu:
⚡️Russian official confirms explosions in Crimea.

Mikhail Razvozhaev, head of the Russian occupation government in Ukraine's Sevastopol, said Russian air defense had hit targets approaching the Belbek military airfield near Sevastopol on the evening of Aug. 21.

— The Kyiv Independent (@KyivIndependent) August 21, 2022