30 sierpnia 2022. Sto osiemdziesiąty ósmy dzień wojny Rosji z Ukrainą. Wczoraj wieczorem prezydent Ukrainy Wołodymyr Zełenski jasno dał do zrozumienia, że celem Kijowa jest odzyskanie kontroli nad całym terytorium kraju, w granicach ustanowionych w 1991, które zostały naruszone przez Rosję w 2014:
Ukraińcy!
Dziś uhonorowaliśmy pamięć naszych wojowników, którzy oddali życie za nasze państwo, za naszą niepodległość.
Ten dzień pamięci jest wyznaczony na koniec lata, 29 sierpnia, aby przypomnieć wszystkim o tragicznych wydarzeniach 2014 roku, o Iłowajśku, o tym, że ta wojna, który rozpoczęła się od okupacji Rosji na naszym Krymie, z próbą przejęcia Donbasu, musi się dokładnie tam skończyć – na wyzwolonym Krymie, w wyzwolonych miastach Donbasu, nasze wojska osiągają granicę państwową Ukrainy.
Zawsze pamiętaliśmy o tym celu. Nie zapominamy o tym.
Siły Zbrojne Ukrainy, nasz wywiad, nasza obrona terytorialna wykonują swoją pracę. Jestem pewien, że wszyscy rozumiecie, co się dzieje, o co walczymy i do czego dążymy. A nasi wojownicy nie potrzebują żadnych zapowiedzi ani fal informacyjnych z tyłu.
Ukraina odzyskuje swoje. I odzyska obwód charkowski, obwód ługański, obwód doniecki, obwód zaporoski, obwód chersoński, Krym, zdecydowanie cały nasz obszar wodny Morza Czarnego i Morza Azowskiego – od Wyspy Węży do Cieśniny Kerczeńskiej. To się stanie. To jest nasze. I tak jak rozumie to nasze społeczeństwo, chcę, aby okupanci również to zrozumieli. Nie będzie dla nich miejsca na ziemi ukraińskiej.
Każdy chce wiedzieć, jakie są nasze plany? Nie usłyszysz szczegółów od żadnej naprawdę odpowiedzialnej osoby. Ponieważ to jest wojna. I tak właśnie jest podczas wojny. Ale okupanci powinni wiedzieć: wypędzimy ich na granicę. Do naszej granicy, której linia się nie zmieniła. Najeźdźcy dobrze to wiedzą.
Jeśli chcą przeżyć, nadszedł czas, aby rosyjskie wojsko uciekło. Wracajcie do domu. Jeśli boicie się wrócić do domu w Rosji – cóż, pozwólcie takim okupantom się poddać, a my zagwarantujemy im prawa zgodne ze wszystkimi normami konwencji genewskich. Jeśli mnie nie posłuchają, będą musieli poradzić sobie z naszymi obrońcami, którzy nie przestaną, dopóki nie wyzwolą wszystkiego, co należy do Ukrainy. I to nie jest coś wyjątkowego. To nie jest coś, co rzekomo się zaczęło. Rozmawiamy o tym od 187 dni (Atak Rosji na Ukrainę [Dzień sto osiemdziesiąty siódmy]).
30 sierpnia 2022. Sto osiemdziesiąty ósmy dzień wojny Rosji z Ukrainą. Relacja na żywo na łamach Magazynu Militarnego MILMAG / Zdjęcie: sztab generalny sił zbrojnych Ukrainy
godz. 23.45: potężne eksplozje w okupowanym Chersoniu:
Ukrainian forces are currently conducting a counteroffensive in Kherson Oblast.

— The Kyiv Independent (@KyivIndependent) August 30, 2022
godz. 23.01: zniszczony rosyjski T-72B:
#Ukraine: The K2 Unit of the Ukrainian 54th Mechanized Brigade destroyed a Russian T-72B tank in the vicinity of Marinka, #Donetsk Oblast. pic.twitter.com/12ZpjawXps

— 🇺🇦 Ukraine Weapons Tracker (@UAWeapons) August 30, 2022
godz. 22.59: uszkodzona rosyjska 2S1 Gwozdika:
#Ukraine: A Russian 2S1 "Gvozdika" 122mm SPG suffered a minor barrel malfunction after intense use recently. pic.twitter.com/Y4enxectHT

— 🇺🇦 Ukraine Weapons Tracker (@UAWeapons) August 30, 2022
godz. 22.56: 3 zniszczone ukraińskie BMP-1/2:
#Ukraine: A Ukrainian BMP-1 and two other BMP-1/2 were destroyed by Russian artillery fire near the village of Mirnoe, #Kherson Oblast. The date is unknown at this time but is claimed to be recent. pic.twitter.com/P4a15nBWJs

— 🇺🇦 Ukraine Weapons Tracker (@UAWeapons) August 30, 2022
godz. 22.49: zdobyczny uszkodzony rosyjski T-80BW:
#Ukraine: A rather damaged Russian T-80BV tank was captured by Ukrainian forces four days ago, presumably in the East. pic.twitter.com/wEN0l9qjc3

— 🇺🇦 Ukraine Weapons Tracker (@UAWeapons) August 30, 2022
godz. 22.46: w ataku zestawami HIMARS/MLRS, zniszczono co najmniej trzy rosyjski ciężarówki, w tym KamAZ-6350:
#Ukraine: At least three Russian transport trucks (Some being KamAZ-6350) were destroyed by Ukrainian strikes, presumably from HIMARS/M270 systmes, in Nova Kakhovka, #Kherson Oblast. pic.twitter.com/9WwK70E2Iu

— 🇺🇦 Ukraine Weapons Tracker (@UAWeapons) August 30, 2022
godz. 22.43: zniszczony ogniem pośrednim rosyjski BTR-80/82A:
#Ukraine: A Russian BTR-80/82A was destroyed by indirect fire from the 98th Battalion of the Territorial Defense Forces "Azov" in the South. pic.twitter.com/zKZKOd4GUz

— 🇺🇦 Ukraine Weapons Tracker (@UAWeapons) August 30, 2022
godz. 22.42: W. Zelenski spotkał się z amerykańskimi senatorami, R. Portmanem i A. Klobucher:
⚡️Zelensky meets US Senators Rob Portman, Amy Klobuchar in Kyiv.

President Volodymyr Zelensky said that he had discussed military developments with the senators. Zelensky urged the U.S. to increase military aid for Ukraine and step up its sanctions against Russia.

— The Kyiv Independent (@KyivIndependent) August 30, 2022
godz. 22.37: pierwsze znane zniszczone/uszkodzone 3 eks-polskie T-72M1R (i być może 2 T-72M1, a może eks-czeskie):
It appears that two more T-72M1/M1R were destroyed in a location nearby. pic.twitter.com/89Qms1QDzX

— 🇺🇦 Ukraine Weapons Tracker (@UAWeapons) August 30, 2022
godz. 22.34: rosyjski T-80BWM wjechał na minę przeciwpancerną:
#Ukraine: A Russian T-80BVM tank ran into an AT mine, presumably in the East, and was severely damaged. pic.twitter.com/iro07Sz5bP

— 🇺🇦 Ukraine Weapons Tracker (@UAWeapons) August 30, 2022
godz. 22.30: po długiej chorobie w Centralnym Szpitalu Klinicznym w Moskwie zmarł w wieku 91 lat Michaił Gorbaczow:
⚡️Russian media: Ex-Soviet leader Mikhail Gorbachev dies.

Gorbachev was the general secretary of the Soviet Union's Communist Party from 1985 through 1991.

— The Kyiv Independent (@KyivIndependent) August 30, 2022
❗️The first President of the USSR Mikhail Gorbachev died at the age of 91

Gorbachev died on Tuesday evening after a serious and prolonged illness, the Central Clinical Hospital told reporters.

📰Russian state media TASS pic.twitter.com/lKH7rnamrj

— NEXTA (@nexta_tv) August 30, 2022
godz. 22.26: Rada Najwyższa zatwierdziła przyjęcie pożyczki od Kanady w wysokości 350 mln USD na zakup gazu:
⚡️Parliament approves taking out $350 million loan to buy natural gas.

The loan will be provided by Canada to fund purchases of gas ahead of the heating season.

— The Kyiv Independent (@KyivIndependent) August 30, 2022
godz. 22.25: ppk Stugna-P kontra rosyjski pojazd opancerzony:
#Ukraine: Ukrainian forces of Operational Command "North" hit a Russian armoured vehicle with a Stugna-P ATGM strike in the Donbas, causing damage at the very least. pic.twitter.com/8OtDr0l7au

— 🇺🇦 Ukraine Weapons Tracker (@UAWeapons) August 30, 2022
godz. 22.12: J. Borrell: UE gotowa zapewniać Ukrainie pomoc wojskową i finansową tak długo, tak o będzie konieczne:
The heads of the Defense Ministry of the 27 #EU member states confirmed their readiness to continue providing military and financial assistance to #Ukraine for as long as necessary.

This was stated by the head of EU diplomacy Josep Borrel. pic.twitter.com/N82iTDH20q

— NEXTA (@nexta_tv) August 30, 2022
godz. 21.14: Polska i Ukraina będą dążyć do wspólnego opracowania projektu budowy rurociągu transgranicznego do transportu olejów roślinnych do Gdańska:
⚡️Ukraine, Poland seek to build pipeline to ship vegetable oil.

The Polish prime minister's office announced a plan to build a cross-border pipeline to transport Ukrainian vegetable oil to the Polish port of Gdansk in a bid to boost Ukrainian exports amid the ongoing war.

— The Kyiv Independent (@KyivIndependent) August 30, 2022
godz. 20.26: protest głodowy w Mariupolu:
Hunger protests broke out in Mariupol

Residents of the city are on brink of survival. Due to the large number of residents of Mariupol who need help, Red Cross tried to suspend humanitarian aid, then protests broke out, adviser to the mayor reported https://t.co/nb8oHtucys pic.twitter.com/jJip8aP05N

— Euromaidan Press (@EuromaidanPress) August 30, 2022
godz. 19.56: UE przekaże Ukrainie 5,5 mln tabletek z jodem do ochrony przed potencjalnym skażeniem radioaktywnym:
The #EU will supply #Ukraine with 5.5 million tablets of potassium iodide to protect against possible radiation exposure.

📰 CNN citing representatives of the European Commission pic.twitter.com/mH4Uw4D3uh

— NEXTA (@nexta_tv) August 30, 2022
godz. 19.52: ukraińskie sankcje wobec Cyryla I:
He said that the Russian Orthodox Church supports the war against Ukraine and "everyone involved should be held accountable."

— The Kyiv Independent (@KyivIndependent) August 30, 2022
godz. 19.50: Rosjanie ostrzelali konwój ewakuacyjny w obwodzie zaporoskim:
Russian troops shelled evacuation convoy in Zaporizhzhia Oblast

Civilians were trying to leave occupied Melitopol when Russian forces started shelling. People were forced to get out of their cars and hide under them, the mayor of Melitopol said – Pravda https://t.co/0ZpiPtFkTH pic.twitter.com/bSF2u3gj9A

— Euromaidan Press (@EuromaidanPress) August 30, 2022
godz. 19.16: W. Zelenski spotkał się z R. Grossim z MAEA:
Zelensky asked the IAEA to help Ukraine prevent a nuclear disaster. Russia, which has been shelling Ukrainian positions from the territory of the Zaporizhzhia Nuclear Power Plant in Russian-occupied Enerhodar, has been accused of using it as a shield and a tool of blackmail.

— The Kyiv Independent (@KyivIndependent) August 30, 2022
Zelenskyy meets Rafael Mariano Grossi ahead of IAEA's mission visit to Zaporizhzhia Nuclear Power Plant

During the meeting, Zelenskyy emphasized the need for urgent demilitarization of the plant, withdrawal of 🇷🇺troops, & creation of a demilitarized zone https://t.co/6wh5FrVygC pic.twitter.com/c9TrtZ0sdB

— Euromaidan Press (@EuromaidanPress) August 30, 2022
godz. 18.44: pakistańska amunicja artyleryjska kal. 122 mm w SZ Ukrainy:
#Ukraine: The massive needs of the Ukrainian Army when it comes to artillery are being met from some unorthodox sources- Ukrainian artillerymen were spotted using 122mm HE artillery projectiles made by Pakistani Ordnance Factories (POF) 🇵🇰. pic.twitter.com/Uu8X1zT6wi

— 🇺🇦 Ukraine Weapons Tracker (@UAWeapons) August 30, 2022
These projectiles were manufactured only a few months ago – highly likely explicitly for export to Ukraine going by factors we won't detail here.

Yet another demonstration of just how Western partners obtain the most needed materiel for the Ukrainian Armed Forces. pic.twitter.com/JWY1P3QEMA

— 🇺🇦 Ukraine Weapons Tracker (@UAWeapons) August 30, 2022
godz. 18.33: Ch. Lambrecht: Niemcy prawie osiągnęły limit dostaw uzbrojenia do Ukrainy (to nie pierwsza taka wypowiedź… – przyp. red.):
🇩🇪has almost reached limit in weapons supply to 🇺🇦- Christine Lambrecht

Bundeswehr is running out of weapons in its warehouses, 🇩🇪DM said, @welt reported. Earlier, Germany transferred self-propelled howitzers & multiple launch rocket systems to Ukraine https://t.co/WuVfhJa2QQ

— Euromaidan Press (@EuromaidanPress) August 30, 2022
godz. 18.10: Niderlandy poparły unijny zakaz wjazdu dla obywateli Rosji:
The #Netherlands supports the idea of ​​a complete ban on the entry of #Russian citizens into the #EU, said Foreign Minister Wopke Hoekstra. pic.twitter.com/2XFSecEf2t

— NEXTA (@nexta_tv) August 30, 2022
godz. 18.10: ukraiński minister obrony O. Reznikow ma dystans do siebie:
My personal salute to #NAFOfellas. I'd like to thank each person behind Shiba Inu cartoon. Your donations to support our defenders, your fight VS misinformation is valuable.
I'm changing my profile picture for a few days. Cheers @marlowc2324
NAFO expansion is non-negotiatiable! pic.twitter.com/SapxtsVsS5

— Oleksii Reznikov (@oleksiireznikov) August 30, 2022
godz. 17.26: Ukraińcy ostrzeliwują Most Antonowski i Dariwskij:
⚡️ Ukraine's military reports hitting bridges near occupied Kherson, again.

Southern Operational Command reported that Ukrainian artillery hit Antonivsky automobile and railway bridges, as well as Darivskyi Bridge near the Russian-occupied Kherson.

— The Kyiv Independent (@KyivIndependent) August 30, 2022
🇺🇦forces confirm new strikes on 3 bridges in Kherson Oblast

Ukrainian Army in south regions killed approximately 160 Russian soldiers & destroyed 60 pieces of equipment overnight, striking 3 bridges in the oblast, Operational Command South reported https://t.co/zyj8QUduVv

— Euromaidan Press (@EuromaidanPress) August 30, 2022
godz. 17.21: Niemcy 

proponują zawieszenie umowy o ułatwieniach wizowych z Rosją:
⚡️#Germany proposes to suspend visa facilitation agreement with #Russia. pic.twitter.com/Gk8b9Q8Rhp

— NEXTA (@nexta_tv) August 30, 2022
godz. 16.50: przedszkole w Charkowie po rosyjskim ostrzale:
An important strategic victory of the occupiers over a kindergarten in #Kharkiv. pic.twitter.com/110C6TLJd8

— NEXTA (@nexta_tv) August 30, 2022
godz. 16.25: Rada Najwyższa Ukrainy wzywa świat do potępienia zbrodni wojennej w Ołeniwce:
Ukraine calls on the world to condemn execution of 🇺🇦POWs in Olenivka

On 30 Aug, Verkhovna Rada adopted resolution which calls on UN, NATO, ICRC, & Médecins Sans Frontières to condemn actions of 🇷🇺soldiers who executed more than 55 🇺🇦prisoners in Donbashttps://t.co/Z8je4gaCpv

— Euromaidan Press (@EuromaidanPress) August 30, 2022
godz. 16.23: 1 osoba zginęła, a kolejna została ranna w rosyjskim ataku na Mikołajów:
⚡️ One person killed in Russia's recent attack on Mykolaiv.

Mykolaiv Mayor Oleksandr Sienkevych said on Aug. 30 that one more person was injured. He did not provide details.

— The Kyiv Independent (@KyivIndependent) August 30, 2022
godz. 16.10: ukraiński MT-LBWM z ZU-23-2:
#Ukraine: A MT-LBVM armored personnel carrier with a ZU-23-2 23mm autocannon in use with the Ukrainian army.
Originally this vehicle was captured from the Russian army but was later refurbished and had a firepower upgrade in the form of a ZU-23-2. pic.twitter.com/IpTK0ZWRFm

— 🇺🇦 Ukraine Weapons Tracker (@UAWeapons) August 30, 2022
godz. 15.58: M. Podoljak: Dla Ukrainy życie każdego obywatela jest absolutnym priorytetem. Dlatego opracowujemy drogi ewakuacyjne dla mieszkańców okupowanego Krymu, którzy chcą wyjechać w czasie aktywnego wysiedlenia. Na razie prosimy wszystkich o trzymanie się z dala od obiektów wojskowych i sprawdzanie schronów przeciwlotniczych:
For 🇺🇦 life of every citizen is an absolute priority. Therefore, we are developing evacuation routes for the residents of occupied Crimea who wish to leave during active deoccupation. For now, we ask everyone to stay away from military facilities and to check the bomb shelters.

— Михайло Подоляк (@Podolyak_M) August 30, 2022
godz. 15.55: nagranie z walki sił ukraińskich z rosyjskimi w rejonie mostu w Piski:
Intense footage of close combat between Russian and Ukrainian forces by a bridge in Pisky.

The Ukrainian forces are under the bridge, while the Russians can be seen at the top left of the screen. pic.twitter.com/PBGKG2PmlH

— Visegrád 24 (@visegrad24) August 30, 2022
godz. 15.24: Rosjanie zniszczyli bazę ewakuacyjną Ukraińskiego Czerwonego Krzyża w Słowiańsku:
Russia destroys evacuation base of @UkraineRedCross in Sloviansk

The strike destroyed the building, damaged 3 cars. Red Cross since 18 April evacuated locals, gave humanist. aid.
"This place was marked everywhere as Red Cross & 🇷🇺 command knew about it" https://t.co/ewp5OrFV7W pic.twitter.com/Z8vEiocsSc

— Euromaidan Press (@EuromaidanPress) August 30, 2022
godz. 15.22: wg wywiadu ukraińskiego, Rosja mobilizuje najemników, gdyż tajny pobór żołnierzy do armii regularnej zawodzi:
⚡️ Ukraine's intelligence: Russia draws more mercenaries for its war in Ukraine as covert mobilization fails.

Ukraine's Intelligence Directorate says there are now up to 5,000 Russian mercenaries in Ukraine.

— The Kyiv Independent (@KyivIndependent) August 30, 2022
godz. 14.28: skutki ostrzału Nikopola:
Stores, library, bus station destroyed in Russian strike on Nikopol, Dnipropetrovsk Obl

Nikopol, Dnipro, Kryvorizskyi districts shelled from Grads, heavy artillery
📷https://t.co/PvOd82IO3T pic.twitter.com/GhdRJLOplJ

— Euromaidan Press (@EuromaidanPress) August 30, 2022
godz. 14.24: SBU zidentyfikowała 3 rosyjskich żołnierzy, którzy torturowali cywilów w obwodzie kijowskim:
https://twitter.com/KyivIndependent/status/1564589784152039424?s=20&t=q-hQ4g5gvAgiz92bRBHX9A
godz. 14.18: Łotwa wzmacnia kontrole obywateli rosyjskich i białoruskich:
#Latvia will strengthen checks of #Belarusians and #Russians when issuing visas and residence permits

During the additional check, the degree of risk to state security or public order from an incoming citizen of the above countries will be assessed.

📰 MIA of Latvia pic.twitter.com/DJhmZeTKk8

— NEXTA (@nexta_tv) August 30, 2022
⚡️ Latvia to introduce additional checks for Russian, Belarusian citizens entering the country.

According to new regulations, citizens of Russia and Belarus will undergo an additional check to assess whether their entry would pose "a threat to national security or public order."

— The Kyiv Independent (@KyivIndependent) August 30, 2022
godz. 14.15: Rosjanie niszczą ukraińskie wyrzutnie M142 HIMARS… a raczej makiety wykonane z drewna w celu zmylenia przeciwnika:
Russians launched a series of missile strikes on HIMARS

But there is one nuance

The AFU placed wooden decoys of HIMARS, which cannot be distinguished from real ones from drones. To hit these targets,the invaders are using expensive long-range missiles.https://t.co/jFvBT2ZpBH

— NEXTA (@nexta_tv) August 30, 2022
An anonymous Ukrainian official told the Washington Post that after a few weeks in the field, wooden decoys drew at least 10 Russian Kalibr cruise missiles, "an initial success that led Ukraine to expand the production of the replicas for broader use.

— The Kyiv Independent (@KyivIndependent) August 30, 2022
godz. 13.05: 11 rannych w ostrzale Charkowa:
⚡️ Update: 11 injured due to Russian attack on Kharkiv.

The Prosecutor General's Office also reported that Russian shelling damaged several residential buildings, cars, a kindergarten, and a park. Kharkiv Mayor Ihor Terekhov reported that five people were killed in the attack.

— The Kyiv Independent (@KyivIndependent) August 30, 2022
godz. 12.54: wojska lotnicze Ukrainy zestrzeliły 3 rosyjskie bezzałogowce i 1 pocisk manewrujący, zaatakowały rosyjskie pozycje, w tym składy amunicji, pojazdy wojskowe, zestawy przeciwlotnicze, wyrzutnie rakiet, siłę żywą i wyposażenie:
⚡️ Air Force destroys 3 Russian drones, 1 cruise missile.

On Aug. 29, Ukraine conducted over 15 group airstrikes on Russian positions, targeting ammunition depots, armored combat vehicles, anti-aircraft defense systems, Multiple Launch Rocket Systems, personnel, and equipment.

— The Kyiv Independent (@KyivIndependent) August 30, 2022
godz. 12.25: Do Dżibuti przybył pierwszy wyczarterowany przez ONZ masowiec z 23 tys. ton ukraińskiej pszenicy, która trafi do Etiopii:
⚡️ Infrastructure Ministry: First UN-chartered ship with Ukrainian grain arrives in Djibouti.

The ship, carrying 23,000 tons of wheat to be delivered to Ethiopia, is the first chartered by the UN World Food Programme to have left Ukraine. The second ship left Ukraine on Aug. 30.

— The Kyiv Independent (@KyivIndependent) August 30, 2022
The first ship carrying 23,000 tonnes of Ukrainian wheat arrives in Djibouti

Then, the grain will be unloaded and delivered to consumers in Ethiopia under UN World Food Program, 🇺🇦Ministry of Infrastructure reportedhttps://t.co/GrhxzELjhv pic.twitter.com/VooJCp2Fp0

— Euromaidan Press (@EuromaidanPress) August 30, 2022
godz. 11.57: skutki ostrzału Charkowa:
The consequences of today's "arrivals" in the courtyard of a residential building in #Kharkiv. pic.twitter.com/nIjprACtj0

— NEXTA (@nexta_tv) August 30, 2022
godz. 11.55:

sąd w Moskwie

ukarał platformę Twitch grzywną w wysokości 3 mln RUB za odmowę usunięcia filmu z wywiadem z doradcą biura prezydenta

Ukrainy

O. Arestowyczem:
A court in #Moscow fined the Twitch platform 3 million rubles for refusing to remove a video from an interview with an adviser to the office of the President of #Ukraine Oleksiy Arestovich. pic.twitter.com/xD6Gk08FhS

— NEXTA (@nexta_tv) August 30, 2022
godz. 11.46: CNN: misja MAEA jest już w Kijowie:
Russia has refused to demilitarize the area around the power plant, endangering the facility.

— The Kyiv Independent (@KyivIndependent) August 30, 2022
godz. 11.46: M. Podoljak: Rosja celowo ostrzeliwuje korytarze, aby misja MAEA nie dotarła do Zaporoskiej EJ. Wszystko aby zaoferować przejazd przez Krym/tereny czasowo okupowane. Ukraińskie stanowisko jest takie samo. Dostęp tylko przez kontrolowane terytorium Ukrainy. Demilitaryzacja elektrowni jądrowej. Wycofanie oddziałów rosyjskich. Tylko ukraiński personel w zakładzie:
🇷🇺 is deliberately shelling corridors for IAEA mission to reach ZNPP. All to offer passage through Crimea/ORDLO. 🇺🇦 position is the same. Access only through controlled territory of 🇺🇦. Nuclear power plant demilitarization. Ru-troops withdrawal. Only ua-personnel at the station.

— Михайло Подоляк (@Podolyak_M) August 30, 2022
godz. 11.40: wg Deutsche Welle, obóz w Ołeniwce został zniszczony systemem TOS-1:
⚡️ Deutsche Welle: Heavy flamethrower system may be responsible for explosion at Olenivka.

In a comment to DW, the Prosecutor General's Office said Russia likely used a thermobaric munition at Olenivka. Over 50 Ukrainian POWs were killed at the prison camp on July 28.

— The Kyiv Independent (@KyivIndependent) August 30, 2022
godz. 11.24: 6 masowców ze zbożem opuściło ukraińskie porty:
The Kateria is reportedly headed to Yemen carrying 37,500 tons of wheat chartered by the UN World Food Programme. The Infrastructure Ministry says 61 ships carrying around 1.5 million tons of agricultural products have left Ukrainian ports thus far.

— The Kyiv Independent (@KyivIndependent) August 30, 2022
godz. 11.14: eksplozje w Odessie; siły rosyjskie zestrzeliły rosyjski bsl:
⚡️ City Council: Explosions heard in Odesa.

Ukraine's military downed a Russian drone conducting aerial reconnaissance over Odesa Oblast on Aug. 30, reports Odesa City Council, citing Ukraine's Operational Command "South."

— The Kyiv Independent (@KyivIndependent) August 30, 2022
godz. 11.10: francuska spółka Engie spodziewa się od jutra redukcji dostaw rosyjskiego gazu:
The #French company Engie expects a reduction in #Russian gas supplies from Tuesday due to disagreements on some contracts, Bloomberg reports citing a company statement. pic.twitter.com/CiSNw5SmWo

— NEXTA (@nexta_tv) August 30, 2022
godz. 11.00: ukraińska prokuratura wykryła grupę przestępczą która zdefraudowała 580 tys. USD z ministerstwa obrony:
⚡️ Prosecutors uncover crime group that embezzled $580,000 from Defense Ministry.

According to the Prosecutor General's Office, Ukrainian law enforcement has conducted over 20 searches and seized documents and funds amounting to over Hr 17 million, $400,000, and 100,000 euros.

— The Kyiv Independent (@KyivIndependent) August 30, 2022
godz. 10.55: PILNE: M. Osyczenko z Mariupol TV w rozmowie z Dnipro.tv powiedział, że zgodnie z poufnymi informacjami kostnicy Illicziwśkyj z Mariupola, udokumentowano śmierć 87 000 osób. Ponadto w prokuraturze w Nowoazowie przechowywana jest baza danych niezidentyfikowanych ofiar, która zawiera 26 750 wpisów. Ciała tych ludzi zostały pochowane w masowych grobach. Liczby te prawdopodobnie nie są ostateczne:
At least 87,000 killed civilians are documented in morgue of occupied Mariupol. Another database contains 26,750 unidentified victims, acc. to President of Mariupol TV

"If the sky was closed, over 100,000 of those killed in Mariupol would be alive" https://t.co/bMqGG9W80k

— Euromaidan Press (@EuromaidanPress) August 30, 2022
godz. 10.49: Urzędnik Pentagonu: Wysiłki Kremla zmierzające do zwiększenia liczebności sił zbrojnych o 137 tys. żołnierzy "mało prawdopodobne, aby się powiodły":
"Russia has historically not met personnel and strength targets," the official said. "In fact, if you look at the Russian armed forces, prior to the invasion, they may have already been 150,000 personnel short of their million personnel goal."

— The Kyiv Independent (@KyivIndependent) August 30, 2022
godz. 10.48: The Washington Post:

19 sierpnia Rosja odebrała z Iranu dwa typy bezzałogowców

: Mohajer-6 i Shahed 129:
Iran still sent the first batch of combat drones to Russia, according to The Washington Post.

According to the sources of the publication, on August 19, #Russia received two types of drones from #Iran: the Mohajer-6 and Shahed. pic.twitter.com/NSgcsAS0zz

— NEXTA (@nexta_tv) August 30, 2022
Russia now in possession of Iranian drones that will be used in Ukraine – US officials

US believes Russia officially purchased & transferred Mohajer-6 &Shahed-series drones to use for air-to-surface attacks, electronic warfare and targeting inside Ukraine https://t.co/tM1dWB5svg

— Euromaidan Press (@EuromaidanPress) August 30, 2022
godz. 10.46: resort obrony Ukrainy: "Druga armia świata" tradycyjnie rekompensuje swoje porażki na polu bitwy zabijając cywilów. W poniedziałek ten mężczyzna stracił żonę i dom w wyniku masowego ostrzału osiedli Mikołajowa przez rosyjskich terrorystów:
The "second army of the world" traditionally compensates for its defeats on the battlefield by killing civilians.
On Monday, this man lost his wife and his home due to mass shelling of Mykolaiv's residential areas by russian terrorists.
📷 @radiosvoboda pic.twitter.com/tW9nkDKgNQ

— Defense of Ukraine (@DefenceU) August 29, 2022
godz. 10.39: liczba ofiar rosyjskiego ataku na Charków wzrosła do 5; 7 osób zostało rannych:
A fire has reportedly broken out at a residential building, meaning the number of casualties may still increase.

— The Kyiv Independent (@KyivIndependent) August 30, 2022
https://twitter.com/EuromaidanPress/status/1564524650801004544?s=20&t=wJSLsqe1d99UPj-nWx1dJw
godz. 10.31: PILNE: ukraiński MiG-29 z amerykańskim pociskiem przeciwradiolokacyjnym AGM-88 HARM:
Nice HARM under the wing. pic.twitter.com/1ATrLLJObX

— Ciro Nappi (@CiroNappi6) August 30, 2022
Some HQ screenshots here.

By all accounts, the AGM-88 (Likely AGM-88B or C variants) have been very effective against Russian SAM systems. pic.twitter.com/TzATr5V0BZ

— 🇺🇦 Ukraine Weapons Tracker (@UAWeapons) August 30, 2022
godz. 10.22: Rosjanie ostrzelali obwód sumski 20 razy:
⚡️ Governor: Russian forces shell Sumy Oblast 20 times overnight on Aug. 30.

Dmytro Zhyvytskyi reported that Russian forces shelled Krasnopillia and Velyka Pysarivka six and 14 times, respectively, with self-propelled artillery. No casualties or damages were reported.

— The Kyiv Independent (@KyivIndependent) August 30, 2022
godz. 10.14: siły przeciwpancerne w SZ Ukrainy:
— Генеральний штаб ЗСУ (@GeneralStaffUA) August 30, 2022
Танкісти морської піхоти в бойовій роботі. Швидко, видовищно, результативно!

Разом переможемо! pic.twitter.com/LIAm6iylOh

— Генеральний штаб ЗСУ (@GeneralStaffUA) August 30, 2022
godz. 10.10: we wczorajszych ostrzałach obwodu charkowskiego ranne zostały 3 osoby cywilne:
⚡️ Governor: Russian shelling of Kharkiv Oblast on Aug. 29 injures 3 people.

Oleh Syniehubov said Russian forces shelled communities near Chuhuiv, Kharkiv, and Izium, injuring two women and a man. The bodies of two people killed by Russian shelling on Aug. 27 were recovered.

— The Kyiv Independent (@KyivIndependent) August 30, 2022
godz. 9.59: SG SZ Ukrainy: Rosja chce zdobyć kontrolę nad całym obwodem donieckim:
⚡️ General Staff: Russia tries to establish full control of Donetsk Oblast, retain positions in southern Ukraine.

Russian forces are trying to maintain control of occupied parts of Donetsk, Kherson, Kharkiv, Zaporizhzhia, and Mykolaiv oblasts, conducting airstrikes.

— The Kyiv Independent (@KyivIndependent) August 30, 2022
godz. 9.59: w rosyjskim ostrzale centrum Charkowa zginęło 4 cywilów, a 4 kolejnych zostało rannych:
As a result of the shelling of the central part of #Kharkiv, 4 people were killed and 4 more were wounded, reports the head of the regional military administration Synehubov. pic.twitter.com/7H8nHeN7go

— NEXTA (@nexta_tv) August 30, 2022
godz. 9.52: w rosyjskim ostrzale Charkowa zginęły 4 osoby cywilne, a 4 kolejne zostały ranne:
⚡️ Governor: Russian attack on Kharkiv kills 4, injures 4 people.

Kharkiv Oblast Governor Oleh Syniehubov reported that Russian forces attacked central Kharkiv on the morning of Aug. 30. Kharkiv Mayor Ihor Terekhov said Kharkiv was struck eight times.

— The Kyiv Independent (@KyivIndependent) August 30, 2022
godz. 9.10: rosyjski ostrzał w obwodzie dniepropietrowskim:
Russian shelling in Kamianske injured a 50-year-old woman. Residential buildings, power lines, and a children's library were also damaged, leaving up to 500 families without power. Russian forces conducted airstrikes in the Dniprovskyi and Kryvorizkyi districts.

— The Kyiv Independent (@KyivIndependent) August 30, 2022
godz. 9.05: delegacja czeskich sił zbrojnych przybyła do Ukrainy:
Відбувся офіційний візит в Україну делегації Збройних Сил Чеської Республіки на чолі з Начальником Генерального штабу ЗС Чеської Республіки генерал-майором Карелом Ржегки. pic.twitter.com/FBe7S63y1S

— Генеральний штаб ЗСУ (@GeneralStaffUA) August 30, 2022
godz. 9.05: prokuratura generalna Ukrainy informuje, że siły rosyjskie dopuściły się dotąd 30 792 zbrodni wojennych, 14 395 przestępstw przeciwko bezpieczeństwu narodowemu, 624 przedstawicieli rosyjskiej władzy jest oskarżanych o odpowiedzialność za zbrodnie (ministrowie i ich zastępcy, dowódcy wojskowi, oficjele, szefowi agencji federalnych, podżegacze i propagandziści wojenni), natomiast w działaniach wojennych zginęło 379 dzieci, a 735 zostało rannych:
#RussianWarCrimes pic.twitter.com/6jXTXwimsk

— Офіс Генерального прокурора (@GP_Ukraine) August 30, 2022
godz. 9.04: w Chersoniu wyleciał w powietrze samochód funkcjonariusza kolaboracyjnej policji; nikt nie został ranny:
In #Kherson, the car of a local policeman, who had specifically come from #Russia to take a position in the "new police", was blown up. As a result of the explosion no one was injured. pic.twitter.com/hOatav0pJa

— NEXTA (@nexta_tv) August 30, 2022
godz. 8.42: we wczorajszych ostrzałach obwodu donieckiego zginęło 2 cywilów, a 4 kolejnych zostało rannych:
⚡️ Governor: Russian forces kill 2 civilians, injure 4 in Donetsk Oblast on Aug. 29.

Donetsk Oblast Governor Pavlo Kyrylenko reported that Russian forces killed two civilians in the communities of Rozdolne and Pivnichne.

— The Kyiv Independent (@KyivIndependent) August 30, 2022
godz. 8.40: walki w obwodzie chersońskim:
Clashes continue in occupied #Kherson. pic.twitter.com/ofRu4g9SMa

— NEXTA (@nexta_tv) August 30, 2022
godz. 8.13: straty rosyjskie wg danych sztabu generalnego sił zbrojnych Ukrainy: około 47 550 żołnierzy, 1954 czołgi, 4294 bojowe wozy piechoty i transportery opancerzone, 1079 zestawów artylerii lufowej, 282 zestawy artylerii rakietowej, 151 zestawów przeciwlotniczych, 234 samoloty, 204 śmigłowce, 847 bezzałogowców, 196 pocisków manewrujących, 3217 ciężarówek i innych pojazdów nieopancerzonych, w tym cystern, 15 łodzi i okrętów oraz 103 sztuk sprzętu specjalnego: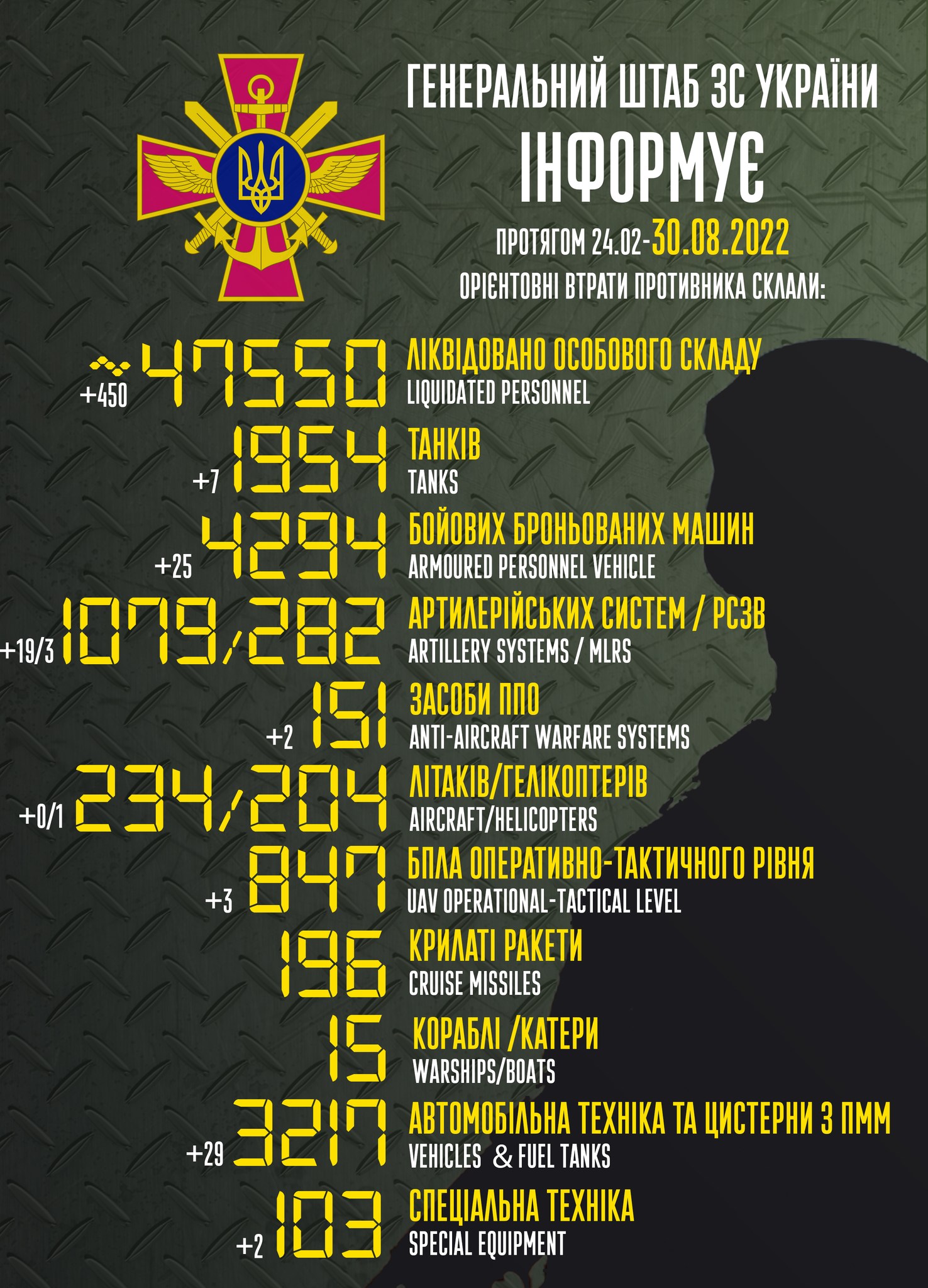 Grafika: sztab generalny sił zbrojnych Ukrainy
godz. 8.02: informacja Straży Granicznej o liczbie uchodźców wojennych z Ukrainy:
#Pomagamy🇺🇦
Od 24.02 #funkcjonariuszeSG odprawili w przejściach granicznych na kierunku z🇺🇦do🇵🇱 5,909 os.
Wczoraj tj.29.08➡️ 23,9 tys.
Dziś do godz. 07.00➡️ 6,5 tys.
W dn.29.08 z🇵🇱do🇺🇦odprawiono 30,7 tys. osób. Od 24.02- ponad 4,098 mln os. pic.twitter.com/wLCypjbNGy

— Straż Graniczna (@Straz_Graniczna) August 30, 2022
godz. 7.57: ISW: na wschodzie siły rosyjskie przeprowadzają ograniczone ataki:
The U.S. think tank also reported that Russia continues efforts of covert mobilization as it struggles to achieve the required manpower.

— The Kyiv Independent (@KyivIndependent) August 30, 2022
godz. 7.41: Francja i Niemcy opublikowały wspólne zalecenie z propozycją by państwa UE opracowały rosyjskojęzyczne kursy umiejętności korzystania z rosyjskich mediów dla Rosjan:
#France and #Germany have written a joint statement (the document is not official, but rather a recommendation), in which they propose that #EU countries create media literacy courses in #Russian for #Russians. pic.twitter.com/RzT6Hgh43O

— NEXTA (@nexta_tv) August 30, 2022
godz. 7.17: informacja operacyjna sztabu generalnego sił zbrojnych Ukrainy na godz. 6.00:
Оперативна інформація станом 06.00 30.08.2022 щодо російського вторгнення
Докладніше https://t.co/4YlfyVdCYg
Read more https://t.co/qFOb6XrKdz

— Генеральний штаб ЗСУ (@GeneralStaffUA) August 30, 2022
godz. 6.51: informacja operacyjna brytyjskiego wywiadu wojskowego o aktualnej sytuacji militarnej w Ukrainie:
Latest Defence Intelligence update on the situation in Ukraine – 30 August 2022

Find out more about the UK government's response: https://t.co/q3wYzVuyKz

🇺🇦 #StandWithUkraine 🇺🇦 pic.twitter.com/gG1qJfkkwS

— Ministry of Defence 🇬🇧 (@DefenceHQ) August 30, 2022
(2/8) Ukrainian long-range precision strikes continue to disrupt Russian resupply. It is not yet possible to confirm the extent of Ukrainian advances.

— Ministry of Defence 🇬🇧 (@DefenceHQ) August 30, 2022
(4/8) The Southern Military District's (SMD) 49th Combined Arms Army has highly likely been augmented with components of the Eastern Military District's (EMD) 35th Combined Arms Army.

— Ministry of Defence 🇬🇧 (@DefenceHQ) August 30, 2022
(6/8) This integration of SMD and EMD units suggests a significant reorganisation of Russia's force in Ukraine.

— Ministry of Defence 🇬🇧 (@DefenceHQ) August 30, 2022
(8/8) If Ukraine succeeds in undertaking sustained offensive operations, the cohesion of this untested structure will likely be a key factor in the sustainability of Russian defences in the south.

— Ministry of Defence 🇬🇧 (@DefenceHQ) August 30, 2022
godz. 6.39: ukraińskie Dowództwo Operacyjne Południe: zlikwidowano 82 rosyjskich żołnierzy, zniszczono 3 składy amunicji, prowizoryczny most oraz 30 jednostek sprzętu, tym czołgi, haubice, systemy rakietowe, działa samobieżne, pojazdy opancerzone i inne uzbrojenie
Ukraine's military also destroyed three ammunition depots and a makeshift bridge in the region.

— The Kyiv Independent (@KyivIndependent) August 30, 2022
godz. 5.18: rosyjski atak rakietowy w obwodzie zaporoskim:
⚡️ Russia launches missile strike on Zaporizhzhia.

According to Zaporizhzhia Oblast Governor Oleksandr Starukh, Russian forces launched a missile strike on Zaporizhzhia overnight on Aug. 30. There are currently no reported casualties or significant damages to infrastructure.

— The Kyiv Independent (@KyivIndependent) August 30, 2022
godz. 4.25: zniszczona rosyjska haubica samobieżna Msta-S:
Russian self-propelled gun Msta-S getting destroyed in Kharkiv Oblast's north

📹via https://t.co/EmGcyEkgog pic.twitter.com/RLVhvN40mr

— Euromaidan Press (@EuromaidanPress) August 30, 2022
godz. 3.56: w ciągu 29 dni Ukraina wyeksportowała drogą morską ponad 1,3 mln ton zbóż; co najmniej 56 masowców dostarczyło towar do 18 państw:
⚡️Ukraine exported over 1.3 million tons of grain since grain agreement.

Serhii Bratchuk, the spokesman for the Odesa regional administration, said in 29 days since Ukraine's ports were reopened, at least 56 ships have delivered grain to 18 countries.

— The Kyiv Independent (@KyivIndependent) August 30, 2022
godz. 2.41: USA wzywają Rosję do ustanowienia strefy zdemilitaryzowanej na terenie Zaporoskiej EJ oraz kontrolowanego zamknięcia zakładu:
White House National Security Council spokesperson John Kirby said a controlled plant shutdown would be the safest option.

— The Kyiv Independent (@KyivIndependent) August 30, 2022
US calls for "controlled shutdown" of Zaporizhzhia NPP

This is the "safest option" for the Russian-occupied nuclear power plant, White House spox Kirby told & urged Moscow to agree to demilitarized zone around plant https://t.co/bKnAOzZhqH

— Euromaidan Press (@EuromaidanPress) August 30, 2022
godz. 2.27: ukraińskie T-64BM2:
Ukrainian T-64BM2 tanks on the front

📹https://t.co/gjZkly11ua pic.twitter.com/EUNC0TiuLF

— Euromaidan Press (@EuromaidanPress) August 30, 2022
godz. 1.41: ukraińskie rodziny uciekają z okupowanych terytoriów, aby uniknąć przymusowej rosyjskiej edukacji:
In the last week, at least 500 children with their parents crossed the checkpoints to Ukraine-controlled territory in order to avoid sending children to schools with a Russian-based curriculum.

— The Kyiv Independent (@KyivIndependent) August 29, 2022
godz. 1.25: ukraińskie działo samobieżne 203 mm 2S7 Pion:
Ukrainian self-propelled gun firing

203mm 2S7 Pion SPG of Ukraine's 43rd Separate Artillery Brigade. The date and location are unknown.
📹https://t.co/VpUs43dDGo pic.twitter.com/QCDOoOcM7X

— Euromaidan Press (@EuromaidanPress) August 29, 2022
godz. 0.31: ukraiński weteran ranny podczas walk podziękował 8-latkowi z Czernihowa, który śpiewając zbiera pieniądze na rzecz SZ Ukrainy:
Very touching video 🥺

The #Ukrainian defender thanked the 8-year-old boy volunteer from #Chernihiv, who is collecting money for the Armed Forces. pic.twitter.com/OQSCe1kfm3

— NEXTA (@nexta_tv) August 29, 2022
godz. 0.24: Reuters: Talibowie bliscy finalizacji kontraktu na zakup rosyjskiej benzyny:
A spokesperson for Afghanistan's Ministry of Economy confirmed to Reuters that an official delegation chaired by the commerce ministry was finalizing contracts for supplies of wheat, gas and oil.

— The Kyiv Independent (@KyivIndependent) August 29, 2022
godz. 0.23: zniszczona rosyjska haubica holowana Msta-B:
Russian howitzer blowing up

Detonation of the ammunition of the Russian towed howitzer Msta-B. The date and location are unknown.https://t.co/eOjDlhOZs7 pic.twitter.com/Fv4BkJXVbA

— Euromaidan Press (@EuromaidanPress) August 29, 2022
godz. 0.00: eks-amerykańska haubica M119A3 w SZ Ukrainy:
16 M119 howitzers were promised to Ukraine by the US recently, and it will be very interesting to see precisely which variant will be delivered.

— 🇺🇦 Ukraine Weapons Tracker (@UAWeapons) August 29, 2022
godz. 0.00: SBU skonfiskowała 3 działki o wartości 55 tys. USD, należące do O. Marczenko, żony prorosyjskiego oligarchy W. Medwedczuka:
⚡️Security Service seizes assets belonging to wife of arrested pro-Kremlin oligarch Viktor Medvedchuk.

Three land plots valued at $55,000 belonging to Oksana Marchenko were seized as their ownership had been illegally transferred to her from the state in 2009, the SBU said.

— The Kyiv Independent (@KyivIndependent) August 29, 2022