15 lipca 2022. Sto czterdziesty drugi dzień wojny Rosji z Ukrainą. Wczoraj z rejonu Morza Czarnego Rosja wystrzeliła pięć pocisków manewrujących Kalibr na Winnicę w środkowej Ukrainie. Obrońcom udało się zestrzelić jedynie dwa z nich, a trzy spadły na miasto, w tym na centrum medyczne Neuromed. Według najnowszych informacji ministerstwa spraw wewnętrznych Ukrainy, zginęły 23 osoby, w tym 3 dzieci, 71 osób zostało rannych, a 18 osób wciąż jest poszukiwanych (Atak Rosji na Ukrainę [Dzień sto czterdziesty pierwszy]).
Wieczorem, prezydent Ukrainy Wołodymyr Zełenski opublikował apel do wolnego świata:
Dziś zwracam się nie do ukraińskich mężczyzn i kobiet, jak zwykle, ale do naszych partnerów. Świata demokratycznego.
Ten dzień po raz kolejny udowodnił, że Rosja musi zostać oficjalnie uznana za państwo terrorystyczne. Żadne inne państwo na świecie nie stanowi takiego zagrożenia terrorystycznego jak Rosja. Żadne inne państwo na świecie nie pozwala sobie codziennie niszczyć spokojnych miast i zwykłego życia ludzkiego pociskami manewrującymi i artylerią rakietową.
W wyniku tylko jednego ataku rakietowego na nasze miasto Winnica zginęły 23 osoby. Troje dzieci w wieku poniżej 10 lat. I to niestety nie jest jeszcze ostateczną liczbą. Usuwanie gruzów jest w toku. Dziesiątki osób wymieniono jako zaginione. Ciężko ranni są hospitalizowani.
Jeden z pocisków zniszczył centrum medyczne Neuromed. W środku byli ludzie. Natalija,40 lat. Tetiana, 32 lata. Wołodymyr, 61 lat. Wira, 55 lat. Widziałem ich na liście zaginionych. Widzicie, nawet nie wiadomo, co stało się z ludźmi, którzy po prostu poszli do centrum medycznego…
A jeśli ktoś przeprowadzi atak rakietowy na centrum medyczne w Dallas lub Dreźnie, nie daj Boże, jak by to się nazywało? Czy nie nazwano by tego terroryzmem?
Dziewczynka jest wśród dzisiejszych zabitych w Winnicy, miała 4 lata, miała na imię Liza. Dziecko miało 4 lata! Jej matka jest w stanie krytycznym…
Rosja zakończyła życie dziewczynki w momencie, gdy w Niderlandach, w Hadze, odbyła się konferencja na temat rosyjskich zbrodni wojennych. Konferencja, na której zdecydowano, co należy zrobić, aby ukarać każde rosyjskie wojsko.
Czy możecie wyobrazić sobie inną organizację terrorystyczną, która pozwoliłaby sobie na taką śmiałość? Zabijać w momencie, gdy poprzednie zbrodnie są przedmiotem międzynarodowej dyskusji.
Rosja pokazała zatem swoje podejście do prawa międzynarodowego, Europy i całego cywilizowanego świata. Po tym nikt nie może mieć wątpliwości, że Specjalny Trybunał ds. rosyjskiej agresji na Ukrainę jest potrzebny jak najszybciej. Należy również jak najszybciej wdrożyć specjalny mechanizm kompensacyjny, przy pomocy którego wszystkie rosyjskie aktywa i fundusze we wszystkich krajach świata muszą zostać skonfiskowane i przeznaczone na odszkodowania dla ofiar rosyjskiego terroru.
Absolutnie konieczne jest jak najszybsze wdrożenie takich ograniczeń w stosunku do rosyjskiego eksportu energii, które nie pozwolą terrorystom na finansowanie ich działań, kosztem społeczności międzynarodowej.
I chcę podkreślić: wszystko to jest potrzebne nie tylko Ukrainie, nie tylko naszym obywatelom, których życie jest zagrożone rosyjskim terrorem. Jest to potrzebne wszystkim, wszystkim na świecie, którzy cenią ludzkie życie przynajmniej trochę.
Terroryzm to wirus. A jeśli jeden z terrorystów pozostanie bezkarny, zachęca tylko innych.
Ceremonia przyznania naszym obrońcom, której nadano tytuł Bohatera Ukrainy, odbyła się dziś rano w Kijowie. Przedstawiłem do orderu Złotej Gwiazdy naszych wojowników, a także krewnym tych wojowników, którzy pośmiertnie otrzymali tytuł Bohatera.
W sumie podczas wojny pełnoskalowej od 24 lutego tytuł Bohatera został przyznany 157 Ukraińcom, 75 – pośmiertnie. Ponad 23 000 naszych obrońców otrzymało odznaczenia państwowe, ponad 3500 – pośmiertnie.
Setki tysięcy naszych wojowników powstrzymują rosyjski atak każdego dnia i każdej nocy. Ukraińcy wnoszą jeden z najważniejszych wkładów w historii w walkę z terroryzmem. Jesteśmy wdzięczni wszystkim, którzy nam pomagają. Do każdego państwa, struktur międzynarodowych, stowarzyszeń publicznych na całym świecie, biznesu, każdej osoby, która się tym przejmuje.
Nadszedł jednak czas, aby świat demokratyczny zapisał to wszystko we właściwych instrumentach prawnych. Status państwa terrorystycznego dla Rosji. Specjalny Trybunał ds. agresji rosyjskiej. Specjalny mechanizm kompensacyjny, który skieruje fundusze państwa terrorystycznego do tych, których chciał zniszczyć. I oczywiście nowe sankcje za terror. Nowe sankcje są potrzebne jak najszybciej.
I w końcu. Chcę, aby załoga okrętu, który dziś wystrzelił pociski Kalibr na Winnicę, wiedziała na pewno, że więzienie jest najlepszą rzeczą, z jaką mogą się spotkać.
Wieczna pamięć dla wszystkich ofiar rosyjskiego terroru!
Wieczna chwała każdemu, kto broni normalnego, spokojnego życia!
Chwała Ukrainie!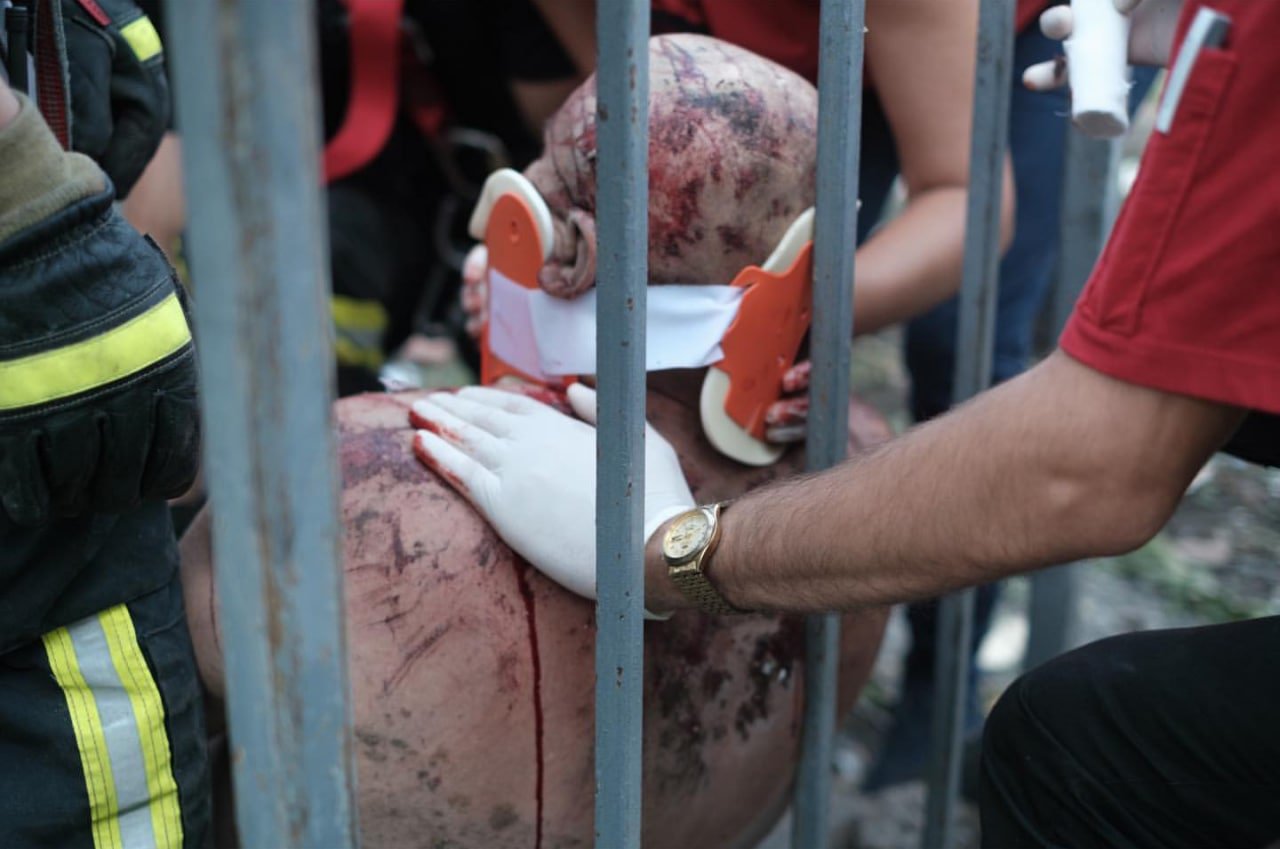 15 lipca 2022. Sto czterdziesty drugi dzień wojny Rosji z Ukrainą. Relacja na żywo na łamach Magazynu Militarnego MILMAG / Zdjęcie: Prezydent Ukrainy
godz. 23.03: kolejne eksplozje w Dnieprze:
⚡️ More explosions heard in Dnipro, hours after Russian missiles killed 3.

According to the Suspilne news outlet, multiple explosions were heard in the city. Prior, Russian missiles hit Dnipro around 9 p.m., killing at least three people and injuring nine.

— The Kyiv Independent (@KyivIndependent) July 15, 2022
godz. 22.27: dwa zniszczone rosyjskie BMP:
#Ukraine: Two Russian BMP infantry fighting vehicles were precisely hit by Ukrainian artillery fire today in Verkhnokamianka, #Luhansk – at least one vehicle was damaged.pic.twitter.com/8uj4mNxZ0r

— 🇺🇦 Ukraine Weapons Tracker (@UAWeapons) July 15, 2022
godz. 22.04: zniszczone rosyjskie 203-mm zmodernizowane działo 2S7M Małka:
#Ukraine: A Russian 203mm 2S7M Malka self-propelled heavy artillery gun was destroyed by Ukrainian counter-battery fire in the East.

This is the first documented loss of the 2S7M, an updated version of the 2S7 Pion, by Russian forces. pic.twitter.com/tzZJTF993h

— 🇺🇦 Ukraine Weapons Tracker (@UAWeapons) July 15, 2022
godz. 21.59: pierwsze udokumentowane użycie przez Rosjan amunicji krążącej ZALA Lancet:
#Ukraine: The first documented use of a modern Russian ZALA Lancet loitering munition in Ukraine – the remains of this one were found in Zaporizhzhia Oblast.

Depending on the variant it can carry a payload of 1 to 3 kilograms. pic.twitter.com/mla0UdjOUO

— 🇺🇦 Ukraine Weapons Tracker (@UAWeapons) July 15, 2022
godz. 21.23: sześć rosyjskich pocisków spadło na miasto Dniepr; zaatakowano zakłady rakietowe Jużmasz (Południowe Zakłady Budowy Maszyn imienia A. M. Makarowa); 3 zabitych, 15 rannych:
⚡️ Governor: 3 killed, 15 wounded after Russian missiles hit Dnipro.

According to Dnipro Oblast Governor Valentyn Reznichenko, Russian missiles hit an industrial enterprise in Dnipro, as well as a crowded street near it. At least 3 people were killed, and 15 were injured.

— The Kyiv Independent (@KyivIndependent) July 15, 2022
The Russian army carried out missile strikes on the city of #Dnipro

According to preliminary data, #Russia fired about 5 missiles at the city. A large fire started at the site of the attack.

Eyewitnesses report dead and wounded as a result of missile attacks. pic.twitter.com/GMNgIjkw6c

— NEXTA (@nexta_tv) July 15, 2022
Moments of rocket arrivals in #Dnepropetrovsk

It seems that the attacks on the Yuzhmash plant in Dnepropetrovsk were carried out by Russian hypersonic complexes "Dagger"#UkraineWar pic.twitter.com/5qigtaURiy

— Newsistaan (@newsistaan) July 15, 2022
Пролет одной из российских ракет над Днепром. ❗️Не менее 4 ракет было запущено по Днепру, в городе сильные пожары.#днепр #дніпро #dnepr #dnipro #russiaisaterrorisstate#RussianWarCrimes #RussiaIsATerroristState #RussiaTerroristState pic.twitter.com/LlkLw8ouGq

— Serg Bayraktar (@Sergbayraktar) July 15, 2022
#DNIPRO машина в воронке после прилёта ракеты. Погибшие и много раненых pic.twitter.com/JXXSugFwGX

— Mih Mih (@Helenmihmih) July 15, 2022
345/ #Dnipropetrovsk #Dnipro this evening. #Donetsk #Donbass #Donbas pic.twitter.com/PPM6GJiGdm

— Ghost (@Ghost132607472) July 15, 2022
godz. 20.44: RB-134W Łeer-3, czyli specjalny wariant bsl Orłan-10 do walki radioelektronicznej:
#Ukraine: A Russian "jamming" Orlan-10 UAV was shot down by a Ukrainian soldier by small arms fire.

This drone is a part of a Russian RB-341V Leer-3 electronic warfare system and used to locate GSM signals, then interfere them or act as a mobile base station. pic.twitter.com/e5YRjsCj5Y

— 🇺🇦 Ukraine Weapons Tracker (@UAWeapons) July 15, 2022
godz. 20.24: eksplozje w Krzemieńczuku:
⚡️ Explosions reported in Kremenchuk.

According to Poltava Oblast Governor Dmytro Lunin, explosions were heard in the city. He did not provide details.

— The Kyiv Independent (@KyivIndependent) July 15, 2022
godz. 19.54: Winnica: Irina, matka 4-letniej Lizy, która zginęła w ataku, jest w stanie krytycznym:
After the explosions she was able to talk to her daughter.She shouted into the phone that shell hit her daughter and she was torn to pieces. However, because of shock Irina does not remember anything and keeps asking where her daughter is.The doctors don't tell her the truth.
2/2

— NEXTA (@nexta_tv) July 15, 2022
godz. 19.19: ofiary z Winnicy:
🇷🇺missiles in Vinnytsia killed 23

7-year-old Maksym and his mother at time of explosion were in clinic.8 y o boy was waiting for his uncle in parked car and fell into fire trap. Sound engineer Yevhen Kovalenko also killed.25 y o Alina Kysil died instantly https://t.co/c310ycCoKu pic.twitter.com/1PYllCkRtH

— Euromaidan Press (@EuromaidanPress) July 15, 2022
godz. 19.09: Rosjanie zdobyli unikatowy ukraiński pojazd Kozak-5:
This one is easy to distinguish from the only one received by the National Guard by the headlights. A newer Kozak-5 generation is actively exported, and we assume that this IMV could be transferred to the Ukrainian forces from the stocks of the manufacturer after the war started. pic.twitter.com/Mn4uUFR6Ax

— 🇺🇦 Ukraine Weapons Tracker (@UAWeapons) July 15, 2022
godz. 18.22: zniszczona rosyjska ahs Msta-S:
#Ukraine: A fleeting glipse of a Russian storage point that was destroyed by Ukrainian fire earlier this month in #Luhansk Oblast- we can see a 2S19 Msta-S self-propelled howitzer destroyed amongst the wreckage. pic.twitter.com/S2YADr3X1g

— 🇺🇦 Ukraine Weapons Tracker (@UAWeapons) July 15, 2022
godz. 18.18: siły ukraińskie zestrzeliły rosyjski samolot szturmowy Su-25 i uszkodziły drugi:
⚡️ Security Service of Ukraine (SBU): Ukraine's military hit 2 Russian warplanes.

SBU reported that Russian Sukhoi Su-25 jets have "recently" attacked Ukrainian positions in Orikhiv and Stepove in Zaporizhzhia Oblasts. Ukraine's forces took down one plane and damaged the other.

— The Kyiv Independent (@KyivIndependent) July 15, 2022
godz. 18.18: eks-rosyjski T-80BW w SZ Ukrainy:
#Ukraine: A great example of the field upgrades often carried out by both sides- here we see a UA T-80BV tank with a number of changes: Kontakt-1 ERA raised above tracks, T-72B3 Obr 2016 style side skirts & rubber flaps in front of turret ERA, which has been added to/adjusted. pic.twitter.com/VB1FqVpjV0

— 🇺🇦 Ukraine Weapons Tracker (@UAWeapons) July 15, 2022
godz. 18.00: od połowy maja na cmentarzu w Mariupolu przybyło 1400 nowych grobów:
Compared to the pre-war days, the report says that there are five times more new graves being dug each month.

— The Kyiv Independent (@KyivIndependent) July 15, 2022
godz. 17.57: co najmniej 3 zniszczone rosyjskie ciężarówki:
#Ukraine: The Ukrainian 58th Motorized Infantry Brigade destroyed at least 3 Russian transport trucks with indirect fire in the East. pic.twitter.com/BnBzuJj022

— 🇺🇦 Ukraine Weapons Tracker (@UAWeapons) July 15, 2022
godz. 17.52: ukraiński ppk Stugna-P kontra rosyjski czołg:
#Ukraine: Somwhere in the East, a Russian tank was hit by the 80th Air Assault Brigade of Ukraine with a Stugna-P anti-tank guided missile. pic.twitter.com/paQABleQkq

— 🇺🇦 Ukraine Weapons Tracker (@UAWeapons) July 15, 2022
godz. 17.23: PILNE: Ukraina odbiera podarowane przez W. Brytanię trzy wieloprowadnicowe wyrzutnie rakiet M270 MLRS:
Long Hand Family of #UAarmy has been enlarged: the first MLRS M270 have arrived!
They will be good company for #HIMARS on the battlefield.
Thank you to our partners .
No mercy for the enemy.

*Photo by @SkyNews pic.twitter.com/F8rJ7LNPEX

— Oleksii Reznikov (@oleksiireznikov) July 15, 2022
godz. 16.50: Ukraińcy zniszczyli punkt dowodzenia i baraki sił rosyjskich w obwodzie chersońskim:
Ukrainian forces destroyed Russian headquarters and barracks in Kherson Oblast

Russians set up them on the premises of the former children's sanatorium in Nova Mayachka, advisor to Kherson Oblast informed https://t.co/rKClBKKjAp

— Euromaidan Press (@EuromaidanPress) July 15, 2022
godz. 16.44: w wyniku rosyjskiego ostrzału spłonęło ponad 46 ha pola pszenicy w obwodzie charkowskim, a 2 a żyta zniszczono w rejonie Izium i Czuhiw:
⚡️ More than 46 hectares of wheat burned due to Russian shelling in Kharkiv Oblast.

Two hectares of barley were also razed to the ground in cities of Izium and Chuhuiv in the region, Kharkiv Oblast Military Administration reported.

— The Kyiv Independent (@KyivIndependent) July 15, 2022
godz. 16.34: w ciągu 3 tygidni Niemcy dostarczyli SZ Ukrainy 80 samochodów terenowych z nadwoziem typu pick-up:
⚡️ Embassy: Germany has provided Ukraine with 80 pickup trucks over the past 3 weeks.

The German Embassy in Kyiv said that the delivery was intended for Ukraine's Armed Forces.

— The Kyiv Independent (@KyivIndependent) July 15, 2022
godz. 16.22: kolejny rosyjski atak rakietowy na Kramatorsk; bez ofiar:
⚡️ Mayor: Another Russian missile strike hits Kramatorsk, Donetsk Oblast.

Kramatorsk Mayor Oleksandr Honcharenko reported on July 15 that rescuers and explosives specialists were working at the scene. No casualties were reported.

— The Kyiv Independent (@KyivIndependent) July 15, 2022
godz. 15.37: na konferencji w Hadze, przedstawiciele 45 państw zdecydowali się na

wspólną koordynację śledztwa w sprawie rosyjskich

zbrodni wojennych w Ukrainie

i postawienie winnych przed wymiarem sprawiedliwości:
At a conference in The Hague, 45 countries agreed to jointly coordinate the investigation of #Russian war crimes in #Ukraine and bring those responsible to justice. pic.twitter.com/xHVAce5tgY

— NEXTA (@nexta_tv) July 15, 2022
godz. 15.18: Zwiększona obecność rosyjskiego lotnictwa wojskowego nad Białorusią:
Reports indicate increased Russian presence in Belarusian airspace as country cedes control of its air base to Moscow.

The Kyiv Independent provides readers with a weekly roundup to help explain Belarus. Subscribe via the link in the article. https://t.co/9iIBVzSU0q

— The Kyiv Independent (@KyivIndependent) July 15, 2022
godz. 15.13: Winnica: 4 ciała ofiar ataku nadal niezidentyfikowane, a 8 osób nadal jest poszukiwanych; zidentyfikowano m.in. 4-letnią dziewczynkę i dwóch chłopców w wieku 7 i 9 lat:
⚡️ Police: 4 bodies yet to be identified, 8 people still missing after Vinnytsia missile strike.

Head of the National Police of Ukraine Ihor Klymenko reported that 19 of the 23 bodies have been identified, including a 4-year-old girl and two boys aged 7 and 8.

— The Kyiv Independent (@KyivIndependent) July 15, 2022
godz. 15.07:

Ursula Von der Leyen:

Komisja Europejska

zaproponowała nowy pakiet sankcji przeciwko Rosji

, w tym embargo na import złota. KE zaproponowała również przedłużenie wszystkich istniejących sankcji do końca stycznia 2023 roku:
Russia's brutal war against Ukraine continues unabated.

Therefore we propose today to tighten our hard-hitting EU sanctions against the Kremlin, enforce them more effectively and extend them until January 2023.

Moscow must continue to pay a high price for its aggression.

— Ursula von der Leyen (@vonderleyen) July 15, 2022
godz. 14.48: Niemcy staną się niezależne od rosyjskiego węgla 1 sierpnia, a od ropy 31 grudnia:
#Germany will become independent from #Russian coal from August 1, and from Russian oil from December 31. This was stated by Secretary of State in the Office of the Federal Chancellor Jörg Kukis at the Energy Forum in #Sydney. pic.twitter.com/HOWnpXH5Pe

— NEXTA (@nexta_tv) July 15, 2022
godz. 13.43: rosyjski ostrzał Charkowa w rejonie dwóch placówek edukacyjnych. Uszkodzona została fasada jednego z budynków szkoły, a pobliskie tory tramwajowe zostały zniszczone. Druga rakieta spadła na podwórko w pobliżu innej szkoły. Nie było ofiar:
⚡️Russian airstrike hits 2 schools in Kharkiv.

According to rescuers, the facade of one of the buildings was damaged and tram tracks nearby were destroyed. The second rocket fell in the yard near another school. There were no casualties.

— The Kyiv Independent (@KyivIndependent) July 15, 2022
godz. 14.08: O. Reznikow: średnio 100 żołnierzy dziennie ginęło na froncie w maju; natomiast 300-400 dziennie było rannych:
⚡️Reznikov: Up to 100 Ukrainian soldiers were killed per day on frontlines in May.

Ukraine's Defense Minister Oleksii Reznikov told BBC Ukraine that Ukraine suffered the biggest combat losses in May, adding that between 300 to 400 soldiers were wounded at the time each day.

— The Kyiv Independent (@KyivIndependent) July 15, 2022
godz. 13.59: ministerstwo obrony Rosji przyznało, że celowo zaatakowało Winnicę; celem miało być domniemane spotkanie przedstawicieli ukraińskich sił zbrojnych i zagranicznych dostawców broni:
⚡️Russian Ministry of Defense admits deliberately hitting Vinnytsia.

Russia boasted of the unfounded claim of targeting a meeting between Ukraine's military and foreign arms suppliers. The July 14 strike hit civilian infrastructure in the city center, killing at least 23 people.

— The Kyiv Independent (@KyivIndependent) July 15, 2022
godz. 13.11: wg O. Reznikowa, Ukraina otrzyma kolejne wyrzutnie M142 HIMARS, tym razem z pociskami o zasięgu 300 km (zatem mowa o pociskach balistycznych MGM-140 ATacMS – przyp. red.):
⚡️Reznikov confident Ukraine will receive more HIMARS, including 300 kilometers-range version.

"We give them (the U.S.) proof that we can use it with precision and sophistication and we get more, and longer range," Defense Minister Oleksii Reznikov told the Financial Times.

— The Kyiv Independent (@KyivIndependent) July 15, 2022
Ukrainian Defense Minister Reznikov expects that Western countries will provide #Ukrainian Armed Forces with shells for HIMARS missile systems capable of hitting targets at a distance of 300 kilometers.

📰Financial Times pic.twitter.com/uicUB2KbQP

— NEXTA (@nexta_tv) July 15, 2022
godz. 12.58: prokuratura generalna Ukrainy informuje, że siły rosyjskie dopuściły się dotąd 23 370 zbrodni wojennych, 11 270 przestępstw przeciwko bezpieczeństwu narodowemu, 624 przedstawicieli rosyjskiej władzy jest oskarżanych o odpowiedzialność za zbrodnie (ministrowie i ich zastępcy, dowódcy wojskowi, oficjele, szefowi agencji federalnych, podżegacze i propagandziści wojenni), natomiast w działaniach wojennych zginęło 352 dzieci, a 657 zostało rannych:
Since the beginning of the war in #Ukraine, 352 children have died and 657 more have been injured. pic.twitter.com/emQJZ3ahlg

— NEXTA (@nexta_tv) July 15, 2022
godz. 12.56: tymczasem W. Putin nadal zachowuje dystans społeczny. Zdjęcie z dzisiejszego spotkania z członkami Rady Bezpieczeństwa Federacji Rosyjskiej:
The Bunker Fuhrer is today holding an operational meeting with the permanent members of the Security Council of the #Russian Federation. pic.twitter.com/2CdkMdNm8P

— NEXTA (@nexta_tv) July 15, 2022
godz. 12.53: skutki nocnego ostrzału Charkowa przez Rosjan:
The consequences of the night shelling of #Kharkiv. pic.twitter.com/TUCDumGjxS

— NEXTA (@nexta_tv) July 15, 2022
godz. 12.25: Rosja oskarża Ukrainę o atakowanie terenów granicznych w obwodzie briańskim:
⚡️Russian authorities accuse Ukraine of attacking their Bryansk region.

The governor of the Russian region bordering northeastern Ukraine, Alexander Bogomaz, said a power line was hit, without any casualties. Ukraine hasn't yet responded to the recent accusation.

— The Kyiv Independent (@KyivIndependent) July 15, 2022
godz. 12.24: brytyjski ochotnik, walczący po stronie Ukrainy, Paul Ury, który został schwytany, zmarł w areszcie w Donieckiej Republice Ludowej z powodu choroby i stresu, jak oficjalnie podano; MSZ W. Brytanii wezwało w tej sprawie ambasadora Rosji:
❗️The #British Foreign Office summoned the #Russian ambassador because of the death of British citizen Paul Ury in #Donetsk.

— NEXTA (@nexta_tv) July 15, 2022
Back in April, Russian proxies captured Urey and another British aid worker, Dylan Healy, while they were on a rescue mission in the occupied territories of Zaporizhzhia Oblast.

Russian proxies claim that Urey died on July 10 as a result of "illness and stress."

— The Kyiv Independent (@KyivIndependent) July 15, 2022
godz. 12.15: UE pozostaje w tyle za obiecaną pomocą dla Ukrainy. 9 mld EUR pomocy obiecanej przez Wspólnotę dwa miesiące temu jeszcze nie dotarło na Ukrainę, ponieważ UE stoi przed perspektywą poważnych problemów gospodarczych. UE zgodziła się tylko na transzę w wysokości 1 mld EUR:
⚡️Bloomberg: EU falls behind promised aid to Ukraine.

The 9 billion euros help promised by the EU 2 months ago has not arrived in Ukraine yet, as the bloc is confronting the prospect of severe economic pain, Bloomberg reported. The EU has only agreed on a 1 billion euros tranche

— The Kyiv Independent (@KyivIndependent) July 15, 2022
godz. 11.53:

Komisja Europejska planuje w piątek dostosować sankcje przeciwko Rosji

, aby usunąć przeszkody w eksporcie żywności:
The European Commission plans on Friday to adjust sanctions against #Russia to remove obstacles to food exports, Reuters reported, citing sources. pic.twitter.com/eFxxrwSDrM

— NEXTA (@nexta_tv) July 15, 2022
godz. 10.47: Rosja: w Jekaterynburgu pojawił się bilbord reklamujący zbrodniarzy wojennych z najemniczej Grupy Wagnera:
Billboards advertising the Wagner PMC began to appear in #Yekaterinburg. pic.twitter.com/jOVemJo7mx

— NEXTA (@nexta_tv) July 15, 2022
godz. 10.43: ukraiński eksport zboża spadł o 40%; w lipcu osiągnięto poziom eksportu wynoszący 556 000 t, podczas gdy w tym samym miesiącu roku ubiegłego wynosił już 926 000 t:
⚡️Media: Ukraine's grain export reduced by 40%.

As of July, grain exports amounted to 556,000 tons in 2022 against 926,000 tons as of July 2021, the Ports of Ukraine online publication reported, citing the State Customs Service.

— The Kyiv Independent (@KyivIndependent) July 15, 2022
godz. 10.33: od 24 lutego Rosja przeprowadziła 17 614 ataków z powietrza na Ukrainę, z czego ok. 300 przeciwko celom wojskowym, a reszta na infrastrukturę cywilną:
Since the open invasion, #Russia has carried out 17,614 strikes on #Ukrainian territory, Deputy Interior Minister Yevgeny Yenin said.

According to him, about 300 of the strikes were on military facilities, and the rest on civilian infrastructure. pic.twitter.com/FQ1f25JKcG

— NEXTA (@nexta_tv) July 15, 2022
godz. 10.31: sąd skonfiskował majątek b. deputowanego Rady Najwyższej Ukrainy O. Kowalowa, oskarżonego o zdradę na rzecz Rosji:
⚡️Court seizes assets of Ukrainian MP Kovalov, suspected of treason, cooperation with Russia.

Oleksiy Kovalov, a wanted lawmaker from the Servant of the People party, spoke in favor of the integration of Kherson Oblast into Russia and openly admitted cooperating with Russia.

— The Kyiv Independent (@KyivIndependent) July 15, 2022
godz. 9.44: M. Podoljak: Rosja deportowała 1,6 mln Ukraińców, w tym 260 tys. dzieci:
Mykhailo #Podolyak, adviser to the Head of the Office of President of #Ukraine, reports that #Russia has deported 1.6 million #Ukrainians, including 260,000 children. https://t.co/oN9vAuQCin

— NEXTA (@nexta_tv) July 15, 2022
godz. 9.38: skutki rosyjskiego ostrzału wiejskiej szkoły w rejonie sinelnikowskim obwodu dniepropietrowskiego:
The head of the #Dnipropetrovsk regional military administration Valentin Reznichenko published photos of the consequences of the shelling of a village school in the Sinelnikovsky district.

The school was hit by a rocket at night. pic.twitter.com/yQl9U2QV2x

— NEXTA (@nexta_tv) July 15, 2022
godz. 9.26: wczoraj, samochód przewożący rosyjskich żołnierzy wyleciał w powietrze. 6 z nich zostało rannych, w tym 4 ciężko:
Yesterday, a car carrying occupiers exploded in #Sievierodonetsk. Six people were injured, four of them seriously, reports Serhiy Haidai, head of the regional military administration. pic.twitter.com/1casMubZPx

— NEXTA (@nexta_tv) July 15, 2022
godz. 9.23: Moody's: Białoruś zalega ze spłatą zadłużenia zagranicznego, co w praktyce oznacza niewypłacalność:
⚡️Moody's: Belarus in default payment.

The international rating agency Moody's stated on July 14 that payments on the foreign debt of Belarus in local rubles mean it's entering default.

— The Kyiv Independent (@KyivIndependent) July 15, 2022
godz. 9.19: Winnica: zginęły 23 osoby, w tym 3 dzieci, 71 osób zostało rannych, a 18 osób wciąż jest poszukiwanych:
According to the #Ukrainian Interior Ministry, the rocket attack on #Vinnytsia killed 23 people, including three children.

Seventy-one people were hospitalized. Eighteen people are still missing. pic.twitter.com/890jutTJ12

— NEXTA (@nexta_tv) July 15, 2022
godz. 8.33: Rosjanie przegrupowują się, aby wznowić ofensywę na kierunku Kramatorska; obecnie koncentrują się na Sołedarze i Bachmucie; wzmacniają obronę powietrzą baz na zapleczu oraz wojsk:
⚡️General Staff: Russian troops regroup to resume offensive in Kramatorsk direction.

According to Ukraine's military, Russia continues to focus on Soledar and Bakhmut directions in Donetsk Oblast. Russia is also trying to strengthen the air defense of its rear bases and units.

— The Kyiv Independent (@KyivIndependent) July 15, 2022
godz. 8.25: co najmniej 10 pocisków rakietowych spadło na Mikołajów, zaatakowano dwa największe uniwersytety:
A video showing the aftermath of #Russia's attack on #Mykolaiv. pic.twitter.com/Y9AkPeD1Lf

— NEXTA (@nexta_tv) July 15, 2022
⚡️Russia launches 10 missiles on Mykolaiv on July 15.

Russian forces attacked two universities in the southern city, Mykolaiv Oblast Governor Vitaliy Kim reported. Mykolaiv Mayor Oleksandr Sienkevych said that at least two people had been injured.

— The Kyiv Independent (@KyivIndependent) July 15, 2022
godz. 8.51: Rosjanie porazili budynek mieszkalny w Konstantynówce, w obwodzie donieckim:
In #Kostyantynivka, #Donetsk region, a residential building was hit by #Russian troops.

According to preliminary reports, one person was wounded, the regional military administration reports. pic.twitter.com/ofoqUVQ9b6

— NEXTA (@nexta_tv) July 15, 2022
godz. 8.08: informacja Straży Granicznej o liczbie uchodźców wojennych z Ukrainy:
#Pomagamy🇺🇦
Od 24.02 #funkcjonariuszeSG odprawili w przejściach granicznych na kierunku z🇺🇦do🇵🇱4,78 mln os.
Wczoraj tj.14.07➡️24,8 tys.
Dziś do godz.07.00➡️7 tys.
W dn.14.07 z🇵🇱do🇺🇦odprawiono 22,9 tys. osób. Od 24.02- 2,854 mln os. pic.twitter.com/fzJ5Gq8oVv

— Straż Graniczna (@Straz_Graniczna) July 15, 2022
godz. 8.01: straty rosyjskie wg danych sztabu generalnego sił zbrojnych Ukrainy: około 38 000 żołnierzy, 1672 czołgi, 3866 bojowych wozów piechoty i transporterów opancerzonych, 842 zestawy artylerii lufowej, 247 zestawów artylerii rakietowej, 109 zestawów przeciwlotniczych, 220 samolotów, 188 śmigłowców, 681 bezzałogowców, 155 pocisków manewrujących, 2731 ciężarówek i innych pojazdów nieopancerzonych, w tym cystern, 15 łodzi i okrętów oraz 67 sztuk sprzętu specjalnego:
Grafika: sztab generalny sił zbrojnych Ukrainy
godz. 7.52: informacja operacyjna sztabu generalnego sił zbrojnych Ukrainy na godz. 6.00:
Оперативна інформація станом на 06.00 15.07.2022 щодо російського вторгнення
Докладніше https://t.co/i3zMGF1xGh
Відео https://t.co/Jr0THg5zBF

— Генеральний штаб ЗСУ (@GeneralStaffUA) July 15, 2022
godz. 7.42: rosyjska

Prokuratura Generalna uznała za "niepożądaną" działalność czterech zagranicznych organizacji pozarządowych w Rosji, w tym

Bellingcat

i

The Insider:
#Russian General Prosecutor's Office declared "undesirable" the activities of four foreign non-governmental organizations in Russia, including #Bellingcat and #TheInsider. pic.twitter.com/eXbQaIW7Je

— NEXTA (@nexta_tv) July 15, 2022
godz. 7.32: eksplozje w Mikołajowie:
⚡️Mayor: Explosions reported in Mykolaiv.

Mykolaiv Mayor Oleksandr Sienkevych reported early on July 15 that at least 10 explosions have been heard in the city. He urged residents to remain in shelters.

— The Kyiv Independent (@KyivIndependent) July 15, 2022
godz. 7.23: ISW: Rosja prawdopodobnie przygotowuje ofensywę na większą skalę wzdłuż linii Słowiańsk-Siwersk-Bachmut:
The experts didn't have estimates for the timeline of the larger operation. Limited Russian assaults near Bakhmut and Sloviansk in Donetsk Oblast were not successful, with unclear progress near Siversk.

— The Kyiv Independent (@KyivIndependent) July 15, 2022
godz. 7.18: Rosja: gubernator obwodu briańskiego, twierdzi, że dziś rano ukraińska artyleria zaatakowała wieś Niekisłica:
Governor of the #Russian #Bryansk region Alexander Bogomaz claims that the #Ukrainian army had attacked his region: "At 5 a.m. today, artillery fire was fired from the territory of #Ukraine at the border village of Nekislitsy".

There were no casualties or injuries.

— NEXTA (@nexta_tv) July 15, 2022
godz. 7.08: rosyjski skład amunicji w okupowanej Kadijiwce (dawna Stachanow) w obwodzie ługańskim zaatakowany przez Ukraińców:
It is being reported that a #Russian ammunition depot in occupied #Kadiivka (Stakhanov), #Luhansk region is on fire. pic.twitter.com/6CABtEJv1N

— NEXTA (@nexta_tv) July 15, 2022
godz. 6.29: Kanada wdraża nowe sankcje przeciwko Rosji:
#Canada imposed new sanctions against the #Russian oil, gas and industrial sectors.

Canadian citizens and companies are now prohibited from providing services to the Russian side related to the production of metal products, computer equipment, vehicles and other equipment. pic.twitter.com/AhwMu8jLvh

— NEXTA (@nexta_tv) July 15, 2022
⚡️Canada expands sanctions against Russia.

The Canadian government has expanded sanctions against Russia's oil, gas, and other industries. The new sanctions also extend to computer, electronic and optical equipment products, and may affect pipelines' production.

— The Kyiv Independent (@KyivIndependent) July 15, 2022
godz. 6.04: I. Wenediktowa: USA gotowe przysłać prokuratorów do badania zbrodni wojennych w Ukrainie:
⚡️Venediktova: US ready to send prosecutors for war crimes investigation in Ukraine.

Ukraine's Prosecutor General Iryna Venediktova announced on July 14 that the U.S. is forming a group of prosecutors to investigate war crimes on the ground in Ukraine.

— The Kyiv Independent (@KyivIndependent) July 15, 2022
godz. 5.56: H. Maljar: Ukraina nie upubliczni oficjalnej liczby ofiar wśród personelu wojskowego do zakończenia wojny, z powodu potencjalnej szkody wynikającej z wykorzystywania tych informacji do dalszego wsparcia rosyjskich analiz i strategii:
Maliar cited potential harm of using the information on casualties to further inform Russian analysis and strategy as the reason for the lack of government data.

— The Kyiv Independent (@KyivIndependent) July 15, 2022
godz. 5.38: zakończyła się konferencja w Hadze, poświęcona rosyjskim zbrodniom wojennym w Ukrainie:
A conference on war crimes committed in #Ukraine was held in #TheHague.

"One of the goals was to agree on mechanisms of evidence exchange and cooperation to ensure that war crimes do not go unpunished", writes Deutsche Welle. pic.twitter.com/z8mEQAnRfu

— NEXTA (@nexta_tv) July 15, 2022
godz. 5.16: Niemcy przeznaczą dodatkowe 2,4 mld EUR do końca roku na pokrycie kosztów finansowych utrzymania ukraińskich uchodźców wojennych; w Niemczech jest ok. 800 tys. uchodźców, w tym 30% z nich w wieku poniżej 14 lat:
#Germany will allocate additional 2.4 billion euros by the end of the year to cover the financial costs of #Ukrainian refugees who have arrived in the country, reports the Minister of Labor Hubertus Heil. pic.twitter.com/Mn9FAX3EL9

— NEXTA (@nexta_tv) July 15, 2022
The minister added that about 800,000 people from Ukraine have already found asylum in Germany, 30% of whom are under 14 years old.

— The Kyiv Independent (@KyivIndependent) July 15, 2022
godz. 5.14: ukraiński państwowy koncern naftowy Naftohaz domaga się zamrożenia spłaty zadłużenia:
Bondholders will have up to July 21 to vote on the proposal.

— The Kyiv Independent (@KyivIndependent) July 15, 2022
godz. 3.48: OBWE: Rosja używa izb tortur, cywilów jako żywych tarcz na Ukrainie. W raporcie OBWE odnotowano kilka szczególnie brutalnych przypadków, w tym gwałty i zbiorowe gwałty na dzieciach na oczach członków rodziny, bezpośrednie egzekucje i tortury cywilów w izbach tortur, z których wszystkie stanowią zbrodnie przeciwko ludzkości:
The report noted several particularly brutal cases, including rape and gang rape of children in front of family members, summary executions, and torture of civilians in torture chambers, all of which constitute crimes against humanity.

— The Kyiv Independent (@KyivIndependent) July 15, 2022
godz. 3.35: pierwsza dama Ukrainy O. Zełenska skomentowała śmierć 4-letniej Lizy: Poznaliśmy tę cudowną dziewczynkę podczas nagrywania świątecznego wideo. Olśniewające, szczere, radosne dziecko, które dorastało w miłości. Spójrzcie na nią żywą, proszę. Płaczę z jej bliskimi:
"We met this wonderful girl while recording a Christmas video. A bright, sincere, joyful child who grew up in love. Look at her alive, please. I cry with her loved ones," Zelenska wrote.

— The Kyiv Independent (@KyivIndependent) July 15, 2022
godz. 2.31: łotewski parlament zatwierdził zamrożenie dostaw rosyjskiego gazu z 1 stycznia 2023:
⚡️Latvian parliament: Russian gas supply to be suspended in 2023.

On July 14, the Parliament of Latvia introduced new amendments to the Energy Law, stipulating a ban on Russian natural gas beginning on January 1, 2023.

— The Kyiv Independent (@KyivIndependent) July 15, 2022
godz. 1.09: szefowa MSZ Niemiec A. Baerbock wyklucza złagodzenie sankcji wobec Rosji:
⚡️Germany's Baerbock rules out easing sanctions on Russia.

German Foreign Minister Annalena Baerbock said on July 14 that lifting sanctions will not guarantee the gas supply from Russia but will make Germany even more vulnerable to blackmail by Moscow.

— The Kyiv Independent (@KyivIndependent) July 14, 2022
godz. 0.30: Rheinmetall AG modernizuje 30 bojowych wozów piechoty SPz Marder 1, które zostaną przekazane przez rząd niemiecki państwu oddającemu swoje uzbrojenie dla Ukrainy:
The aim is to hand over the vehicles to other countries, which could then supply their own weapons to Ukraine under a deal with Germany. Rheinmetall CEO Armin Papperger said that the planned sales of Marder vehicles would soon be approved by the German government.

— The Kyiv Independent (@KyivIndependent) July 14, 2022
godz. 0.00: eks-rosyjski T-72B w SZ Ukrainy od 3 miesięcy:
A photo of it back from April. pic.twitter.com/PrnVfLZ000

— 🇺🇦 Ukraine Weapons Tracker (@UAWeapons) July 14, 2022
godz. 0.00: ukraiński Su-25M1 (niebieski 48) uzbrojony w dwa 240-mm niekierowane pociski rakietowe S-24, na których umieszczono napisy Za Winnicę i Za Mikołajów:
#Ukraine: A photo of a (still) operational Ukrainian Su-25M1 "48 Blue" CAS jet armed with two 240mm S-24 unguided rockets.

Written on them: "For Vinnytsia" "For Mykolaiv" – referring to today's Russian bombings which led to many civilian casualties. pic.twitter.com/zWw1J8Arym

— 🇺🇦 Ukraine Weapons Tracker (@UAWeapons) July 14, 2022
godz. 0.00: rosyjski ostrzał w rejonie Nikopola w obwodzie dniepropietrowskim:
⚡️Russian attack reported near Nikopol, Dnipropetrovsk Oblast.

Yevhen Yevtushenko, head of the town's military administration, urged residents to remain in shelters. Nikopol is located across the Dnieper from the Russian-occupied Zaporizhzhia Nuclear Power Plant.

— The Kyiv Independent (@KyivIndependent) July 14, 2022
godz. 0.00: Ukraina przygotowuje ewakuację 600 cywilów z Ławry Świętogórskiej:
Despite shelling by Russian troops, 100 monks are refusing to leave the monastery, which belongs to the Russian Orthodox Church's Ukrainian branch. The town of Sviatohirsk is controlled by Russian troops but the Sviatohirsk monastery near the town is under Ukrainian control.

— The Kyiv Independent (@KyivIndependent) July 14, 2022