'I told the minister [of defense – MILMAG] that I want a part of the 2.5% of GDP spent on defense and modernization of Polish Army to be statutorily dedicated for the Polish Navy. The service needs to be rebuilt, and it needs to have guaranteed modernization funds each year. The minister said he will support my push for this project in the government.' said President Duda.
That statement was clearly related to the candidate's previous visit to the military training grounds in Ustka, where he overlooked Anakonda-20 multinational exercise, and to an electoral campaign for the upcoming presidential elections, which 2nd round took place on 12th July, leading to re-election of President Duda. How does it relate to the actual condition of the Polish Navy, though?
Plans, plans, plans...
The Polish Navy has been in critical condition for many years, and the current situation did not appear unexpectedly. It was decades ago, when the Polish MoD and the Naval command should take decision about procurement of a number of modern surface and subsurface vessels, as well as gradual modernization of most capable ones currently in service. This would allow the fleet to avoid the current situation.
However, it was not until 2013, when the first such decision was taken. The MoD and Naval command accepted a multi-year Technical Modernization Plan of the Polish Armed Forces (TMP), which included one significantly important project: Countering threats at sea. Among other initiative, the project called for procurement of 36 new combat and auxiliary vessels.
The 2013 TMP called for procurement of, among others, 3 conventional submarines (Orka programme), 3 corvettes / coastal defense vessels (Miecznik programme), 3 offshore patrol vessels with mine-hunting capabilities (Czapla programme), Ślązak-class offshore patrol vessel and 3 Kormoran-class mine-hunting vessels, as well as 23 auxiliary vessels: 2 reconnaissance vessels (Delfin programme), 3 rescue ships (Ratownik programme), survey vessel (Hydrograf programme), joint support ship (Marlin programme), logistical ship (Bałtyk programme), logistical supply ship (Supply programme), 6 tugboats (Holownik programme), 6 small transport crafts (Transhol programme), demagnetization vessel (Magneto programme) and an ecological barque (Ekotank programme).
Construction of three Kormoran II-class minehunters is the only procurement / construction project of the Polish Navy that is lead according to initial plans
What is the status of these projects seven years after their announcement? Pretty disappointing. Until today only two procurement projects were launched, however, both were approved before the aforementioned 2013 TMP bill was officially passed. These relates to the 23rd September 2013 annexation of the contract for Gawron-class multipurpose corvette, which was in construction, downgrading it into an offshore patrol vessel, the future ORP Ślązak. The second project was a contract for construction of a prototype project 258 Kormoran II minehunter, with an option for two more ships of that class. Both programmes were assumed to be completed by the end of 2016.
In practice, the construction of the former ORP Gawron (the future ORP Ślązak) was significantly delayed. The vessel, which was originally planned as the lead ship of the 7-vessel strong corvette squadron based on the MEKO-A100 design, was launched on 2nd July 2015. The event was preceded by a series of technical launches. Over the next 4 years the vessel undergone further works, which included installation of onboard equipment and a series of harbor/sea trials. In the meantime, the ship's main contractor had changed. Assets of the bankrupt SMW shipyard were taken over by a new PGZ Stocznia Wojenna company, which slowed down the project. Construction of the vessel was eventually finalized on 8th November 2019, almost 18 years since its beginning.
ORP Ślązak – initially designed as project 621 multipurpose corvette, was finished as project 621M patrol corvette.
The second document signed in 2013 called for construction of a prototype Kormoran II-class minehunter. According to the document, the finalization of the vessel's prototype should take place by the end of 2016. The contract included options for two serial production Kormoran II-class vessels, following the successful finalization of a series of harbor and sea trails of the first one. According to the initial schedule, serial production minehunters were to enter service in 2019 and 2022.
However, completion of the tests of the prototype Kormoran II-class vessel was delayed by one year compared to initial plans. Their successful finalization eventually led to contracting two serial production ships. The contract for future minehunters was signed on 24th December 2017. It had a value of 1,186 billion Polish Zloty ($311 million).
This closes the list of naval procurement projects launched under the 2013 TMP. Other programmes, such as the planned procurement of 2-3 Orka-class conventional submarines, has so far failed to reach its initial milestones. Today, the project is listed as a priority under the current TMP for the period 2021-2035. However, its successful finalization is doubtful, as the MoD and the Naval command have yet to present a specific plan for selection of the preferred vessel's design, its construction and commissioning.
ORP Orzeł, Polish Navy's youngest, yet not fully operational, conventional submarine. A 34 years-old vessels hardly can be considered a modern platform capable of meeting requirements of the today's and future battlefield.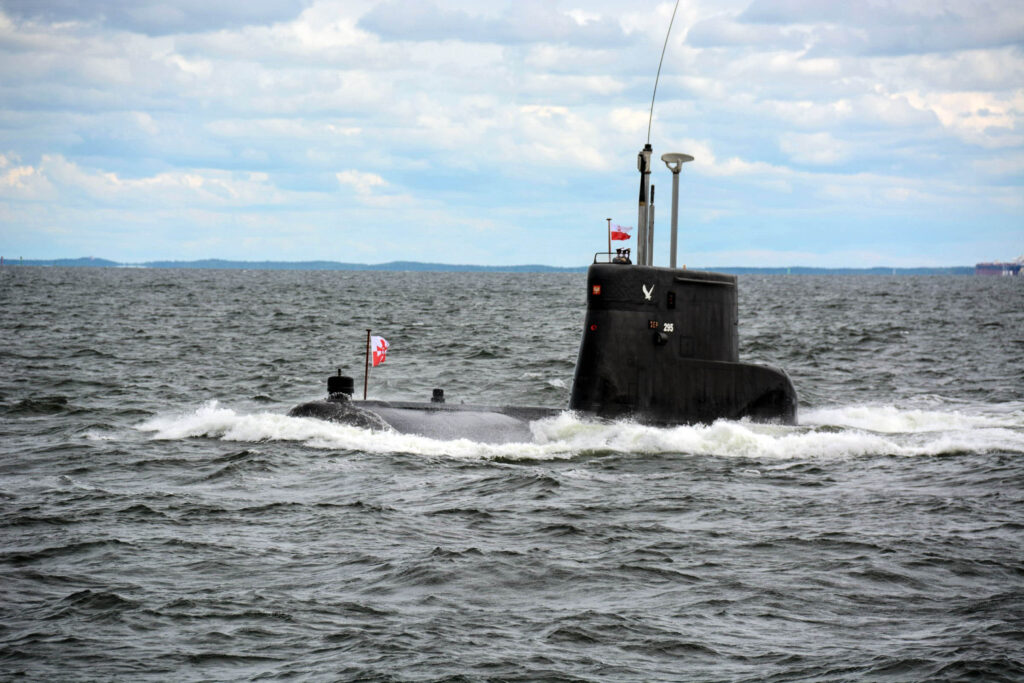 Due to their age and obsolescence, the two presented Kobben-class submarines are suitable only for crew training. ORP Sęp is the oldest vessel serving under the Polish banner. In August 2020, 54 year passed since its commissioning by the Norwegian Navy.
ORP Lech – a project 570M rescue vessel. It was supposed to be replaced in 2022 by a more modern platform. However, in April 2020 the Armaments Inspectorate cancelled the contract for a new platform of this type.
The project for the construction of six new tugboats is well underway. However, it is questionable if those are the most needed vessels in the current situation and if their purchase was rational
With the depleting fleet of currently operated obsolete submarines, the Polish MoD decided to implement a temporary solution. In November 2019 the MoD announced its intention to acquire two ex-Swedish Södermanland-class submarines (a modernized A17 Västergötland-class). The project is in the intergovernmental analysis phase and only initial discussions with the Swedish authorities have been made. Therefore, at the moment it's difficult to predict if it will lead to any positive results.
Other shipbuilding plans have so far resulted in nothing. The number of Miecznik-class coastal defense vessels planned for construction was cut from 3 to 2 units, while the Czapla-class patrol ships were cut from the Navy's procurement list. Instead, the service introduced a plan of building a series of smaller Murena-class missile ships. This leaves the Navy with a possibility of building a series of multirole frigates, which would replace OHP-class ORP Pułaski and ORP Kościuszko.
One also can't ignore the fact that a few years ago Poland made an attempt to replace its old OHP-class vessels with a number of ex-Australian Adelaide-class vessels, which are based on a very similar design. In August 2018, during his visit to Australia, President Andrzej Duda signed a letter of intent for the purchase of two such ships by Poland, though the possibility of the deal was later blocked by the Polish Prime Minister, Mateusz Morawiecki.
Technical Modernization Plan And Declaration
Why are we referring to the realization of a TMP, which was introduced seven years ago and already replaced with a new one? The reason that there's something that connects the document to recent announcements made by the President Duda. A year before the approval of the TMP 2013 the then minister of defense, Tomasz Siemoniak, presented a conceptual project for development of the Polish Navy, which was the basis for future discussions on various modernization plans. It was assumed at that time, that the realization of those plans will be financed with a sum of 900 million Polish Zloty ($236 million) per year.
When the TMP 2013 was introduced, it was already obvious that the sum won't suffice to finance all the programs included in the plan. The more realistic estimates showed that it would require at least 1,5-2 billion Polish Zloty ($394 – $525 million) per year and exceeding to 2,5 billion Polish Zloty ($656 million) in peak years. That gives us a glimpse of the true costs of development of the Polish Navy's modern combat capabilities to a shape envisioned by Polish MoD's planners. Compared to 2013-old plans, the current situation only deteriorated. Over the last years no significant decisions regarding construction of new ships for Polish Navy have been. In result, accumulation of future modernization/procurement-related expenses will be even greater.
What does that mean in practice? In recent years annual overall expenses for the TMP varied between 9,3 billion and 12,5 billion Polish Zloty ($2,4 billion – $3,2 billion). Specifically, they reached 9,2 billion ($2,4 billion) in 2017, 12,5 billion ($3,2 billion) in 2018 and 10,8 billion ($2,8 billion) in 2019. What share of that financial pie could the Polish Navy get in following years? Recent announcements made by President Duda during the election campaign included no solid numbers. We don't know if the Navy would receive a fixed sum (how big?) or a share of the technical modernization funds (what percentage?). Vague statements of guaranteed funds don't really say anything.
Also, let's note that President Duda spoke of dedicated funds within the context of a planned increase of Poland's defense expenditure to the level of 2,5% GDP. However, it is still only a plan for the future. Would the dedicated naval budget appear then? The revised law from 25th May 2001 regarding the modernization and financing of Polish Armed Forces assumes reaching such level of expenditures in 2030.
Méndez Núñez, Álvaro de Bazán-class frigate of the Spanish Navy. Such ship, as a successor of Polish Navy's OHP-class frigates, would meet the country's operational and security requirements
Danish frigate Iver Huitfeld. One of the most affordable vessels in its category – another alternative for the Polish Navy's OHP-class based frigate fleet.
SD-13 is one of two B208 demagnetisation stations still in service. They are relicts of the Cold War and no longer in use of NATO fleets. Procurement of their replacement is planned under the name Magneto.
ORP Heweliusz, one of two hydrographic ships in the Polish Navy.
The National Security Strategy of the Republic of Poland, approved by President Duda on 12th May 2020, pushes for boosting the capabilities of the Polish Armed Forces by increasing defense spending to 2,5% GPD by 2024. However, its goal remains purely within the sphere of declarations, especially in the context of economic uncertainty caused by the SARS-CoV-2 pandemic.
Let's not fool ourselves, that declaration can't be treated as a realistic proposal. Lack of details and vagueness prevents us from treating it seriously. We should add it to countless pre-election promises intended to cause an impression of the presidential interest in all the spheres of life.