Direct Action brand – known from producing high quality combat equipment for special forces – showed in Las Vegas an ultralight BEARCAT plate carrier and other flagship company  products ( ET2018: Direct Action's new products ).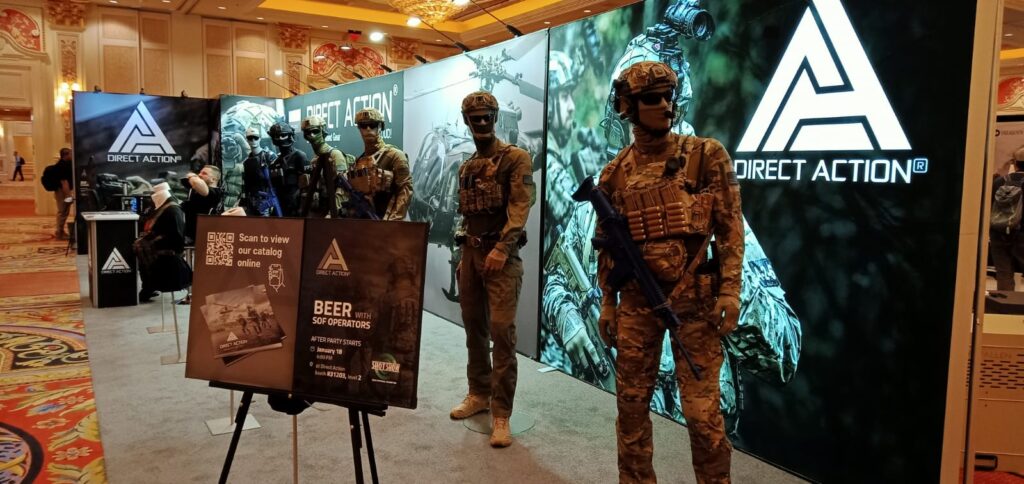 The DIRECT ACTION display during the SHOT Show 2022 / Photo: DIRECT ACTION
Experience Based Gear – this motto welcomed everyone that arrived to DIRECT ACTION #31203 booth at the SHOT Show. Newest ultralight BEARCAT plate carrier has been shown together with AR Triple Rifle Flap, light cummerbund and UPLT. There was also a SPITFIRE MKII plate carrier had been displayed in a bit heavier, battle configuration with universal rifle flap and SPRC cummerbund. Besides the equipment in Multicam Camouflage the dispaly was dominated by the Ranger Green wares – returning to Military and Law Enforcement pedigree.
Equipment as a system – No two mission are the same, so Direct Action relies on modular configuration of equipment elements. The BEARCAT or SPITFIRE MKII plate carriers are the base and all the elements from cummerbund to pouches, backpacks and the latest medical pouch are compatible with each other. The Polish brand draws on the battlefield experience of its creators when designing combat gear, as well as the most durable materials and rigorous quality control processes.