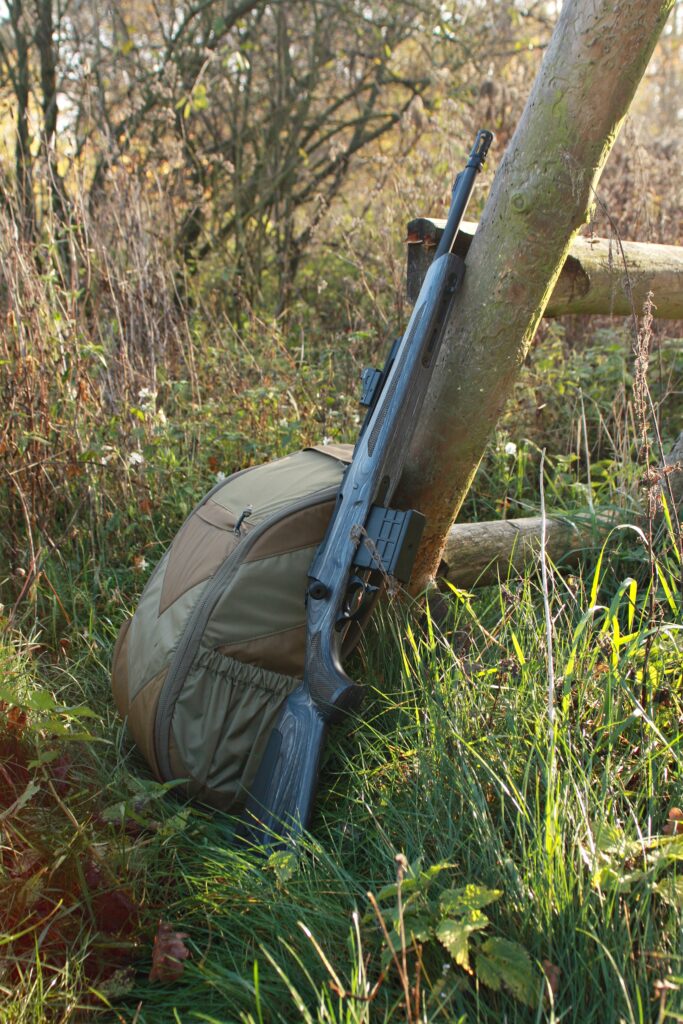 Long time ago–not at the very start of my adventure with firearms, I already had some small arms, a shotgun, and, obviously, a kalashnikov–I wanted to get a .308. A real rifle, not a mere carbine. I picked a simple and cheap model, too cheap, probably–Savage Axis II XP. It was a very bad choice, in all aspects, which soured me to bolt action rifles in that caliber for quite a long time.
It was a very bad choice for me, I need to stress, I don't want to generalize. Hulk would probably be happy with it. The weapon was ill fit for my size. The optics were too far and too high for me and I couldn't find a comfortable place for my thumb around the stock. Last but not least, that rifle kicked back like a mule. I got rid of it rather quickly. Only after a break, thanks to shooting range visits with friends and "what do you have here? let me try it!" approach, I warmed to that category of guns again. Then he came into my life — Sabatti Rover Scout rifle, available in multiple hunting and sport calibers, including .308 Win.
A bit of history
Just a bit, I promise. Enough to introduce the producer and justify my choice without boring everyone to tears. Expertise of the Sabatti family when it comes to making firearms, is counted in hundreds of years. Lodovico Sabatti started making well-appreciated flintlock pistols and barrels in the late XVII century. The secrets of craftsmanship have been passed down from hands to hands in the family for centuries.
The modern history of the company started soon after World War Two. In 1946, Antonio Sabatti and Guiseppe Tafoglio started working together to produce receivers for firearms, and in 1956 they added semiautomatic pistols to their repertoire. Four years later they decided to split into two companies. Tanfoglio focused on designing and producing high quality pistols while Sabatti followed with hunting guns. The history seems to validate their decision, as both brands are doing great to this day.
Maybe trusting experience is not the worst choice to make?
Technical aspects of Sabatti Rover Scout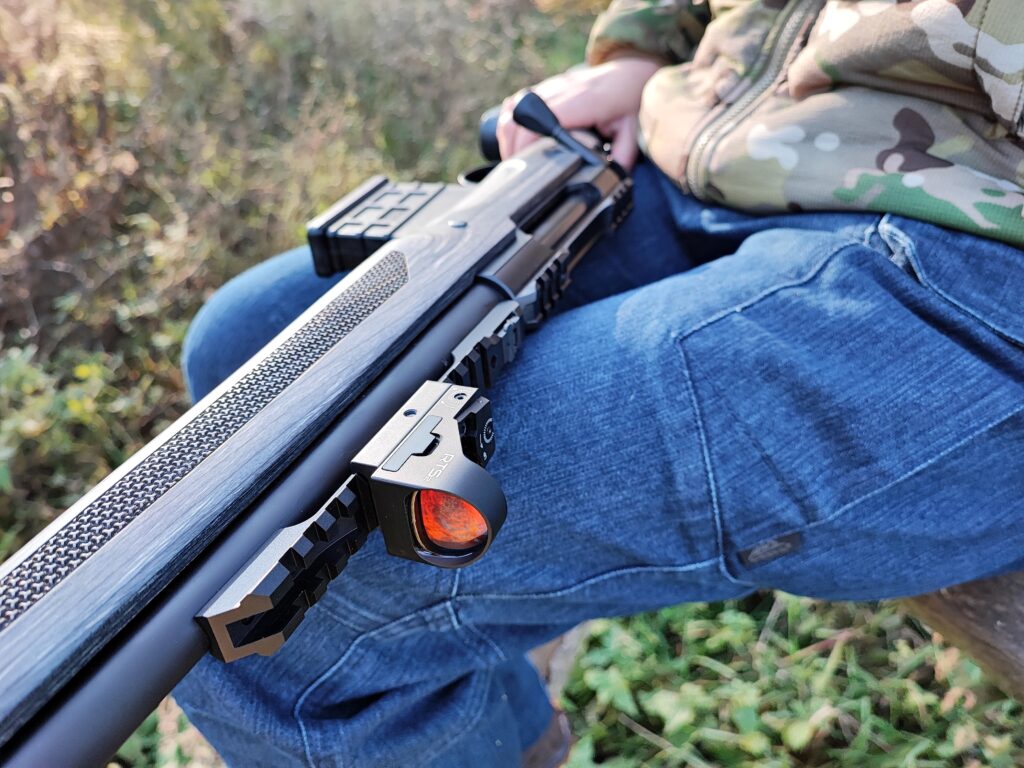 Sabatti Scout is a classic rotating bolt action rifle. Its operation is not complicated, relying on four quick moves. Just for a recap, you rotate the bolt open by pulling the handle up, then pull the handle toward yourself, forcing the cartridge or the empty case from the chamber with the help of the extractor. The spring feeds another cartridge from the magazine and pushing the handle forward loads it into the emptied chamber. Moving the handle downwards rotates the bolt into the locked position preparing it to withstand pressure of gunshot gas.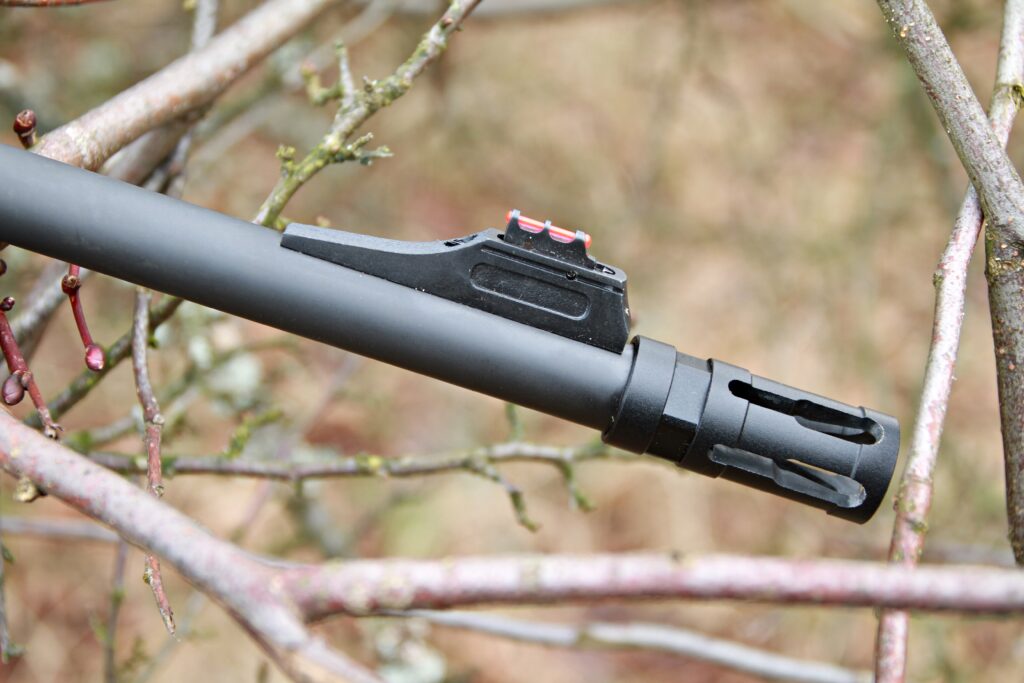 The tip of the barrel is fitted with 5/8"-24 UNEF thread, with an attached Sabatti's birdcage-type flash suppressor, protecting us from being dazzled by firing after dark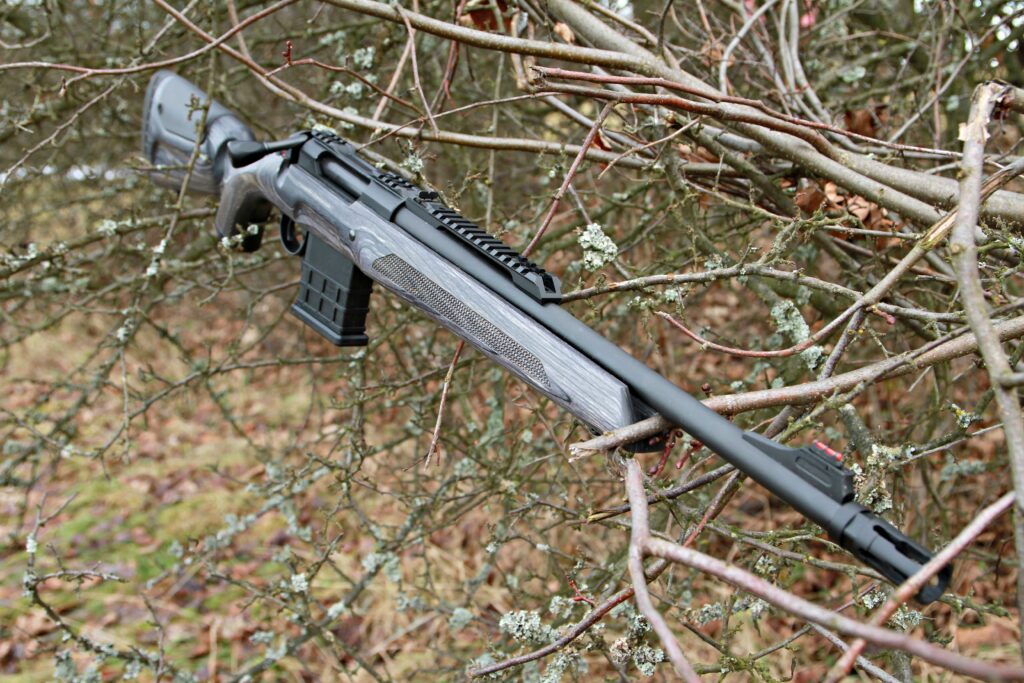 |
The barrel and the upper receiver are covered with Picatinny rail for scopes and and other utility attachments, extending over a length of the weapon
The upper receiver with an integrated Picatinny rail is made out of light but durable Aluminum 7075 alloy, hard anodized for extra protection. The barrel is made of cold-hammer forged steel and ends with 5/8"-24 UNEF thread with attached Sabatti's improved birdcage-type flash suppressor. On the top of the barrel we have more Picatinny rail with adjustable iron sights and orange fiber optic front sight. Interestingly, the rifle is modular and can be easily converted into another caliber. Similar calibers may need replacement of the barrel only, while the more distinct calibers also require replacing the bolt head. Nice.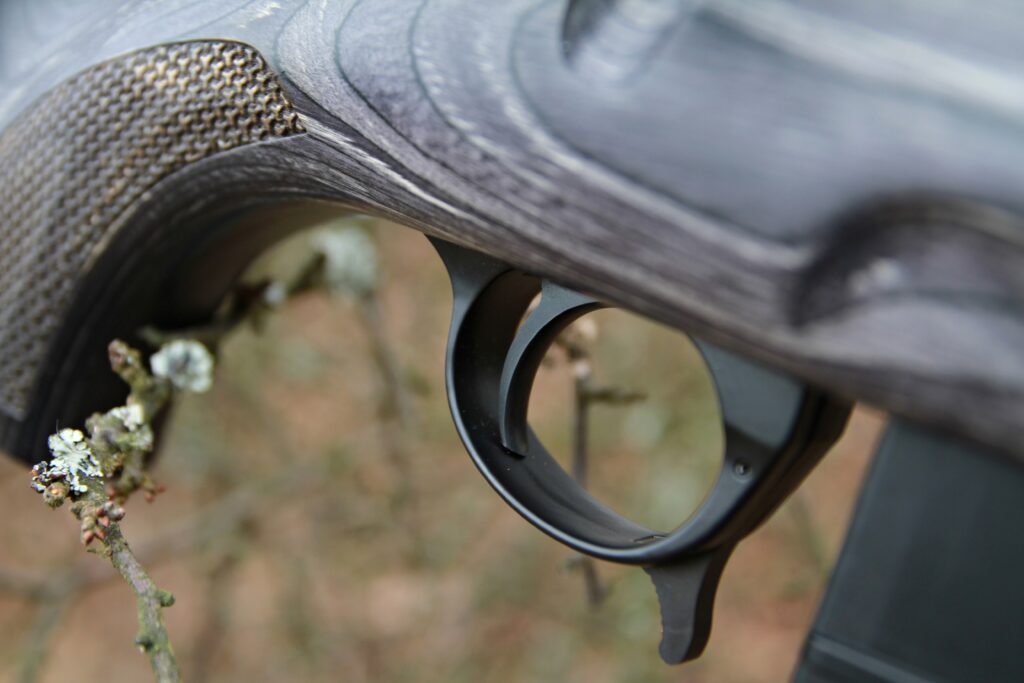 Standard trigger mechanism, with two-stage trigger available as an option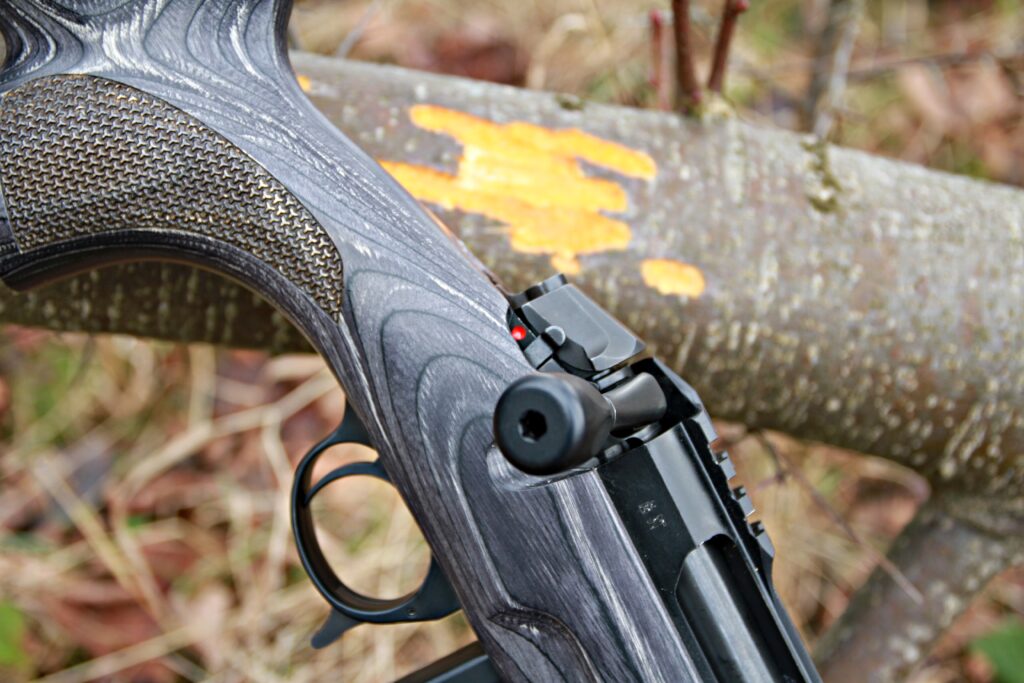 Scout has two-position safety, though a three-position safety has been announced
The trigger mechanism is a traditional single stage, though a two-stage match trigger is available as an alternative option. Safety is a two-position lever just behind the bolt handle. Three-position safety variant is supposed to be shown on Shot Show 2023 fair.
The essentials - ergonomics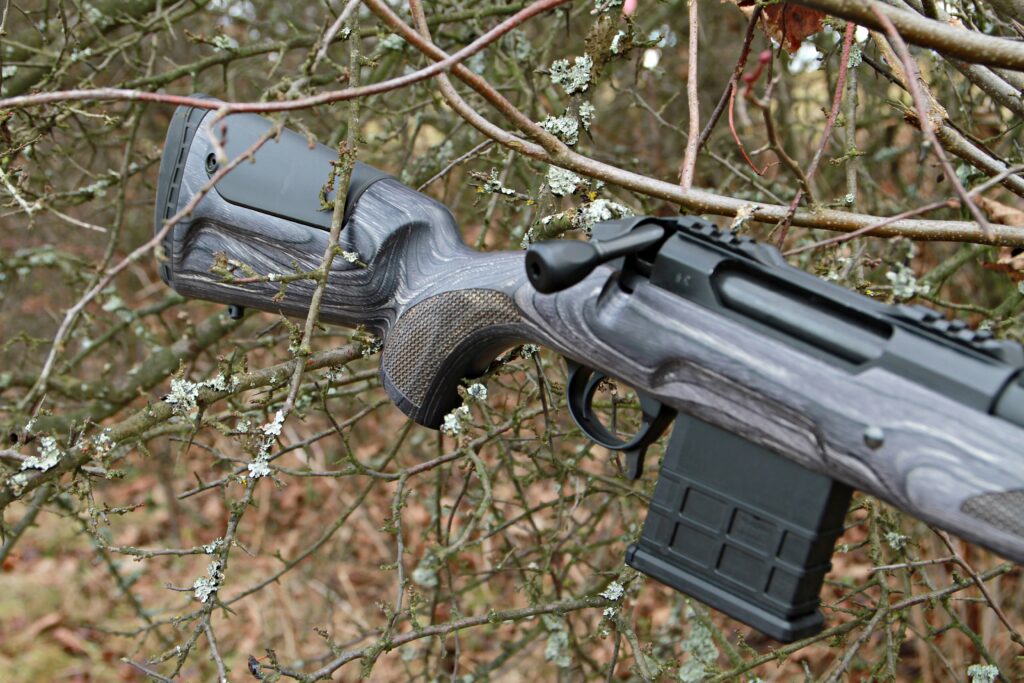 The stock has wonderfully soft buttplate, excellently absorbs the recoil, has an ergonomic shape, and has all the needless mass cut away
"I feel so good, so happy, because I have you.." The first visit to the shooting range accompanied by Sabatti Rover Scout made me recall words of a silly TV ad that etched into my brain over twenty years ago, fitting the circumstances perfectly. This rifle's unquestionable advantage is not leaving painful bruises on my collarbone, which is an essential factor for me. Despite its low weight, around 3.1 kg with full magazine, and relatively short barrel of 18 inches, the recoil is weak for a .308, thanks to smart design and wonderfully soft rubber buttplate. If someone wouldn't like the standard buttplate, it can be replaced with either of two other variants. Speaking of the stock, it is fitted with a removable polymer cheek rest. The one provided with the gun is rather flat, but there are higher variants available, making the rifle easily adjustable to different types of optics and attachments. The stock itself is nicely rounded with the shooter's thumb fitting around the grip. Cutouts on the sides reduce the weight.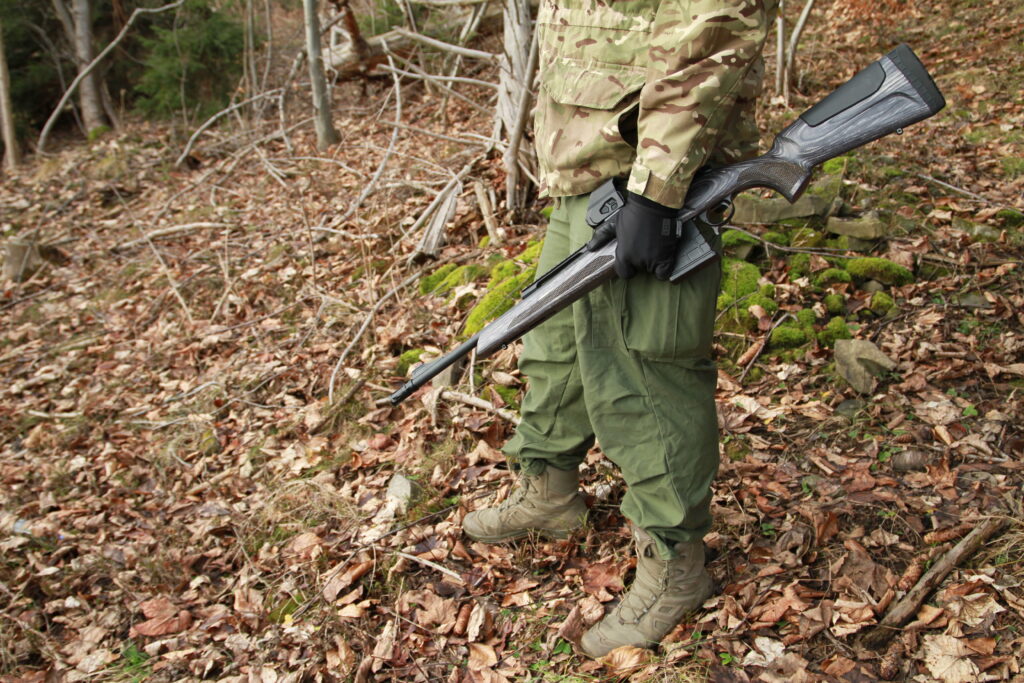 Beautiful classic knurling improves handgrip on the weapon
The pistol grip and handguard are covered with classic knurling increasing the friction when held by the user. Picatinny rails located on the upper receiver and the barrel give a wide variety of options when picking the optics. Even big scopes (though there is little reason to put one on such handy rifle) won't interfere with the bolt handle operating at 60 degree angle. Additional accessories can be attached via M-LOK rail underneath the handguard.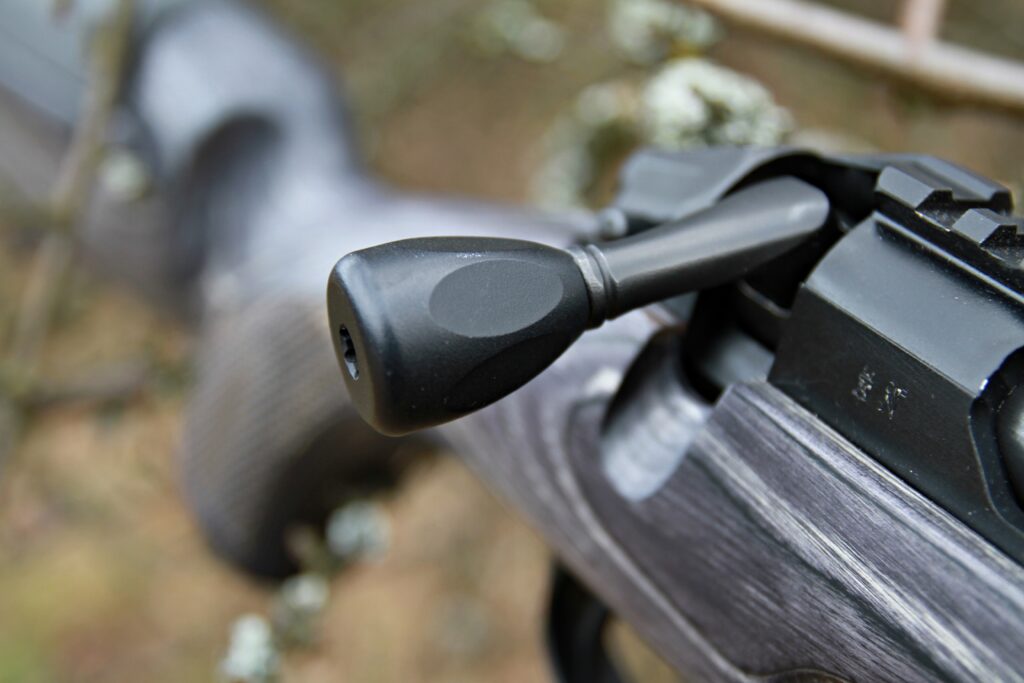 Bolt handle doesn't interfere with the optics, moving at 60 degree angle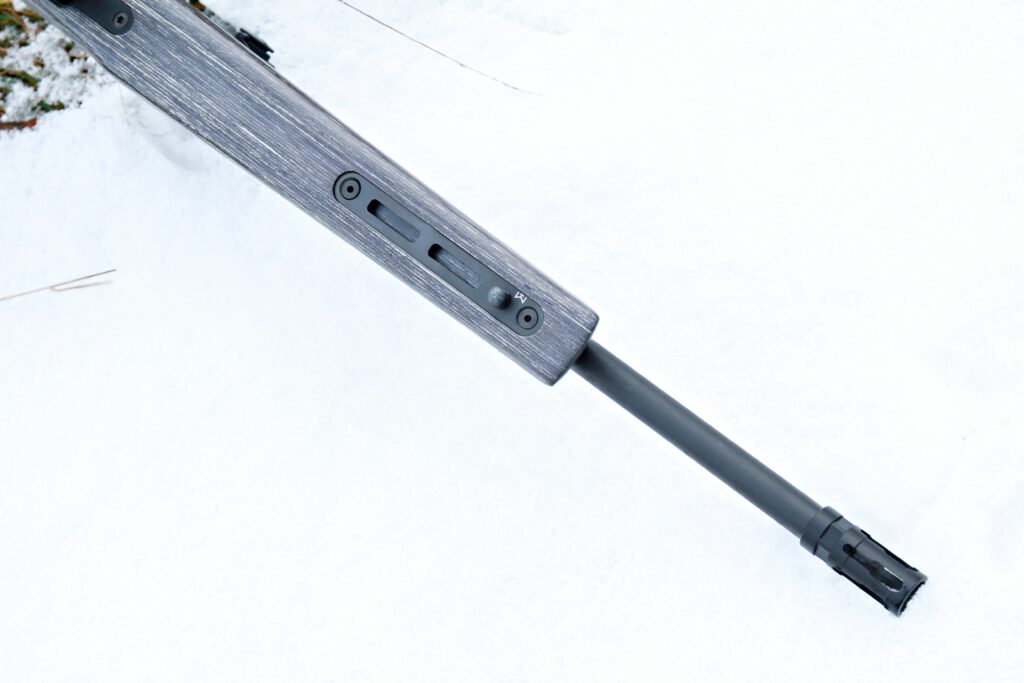 M-LOK rail allows mounting additional accessories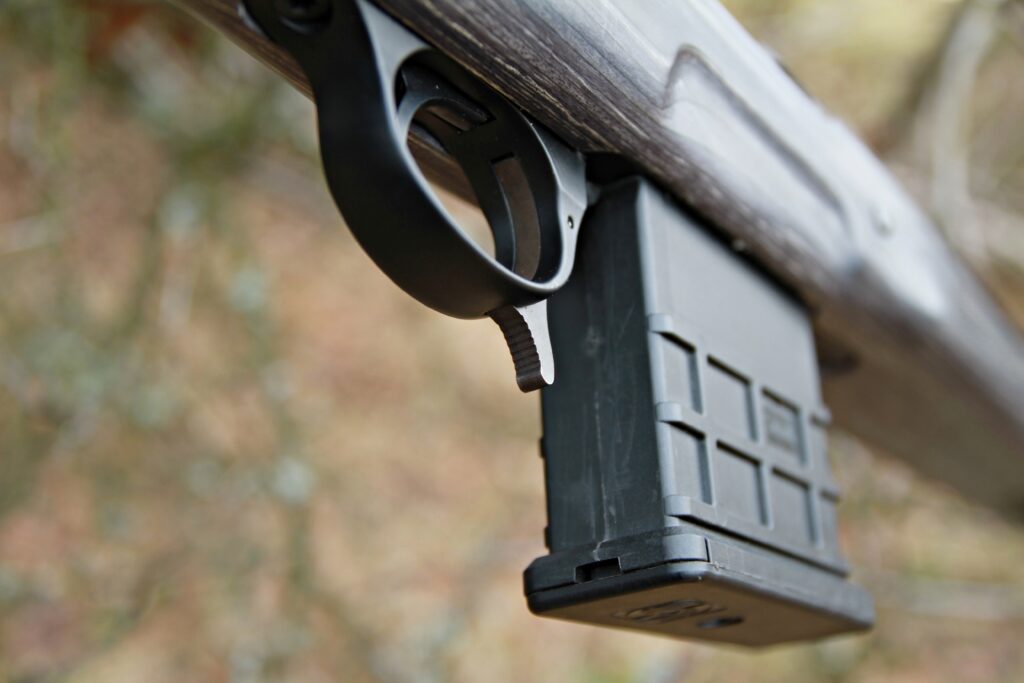 Despite its elegant look, the magazine release lever is rather unwieldy, asking for redesign
Well, it went flawlessly until the magazine needed a replacement. The magazine release lever is placed on the front side of the trigger guard. The location of the lever might not be a problem, though I find it a bit controversial, the hard spring and the shape of the lever are an issue. In my opinion it is too sharp and too narrow, extending the reloading process. It's not a weapon for dynamic shooting, but all weapons should be friendly to their users. Disappointing.
The target market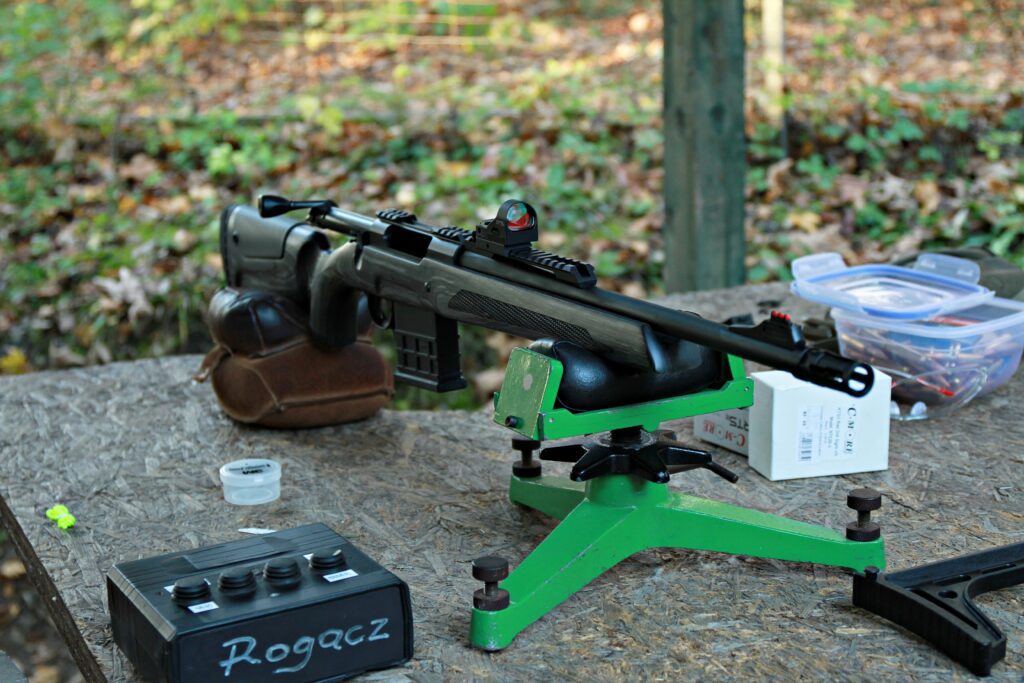 This rifle fitted with a small scope (here, Vortex Razor HD 1-6×24) will work excellently on short and medium distances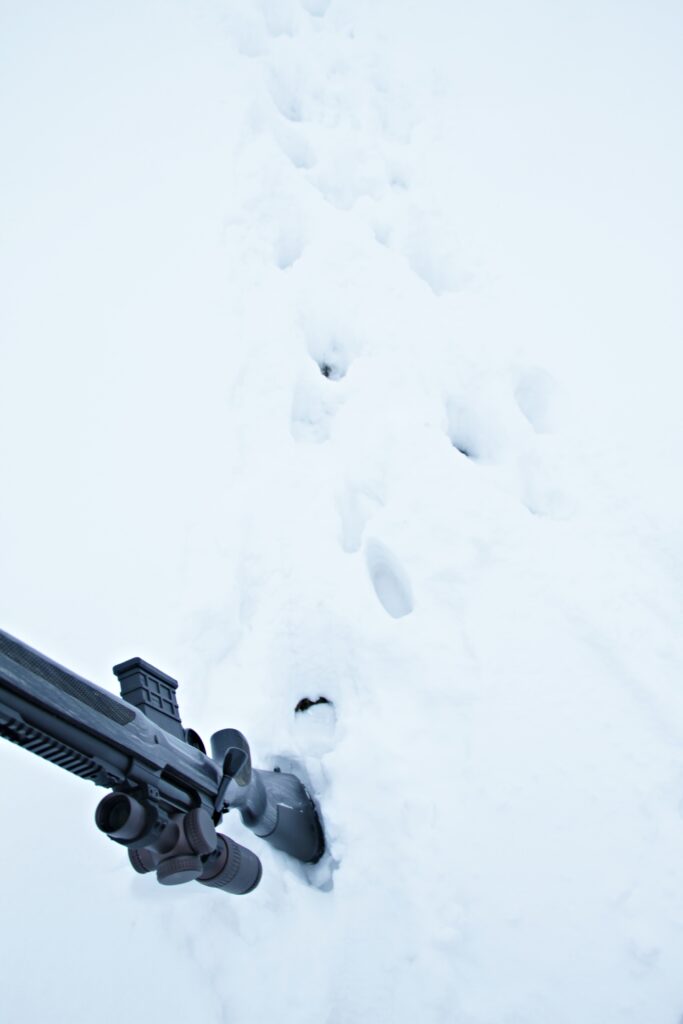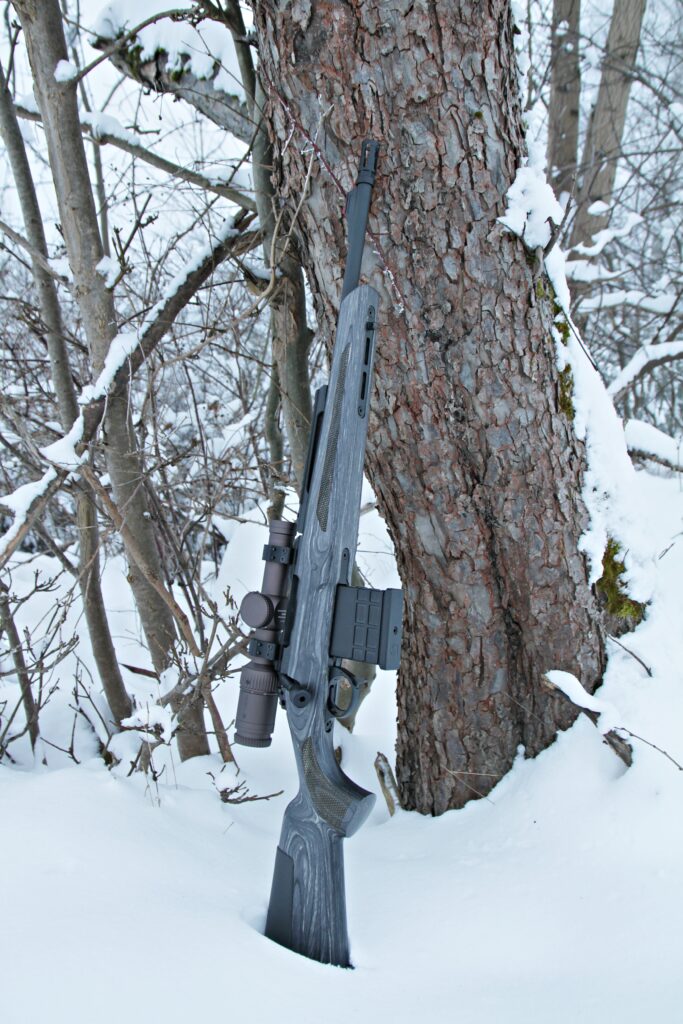 This weapon is a good pick for sport shooters who would like to take their new gun as they bought it and go to the shooting range. Scout is fitted with built-in iron sights so you can start to get to know it on shorter distances immediately. I did it myself, and was not disappointed because we get the rifle practically sighted-in on purchase. Firing at greater distances, a few hundred of meters, requires picking the right optics. Scout will never become a truly long-distance rifle, however, because of its short, 18-inch long, 18-millimeter wide barrel.
Essentially, this gun is mainly aimed at the hunters. I consider joining the ranks of hunters myself, partly to become less susceptible to rampant inflation. That's what directed me toward the Scout. This is a modern rifle suitable for today and for the future. Short, light, silent operation of the settings, and ergonomic design (aside of the issues showing up when replacing the magazine) make it suitable for hunting. The twist rate of 1:8 suits it for heavier ammunition for bigger game.
It is also a gun for all who would like to extend their collection with a solid, well made, and good looking rifle without spending a fortune. Sabatti Rover Scout fits solidly in a mid shelf range.
We'd like to express our thanks to Sabatti and Polish distributor Malik & Malik, for donating the rifle for testing.